Cranston American LL: My Site News
Tuesday, January 3
2012 Cranston American LL Season
Year End Banquet August 31st!
It is that time again! Our year end banquet & awards dinner will be Friday night August 31st @ Kelley-Gazzero VFW Post 1418 Plainfield St. Your regular season manager will be contacting you within the next couple of weeks to purchase tickets. Players' tickets, as always, are free of charge. All additional tickets are $20.
---
2012 11-12 year old
All Stars
6/30/12
Cranston American 7 North Providence West 4
Our All-Star tournament got off to a great start Saturday as we took on North Providence West LL. We had great pitching from Jake Palazzo, who also added a home run, and 2 big home runs by Dimitri Bradley all added up to a 7-4 victory! Great job boys!
Next up is Edgewood-South Elmwood LL @ Speck on Monday @ 5:30. Come down and support our league!!
7/2/12
Edgewood-South Elmwood 13 Cranston American 7
Edgewood-South Elmwood's bats were a little too strong for us as they beat us 13-7. Another home run for Jake Palazzo was one of the few bright spots in this one. Into the losers' bracket we go. Silver Lake-Olneyville is next up on Thursday night under the lights @ 7:30. Not too far from home so come on down and cheer our boys on to victory!!!
7/6/12
Cranston American 12 Silver Lake-Olneyville 1
Nice win tonight against Silver Lake-Olneyville! Strong pitching by Quinn Lanigan & Alex Rodriguez quieted their bats while just about everyone hit on our side. Ivan Rosa put the finishing touch on the game with a 2-run double to enforce the mercy rule!!
Next up is Mt. Pleasant @ Mt. Pleasant on Sunday @ 5:30. Let's make it 2 in a row!!!
7/8/12
Mt. Pleasant 8 Cranston American 7
Unfortunately the ride ends here. We got behind early and could not overcome it. Down 7-0 we began chipping away little by little with key hits by Jake Palazzo & Quinn Lanigan. Palazzo & Lanigan kept us in the game with their pitching but in the end we came up short. Although we were down early, this group never gave up and fought until the end!
Great job boys!!
---
2012 9-10 year old
All Stars
6/28/12
Cranston American 13 Fox Point 1
A great start to our District 1 All-Star tournament as we took on Fox Point/East Side LL. With excellent pitching from Lenin Tavarez and key hits from Jared Saran & Tavarez we were able to post a 13-1 victory in 4 innings! Great job boys!
Next up is Elmwood LL @ Speck Saturday morning @ 10 am!
6/30/12
Cranston American 14 Elmwood 4
Behind solid pitching by Domenico DeLuca & Lenin Tavarez and powered by Giovanni Canales' 2 mammoth home runs, one of which was a grand slam, we beat Elmwood 14-4 in 5 innings! Jared Saran added a solo blast to end the game by the mercy rule! Another great win boys!
Next up is Johnston LL on Tuesday night @ Johnston Memorial Park!
7/3/12
Johnston 19 Cranston American 3
Well our good fortune ran out tonight as a strong Johnston team put 10 runs on the board in the first inning en route to a 19-3 beating. Let's try to put this one past us and look ahead. We head to the losers' bracket where it will take one victory to put us in the championship game!
Next up is Cranston Western, Saturday morning 10:00am @ Speck Field!!!
We'll need all of your support to take this one!!!
7/7/12
Cranston American 13 Cranston Western 11
A huge win for these boys! Powered by 2 Jared Saran home runs and timely hits from Lenin Tavarez, Domenico DeLuca & Devin Ricci we were able to put up 13 runs on a tough Western team. We were able to hold on to a 13-11 victory behind solid pitching from Deluca, Tavarez & Giovanni Canales and a huge defensive play by William Rush! Contributions from 1-9 in the batting order! A total team effort!!
Next up is the Championship Game Monday night vs Johnston LL @ Johnston Memorial Park. We will have to beat Johnston twice to win the District 1 championship. We will need all of your support to win this game!
7/9/12
Johnston 14 Cranston American 0
Well we gave it our best shot and we hung in there for 5 innings as Johnston only had a 3 run lead going into the 5th inning. Unfortunately the hit parade began and we couldn't stop them. Giovanni Canales pitched 4 great innings to keep us in the game and we had gotten a runner to 3rd in 3 of those 4 innings but just couldn't get them home. Defense was solid throughout but once the hits started coming there was no stopping the Johnston offense. Congratulations to Johnston LL on being District 1 Champions.
Our boys had a tremendous tournament! With big wins over Fox Point & Elmwood, and a huge win over Cranston Western, this group should hold their heads high as they accomplished more than any 9-10 year old team has in recent memory!
Excellent job boys!!!
---
Congratulations to our DeTroia Tournament Champions
Major League Division
Casino Greenhouse
AAA Minor League Division
Dicks Sporting Goods
---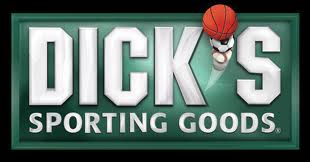 10% off Flyer
Our second year team sponsor, Dick's Sporting Goods, has given us a link to this year's 10% off flyer! Just click
here
to print out a copy!
2011 Cranston American LL Season
---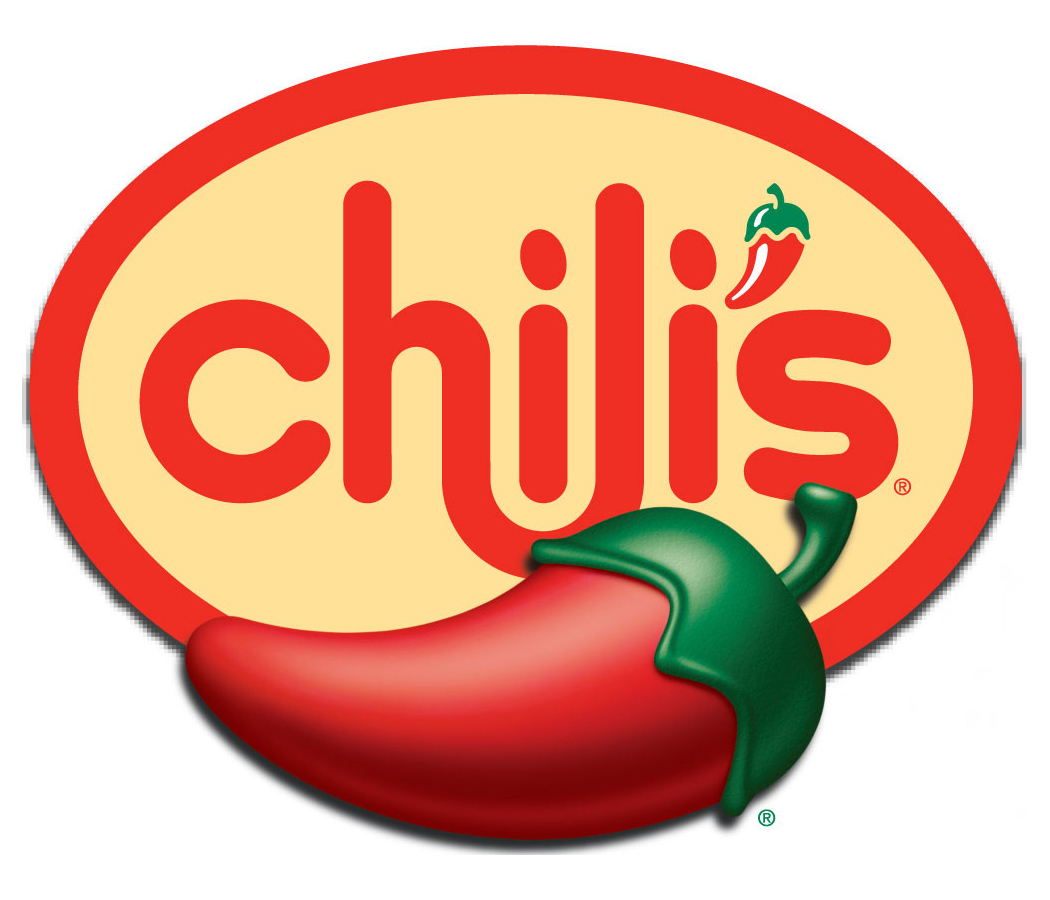 Chili's Give Back Night Part 2!!!
Wednesday 9/28 Rt 2 Warwick
Thanks to Matt McCreavy & Chili's Restaurant we will have another "Give Back Night". All you have to do to help is bring the family to Chili's on Rt 2 in Warwick on Wednesday night Sept 28th between 4pm and 11pm, tell them you are from Cranston American Little League and enjoy a great meal. That's it!! Chili's does the rest. They will donate 10% of your total bill to Cranston American! Last time we earned $225.! Please make plans now to be there next Wednesday night and help out our league!
Click here
to download a flier!
---
2011 End of Season banquet & awards dinner
Ralph's catering @ kelley-gazzero vfw post
each additional ticket is $25.00
---
2011 11-12 year old all-stars
7/03/11
Too little too late! It's all over for our 11-12 all-stars as they end their season with a stinging 6-4 loss to North providence east. They fought all the way to their last at bat but came up a little short. Read the article in the Cranston Herald here! Keep your heads high, you had a great season!
7/01/11
**Time change for sunday! The game will now start @ 10:30am**
6/29/11
Johnston was too strong for us last night as the 10 run rule was enforced 11-1 in the fifth. We enter the losers' bracket and face north providence east on sunday night 7/3 at home at 10:30am
come on down to Speck field and support our team!
6/27/11
We start our tournament on wednesday night 6/29 against johnston ll. the game will be held @ johnston war memorial park's kennedy field. we will need all of your support so please try to get there and cheer on our league!
---
2011 9-10 year old all-stars
6/30/11
Our tournament came to an end last night with a 9-5 loss to Mt. pleasant. Even though this was a young team with very little major league experience, they came a long way in a short time.
the future looks bright for these all-stars!
6/28/11
Great game by our youngsters last night as we defeated North Providence west 13-3. It was a tight game through five innings but the bats prevailed in the 6th inning and the game was put out of reach!
Next game is thursday night @ Mount Pleasant ll next to mount pleasant high school.
Let's keep tearing through the losers' bracket!
6/26/11
oUR YOUNG TEAM TOOK A TOUGH LOSS TO EDGEWOOD SOUTH ELMWOOD 12-0 LAST NIGHT. OUR NEXT GAME WILL BE TUESDAY NIGHT 6/28 @ HOME ( SPECK FIELD) AGAINST NORTH PROVIDENCE WEST. COME DOWN TUESDAY NIGHT AND HELP US GRAB A WIN AND SOME MOMENTUM THROUGH THE LOSERS' BRACKET.
lET'S GO BOYS!
---
major league championship
Congratulations to Betty's candy corner on winning the kimberly detroia memorial major league division tournament!
Casale forces a game 2!
Tuesday 6/21 Major League division Championship
Betty's Candy Corner 0
Casale painting 8
This is betty's first loss in the tournament so they will play each other again
sATURDAY MORNING @ 10:00 AM
---
AAA Minor league division Championship
Cranston Teachers' 5
Dicks Sporting goods 7
Congratulations to
Dick's sporting goods
for an undefeated season and winning the
Kimberly Detroia minor league memorial tournament!
---
2011 Home Run Chase
| | | |
| --- | --- | --- |
| Player | # | Team |
| Ryan Mollo | 8 | Branch Floor Covering |
| John Anderson | 7 | Betty's Candy Corner |
| Michael Cuddemi | 5 | John Casale Painting |
| Jordan Smith-Dufresne | 4 | Betty's Candy Corner |
| Brendan Lanigan | 3 | Casino Greenhouse |
| Chrisdione Mendez | 2 | John Casale Painting |
| McKenzie Richards* | 2 | Betty's Candy Corner |
| Jake Palazzo | 1 | Betty's Candy Corner |
| Steven Grenier | 1 | John Casale Painting |
*FIRST HOME RUN OF THE SEASON
---
Check out the article in the Cranston Herald about us!
Thank you to Jen Cowart for putting together a great article!
---
---
---
2010 Cranston American LL
Season
2010 11-12 All-Stars

7/12/10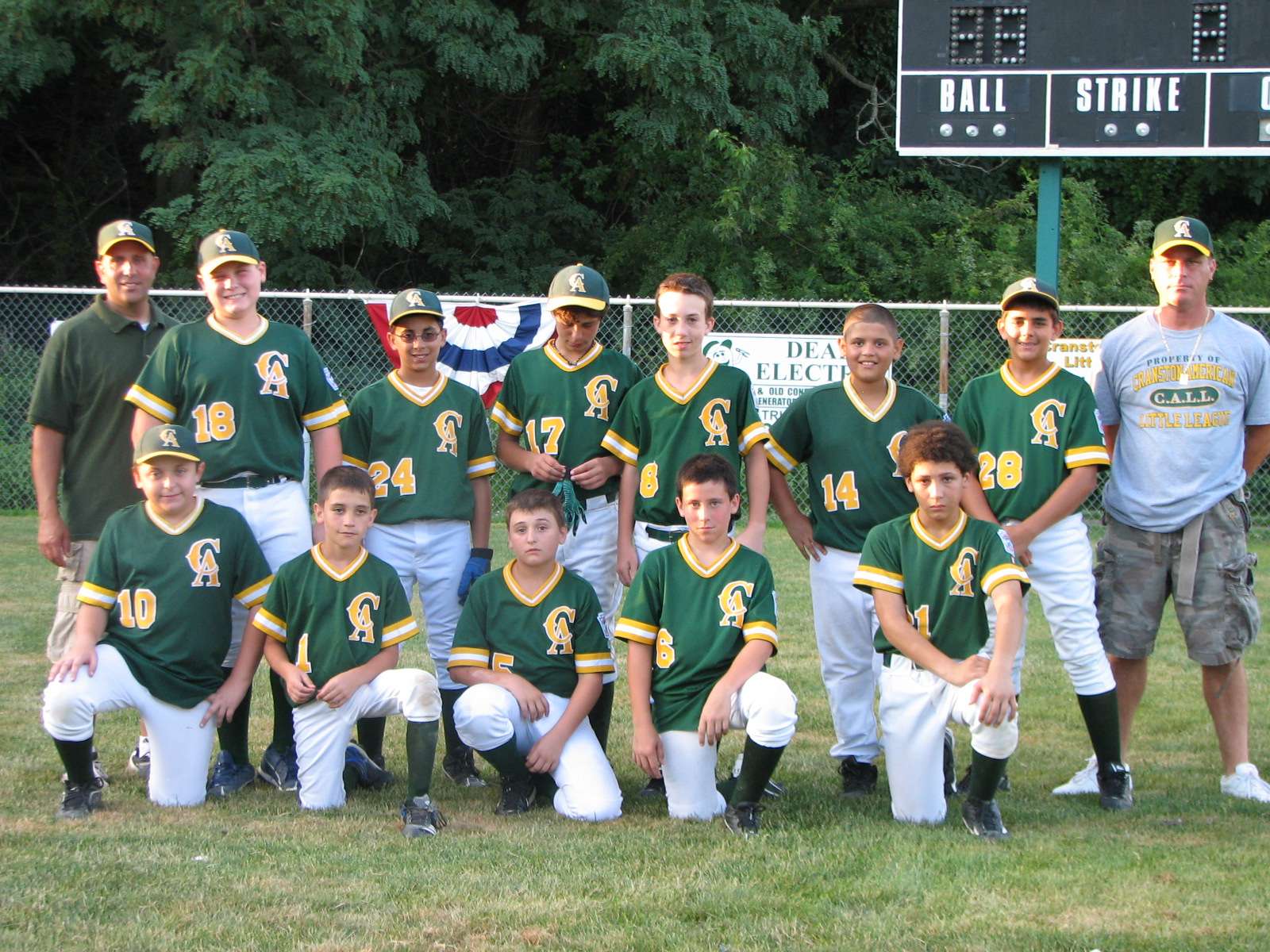 After a great comeback, some great defense and gutsy pitching, we fell one hit short in a thrilling game against Cranston National 5-4. Read the Cranston Herald article here. Congratulations on a great season!
7/10/10
It was a tough loss Friday night for our 11-12 All-Stars as they were beaten by Elmwood LL by a score of 10-0. Optimism is high, though, as we draw Cranston National Budlong LL on Sunday night @ 5:30 at home! Let's rip through the losers' bracket!
7/1/10
Congratulations to our 11-12 All-Stars on their 11-10 comeback win over Silver Lake/Olneyville in a nail biter!
Read the article in the Cranston Herald here
Next up is Elmwood LL on July 9th @ Elmwood! Thank you to all that came to the game in support, we'll need all of you again on July 9th.
7/20/10
Unfortunately we could not get the bats going last night as our 10-11 All-Stars fell to Elmwood LL by the score of 6-1. Let's hope this group can stay together for one more run next season! Keep your heads high, you did a great job!
7/15/10
We're back in business! 10-11 All-Stars defeated Cranston National Budlong LL 12-1 last night. Next game is against Elmwood LL at home (Speck Field) on Monday night @ 5:30! We'll need all of your support to take down Elmwood!
7/14/10
Next up for our 10-11 All-Stars is Thursday night against our crosstown rival Cranston National Budlong LL.
Game time is 5:30 and the game is @ Cranston National(Aqueduct Field). This should be a great game. Don't miss it!
7/11/10
A crushing defeat on Saturday afternoon as Johnston LL prevailed 14-4 over our 10-11 All-Stars. Now we must await the winner of Cranston National Budlong LL and N Providence East LL on Tuesday. We face the winner of that game on Thursday 7/15.
7/9/10
Congratulations to our 10-11 year old All-Stars on their impressive 14-4 victory over North Providence West!
Next game is Saturday 7/10 at Speck Field @ 11:00 am against Johnston.
We'll see you there!
---
2010 10-11 Sally Eddy Friendship Team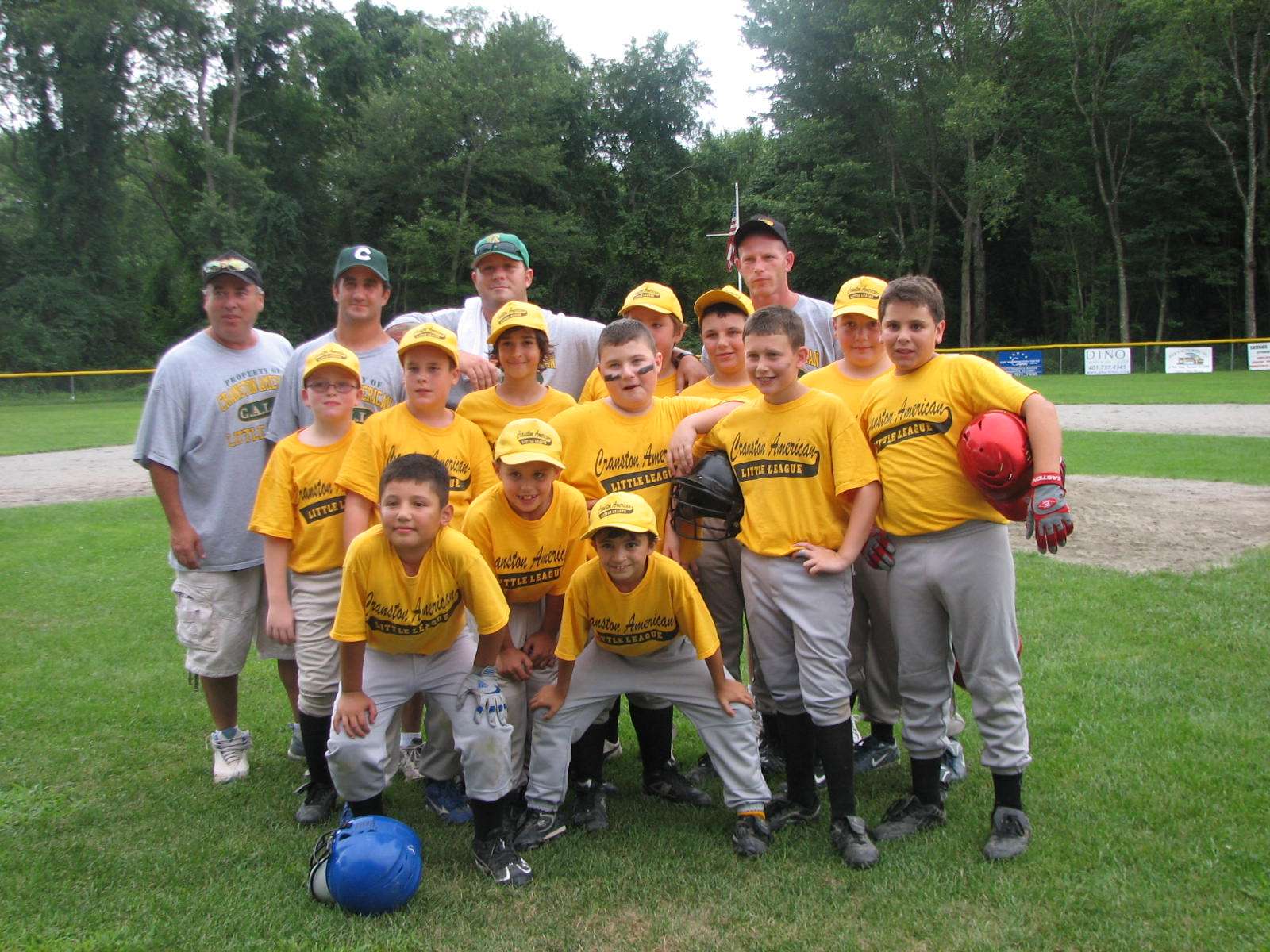 7/26/10
Congratulations to our 10-11 year old Sally Eddy Memorial Tournament team as they finshed the tournament in 2nd place with a 3-1 record. Our only loss was in the Championship game on Sunday.
Great job boys!
---
2010 7-8 Andreozzi Memorial Tournament team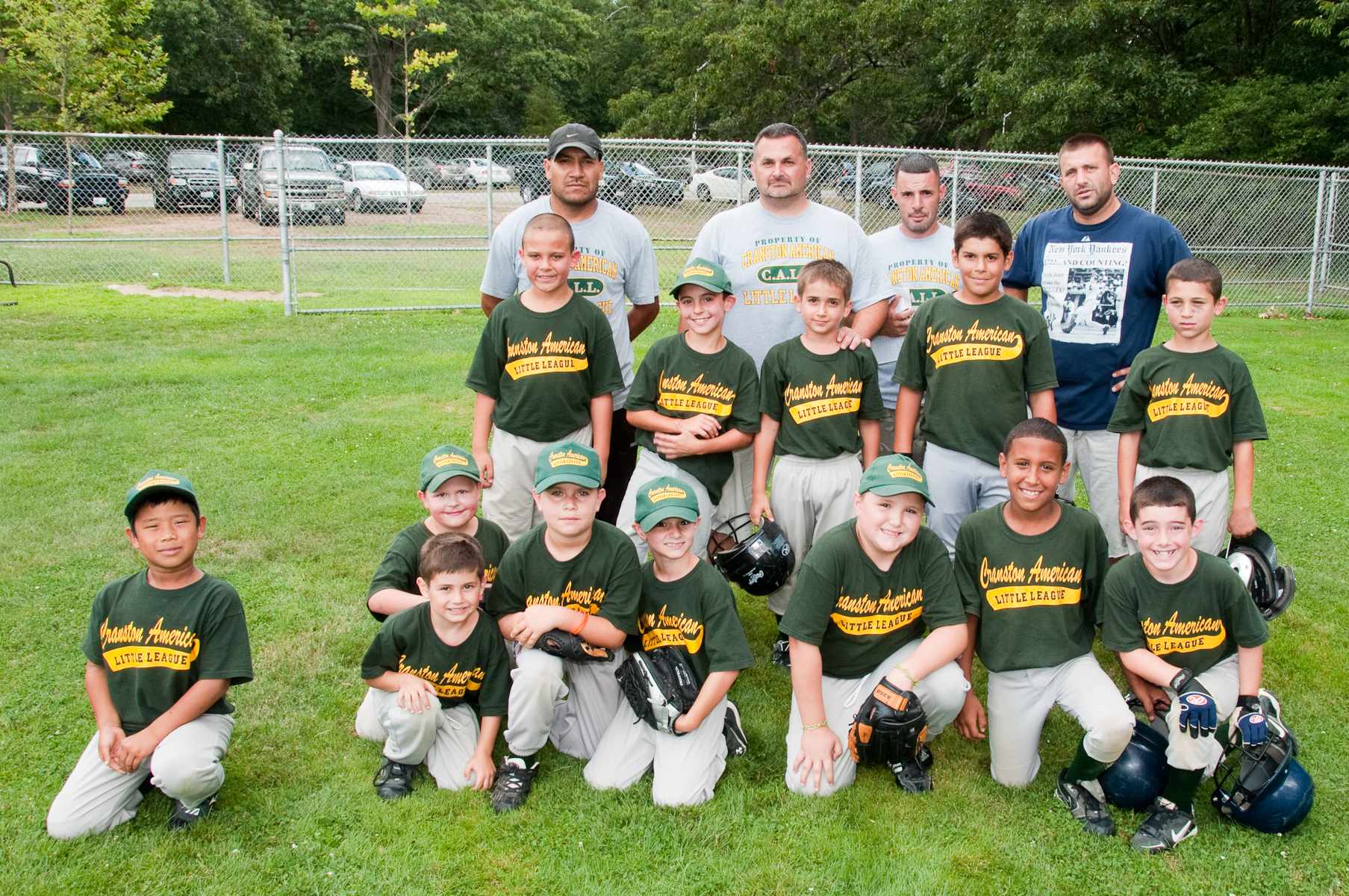 8/10/10

Congratulations to our 7-8 year old Andreozzi Tournament team as they put up a 4-1 record in the "Pool Play" portion of the tournament to put them into the playoffs. Although they lost in the playoffs, they were one of the final 6 teams out of 16 teams throughout the state. Quite an accomplishment for these young boys.
Great job!

---
Regular Season

Congratulations to our 2010 League Champions
Major League Division

St. James Hardware
Minor League Division

DePetrillo's Pizza