Corona Angels-Tyson 14U: Welcome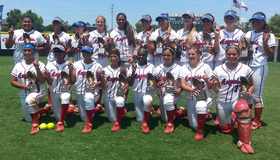 2014 PGF NATIONAL CHAMPIONS
Welcome to Corona Angels 2000 - Tyson
---
2014 - 2015 Corona Angels
Alyssa M. Amani B. Bianca L. Brooke M. Carmen R.
Chloe N. Evelyn S. Hailey B. India K. Izzy K. Keana "KP" P.
Kiarra CP. Lexi D. Maddy G. Madi H. Mackenzie M.
McKenzie W. Megan C. Penelope "Po" R. Peyton C.
---
Team Acomplishments
2014 PGF NATIONAL CHAMPIONS!!!
February 2013 - Wicked Valentines Tournament Co-Champions

May 2013 - ASA State Champions

July 2013 - TCS World Series 2nd Place
August 2013 - Premier Girls Fastpitch Nationals - 3rd Place
November 2014 - Runner-Up Brenda Marsh Thanksgiving Tournament
January 2015 - Finalist OCBB Best of the West 16U Tournament
---
Schedule Information
05/23 - Wilson Memorial Classic - Call Time 7:00am/1st Game at 8:30am.
Veterans Park 17255 Merrill Ave. Fontana, CA 92335.
Game Uniform: Red/Blue/Red
---
Corona Angels 2018 - Verbal Commitments
---
CA - Team News

May Birthday: Hailey B. - Happy Birthday Hailey!!
---
Corona Angels In the News
---
Sponsors
---
Stay Connected to Corona Angels
Check out our new Facebook page and like us!
Sister Act - Check out other teams in the Corona Angels Family
- 18G Angels - Tyson
- 18G Angels - Howard
- 16U Angels - Tyson-Slye
- 14U Angeles - Perez
- 12U Angels - Tyson-Slye
- 12U Angels - Dominique Tyson
---