Corona Angels-Tyson 14U: Welcome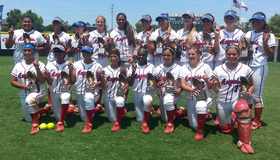 2014 PGF NATIONAL CHAMPIONS
Welcome to Corona Angels 2000 - Tyson
---
2014 - 2015 Corona Angels
Alyssa M. Amani B. Bianca L. Brenna S. Brooke M.
Evelyn S. Hailey B. Keana "KP" P. Lexi D.
Maddy G. Madi H. Mackenzie M. McKenzie W.
Penelope "Po" R. Peyton C. Vanessa F.
---
Team Acomplishments
2014 PGF NATIONAL CHAMPIONS!!!
February 2013 - Wicked Valentines Tournament Co-Champions

May 2013 - ASA State Champions

July 2013 - TCS World Series 2nd Place
August 2013 - Premier Girls Fastpitch Nationals - 3rd Place
---
Schedule Information
--->> Saturday, December 20 - Organization Practice @ Ayala Park 14225 Central Ave. Chino, CA 91710. 14U Time - 10:00 - 12:30
Practice Uniform - Gray Dry Fit, Blue, Red
--->> Sunday, December 21 - Organization Christmas Party
Team News
Check out PGF Championship Game on PGF You Tube Channel: https://www.youtube.com/watch?v=D9TfuBYbo4M
Check out OC Sidelines Article on Corona Angels 00 - Tyson: http://ocsidelines.com/?p=8963
Check out Press-Enterprise Article on Corona Angels 00 - Tyson: http://www.pe.com/articles/athletics-697993-angels-first.html
PGF Championship Photos: http://altadenaeric.zenfolio.com/p326958838
---
Sponsors
---
Stay Connected to Corona Angels
Check out our new Facebook page and like us!
Sister Act - Check out other teams in the Corona Angels Family
- 18G Angels - Tyson
- 18G Angels - Howard
- 16U Angels - Tyson-Slye
- 14U Angeles - Perez
- 12U Angels - Tyson-Slye
- 12U Angels - Dominique Tyson
---