Corona Angels-Tyson 14U: Welcome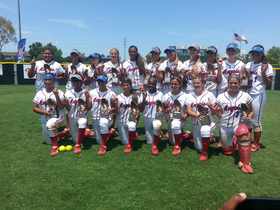 2014 PGF NATIONAL CHAMPIONS!!!
Welcome to Corona Angels 2000 - Tyson
---
2013 - 2014 Corona Angels
Alyssa M. Amani B. Anna V. Annabelle S. Bianca L. Brenna S.
Brooke M. Jackie J. Jenna H. Keana "KP" P. Lexi D.
Madi H. Mackenzie M. Megan F. Penelope "Po" R.
Peyton C. Quinn D. Sam S. Vanessa F.
---
Team Acomplishments
2014 PGF NATIONAL CHAMPIONS!!!
February 2013 - Wicked Valentines Tournament Co-Champions

May 2013 - ASA State Champions

July 2013 - TCS World Series 2nd Place
August 2013 - Premier Girls Fastpitch Nationals - 3rd Place
---
Schedule Information
PGF Week
--->> Thursday 7/24 - Call Time is 11:00am - 1st game will start @ 12:30pm. We will be playing at Huntington Beach Sports Complex - Field # 7.
Game Uniform: Red, Blue, White
--->> Friday 7/25 -
Game Uniform: White, White, Red
---
Team News
04/14/14 - Updated Schedule has been added to CA Handouts
---
Sponsors
---
Stay Connected to Corona Angels
Check out our new Facebook page and like us!
Sister Act - Check out other teams in the Corona Angels Family
- 18G Angels - Tyson
- 18G Angels - Howard
- 16U Angels - Tyson-Slye
- 14U Angeles - Perez
- 12U Angels - Tyson-Slye
- 12U Angels - Dominique Tyson
---