Columbia American Legion Post 300 Baseball: Welcome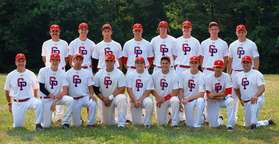 2012 Post 300 Baseball - NCD Champions
Welcome to American Legion Columbia Post 300 baseball
This is the website of the Columbia Post 300 Patriots - the 2010 and 2012 Northern Central District Champions and the 2012 Hillbilly Hardball Classic Champions
Welcome to the website of Columbia Post 300 Baseball, a Maryland 19u American Legion Baseball team. Post 300 won the Northern Central District Championship in 2010 and 2012. In 2012, the Patriots had their most successful season to date. They finished the regular season 16-3 in league play (28-9-1 overall), won the Hillbilly Hardball Classic with victories over the eventual state champions of WV and OH, and won the 2012 NCD Championship! They finished 3rd in the MD State Championships, and 5th in the Mid-Atlantic Regional Championships, which were eventually won by the National World Series runner-up.
RECENT NEWS:
Post 300 is fresh off of a 2012 invitational tournament championship in the Hillbilly Hardball Classic in Elkins, WV, a District Championship, and trips to the State and Regional Championship Tournaments! The Patriots finished with a final record of 28-9-1. Great season Patriots!
If you are interested in watching the Patriots, or in trying out for next season's Post 300's team, please contact Coach Nanni at coach.nanni@yahoo.com.
Post 300's 2012 recruiting areas includes all players who live in the school districts for Centennial High School, Glenelg High School, Marriotts Ridge High School, and Mount Hebron High School (Please see the "Recruiting Areas" tab for more details about our recruiting areas). You are eligible to play for Post 300 if you live in these areas and go to private school. Thank you, and we look forward to seeing you on the ball field.
Message from the National American Legion Baseball Headquarters:
Since 1925, The American Legion has sponsored a nationwide youth baseball program. During these past eight decades, millions of young players have enjoyed playing baseball. The American Legion and their 2.8 million members have raised millions of dollars each year for players to learn the importance of teamwork, discipline, leadership and good sportsmanship. The American Legion sponsors American Legion Baseball to give players an opportunity to develop their skills, personal fitness, leadership qualities and to have fun.
American Legion Code of Sportsmanship:
I will:
Keep the Rules;
Keep Faith with my teammates;
Keep my temper;
Keep myself fit;
Keep a Stout heart in defeat;
Keep my pride under in victory;
Keep a sound soul; a clean mind; and a Healthy body

Columbia Post 300 Baseball
Friday, September 21
Post 300 Alumni/Current Players in College
Despite its recent beginnings in 2010, Post 300 prides itself on fielding quality teams with college-caliber players on its roster. The following players are Post 300 alumni or current players who have played, or are playing baseball in college (years on Post 300 are in parentheses):
Andrew Monger (2010, 2011) - McDaniel College
Ryan Smouse (2010, 2011) - CCBC-Catonsville
Michael Long (2010) - Washington College
Ben Ciraolo (2010) - Misericordia University
Patrick Watson (2010, 2011, 2012) - St. Mary's College of Maryland
Brett Kohler (2010, 2011, 2012) - University of Maryland, College Park Club Team
Erik Sackandy (2010, 2011, 2012) - Roanoke College
Ben Koffel (2011, 2012) - Elon University Club Team
Garrett Kurtz (2010, 2011, 2012, 2013) - Dickinson College
Ben Goldsmith (2012, 2013) - St. Mary's College of Maryland
Colin Dyer (2012, 2013) - Towson University
Zack Astran (2011, 2012, 2013) - Highpoint University Club Team
Friday, August 26
Columbia Post 300 American Legion Baseball Team