Colorado Cannons: Welcome
Monday, May 13
Cannons register 9-2 victory over Bears
Z (now 1-1) picked up the victory on May 12
DENVER, Colo. (May 12, 2013) – The Colorado Cannons defeated the Denver Bears by the score of 9-2 on Sunday afternoon, May 12, at East High School. BOX SCORE
Starting pitcher Josh Zavislan (6.0 IP, 7 H, 2 R, 2 ER, 0 BB, 0 K) went six strong innings for the Cannons, who improved to 5-2 on the season while moving into second place in the 18AAA standings. Zavislan scattered seven hits and did not allow a walk while improving his record to 1-1. John Steinhoff went 2-for-3 with a double, two runs scored and two RBI as the Cannons prevailed for the fourth time in their past five contests.
Ted "Dizzle" Taylor (run, RBI) went 3-for-4, Evan Barnes scored two runs and Dustin Guyer (double, run, RBI) went 2-for-3. Nate Barnes (3.0 IP, 2 H, 0 R, 0 BB, 4 K) relieved Zavislan in the top of the seventh and tossed three scoreless innings to earn his first save of the year. Jordan Riebel (2-for-4, double, SB) and Jacob Maupin (1-for-1, run) drove in one run apiece.
Guyer and Scott Day (1-for-4, SB, run) both threw out runners at homeplate to complete two of the Cannons' three double plays.
Stephen Gilgenbach went 3-for-4 for the Bears (3-3), who committed seven errors and stranded six runners on base. Patrick Dennis (7.0 IP, 13 H, 9 R, 0 ER, 2 BB, 5 K) suffered the loss as all nine of the Cannons' runs proved to be unearned.
The Cannons will play the Denver Red Sox (2-4) on Sunday afternoon, May 19, at 4:00 p.m. at Colorado Academy High School in Denver.
Check out the new CANNONS GEAR for 2013, and be sure to visit the new 2012 and 2013 PHOTO GALLERIES.
PRINTABLE 2013 CANNONS SCHEDULE

-- CANNONS --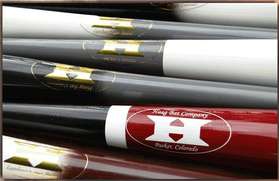 HAAG BAT COMPANY / haagbatco@comcast.net / 303-358-0695
farleyAWESOME