Chicago Demons Basketball Program: My Site News
Tuesday, November 12
16U CHICAGO DEMONS WILL FLEMING MAKES CHICAGO HOOPS HEADLINES
WILL FLEMING READY FOR BIG SEASON
Written by Chicago Hoops
St. Ignatius 2016 wing Will Fleming is a candidate to have a breakout season. After a quality summer running on the circuit with the Chicago Demons 15U he will be looked at to provide scoring for his high school team.

Fleming is a lights out shooter that plays with a high basketball IQ and rebounds well. We spoke with the 2016 wing about how his summer went with the Chicago Demons.

"This summer my Demons team did very well. I was really counted on to bring my game every time we played and we were able to do well in the tournaments. We played a lot of tough close games that just made us better and that helped us in the long run. This summer was really the first time I had to play on the perimeter and I feel like that helped me a lot with my game."

The sophomore talked about his strengths as a player.

"This summer I really became a solid three point shooter. I've developed my game off of that by being able to get around people after a shot fake. My ball handling has improved a lot over the summer also."

He is ready for a big season with his team at St. Ignatius.

"I really look forward to making an impact on varsity. Our goal as a team is to win the Catholic League and then make it down state. I feel we have a pretty good chance to do so."


Friday, October 25
Chicago Demon Alum Chris Eversley Pre-Season All-Conference Selection in the Big West
Tuesday, July 9
Executive Director meets Derrick Rose...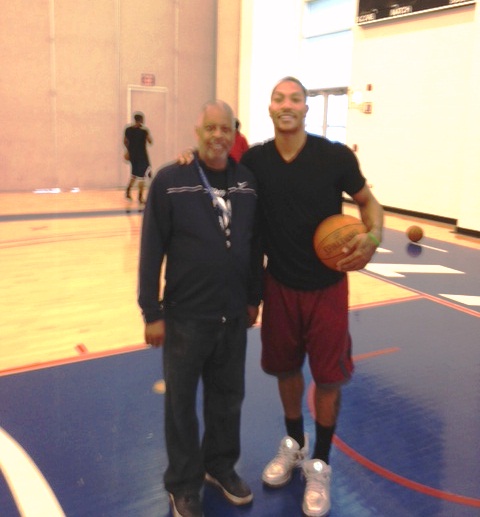 Chicago's Own D. Rose
Tuesday, July 9
Chicago Demons Gr. 7 HTIHs Wins Run N Gun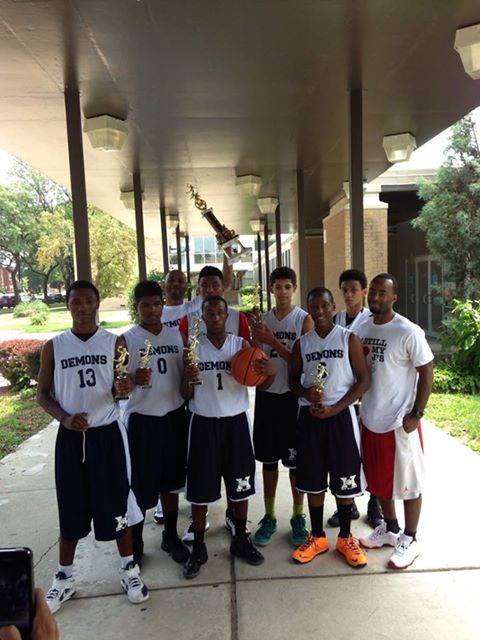 Gr. 7 HTIHs Champions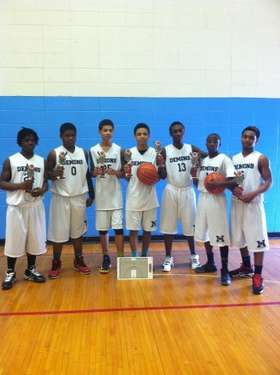 Champions
Sunday, April 28
Gr. 7 HTIHs Wins Championship
Wednesday, April 24
Gr. 7 Team HTIH's MOF Jaguars Tourney Schedule
Site: Rich Central High School 3600 West 203rd Street, Olympia Fields, IL 60461 Saturday 4/27 11:00a & 12:30p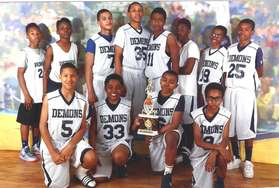 Gr. 7 (Team Brown)
Monday, April 15
Second Place for Gr. 7 (Team Brown) at Walker Athletics
Friday, August 3
Chicago Demons Olympian!!!
Nigerian Olympic basketball player,
Richard Oruche is an alumni of the Chicago Demons basketball program.
He played from 2003-2005.
Richard's journey to London is the epitome of hard work paying off.
Despite the fact that Richard possessed an above average skill set and
credentials as the MVP at Fenton, he was not highly touted as a high
school basketball player.
Richard joined our organization adding the combination of solid
ballhandling, consistent midrange jumpshot with strong leadership
skills and passion to succeed.
After high school, Richard enrolled at Northern Illinois as a
preferred walk-on. He played for two years. Richard eventually
transferred to the University of Illinois at Springfield where he was
an all-conference performer.
Richard currently plays professionally in Africa.
The Chicago Demons are proud and support your efforts. Good luck in
London, Rich.
Friday, June 22
SUPPORT THE MICK LOCKE MEMORIAL FUNDRAISER
THE EVENT'S DATE HAS CHANGED TO SUNDAY JULY 1, 2012.
PLEASE COME AND SUPPORT THIS EVENT!!!
Mick ...
Saturday, May 12
13U Wins Jaguar Tourney!
Top: Danny, Cobe, Big Smooth Rashay, Big Slim
Bottom: Marco, Randy, Fatbaby
Sunday, April 1
16U Chicago Demons Final Rosters
The following is the 16U Chicago Demons AAU Boys Basketball Team Final Rosters. I love to wish congratulations to the young men:
Mohy Ahmed, Niko Anderson, Simmie Cobbs, Ogie Davis, Wanye George, Thomas Harris, Christian Hernandez, Ali Kanji, Malachy Matias, Christian Medley, David McDaniel, Yaser Mohamud, Tavarus Petty, Kevin Phillips, Marcel Phillips, Carlton Ponds, Edis Redzepaic, Derrell Sallay, Ohaaji Scott, Romeo Smith, Julian Snowden, Dwayne Wade, Markis Watkins, Darius Wesley, Jeremy Williams, Derrick Williamson
You should be at the first practice session Tuesday April 3, 2012 at Cicero Stadium 1905 S. Laramie, Cicero at 6:00-9:00pm. There will be a parent meeting held at the Newberry Center 1073 W. Maxwell, Chicago on Saturday April 7, 2012 at 11:00a - 12 noon. This meeting will be to discuss the details of the spring and summer sessions.
Success is the good fortune that comes from aspiration, desperation, perspiration, and inspiration.
Please contact Coach Williams with any questions or comments.
Saturday, March 17
Chicago Demons 13U/Gr. 7 Roster
This is the 13U roster based on tryouts. Please refer all questions to Coach Horton and Coach Fields
Roster
Jelani Anderson, Eddie Burnett Jr., Michael Cleland, Earnest Donel, Jocke Fields, Eric Harper, Dorian Levy, Kobe Mapp, Ajani Parker, Coreyoun Rushin, John Staublin, Alex Takor, Naseer Turner
Practice will resume next Saturday at Cotter Boys Club 9:45 am.
Sunday, February 26
Chicago Demons 14U Win Powerade Invitational
The Chicago Demons won the Powerade Invitational today 54-46 over the Illinois Future led by Tournament MVP Jemell ...
Monday, March 5
Chicago Demons 14U Earns bid for Nationals
This weekend at Toi Baylor's Batle of the Borders AAU Super Regionals the Chicago Demons 14U took third place in the Championship bracket to earn a division 1 bid for nationals. The demons lost to the Indy Hoosiers(tournament champions) 56 to 54 in a close one in the semi-final. Jalani McClain and Jemell Dotson had stellar performances all weekend and definitly put there names on the map as top guards in the mid-west. Will Flemming put up big numbers in every game and controlled the boards. Demetrius Mims and Joshua Wilkes shots lights out. New-comer Miles Curry played well.
Saturday, February 25
14u Demons Go 3-0 In Pool Play At Powerade Invitational
Today led by Josh Roberts, Jemell Dotson, Joshua Wilkes, and Rob Lawrence the Demons went 3-0 in pool play at the Powerade Invitational @ The Joy of Game Center. Josh Roberts shot lights out, and Jemell Dotson was electrifying showing amazing athletism. New-comer Rob Lawrence played really well. Tommorrow Semifinal is at 2pm, Championship at 4pm.
The Games Scores:
Demons 63 World Class 54
Demons 35 illinois Future 30
Demons 61 Vonant Feeder 37
Sunday, July 17
17U Waller Perez Illinois Prep Bullseye Article
Sleeper #1
While we have talked about the outstanding job that Tony Martinucci has done in completely turning around the basketball program at Morton High School in Cicero, IL, a player who he have not yet mentioned is 6'4 2013 forward Waller Perez. Simply put, Perez was most solid at the Tip-Off Classic playing for the Chicago Demons Blue 17-Under squad and showed that he may be the most talented player in Morton's program right now. Perez is athletic and plays much stronger than his listed height. He is a warrior from start to finish and is especially strong along the baseline, where he is able to utilize his strength and athleticism to consistently attack the basket. In addition, Perez can put the ball on the floor and has the ability to pull up and hit shots out to the 3-point line although he can be streaky. Perez showed us more than enough to make us believe that he is a player that low and mid majors should be taking a close look at.
Tuesday, February 21
Joshua Wilkes has High Expectations this Travel Season
Joshua Wilkes has expectations for the 2012 season. The 6'1" guard has improved his ball handling and developed a nice outside shot. He is expected to carry a heavy load this upcoming travel season. Joshua will be playing more at the point this year, with his aggresiveness and high motor we expect him to excel.