Chicago Demons Basketball Program: My Site News
Monday, May 25
Chicago Demons High School Spring Summer Schedule
Chicago Demons High School Basketball Program Schedule
Contacts: 17U/Grade 11-12 Jamal Dantzler 773.580.8683 jamal.dantzler@yahoo.com; Vince Carter 312.520.0905
16U/Grade 10 George Baker 773.559.1498 mrgbaker1976@yahoo.com; Rob Dudzik 312.498.6108 rdudzik@hotmail.com; Drew Whited 312.672.2848 drew@fenidrink.com
15U-HTIH/Grade 9 Michael Horton Sr. 312.961.2042 hooptilithurts1996@hotmail.com; Michael Horton Jr. 312.307.9916 mhortonjr@hotmail.com; Akeem Jackson 312.709.1172 akeemjackson@live.com
15U-EYG/Grade 9 Reginald Salley 773.220.9300 rsalspartans@yahoo.com
Fee: TBD Summer Session (Fee to be determined based on travel)
SUMMER
July 9-12 Chicago Summer Jam (Fire/Meanstreets, Chicago)
July 15-19 NY2LA Summer Jam (Milwaukee, WI)
July 22-29 Big Foot Las Vegas Classic (Las Vegas, NV) Overnight
SPRING*
April 3-5 Showdown in Chicago (Deerfield, IL)
April 10-12 Chicago Jam Fest (Deerfield, IL)
April 24-26 Spring Classic (Indianapolis, IN)
May 2-3 Gym Rats Hensley Memorial (Fort Wayne, IN) 17U/16U/15U-HTIH only
May 2-3 Nuthin But Net (St. Louis, MO) 15U-EYG only
May 16-17 Chicago Demons Alumni/Banquet Weekend
May 22-24 Nike Grassroots Future Stars (Columbus, OH) 17U/15U-HTIH/15U-EYG only
May 22-24 Chicago Classic (Best Buy Chicago) 16U only
*Some events subject to change
Monday, May 25
Chicago Demons Gr. 7-8 Spring/Summer Schedule
Chicago Demons Gr. 7-8 Basketball Program Schedule
Contacts: Grade 7 Jonathan Dowdy 773.808.0188 jonathan.dowdy@newedge.com; Pat Summit 773.564.3090 psutton2222@gmail.com
Grade 8 Patrick Steward 773.392.2591 18shane@live.com; Ryan Heaton 773.577.7541 heatonr@ymail.com
Fee: TBD Summer Session (Fee to be determined based on travel)
SUMMER
July 9-12 Chicago Summer Jam (Fire/Meanstreets, Chicago)
July 10-12 Chicago Summer Jam (Waukegan, IL)
July 22-29 Big Foot Las Vegas Classic (Las Vegas, NV) Overnight
SPRING*
April 3-5 Showdown in Chicago (Deerfield, IL)
April 10-12 Chicago Jam Fest (Deerfield, IL)
April 25-26 Walker Athletics United We Stand (Lisle, IL)
May 2-3 Nuthin But Net (St. Louis, MO) Overnight
May 16-17 Chicago Demons Alumni/Banquet Weekend
May 22-24 Nike Grassroots Future Stars (Columbus, OH)
*Some events subject to change
Monday, May 25
Chicago Demons Gr. 5-6 Spring/Summer Schedule
Chicago Demons Gr. 5-6 Basketball Program Schedule
Contacts: Grade 6 Alan Geneo Carter 773.407.4846 alangeneo33@yahoo.com; Dereck Hill 773.451.6887 dhilljan7@gmail.com
Grade 5 Henry Stephens 312.428.1883 stephenshenry7841@gmail.com
Fee: TBD Summer Session (Fee to be determined based on travel)
SUMMER
TBD
July 22-29 Big Foot Las Vegas Classic (Las Vegas, NV)
SPRING*
March 28 Jr. Hoops Elite Spring Tip-Off (Addison, IL)
April 10-12 Jr. Jam Fest (Lake Zurich, IL)
April 25-26 Walker Athletics United We Stand (Lisle, IL)
May 2-3 Nuthin But Net (St. Louis, MO) Overnight
May 16-17 Chicago Demons Alumni/Banquet Weekend
May 22-24 Nike Midwest Future Stars (Columbus, OH)
Thursday, May 21
9th Grade EYG Team Wins St. Louis Nuthin But Net Tourney
Congrats
Monday, April 27
Walker Athletics United We Stand Gr. 9 Champions
Congrats Chicago Demons Gr. 9-Hoop Til It Hurts Champions this weekend at Walker Athletics in Lisle.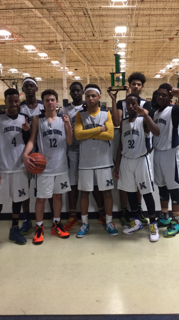 Gr. 9-HTIH
Monday, April 27
Walker Athletics United We Stand Gr. 7 Champions
Chicago Demons Gr. 7 wins United We Stand Tourney at Walker Athletics in Lisle.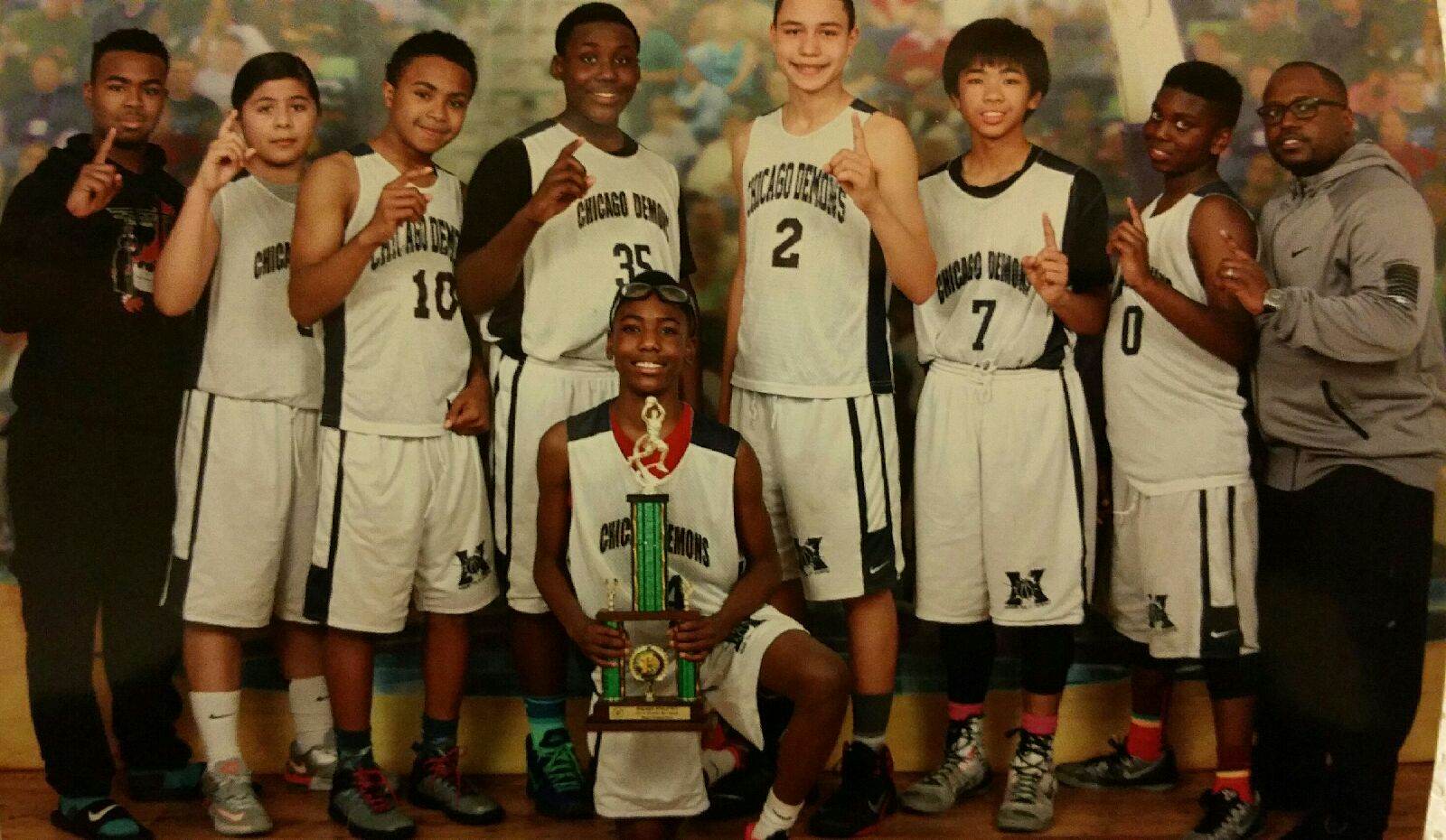 Grade 7 Demons
Monday, April 27
Walker Athletics United We Stand Gr. 6 Champions
Congratulations to the Chicago Demons Gr. 6 team for winning the Walker Athletic's United We Stand Tourney in Lisle.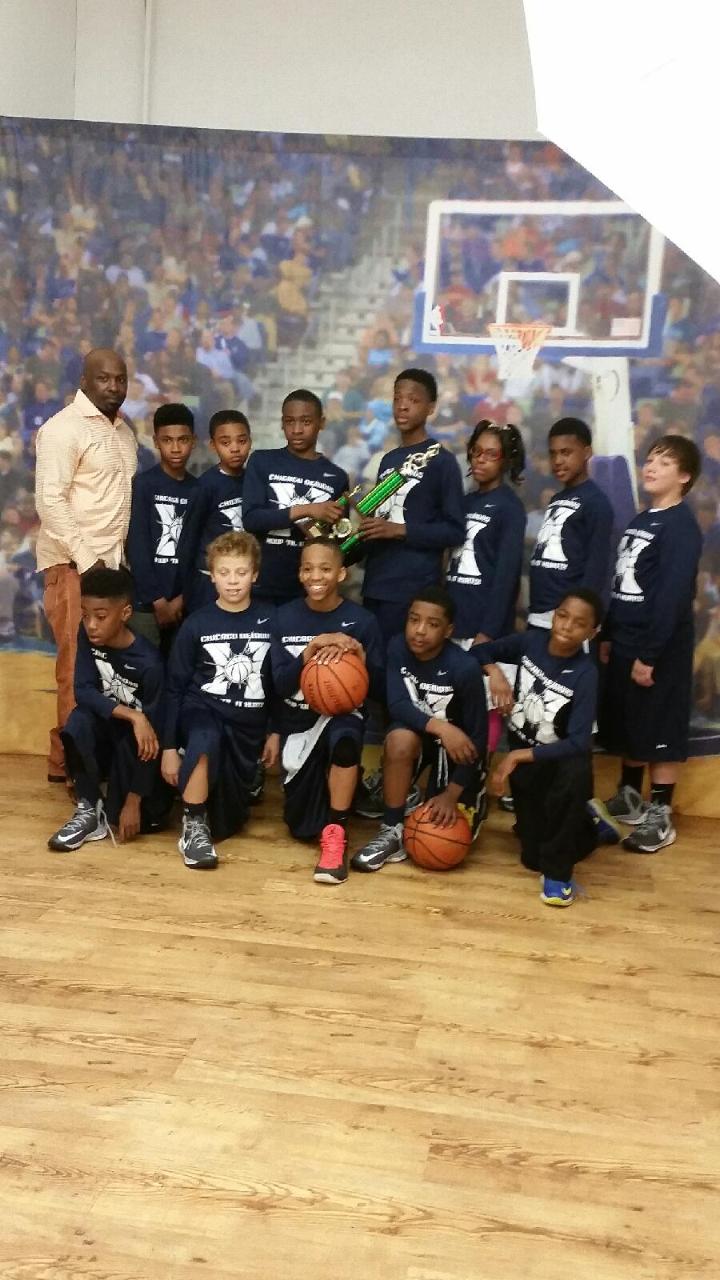 Demons Gr. 6
Thursday, April 2
Chicago Demons Grades K-4 Spring/Summer Schedule
Chicago Demons K-4 Basketball Program Schedule
(sign up anytime)
Contacts: In-house League Sam Davis 312.813.8680 samueladavis@opendoortutoring.com
Demons Travel Team Jimmie Rogers 773.983.5050 jimmie6719@aol.com
Fee: $100 per session for in-house league only.
Location: Stanton Park 618 W. Scott
SPRING
March 7 Stanton Park (in-house)
March 14 Stanton Park (in-house)
March 21 Stanton Park (in-house)
March 28 (off week)
April 4 Easter Weekend (off week)
April 11 Stanton Park (in-house)
April 18 Stanton Park (in-house)
April 25 Stanton Park (in-house)
May 2
May 16-17 Chicago Demons Alumni/Banquet Weekend
SUMMER
May 30 Stanton Park (in-house)
June 6 Stanton Park (in-house)
June 13 Stanton Park (in-house)
June 20 Respect Dad Shootout One Day, Romeoville, IL Travel Team Only
June 27 Stanton Park (in-house)
July 4 Independence Day Weekend (off week)
July 11 Stanton Park (in-house)
July 18 Stanton Park (in-house)
July 25 Travel Team Practice
July 31-Aug 2 National Summer Classic, Waukegan, IL Travel Team Only
CHICAGO DEMONS COACHES' DIRECTORY
PEP Chicago Demons Executive Director, Grade 11 Coach: Vince Carter 312.520.0905 pepdemons@aol.com
PEP Chicago Demons Director/HTIHs CEO, Grade 9 Head Coach: Michael Horton Sr. 312.961.2042
Chicago Demons High School Teams CEO, Grade 10 Head Coach: George Baker 773.559.1498
Chicago Demons Elementary Teams CEO, Grad 7 Head Coach Jamal Dantzler 773.580.8683
Chicago Demons Facilities Coordinator Grade 8 Head Coach: Patrick Steward 773.392.2591
Chicago Demons Director of Player Recruitment Grade 7 & 10 Coach Jermaine Hiler 773.663.6418
Demons Basketball Administrative Assistant: Viveca Ford 312.608.5382
Grade K-4 Director and Coach Jimmie Rogers, Sr. 773.983.5050
Grade 4 Coach Jonathan Dowdy 312.732.1891
Grade 5 Coach Henry Stepehens 312.428.1883
Grade 6 Head Coach Alan Geneo Carter 773.407.4846
Grade 8 Coach Sam Davis 312.813.8680
Grade 9 Coach Michael Horton Jr. 312.307.9916
Grade 9 Coach Akeem Jackson 312.804.9103
Grade 10 Coach Larry Underwood 773.255.0237
Grade 11 Coach Michael Brown 773.405.9408
Thursday, March 26
Demons Equipment Package
CHICAGO DEMONS EQUIPMENT PACKAGE
Chicago Demons Elite Package
White Nike Home Jersey & Shorts, Navy Nike Away Jersey & Shorts,
Gold Nike Shooting Shirt, Nike Elite Backpack, Two (2) Pair of Nike Elite Socks
TOTAL PRICE: $205
Friday, December 12
Top Demon Players at Play Hard Hoops
The following Demons were selected to the all tournament team this past weekend at Play Hard Hoops:
4th Grade Amarion Stephens
5th Grade Delen Davis
6th Grade Marcus Rule
7th Grade Aaron Varilla
Congrats!!!
Monday, October 6
Chicago Demons Alumni Michael Fakuade is off to Spain...
The American player Michael Fakuade (18/02/89, Chicago) is responsible for completing the game within the Force this season 2014-2015 Lleida LEB Oro. The newest member of the group Lleida is a wingman 2.01 meters tall and comes from ETB WOHNBAU Pro Lea
gue in Germany, where it has 8.3 points and 7.3 rebounds per game has taken. "We will power and physical presence under the basket," said coach set Lleida, Joaquin Prado. In this sense, the technician has highlighted the versatility of the player, "because you can play the 4 or 5 position." Thus, "with his physical, the team is full" and, therefore, is the player who had the final Lleida Force after the club decided not to have Fran Urli. 's new booster Lleida and all born in the United States also has a Nigerian national, was educated at the University of Illinois, where he played in the NCAA until the 2011-2012 season, where he went to Germany to play in the Pro B League UBC Hannover Tiger in 2012-2013 and later in the Pro A with WOHNBAU last year. worth mentioning that Fakuade has planned his arrival in Lleida on Tuesday to join quickly to training with the rest of colleagues. "We would have liked to have the player we were missing before, but it is with us earlier in the week is fantastic. Now have the corresponding period of adaptation and will double their efforts, since it takes six weeks disadvantage relative to their new colleagues. But all that work is adapting quickly. " Best feeling in the first league game Regarding the first round of LEB Oro, the Force Lerida fell away to Leyma Coruña Basketball 71-64. "The willingness of the players was very positive, as the team was put in the game for 40 minutes of games, but we lost the clash in the last four minutes," admitted coach set Lleida. In fact, we should mention that the partial were 20-20, 40-39, 56-54 and 71-64. However, the coach said "the room for improvement is wide." However, the Force Lleida lies on the second day, a factor which will force the coaching staff's training in a different way. "We would have liked to play Northern Districts than rest, but the season is well organized. Therefore, make appropriate adjustments to correct various issues and continue the process of adaptation of the players," he added trainer.
Friday, October 3
Chicago Demons Coach Michael Brown On The Move!
Men's Basketball 10/2/2014 10:40:00 AM Ken Badylak, Sports Information Director
Michael Brown Announced as Men's Basketball Assistant
RENSSELAER, Ind. – Saint Joseph's College Head Men's Basketball Coach
Tom Church
as announce Michael Brown as an assistant coach. Brown joins
Jeremy Duerr
, rounding out the SJC coaching staff for the 2014-15 season.
"I am extremely happy that Mike has decided to join our staff," commented Head Coach
Tom Church
. "He is a hard worker and brings a wealth of basketball knowledge to our program. Mike's connections to the greater Chicago Area and Junior College circuit will contribute heavily to our recruiting efforts."
Brown comes to SJC after two years at Kankakee Community College where he served as an assistant coach. He assisted with recruiting efforts, player development, and in-game strategy for the Cavaliers. KCC went to back-to-back region championship games and posted a record of 25-5 in the 2014 season.
Prior to his time at KCC, Brown was an assistant coach at Rock Valley College where he was responsible for scouting, film break-down, and recruitment. RVC went 20-11 in 2012, their first winning season in over a decade.
Over the years Brown continues to be active in clinics and camps across the country, making stops at the University of Colorado, Texas A&M, Virginia Commonwealth as well as the Philadelphia 76ers and De La Salle Institute of Chicago.
Brown earned his bachelor's degree in Business Administration with a minor in Mathematics from Saint Xavier University in Chicago. The Chicago, Illinois native also earned a maters in Sports Leadership from Concordia University.
Wednesday, October 29
Congrats To Demons Success in Romeoville.
Romeoville Athletic & Events Center
55 Phelps Avenue, Romeoville, IL 60446

Final Results
Grade 8 won Championship Grade 7 won Championship Grade 6 finished Second Place Grade 5 lost in the Final Four
Congratulations Demons!!!! Winter Session begins in November 15
Sunday, September 21
Chicago Demons 17U: Kenneth Perkins
Joe Henricksen
For Sun-Times Media @joehoopsreport
When someone saluted Lewis Thorpe this summer with, "Hey coach, congrats on 6-9," the North Lawndale coach had no idea what he was being congratulated for.
"At first I walked away, saying thanks," says Thorpe of being polite in response to the goodwill gesture. "But then I stopped and said, 'Wait, what are you talking about?'"
The response: "The Perkins kid."
Thorpe had no idea who "the Perkins kid" was or that he had enrolled at North Lawndale. After all, this was an unknown player in the city who spent his junior year playing at a low-profile Chicago Public League school and had sprouted four to five inches in the past year.
Whoa! Whoa! Whoa! Wait a minute! Is this another …
Stop right there. No, it's not.
While there will never be another Anthony Davis-type story to sweep through Chicago –– and I mean never –– the Kenneth Perkins story is still pretty intriguing.
When Chicago Public Schools decided to close Dyett High School in 2015, the numbers in the Bronzeville neighborhood school on Chicago's South Side continued to plummet. Perkins was part of that exodus. After this past school year, Perkins, who scored 34 points in leading Dyett to a regional quarterfinal win over Chicago Tech Academy this past season, moved to the West Side and landed at North Lawndale this summer.
And now that Thorpe has gotten a taste of Perkins?
"We are blessed to have him," says Thorpe, almost sheepishly as if he can't believe this bundle of talent landed on his doorstep out of nowhere.
Though very few people are even aware of Perkins, his talents or his story, a forecasted buzz is being delivered. Perkins is downright intriguing. He's grown to a legitimate 6-9 while still playing with the perimeter skills and movement he possessed when he was a 6-4 or 6-5 wing.
"He's shot up at least four inches in the last year, so he's now a 6-9 kid who can play out on the wing and attack the basket off the dribble," says Thorpe. "He's very skilled. He can shoot it and put it on the floor. He can score it, push it on the break, go coast to coast. I love his versatility."
Thorpe's praise doesn't stop there.
"I really think he can be a first-team all-city player," says Thorpe, who has coached his share of talented Public League players over the years. "That's the type of talent and potential I think he has."
Perkins' first taste of truly competitive basketball came this past summer while playing on the AAU circuit for the very first time. Von Steuben coach Vince Carter, the director of the Chicago Demons team Perkins ran with, saw significant strides made in July alone.
"He went from being nervous and timid to being more comfortable and playing with more confidence," says Carter of the three-week progression he saw Perkins make in July. "He just hadn't played at that level before. But he has tremendous upside, and he's what you call a super late-bloomer."
With a comfort level handling and shooting the basketball at his size, Perkins is a bonafide Division I talent with great potential. The unknown prospect is poised to skyrocket up the Class of 2015 player rankings in Illinois.
Perkins is far from a finished product or even close to reaching his potential. Although long and rangy, he's rail thin with very little strength. There will undoubtedly be concerns about whether he can handle the physical nature of the game, both now and in the near future. He will also be going from facing a schedule that saw the likes of Alcott, South Shore and Ace Tech to seeing Farragut, Marshall and Whitney Young on the West Side.
After checking into Perkins once he received the news of his arrival, Thorpe gathered enough intel to know he had a player who did have a few breakout games last year but without any consistency –– or competition.
"He's still finding his way," says Thorpe, who has watched several college coaches at all levels trickle in during open gyms the past two weeks to check out his new basketball toy. "He's going to have to find his way, find his place, and that will happen in time."
Perkins is as anonymous of a 6-9 basketball player as you will find in the city of Chicago. But in a short time Thorpe sees the ingredients, beyond his obvious talents, that can turn an unknown into an appealing and productive player.
"He doesn't realize how good he can be," Thorpe adds. "He's hungry. He's a gym rat. But this is all new to him –– the conditioning, the weight room, the level of competition. But that's what makes him such an interesting and exciting player."
And it also shows that, yes, you can still find hidden, late-blooming talent in a closely-watched and scrutinized basketball hub like Chicago.
Sunday, August 17
Demons Coaches Support Nazr Mohammed Fundraiser
Sixteen-year NBA veteran and former Chicago Bull Nazr Mohammed put the spotlight on diabetes research Aug. 1, as he welcomed 300 guests to the third annual Nazr Mohammed Foundation Fundraiser. Athletes and friends, including Joakim Noah, Dee Brown, James "Big Cat" Williams, Jerry Azumah and Israel Idonije filled Galleria Marchetti (825 W. Erie) for an evening of cocktails, hors d'oeuvres, custom cigars and music by The Mo Fitz Project. Silent auction and raffle items such as Bulls tickets, a Gucci duffel bag, a Comcast SportsNet behind-the-scenes tour and autographed jerseys helped net more than $35,000 for the University of Chicago Kovler Diabetes Center, which works to develop innovative treatments and cures for individuals with diabetes.
Splash was the media sponsor of this event.
Photos by Michael Navarro
Tuesday, July 1
Chris Eversley Goes Pro
Chicago Demons Alum Chris Eversley goes Professional. After his successful run at Cal Poly.
Click link to read this successful story.
http://www.dnainfo.com/chicago/20140630/old-town/chris-eversley-follows-his-hoops-dreams-malaysia
Sunday, May 18
Demons Elementary Teams at the NBA Combine Fit Action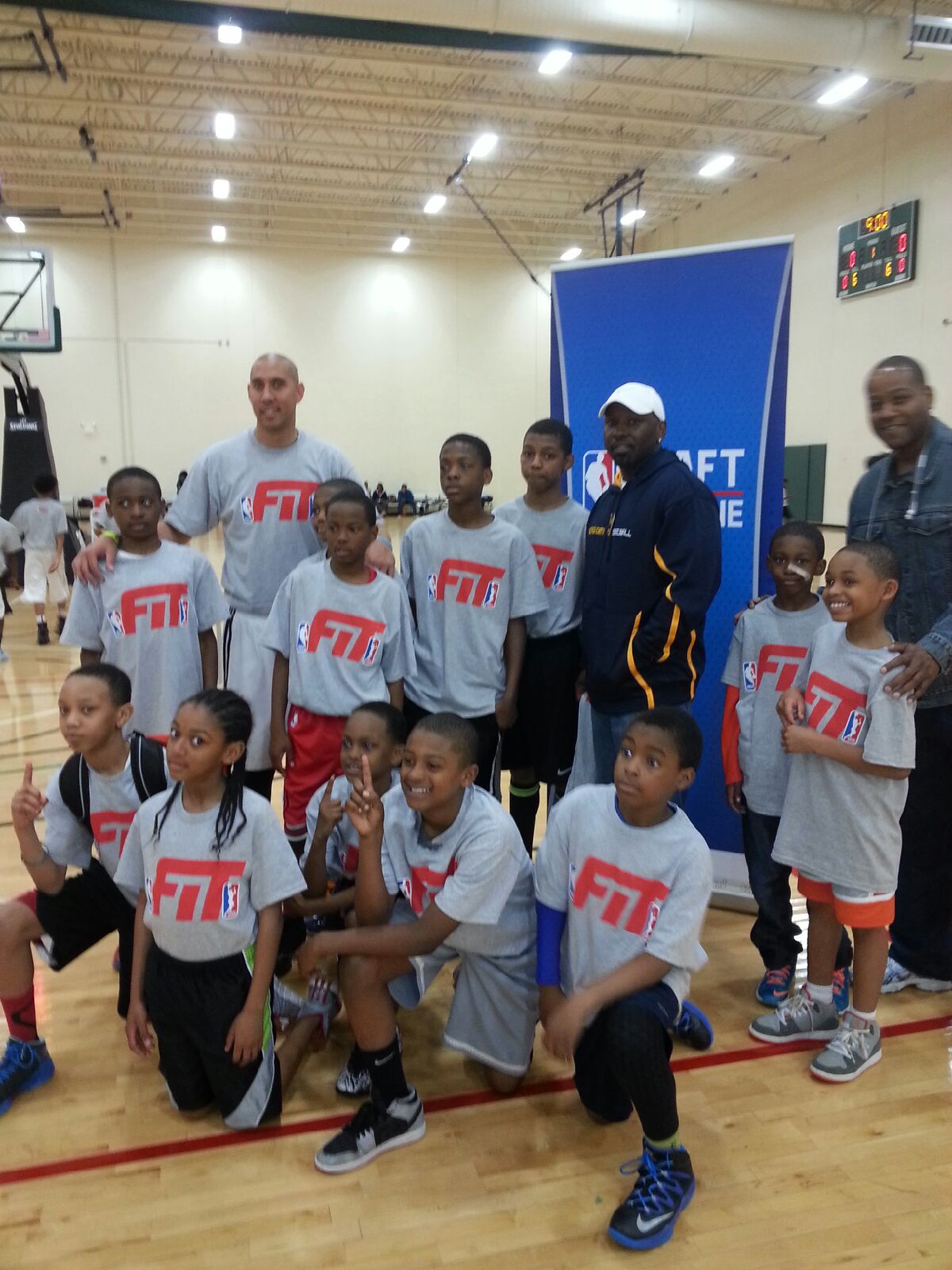 NBA Combine
Thursday, May 8
Chicago Demons Duo Among Best Backcourts in 2017 Class!
05/08/2014, 3:45am CDT By Brandon Dunson
The Chicago Demons have always been a talented and winning travel program. They are considered one of the state's "classic" programs—a group that includes Full Package, Illinois Hawks, Illinois Warriors, Old Gold, RBS All-Stars, Rising Stars, Team Illinois, and others that dominated in the early 2000s. The Demons produced some of the state's top talent including Tony Allen (Oklahoma State/Memphis Grizzlies), Ryne Hamblet (Bowling Green), Michael Horton (St. Joseph's-Indiana), Billy Rush (Robert Morris/Milwaukee Bucks), Angel Santiago, Jeremie Simmons (Ohio State), and Florentino Valencia (Toledo)—all players who, at one time, ranked among the top 10 players in their respective classes.
With the rise of the shoe company sponsors in travel basketball the Demons, like many other programs, have taken a hit in exposure but program coach George Baker will tell you that the talent is still there…and he's got the proof to back it up.
The Chicago Demons have always been a talented and winning travel program. They are considered one of the state's "classic" programs—a group that includes Full Package, Illinois Hawks, Illinois Warriors, Old Gold, RBS All-Stars, Rising Stars, Team Illinois, and others that dominated in the early 2000s. The Demons produced some of the state's top talent including Tony Allen (Oklahoma State/Memphis Grizzlies), Ryne Hamblet (Bowling Green), Michael Horton (St. Joseph's-Indiana), Billy Rush (Robert Morris/Milwaukee Bucks), Angel Santiago, Jeremie Simmons (Ohio State), and Florentino Valencia (Toledo)—all players who, at one time, ranked among the top 10 players in their respective classes.
With the rise of the shoe company sponsors in travel basketball the Demons, like many other programs, have taken a hit in exposure but program coach George Baker will tell you that the talent is still there…and he's got the proof to back it up.
"Burnett is a pure shooter," stated Coach Baker of the 6'1" guard. "He's at Providence-St. Mel and hit some big three's this year. He was in the games when it mattered. Right now he's probably averaging anywhere from 26-28 points for us. He reminds you of Roosevelt Smart."
This past weekend at the Spiece Run 'N Slam Classic Eddie scored 30+ points in 3 of the games for the Demons who lost in the 15U Silver Championship after Burnett sprained his ankle in the semi-final.
Jason Towers is a floor general that has been the catalyst for the Demons. The 6'0" point guard attends St. Joseph where he is able to learn from one of the best.
"He's at St. Joe's where he's going up against Glynn Watson every day in practice so he's got to be tough. He's a bit of streaky shooter but when he's on, there's nothing you can do."
Both Towers and Burnett rank among the top in-state players in the 2017 class. Coach Baker, who is active in seeking exposure and bringing attention to the players in the program, expects them to be a foundation to help rebuild the reputation of the Demons program.
"I want to show guys that they can win and get exposure playing with us."
When you have a coach as hungry as George Baker and talent like Towers and Burnett, that is sure to be the case.
Wednesday, April 30
Meet the Grade 5 Team
Coach Alan Geneo Carter Coach Derek Hill Dalen Davis Ke'mari Rattliff Gabriel Garcia Lepra George Marcus Rule Jalen Kimbrough Darwian Yoakum Darryl Scott Mike Carter Chris Turner Izaac Holins
Sunday, April 20
Sunday, April 20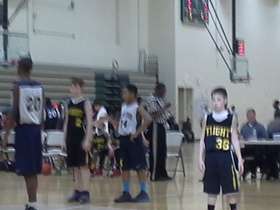 Gr 6 @ Bourbonnais
Sunday, April 20
Sunday, April 20
Meet The Chicago Demons Gr. 6 Team
Chicago Demons Basketball 6th Grade AAU Roster
#20 Jaheim Carson (F/G)
#31 Che Coleman (F/C)
#24 Devin Davis (G)
#34 Rashad Harries (G/F)
#21 Dorell Young (G)
#32 Reggie Martin (G/F)
#44 Jailyn Brown (C/F)
#30 Steven Clay (F/G)
#33 Devon Jarmon (C)
Coach: Samuel Davis………312-813-8680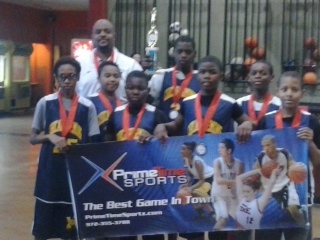 Gr 6 Elite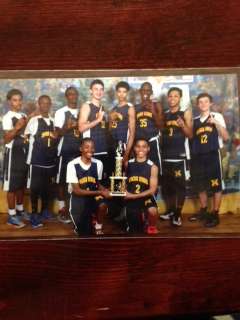 Champions
Sunday, April 20
Gr. 8 HTIHs Win Walker Athletic Tourney
Chicago Demons Gr. 8 HTIHs wins the 8th Grade Divsion at Walker Athletics Sunday May 15. The team was undefeated thru the weekend.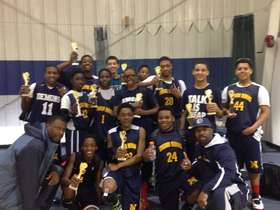 Gr. 8 Elite Champions
Monday, March 31
Demons Gr. 8 Elite Win Jaguar Tourney
Congrats to our coaches Eric Brown, Harry Dixon, and the entire team for their Championship run. Thanks to all the parents and fans for their support.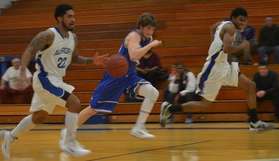 #22 Brandon Smith
Thursday, February 27
Demons Alum Brandon Smith Receives All Conference Honors
The Northern Athletics Collegiate Conference (NACC) announced the 2013-2014 men's basketball All-Conference awards and two Spartans were honored as NACC First-Team All-Conference recipients.
Junior guard Brandon Smith (Berkeley, Ill./Walther Lutheran H.S.)
and sophomore forward
Kalmon Stokes
(Huntersville, N.C./Oswego East H.S.) were named NACC First Team All-Conference.

Smith was a First-Team All-Conference selection averaging 14.6 points and 2.5 rebounds per game. He is shooting 44.2 percent (133-301) from the field and 38.2 percent (50-131) from three-point range.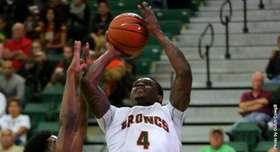 Jamal Dantzler
Tuesday, February 18
JAMAL DANTZLER DEMONS ALUM AT D1 UNIVERSITY OF TEXAS-PA
EDINBURG –
When you ask University of Texas-Pan American Broncs men's basketball player and senior
Jamal Dantzler
how he would characterize himself, he replies with self-driven and humble, which is a big reason why he plays basketball today.
Dantzler, a Chicago-native, started playing basketball when he was in the eighth grade. No one from his family introduced him to the game, he picked up as he saw it everyday walking to the park.
"I actually introduced my self to game myself," Dantlzler said. "I used to walk to the park down my street and one day I tried it out. Now, here I am today."
At first, it was just a game to Dantzler, just like any game for a kid but he realized that he found something in basketball and didn't want to let it slip through his fingers.
"I really didn't take it seriously at first," Dantzler said. "I started to notice some good results. I was actually pretty good. I started to take it more seriously and it turned out good for me."
Intrigued by his success on the court, Dantzler joined his eighth grade basketball team where, with the help of his coach Marvin Williams, he learned to see the game in a different way.
"It was my first time playing organized basketball," Dantzler said. "He taught me how to be disciplined, how to see certain things on the court and how to act off the court. He had a big impact on my basketball life."
Dantzler continued playing basketball as he entered Von Steuben High School. His time in AAU basketball is something that he cherishes.
"I think the AAU summer circuit with the Chicago Demons was one of the best times of my life," Dantzler said. "I got to spend time with my friends as we traveled all around the world. We had fun just playing basketball. It was one of the best times for me."
Danztler continued to see the results on the court throughout high school but he remained humble even when those around him started to see his hard work and his potential.
"I was the fan favorite," Dantzler said. "Everyone loved me because I gave it my all every night. I remained humble though. I would have a big game but the next day at school I was even keeled. Being humble in certain situations helped me out so much."
At this point in Dantzler's basketball career, he realized that basketball was important to him and that he couldn't take it for granted.
"It's very important now," Dantzler said. "When I first started I really didn't care but as I saw the results and got advice from all the coaches I learned how to cherish it and now I really value it. It is going well today."
Dantzler went on to play basketball at Kennedy King Community College in Chicago. There he saw some of his best days on the court. Not only was he playing well but he also got to play basketball with his best friend Anthony Kirkland.
"Kennedy King College was the best," Dantzler said. "As far as basketball, I was playing at a high level and I was playing with my best friend. We brought some hardware to the school after finishing runner up at the regional championship."
Kirkland is currently the head boy's basketball coach at Dyett High School. Kirkland acted like a coach long before he had the title as he helped Dantzler take another step step forward in his basketball career.
"We both are big on basketball," Dantzler said. "We balance each other out and keep each other motivated. He was always in my ear telling me the things I should and shouldn't be doing. He was like another set of eyes and ears for me. Almost like a coach."
From Kennedy King Community College, Dantzler had options to play at the Division I level but as fate would have it he ended up choosing UTPA.
"I was getting interest from Central Michigan, Wisconsin-Green Bay and UIC," Dantzler said. "I was on the verge of setting up a visit with Central Michigan before all their staff got fired and that's when UTPA stepped in. After the visit, I knew this was the place for me."
In his first season with the Broncs, Dantzler played in 32 games while averaging 12 minutes per game. He helped the Broncs to a 16-16 record last season but he felt like he could have done more.
"Individually, I felt like I could have brought more to the team," Dantzler said. "Overall, we ended with a .500 record so overall I felt it was a good season."
Going into his second season, Dantzler got a whole new coaching staff, which meant that he was going to have to adjust not only to new coaches but also a new team system but it was something he had been doing ever since he started playing basketball.
"I am getting the hang of it," Dantzler said. "So far I have been doing alright. I have been transferring from school to school during high school and junior college so I am kind of used to it. It is not that hard to make the adjustment going from coach to coach."
This season, Dantzler has seen action in 22 games while getting the starting nod in two of those games. With his final season winding down, he can look back to some good memories. One in particular that stays on his mind is the win over Portland on December 29, 2012.
"We went on the road to play Portland University," Dantzler said. "That was a huge win for us. I remember down the stretch
Aaron Urbanus
drove the base line and then kicked it out to me with two seconds left on the shot clock. I knocked down the three to kind of seal the game. That was a good memory for me."
After it is all said and done, Dantzler would like to be a coach. With what he has experienced and has learned along the way he feels like he could give back to the game.
"I want to be a coach," Dantzler said. "I feel like I have seen enough on and off the court to help kids grow up to be better basketball players. I should be able to give back now. Since I didn't have anything like that when I was growing up as a kid I have to pick up the ball myself. I want to give back to the community."
Looking back, if Dantzler could do it all over again, he wouldn't change a thing.
"I think everything has happened for a reason," Dantzler said. "I am good at adjusting with everything around me. I wouldn't change a thing. I had a good time here at UTPA."
Friday, February 14
Jelani McClain Hits Big Three Point Play in Win!
ST. CHARLES – The St. Charles East boys basketball team didn't work hard enough on the boards in Tuesday's game, so Saints coach Pat Woods promised East will make amends in practice.
Naperville North dominated East in the rebounding department as the Huskies survived a turnover-riddled night by both teams to win the nonconference game, 61-58.
Woods made his remedy for East's rebounding ills clear.
"It's called practice," Woods said. "We're going to fix that problem really quick or we're going to be the best-conditioned team in the Kane County area."
Naperville North (14-8) won its fifth straight game, while slumping East (12-11) dropped its third in a row.
East senior forward AJ Washington had 11 rebounds to go with 13 points and seven blocked shots but none of his teammates gathered more than three rebounds as the Huskies won the rebounding battle by 20, by the Saints' count.
"We have one guy rebounding right now, and that's AJ," Woods said. "We've got to get five guys rebounding, and until that happens, we're going to continue to struggle."
The Saints' full-court defensive pressure rattled the Huskies consistently, presenting a multitude of extra opportunities. But East had its own uncharacteristic ball-handling woes, committing a season-high 23 turnovers, only three fewer than Naperville North.
"If we're turning them over, great, but when we turn over the turnover that we get, it doesn't matter," Woods said.
On those sporadic occasions when Naperville North beat East's press, the Huskies hit paydirt.
"When we didn't turn it over, we scored, because they were pressing so much, so I think that was the key to the thing," Naperville North coach Jeff Powers said. "I know coach Woods is such a great coach and he just put that pressure on us to see how we'd handle it, and we didn't handle it very well at times, but then when we did, we got baskets."
In addition to their turnover binge, the Huskies nearly gave the game away late at the free-throw line. Naperville North missed four straight free throws in the final 30 seconds, and East drew within 59-58 on a Cole Gentry 3-pointer before calling timeout with 4.9 seconds to play.
Washington then committed his fifth foul on Naperville North's Michael Laurenzo with 2.8 seconds, and Laurenzo made both for the game's final points. East called a timeout and forward Mick Vyzral's long inbound pass found Dom Adduci, whose twisting, 25-footer to tie it rimmed off.
Adduci scored 20 points to lead East while Washington and Gentry (12) also were in double figures. The last of Washington's points came on an off-balanced basket while being fouled with 43 seconds to play to make it 56-55 Naperville North.
Washington's attempt to tie it at the foul line was no good, and the rebound was batted out of bounds to the Huskies. Naperville North's Anthony Rehayem then fired a baseball-style, deep inbound pass to Jelani McClain, Jr., who snared the pass in stride and scored while drawing a foul from Zach Manibog. McClain (team-high 17 points) completed the crucial three-point play for a 59-55 lead with 37 seconds to play.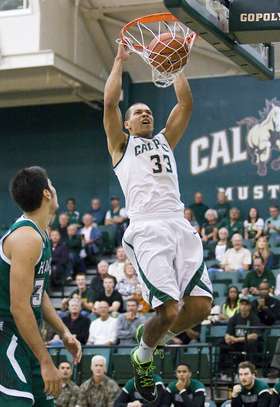 Monday, February 17
Demons Alum Chris Eversley Makes ESPN Top Plays
Demons Alumn and Cal Poly 6'5 senior Chris Eversley with the emphatic finish over 7'6" Mamadou Ndiaye for the ESPN #3 SportsCenter Top 10 moment!

Click on link below......
http://www.youtube.com/watch?v=RC6WmteWQLU
Sunday, January 19
Chicago Demons 2015 guard Jelani Sankey makes an impact!
THE SKINNY- Kenwood hung on to earn the 43-41 victory at the Downers North Winter Classic. Downers South scored the final four points of the game, but Javon Turner's layup attempt rimmed out in the final seconds to prevent the extra session. THE STAR- Junior guard Jelani Sankey led the Broncos with 11 points. He had nine in the first half, including a bucket as the first quarter buzzer sounded. QUOTABLE- "We just had to stay with our composure; just keep playing hard and get stops on defense. They came back, but we just did a good job of staying under control. " — Jelani Sankey .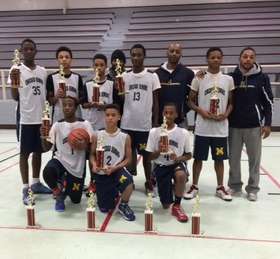 Fall Champions
Wednesday, December 25
Gr. 8 HTIHs Wins Cicero Stadium Fall League
The Gr. 8 HTIHs Team capped an undefeated league season by winning the championship Congrats!
Tuesday, November 12
16U CHICAGO DEMONS WILL FLEMING MAKES CHICAGO HOOPS HEADLINES
WILL FLEMING READY FOR BIG SEASON
Written by Chicago Hoops
St. Ignatius 2016 wing Will Fleming is a candidate to have a breakout season. After a quality summer running on the circuit with the Chicago Demons 15U he will be looked at to provide scoring for his high school team.

Fleming is a lights out shooter that plays with a high basketball IQ and rebounds well. We spoke with the 2016 wing about how his summer went with the Chicago Demons.

"This summer my Demons team did very well. I was really counted on to bring my game every time we played and we were able to do well in the tournaments. We played a lot of tough close games that just made us better and that helped us in the long run. This summer was really the first time I had to play on the perimeter and I feel like that helped me a lot with my game."

The sophomore talked about his strengths as a player.

"This summer I really became a solid three point shooter. I've developed my game off of that by being able to get around people after a shot fake. My ball handling has improved a lot over the summer also."

He is ready for a big season with his team at St. Ignatius.

"I really look forward to making an impact on varsity. Our goal as a team is to win the Catholic League and then make it down state. I feel we have a pretty good chance to do so."


Friday, October 25
Chicago Demons Alum Chris Eversley Pre-Season All-Conference Selection in the Big West
Tuesday, July 9
Executive Director meets Derrick Rose...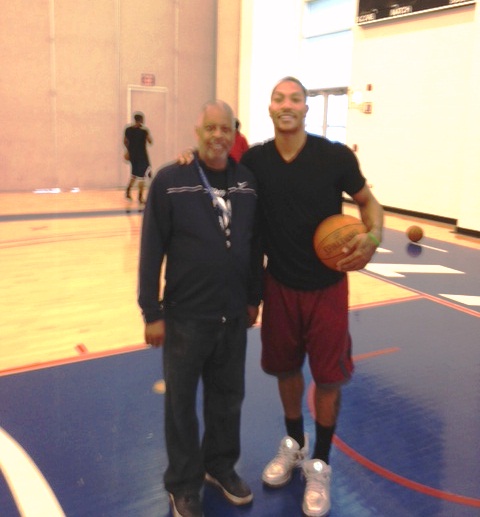 Chicago's Own D. Rose
Friday, June 22
SUPPORT THE MICK LOCKE MEMORIAL FUNDRAISER
THE EVENT'S DATE HAS CHANGED TO SUNDAY JULY 1, 2012.
PLEASE COME AND SUPPORT THIS EVENT!!!
Mick ...
Friday, August 3
Chicago Demons Olympian!!!
Nigerian Olympic basketball player,
Richard Oruche is an alumni of the Chicago Demons basketball program.
He played from 2003-2005.
Richard's journey to London is the epitome of hard work paying off.
Despite the fact that Richard possessed an above average skill set and
credentials as the MVP at Fenton, he was not highly touted as a high
school basketball player.
Richard joined our organization adding the combination of solid
ballhandling, consistent midrange jumpshot with strong leadership
skills and passion to succeed.
After high school, Richard enrolled at Northern Illinois as a
preferred walk-on. He played for two years. Richard eventually
transferred to the University of Illinois at Springfield where he was
an all-conference performer.
Richard currently plays professionally in Africa.
The Chicago Demons are proud and support your efforts. Good luck in
London, Rich.