Chicago Demons Basketball Program: Welcome
Tuesday, April 19
Chicago Demons Basketball
Chicago Demons Basketball Program
for more info: pepdemons@aol.com 312.520.0905
OFFICE: Stamps-Rhine Center 1327 N. Larrabee Chicago 60610
Administrator and Center Director Jamal Dantzler
773.580.8683 jamal.dantzler@yahoo.com
Chicago Demons Teams Director Jeremaine Hiler 773.663.6418 jermainehiler@yahoo.com
All Team Fees should be paid by this weekend.
Bigfoot Hoops Kingwood Classic
Friday-Sunday April 22-24
Speak to your team's coach about travel arrangements and hotel accomodations
Use this link for all information
http://www.bigfoothoops.com/tournaments/k/schedules 17u Games at MI3 Center 1135 Ella Crossing Dr. Houston 77090 Friday 8:25p; Saturday 1:25p; Playoffs TBA 16u Games at Legends Sports Complex 602 Pruitt, The Woodlands, TX 77380 Friday 6:15p; Saturday 11:15a; Playoffs TBA 15u Games at North Shore Senior High 353 Castlegory Road Houston, TX 77015 Friday 9:30p; Saturday 3:35 p; Playoffs TBA 14u Games at Channelview High School 1100 Sheldon Road, Channelview, TX 77530 Friday 7:20p; Saturday 4:40p; Playoffs TBA 13u Games at The Gym 2325 Atascocita Road Humble, TX 77396 Friday 8:25p; Saturday 1:25p; Playoffs TBA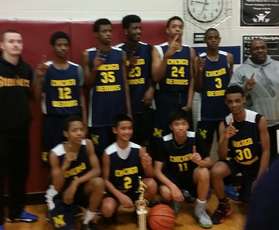 Wednesday, March 23
Chicago Demons Grades 7-11 Schedules
The following are the Spring/Summer Schedules for Grades 7/13U, 8/14U, 9/15U, 10/16U, 11/17U
All activities are subject to change.
April 1-3 Showdown in Chicago Suburbs TBA
April 9-10 AND 1 Showdown Moraine Valley College, Palos Hills
April 15-17 Chicago Jam Fest Lake Zurich
April 22-24 Big Foot Kingwood Classic Houston, TX
May 6 Joe Hendrickson (16s, 17s only)
May 14-15 Chicago Demons Reunion Weekend & Banquet
May 27-29 Memorial Day Run N Gun Fort Wayne, IN
JUNE will be limited to scheduled workouts for the high school team and possibly one tournament and/or camps.
July 8-10 Chicago Summer Jam TBA
July 13-17 Las Vegas Live
July 20-24 Las Vegas Classic


Wednesday, March 23
UPDATED Grade 3-4, Grade 5, & Grade 6 Schedules
All schedules are subject to change.
Grade 6 Coach Henry Stephens
April 2 Spring Tip Off Southland Center Lynwood, IL
April 17 Spring Invite NIU-DeKalb
Apr 30-May 1 Hoop Mountain Battle of the Burbs Riverside Brookfield HS
Grade 5 Coach Eric Brown
April 2 Spring Tip Off Southland Center Lynwood, IL
April 17 One Day Spring Invite NIU-DeKalb
Apr 30-May 1 Hoop Mountain Batlle of the Burbs Riverside Brookfield HS
Gr. 3-4 Caoch Jimmie Rogers
April 2 Spring Tip Off Southland Center Lynwood, IL
April 17 One Day Spring Invite NIU-DeKalb
Apr 30-May 1 Hoop Mountain Battle of the Burbs Riverside Brookfield HS
Thursday, March 10
DEMONS 16U/GRADE 10 HOOP TIL IT HURTS! TEAM INFORMATION
The following have been selected for the Demons 16U/Grade 10 Hoop Til It Hurts! Team
Edward Bryant, DaQuan Fairley, Zion Fortune, Kobe Mapp, Javion May, Jamari Norwood, Alex Sauders, Naseer Turner, Hunter Walder, Brandon Whiteside, 6'9 Tall Guy
"To me, teamwork is the beauty of our sport, where you have five acting as one. You become selfless."
Michael Skeet Horton 312.961.2042 hooptilithurts1996@hotmail.com
Saturday, March 5
DEMONS 15U/GRADE 9 TEAM INFORMATION
The following have been selected for the Demons 15U/Grade 8 Team
Brad Anguh, Davea Davis, Kyle Jackson, Ben Krambeck, Jackson Leech, Emanuel Lindsey, Terrence Shannon, Tavis Stampley, Mbagnick Thiam, Camron Tindel-Hall, Bryan Whitten,
"Things turn out best for the people who make the best of the way things turn out"
Patrick Steward 773.392.2591 18shane@live.com
Sunday, May 24
Chicago Demons take over in Ohio
Chicago Demons 15U-HTIH wins All-Ohio Midwest Showdown and Showcase Championship.
Most Valuable Player: Naseer Turner
All-Tournament Team: Kobe Mapp, Edward Bryant, Javion May
Honorable Mention: Alex Saunders
Saturday, February 20
DEMONS GRADE 7 TEAM INFORMATION
Congratulations the following players have made the 7th grade Chicago Demons

Jaehshon Thomas
Christopher McQueen
Aaron McQueen
Drequan Williams
Daivone Gunn
Marcus Rule
Anton Wilkerson
Taia Reed
Janaid Oladipo
Izaac Hollins
Latae'vyon Taylor
Carson Harris
Tony Howard
Joshua Aid

$250 season fee due Friday Feb 26th
$150 equipment fee Nike shoes, Nike socks and Nike shooting shirt (must have money before order will be placed)

"The only thing that stands between a man and what he wants from life is often merely the will to try it and the faith to believe that it is possible. "

Alan RG Carter

773.407.4846
alangeneo33@yahoo.com
Friday, January 29
Winter/Spring Grade 7 & Grade 8 Schedules
All schedules are subject to change. There are additiaonal costs for travel.
Grade 7 Coach Alan Geneo Carter
Feb 27 Southland Center Shootout Romeoville, IL
Mar 5-6 Gym Rats Tourney Fort Wayne, IN
Mar 12-13 Walker Invitational Classic Lisle, IL
Apr 2-4 Showdown in Chicago Chicago, IL
Apr 22-24 Kingwood Classic Houston, TX
Grade 8 Coach Jon Dowdy
Sunday, January 10
Congrats to Coach Alan Geneo Carter and his Chicago Demons Team!
Coach Alan Carter and his Chicago Demons Teams wins the first tourney of the New Year at Walker Athletics.
(click the link above for a short video)
Chicago Demons v Evolution YouTube video
https://youtu.be/Vu_r0y3nYwE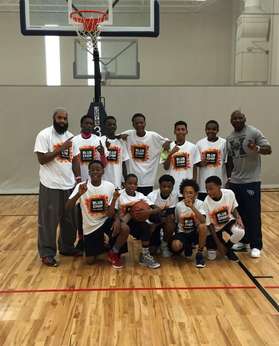 Champions
Sunday, October 25
Congratulations to the Chicago Demons 7th Grade Team and Coach Alan Geneo Carter
Congratulations to the 7th Grade Demons
It has been an incredible season due to their effort, determination, and exceptional teamwork. A warm thank you to their coaches Geneo Carter and COACH Dereck for their commitment and Dedication. We also wish to express our appreciation to the parents for their commitment and support. It would not be possible without your dedication!
Next Tournament will start in mid November And conclude in February detail to follow.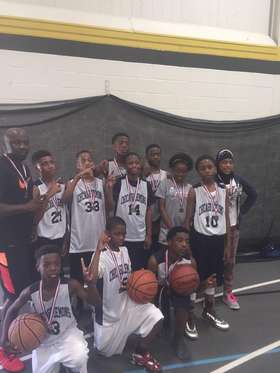 Champs Again!
Saturday, June 27
Chicago Demons Player Gains National Recognition
Chicago Demons Player Gains National Recognition
After a stellar Spring session, in which he was named Most Valuable Player, in Ohio, Naseer Turner was invited to participate in the Crossroads Elite Invitational in Indianapolis this past week. The Crossroads Elite Invitational selects 125 of the top class if 2018 prospects. While at the camp, Nas was named to the top 40 all-star game. His play this Spring will catapult him to the top of the rankings in his home state for the class of 2018.
CHICAGO DEMONS COACHES' DIRECTORY
PEP Chicago Demons Executive Director, Grade 11 Coach: Vince Carter 312.520.0905 pepdemons@aol.com
PEP Chicago Demons Director/HTIHs CEO, Grade 9 Head Coach: Michael Horton Sr. 312.961.2042
Chicago Demons High School Teams CEO, Grade 10 Head Coach: George Baker 773.559.1498
Chicago Demons Elementary Teams CEO, Grad 7 Head Coach Jamal Dantzler 773.580.8683
Chicago Demons Facilities Coordinator Grade 8 Head Coach: Patrick Steward 773.392.2591
Chicago Demons Director of Player Recruitment Grade 7 & 10 Coach Jermaine Hiler 773.663.6418
Demons Basketball Administrative Assistant: Viveca Ford 312.608.5382
Grade K-4 Director and Coach Jimmie Rogers, Sr. 773.983.5050
Grade 4 Coach Jonathan Dowdy 312.732.1891
Grade 5 Coach Henry Stepehens 312.428.1883
Grade 6 Head Coach Alan Geneo Carter 773.407.4846
Grade 9 Coach Michael Horton Jr. 312.307.9916
Grade 9 Coach Akeem Jackson 312.804.9103
Grade 10 Coach Larry Underwood 773.255.0237
Grade 11 Coach Michael Brown 773.405.9408
Sunday, August 17
Demons Coaches Support Nazr Mohammed Fundraiser
Sixteen-year NBA veteran and former Chicago Bull Nazr Mohammed put the spotlight on diabetes research Aug. 1, as he welcomed 300 guests to the third annual Nazr Mohammed Foundation Fundraiser. Athletes and friends, including Joakim Noah, Dee Brown, James "Big Cat" Williams, Jerry Azumah and Israel Idonije filled Galleria Marchetti (825 W. Erie) for an evening of cocktails, hors d'oeuvres, custom cigars and music by The Mo Fitz Project. Silent auction and raffle items such as Bulls tickets, a Gucci duffel bag, a Comcast SportsNet behind-the-scenes tour and autographed jerseys helped net more than $35,000 for the University of Chicago Kovler Diabetes Center, which works to develop innovative treatments and cures for individuals with diabetes.
Splash was the media sponsor of this event.
Photos by Michael Navarro
Tuesday, July 1
Chris Eversley Goes Pro
Chicago Demons Alum Chris Eversley goes Professional. After his successful run at Cal Poly.
Click link to read this successful story.
http://www.dnainfo.com/chicago/20140630/old-town/chris-eversley-follows-his-hoops-dreams-malaysia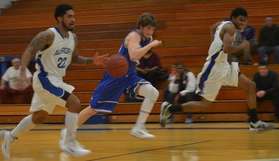 #22 Brandon Smith
Thursday, February 27
Demons Alum Brandon Smith Receives All Conference Honors
The Northern Athletics Collegiate Conference (NACC) announced the 2013-2014 men's basketball All-Conference awards and two Spartans were honored as NACC First-Team All-Conference recipients.
Junior guard Brandon Smith (Berkeley, Ill./Walther Lutheran H.S.)
and sophomore forward
Kalmon Stokes
(Huntersville, N.C./Oswego East H.S.) were named NACC First Team All-Conference.

Smith was a First-Team All-Conference selection averaging 14.6 points and 2.5 rebounds per game. He is shooting 44.2 percent (133-301) from the field and 38.2 percent (50-131) from three-point range.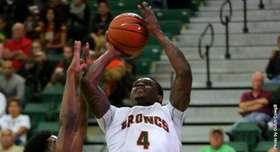 Jamal Dantzler
Tuesday, February 18
JAMAL DANTZLER DEMONS ALUM AT D1 UNIVERSITY OF TEXAS-PA
EDINBURG –
When you ask University of Texas-Pan American Broncs men's basketball player and senior
Jamal Dantzler
how he would characterize himself, he replies with self-driven and humble, which is a big reason why he plays basketball today.
Dantzler, a Chicago-native, started playing basketball when he was in the eighth grade. No one from his family introduced him to the game, he picked up as he saw it everyday walking to the park.
"I actually introduced my self to game myself," Dantlzler said. "I used to walk to the park down my street and one day I tried it out. Now, here I am today."
At first, it was just a game to Dantzler, just like any game for a kid but he realized that he found something in basketball and didn't want to let it slip through his fingers.
"I really didn't take it seriously at first," Dantzler said. "I started to notice some good results. I was actually pretty good. I started to take it more seriously and it turned out good for me."
Intrigued by his success on the court, Dantzler joined his eighth grade basketball team where, with the help of his coach Marvin Williams, he learned to see the game in a different way.
"It was my first time playing organized basketball," Dantzler said. "He taught me how to be disciplined, how to see certain things on the court and how to act off the court. He had a big impact on my basketball life."
Dantzler continued playing basketball as he entered Von Steuben High School. His time in AAU basketball is something that he cherishes.
"I think the AAU summer circuit with the Chicago Demons was one of the best times of my life," Dantzler said. "I got to spend time with my friends as we traveled all around the world. We had fun just playing basketball. It was one of the best times for me."
Danztler continued to see the results on the court throughout high school but he remained humble even when those around him started to see his hard work and his potential.
"I was the fan favorite," Dantzler said. "Everyone loved me because I gave it my all every night. I remained humble though. I would have a big game but the next day at school I was even keeled. Being humble in certain situations helped me out so much."
At this point in Dantzler's basketball career, he realized that basketball was important to him and that he couldn't take it for granted.
"It's very important now," Dantzler said. "When I first started I really didn't care but as I saw the results and got advice from all the coaches I learned how to cherish it and now I really value it. It is going well today."
Dantzler went on to play basketball at Kennedy King Community College in Chicago. There he saw some of his best days on the court. Not only was he playing well but he also got to play basketball with his best friend Anthony Kirkland.
"Kennedy King College was the best," Dantzler said. "As far as basketball, I was playing at a high level and I was playing with my best friend. We brought some hardware to the school after finishing runner up at the regional championship."
Kirkland is currently the head boy's basketball coach at Dyett High School. Kirkland acted like a coach long before he had the title as he helped Dantzler take another step step forward in his basketball career.
"We both are big on basketball," Dantzler said. "We balance each other out and keep each other motivated. He was always in my ear telling me the things I should and shouldn't be doing. He was like another set of eyes and ears for me. Almost like a coach."
From Kennedy King Community College, Dantzler had options to play at the Division I level but as fate would have it he ended up choosing UTPA.
"I was getting interest from Central Michigan, Wisconsin-Green Bay and UIC," Dantzler said. "I was on the verge of setting up a visit with Central Michigan before all their staff got fired and that's when UTPA stepped in. After the visit, I knew this was the place for me."
In his first season with the Broncs, Dantzler played in 32 games while averaging 12 minutes per game. He helped the Broncs to a 16-16 record last season but he felt like he could have done more.
"Individually, I felt like I could have brought more to the team," Dantzler said. "Overall, we ended with a .500 record so overall I felt it was a good season."
Going into his second season, Dantzler got a whole new coaching staff, which meant that he was going to have to adjust not only to new coaches but also a new team system but it was something he had been doing ever since he started playing basketball.
"I am getting the hang of it," Dantzler said. "So far I have been doing alright. I have been transferring from school to school during high school and junior college so I am kind of used to it. It is not that hard to make the adjustment going from coach to coach."
This season, Dantzler has seen action in 22 games while getting the starting nod in two of those games. With his final season winding down, he can look back to some good memories. One in particular that stays on his mind is the win over Portland on December 29, 2012.
"We went on the road to play Portland University," Dantzler said. "That was a huge win for us. I remember down the stretch
Aaron Urbanus
drove the base line and then kicked it out to me with two seconds left on the shot clock. I knocked down the three to kind of seal the game. That was a good memory for me."
After it is all said and done, Dantzler would like to be a coach. With what he has experienced and has learned along the way he feels like he could give back to the game.
"I want to be a coach," Dantzler said. "I feel like I have seen enough on and off the court to help kids grow up to be better basketball players. I should be able to give back now. Since I didn't have anything like that when I was growing up as a kid I have to pick up the ball myself. I want to give back to the community."
Looking back, if Dantzler could do it all over again, he wouldn't change a thing.
"I think everything has happened for a reason," Dantzler said. "I am good at adjusting with everything around me. I wouldn't change a thing. I had a good time here at UTPA."
Friday, February 14
Jelani McClain Hits Big Three Point Play in Win!
ST. CHARLES – The St. Charles East boys basketball team didn't work hard enough on the boards in Tuesday's game, so Saints coach Pat Woods promised East will make amends in practice.
Naperville North dominated East in the rebounding department as the Huskies survived a turnover-riddled night by both teams to win the nonconference game, 61-58.
Woods made his remedy for East's rebounding ills clear.
"It's called practice," Woods said. "We're going to fix that problem really quick or we're going to be the best-conditioned team in the Kane County area."
Naperville North (14-8) won its fifth straight game, while slumping East (12-11) dropped its third in a row.
East senior forward AJ Washington had 11 rebounds to go with 13 points and seven blocked shots but none of his teammates gathered more than three rebounds as the Huskies won the rebounding battle by 20, by the Saints' count.
"We have one guy rebounding right now, and that's AJ," Woods said. "We've got to get five guys rebounding, and until that happens, we're going to continue to struggle."
The Saints' full-court defensive pressure rattled the Huskies consistently, presenting a multitude of extra opportunities. But East had its own uncharacteristic ball-handling woes, committing a season-high 23 turnovers, only three fewer than Naperville North.
"If we're turning them over, great, but when we turn over the turnover that we get, it doesn't matter," Woods said.
On those sporadic occasions when Naperville North beat East's press, the Huskies hit paydirt.
"When we didn't turn it over, we scored, because they were pressing so much, so I think that was the key to the thing," Naperville North coach Jeff Powers said. "I know coach Woods is such a great coach and he just put that pressure on us to see how we'd handle it, and we didn't handle it very well at times, but then when we did, we got baskets."
In addition to their turnover binge, the Huskies nearly gave the game away late at the free-throw line. Naperville North missed four straight free throws in the final 30 seconds, and East drew within 59-58 on a Cole Gentry 3-pointer before calling timeout with 4.9 seconds to play.
Washington then committed his fifth foul on Naperville North's Michael Laurenzo with 2.8 seconds, and Laurenzo made both for the game's final points. East called a timeout and forward Mick Vyzral's long inbound pass found Dom Adduci, whose twisting, 25-footer to tie it rimmed off.
Adduci scored 20 points to lead East while Washington and Gentry (12) also were in double figures. The last of Washington's points came on an off-balanced basket while being fouled with 43 seconds to play to make it 56-55 Naperville North.
Washington's attempt to tie it at the foul line was no good, and the rebound was batted out of bounds to the Huskies. Naperville North's Anthony Rehayem then fired a baseball-style, deep inbound pass to Jelani McClain, Jr., who snared the pass in stride and scored while drawing a foul from Zach Manibog. McClain (team-high 17 points) completed the crucial three-point play for a 59-55 lead with 37 seconds to play.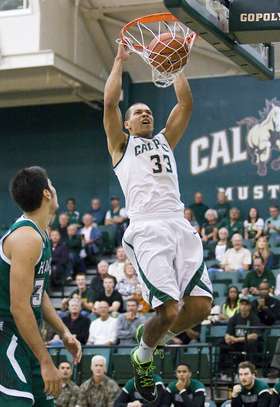 Monday, February 17
Demons Alum Chris Eversley Makes ESPN Top Plays
Demons Alumn and Cal Poly 6'5 senior Chris Eversley with the emphatic finish over 7'6" Mamadou Ndiaye for the ESPN #3 SportsCenter Top 10 moment!

Click on link below......
http://www.youtube.com/watch?v=RC6WmteWQLU
Sunday, January 19
Chicago Demons 2015 guard Jelani Sankey makes an impact!
THE SKINNY- Kenwood hung on to earn the 43-41 victory at the Downers North Winter Classic. Downers South scored the final four points of the game, but Javon Turner's layup attempt rimmed out in the final seconds to prevent the extra session. THE STAR- Junior guard Jelani Sankey led the Broncos with 11 points. He had nine in the first half, including a bucket as the first quarter buzzer sounded. QUOTABLE- "We just had to stay with our composure; just keep playing hard and get stops on defense. They came back, but we just did a good job of staying under control. " — Jelani Sankey .
Friday, October 25
Chicago Demons Alum Chris Eversley Pre-Season All-Conference Selection in the Big West
Friday, August 3
Chicago Demons Olympian!!!
Nigerian Olympic basketball player,
Richard Oruche is an alumni of the Chicago Demons basketball program.
He played from 2003-2005.
Richard's journey to London is the epitome of hard work paying off.
Despite the fact that Richard possessed an above average skill set and
credentials as the MVP at Fenton, he was not highly touted as a high
school basketball player.
Richard joined our organization adding the combination of solid
ballhandling, consistent midrange jumpshot with strong leadership
skills and passion to succeed.
After high school, Richard enrolled at Northern Illinois as a
preferred walk-on. He played for two years. Richard eventually
transferred to the University of Illinois at Springfield where he was
an all-conference performer.
Richard currently plays professionally in Africa.
The Chicago Demons are proud and support your efforts. Good luck in
London, Rich.
Tuesday, July 9
Executive Director meets Derrick Rose...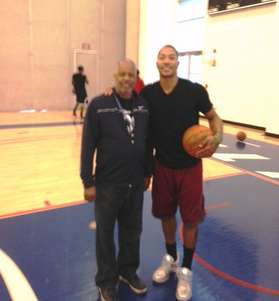 Chicago's Own D. Rose