Chicago Demons Basketball Program: Welcome
Thursday, November 10
Chicago Demons Basketball Program
Chicago Demons Basketball Program
For more info: pepdemons@aol.com 312.520.0905
OFFICE: Stamps-Rhine Center 1327 N. Larrabee Chicago 60610
The Chicago Demons Elementary Programs. The
Fall Winter Session is from September-December.
Workouts are as follows:
Every Saturday unless otherwise noted
Seward Park 375 W. Elm
Grades K-4 9:00-11:00a (East Gym)
Grades 5-6 9:00-11:00a (West Gym)
Grades 7-8 11:00a-1:00p (West Gym)
Elementary Teams Fall/Winter Session
September 1-February 28
Grades K-3 Instructional "Learn to Play" Session
Grades 4-8 Competitive Travel Program
For more info call Vince Carter 312.520.0905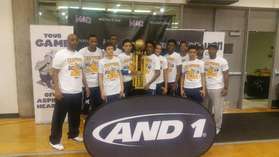 Hoop Til It Hurts! #1
Thursday, November 10
Chicago Demons Memorial
Chicago Demons Memorial
for
Edward & Edwin Bryant
will be held
Sunday November 13, 2016
at our
Stamps-Rhine Center
1327 N. Larrabee
4:00 pm - 8:00 pm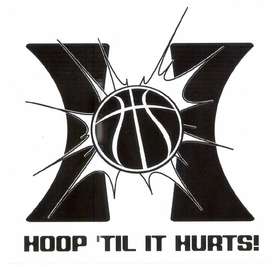 Hoop Til It Hurts! #2
Saturday, October 1
Chicago Demons Gr. 5 Fall Winter Info
Chicago Demons Grade 5 NEWS AND INFORMATION Coach Eric Brown
773.458.9451 Coach Osun Jackson
773.431.2705 Coach Jermaine Hiler
773.663.6418 Practices are Thursdays (see schedule below) and Saturdays (see above) Upcoming Tournaments (schedule subject to change) October 29
One Day Spooktacular Shootout
Romeoville, IL November 12-13
Nothin' But Gravy Tourney
Walker Athletics, Lisle, IL December 10-11
Baylor Holiday Tournament
Highland, IN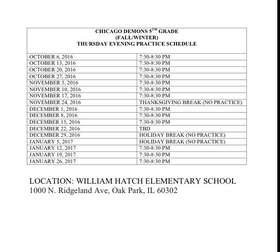 Practice Schedule
Sunday, May 24
Chicago Demons take over in Ohio
Chicago Demons 15U-HTIH wins All-Ohio Midwest Showdown and Showcase Championship.
Most Valuable Player: Naseer Turner
All-Tournament Team: Kobe Mapp, Edward Bryant, Javion May
Honorable Mention: Alex Saunders