Chicago Demons Basketball Program: Welcome
Tuesday, November 12
Chicago Demons Basketball
2013 Chicago Demons Fall Programs
For more info email: pepdemons@aol.com
Grades 4-6 workout at Stanton Park
618 W. Scott Street (on Larrabee just north of Division) 9:30a-12 noon
Grade 8 Elite will workout at Lincoln Park HS 2021 N. Burling (freshman building) 9:30a-12 noon
Gr 8 HTIHS & Gr 7 Elite will workout at the Attack Center 2641 W. Harrison 9:00a-12 noon
All the Demons Elementary Teams are plaing in teh Fall Laegue at Cicero Stadiium 1905 S. Laramie, Cicero. Please contact coach for game times. All games are on Saturday and/or Sunday.
Grade 11
Contact: Vince Carter 312.520.0905; Michael Brown 773.405.9408
Grade 10 Contact: Vince Carter 312.520.0905; Larry Underwood
Grade 9 Contact: George Baker 773.559.1498; Reggie Salley 773.220.9300 Grade 8-HTIHs Contact: Michael Horton, Sr 312.961.2042 Grade 8-Elite Contact: Eric Brown 773.458.9451; Harry Dixon 312.434.7809
Contact: Patrick Steward 773.392.2591 Grade 6 Contact: Tommy Morris 312.933.9112 Grade 5 Contact: Alan Geneo Carter 773.407.4846 Grade 4 & under Contact: Jimmie Rogers 773.983.5050 Girls Programs Contact: Lanh Morris
Demons 2013
Tuesday, November 12
16U CHICAGO DEMONS WILL FLEMING MAKES CHICAGO HOOPS HEADLINES
WILL FLEMING READY FOR BIG SEASON
Written by Chicago Hoops
St. Ignatius 2016 wing Will Fleming is a candidate to have a breakout season. After a quality summer running on the circuit with the Chicago Demons 15U he will be looked at to provide scoring for his high school team.

Fleming is a lights out shooter that plays with a high basketball IQ and rebounds well. We spoke with the 2016 wing about how his summer went with the Chicago Demons.

"This summer my Demons team did very well. I was really counted on to bring my game every time we played and we were able to do well in the tournaments. We played a lot of tough close games that just made us better and that helped us in the long run. This summer was really the first time I had to play on the perimeter and I feel like that helped me a lot with my game."

The sophomore talked about his strengths as a player.

"This summer I really became a solid three point shooter. I've developed my game off of that by being able to get around people after a shot fake. My ball handling has improved a lot over the summer also."

He is ready for a big season with his team at St. Ignatius.

"I really look forward to making an impact on varsity. Our goal as a team is to win the Catholic League and then make it down state. I feel we have a pretty good chance to do so."


Friday, October 25
Chicago Demon Alum Chris Eversley Pre-Season All-Conference Selection in the Big West
Tuesday, July 9
Executive Director meets Derrick Rose...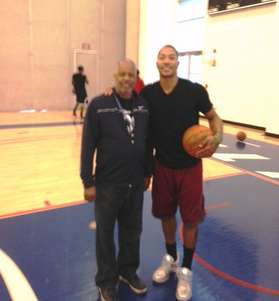 Chicago's Own D. Rose
Tuesday, July 9
Chicago Demons Gr. 7 HTIHs Wins Run N Gun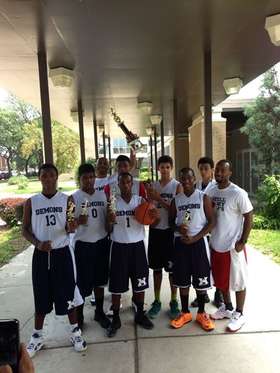 Gr. 7 HTIHs Champions
Wednesday, April 24
Gr. 7 Team HTIH's MOF Jaguars Tourney Schedule
Site: Rich Central High School 3600 West 203rd Street, Olympia Fields, IL 60461 Saturday 4/27 11:00a & 12:30p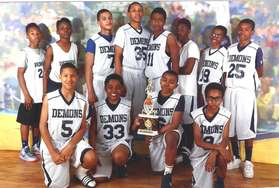 Gr. 7 (Team Brown)
Monday, April 15
Second Place for Gr. 7 (Team Brown) at Walker Athletics
Friday, August 3
Chicago Demons Olympian!!!
Nigerian Olympic basketball player,
Richard Oruche is an alumni of the Chicago Demons basketball program.
He played from 2003-2005.
Richard's journey to London is the epitome of hard work paying off.
Despite the fact that Richard possessed an above average skill set and
credentials as the MVP at Fenton, he was not highly touted as a high
school basketball player.
Richard joined our organization adding the combination of solid
ballhandling, consistent midrange jumpshot with strong leadership
skills and passion to succeed.
After high school, Richard enrolled at Northern Illinois as a
preferred walk-on. He played for two years. Richard eventually
transferred to the University of Illinois at Springfield where he was
an all-conference performer.
Richard currently plays professionally in Africa.
The Chicago Demons are proud and support your efforts. Good luck in
London, Rich.