Cheyenne Capitals Youth Hockey: News
2014/2015 No Practice Dates
No Practice Special Event (Oct 30)
No Practice Speical Event (Nov 5)
No Practice Special Event (Dec 3)
No Practice Thanksgiving Week (Nov 24-30)
No Practice Christmas Break (Dec 19-Jan 4)
No Practice Martin Luther King Day (Jan 19, 2015)
No Practice President's Day (February 16, 2015)
Session Dates
8-Under Session 1, September 29 – Dec 19 (11 Weeks), $165
8-Under Session 2, Jan 5 – February 28 (8 Weeks), $120
All other sessions run September 29 – February 28
2014/2015 Practice Schedule
Monday
4:45-5:45 H.S.
6:00-6:45 U8
7:00-8:00 Squirt/PeeWee
8:15-9:15 Bantam
Tuesday
6:45-7:45 Peewee
8:00-9:00 Bantam/Girls
Wednesday
4:30-5:30 H.S.
5:45-6:30 U8
6:45-7:45 Squirt
8:00-9:00 Girls
Thursday
6:45-7:45 Squirts/Peeweee
8:00-9:00 Bantam/Girls
9:15-10:15 H.S.
Saturday
9:00-10:00 3 V 3 for U8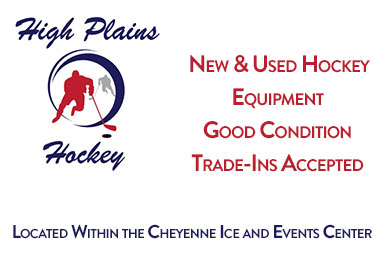 Shop High Plains Hockey Store
Located in the Stampede in the Beer Garden area. Hours Mon - Thurs from 4:00 to 8:00 and some weekends. New & Used Hockey Equipment - Good Condition - Trade-Ins Accepted.
---
Under 8 Program (U8)
Our U8 program (sometimes called Mite or Mini-Mite) is for boys and girls born in the year 2003 or younger.
Skill Groups
Players are divided into four co-ed groups based on skill. Our "A" group is for children that are new to skating, or new to hockey. Typically, this group consists of 4 to 6 year olds, a few of whom have taken a Learn-To-Skate class. But, this level is also well-suited for 7 and 8 year olds who are new to skating.
Our "B", "C" and "D" levels provide increasing levels of skill development and competition, with our top-tier "D" players having been involved with hockey for four or five years.
Equipment
Most new players will not have equipment. It's tough to make that investment when you just want to try out the sport! The Capitals have some sets of equipment to borrow, for a small fee. Check back for more information about that. Required hockey pads include:
helmet
shoulder pads
elbow pads
gloves
breezers
shin guards
skates
Schedule
Players will practice twice a week in the evenings. Saturday mornings, there are games between teams of other Capitals players. Of course, these games are for fun and skill-development, and we don't keep score. We offer two sessions. Session 1 begins the first week of October, and runs until Winter Break. Session 2 begins right after the New Year, and runs through February. Players may register for one or both sessions.
Travel
Some of our families choose to travel to scrimmages and tournments, which is entirely optional but always fun. At this level, the tournaments are round robin, noncompetitive, and nobody keeps score. Opportunities for travel increase as players gain more experience. Our "A" team usually gets to play exhibition games during our own tournament, and is usually invited to play during an intermission at a Colorado Eagles game. Our "B" team usually travels to one or two overnight tournaments, and a morning scrimmage in Laramie. Our "C" team will travel to two or three tournaments throughout the season, along with some scrimmages in Laramie or Colorado. At the "D" level, players can expect to travel almost every weekend, after the Winter break.
---
Skate Sharpening at the Cheyenne Ice Rink
---