Chesapeake Lady Chargers, Inc.: Welcome
You have come to the right place!
Welcome to the home of the Chesapeake Lady Chargers, a team dedicated to teaching female athletes the game of softball so that they may achieve their goals on and off the field. This organization is looking for players that have a passion for the game and are willing to work hard to help our team play at the GOLD Level. We do not cut deals and our playing time is based on hard work, performance and attitude.
Our team is comitted to helping our athletes improve their game so that they may have the opportunity to play in college. To that end, we make the videos and put together the profiles that are distributed to interested college coaches. Further, we will be playing in a number of Showcase Events to help these athletes get exposed to college coaches including at least 4 Fall Showcase Events.
In order to get the most out of perpective players, we do not subscribe to mass tryouts. Our staff believes that a more one on one approach works better for the athletes allowing them to get to meet the existing girls and gving the parents and the players more access to the coaching staff. Further, by cutting down the number of new faces that are aound, the players tend to be more relaxed and perform better.
If you are interested in becoming part of a team comitted to you and your dreams of a college opportunity, please contact me at (410) 274-3819 or gailandjohnmeil@zoominternet.net.
Thank you!
John Meil
Head Coach
Please visit our Hall of Fame page and welcome our newest member Sarah Meil!
Congratulations from the entire Charger Family.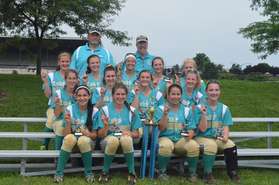 Mid Altlantic Regionals Silver Bracket Champions