Chesapeake Little League: My Site News
Friday, May 10
GOOD LUCK to our CHALLENGERS!!
To ALL Chesapeake Little League Parents:
This weekend our Challenger Division will participate in the Challenger Worldwide Jamboree hosted at Azalea Little League in Norfolk! (Located at: 1130 Pineridge Rd, Norfolk, Virginia 23502) We are excited to once again have ALL 4 of our Challenger Teams participate. This Jamboree includes Teams from up and down the Eastern Seaboard and is a Major and Special Event in ALL of Challenger lives! Come out and Support our Challengers as they take on Reston, Danville, Fairfax, and DTQ Little Leagues from Virginia tomorrow!
GO CHALLENGERS!!!
SATURDAY, MAY 11, 2013

TIME FIELD # TEAM TEAM
1:30 PM 1 Salem Tigers vs Monticello Blue Jays
2 Atlee LL Challengers vs Bennetts Creek Red
3 Dulles All Stars Minors vs Newport News Braves
4 Reston LL vs Chesapeake Shining Knights
5 Danville All Stars (B) vs Chesapeake Hot Rods
6 NE Ohio Rockers vs Salem Glenvar A's
7 Newport News Nationals vs Fairfax Orioles
8 Fairfax Nationals/Yankees vs Chesapeake Groundhogs
9 Chesapeake Engineers vs DTQ Minor Nationals

SUNDAY, MAY 12

TIME FIELD # TEAM TEAM
10:30 AM 1 Danville All Stars (A) vs Frederick Blue
2 Chesterfield Co Nationals vs Mechanicsville Angels
3 DTQ Minor Nationals vs Chesapeake Groundhogs
4 MD 5 Challenger vs Monticello White Sox
5 Fairfax Angels vs Front Royal Sluggers
6 Frederick Green vs Mechanicsville Cubs
7 Danville All Stars (B) vs Arlington Nationals
8 Ashland Atlantic Braves vs Monticello Red Sox
9 DTQ Texas Rangers vs Chesapeake Shining Knights
10 DTQ Nationals Majors vs Chesapeake Hot Rods


12:00 1 Monticello Blue Jays vs Chesapeake Engineers
Thursday, May 2
Dine at Buffalo Wild Wings- Use Your Card-CLL gets 20%!
Don't forget to use your Buffalo Wild Wings Keychain Cards!!
On Picture Day, all the Team Managers and/or Team Mom-Dad (except Challengers) received Keychain Cards for each player on their team - when you show these cards at Buffalo Wild Wings in Greenbrier, Chesapeake Little League gets 20% of your check donated back! Also, Team Managers received a special coach's card that entitles them to one FREE meal every week!!!! These cards are good for the ENTIRE season so go out often and enjoy some delicious wings!!! If for some reason you have not received your card get in touch with your Team Manager and/or Team Mom-Dad!
Thursday, May 2
KONA ICE CUP ORDERS Due Saturday, May 4th!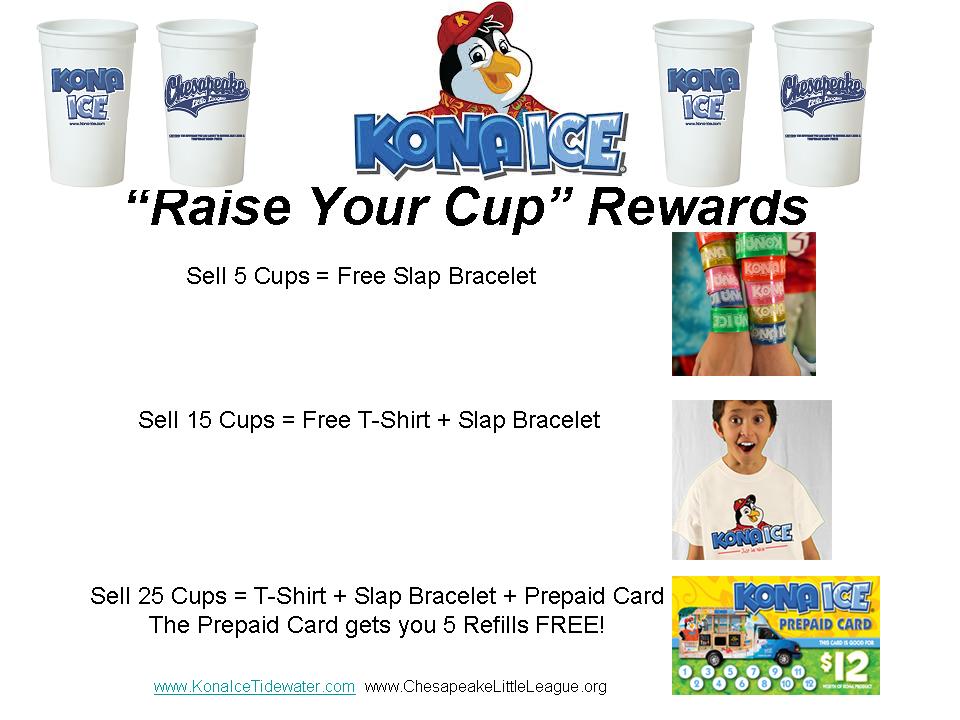 I KNOW it's Cold and Wet out, but should be Warm Soon! Don't forget to SELL KONA ICE CUPS!! DEADLINE for Orders has been EXTENDED till this Saturday, May 4th! Get your Orders IN!!
ORDER FORM is attached if you still need one!
PLEASE TURN IN YOUR ORDER FORMS AT THE CRESTWOOD CONCESSION STAND THIS SATURDAY, 5/4!! THERE IS A TUB MARKED "KONA ICE CUPS ORDER FORMS'. PLEASE MAKE SURE IT GETS PUT IN IT!

CURRENTLY THE TRUCK HAS SOLD OUT ON THE INTIAL ORDER OF CUPS so get your orders in so we can get more cups! Plus REAP the REWARDS! See Below!

Thanks

CLL


CHESAPEAKE LITTLE LEAGUE & KONA ICE

are partnering up on a

Fun Icy COLD Fundraiser!

Purchase a CLL Cup for $5.00

Refills FOREVER with the Cup

are $3.00 wherever you see the Kona Ice Truck!!!

Kona Ice Truck will be at Crestwood Fields Periodically thru the Season!

Bring your completed ORDER FORMS and PAYMENT and Turn in at the Crestwood Concession Stand!

AND, Don't FoRGET - Bring your already purchased cup(s) from Opening Day and get your refill for $3.00!

For those needing an Order Form- it's attached!

KONA REWARDS for Selling!

DEADLINE for Orders turn in is

EXTENDED till May 4th!!

Ask your family, friends, neighbors, co-workers!
Handout:
KONA ICE FUNDRAISER FLYER & ORDER FORM
Wednesday, December 5
SPRING 2013 SEASON DETAILS
*************************************************************
MEET AND GREET (ALL Divisions)
Tuesday, March 12th
6:30pm
Grassfield High School Auditorium
2007 Grizzly Lane, 23323
ALL Players, Parents, Managers, and Coaches are requested to attend!
Meet your Coaches, receive League and Season Information, Team Information including Practice Times, Days, Place, etc. Door Prizes!! and a Special 50/50 Drawing!!!
Spirit Wear on SALE!! Used Equipment on SALE!!
Volunteer Signups!!

Teams will not be announced before this date!
If you are unable to attend the Meet and Greet, your Team Manager will contact you following this event.
Opening Day, April 13th, 2013
Opening Day Ceremony & CELEBRATION: 9:00am -10:00am! Games immediately following!
OPENING DAY PRIZE DRAWING!! (during ceremony)
BBQ Picnic: 10am-3pm

Season Concludes: June 8th
Practices:
-Begin March 16th
-All teams except Challenger will have at least 2 practices a week.
-Practices Days are chosen by the Manager after Teams are formed beginning of March.
-Practices do not start earlier than 5:00pm
Games:
-All teams except T-Ball and Challenger will generally have 2 games a week depending on # of teams, scheduling, and interleaguing (if necessary)
-T-Ball will have 1 game a week on Saturdays.
-Challenger will have 1 game a week on Sundays.
Handout:
2013 IMPORTANT Dates!
Monday, November 7
LOCAL, LITTLE LEAGUE, and INTERLEAGUE PLAYING RULES
CLL REFUND POLICY
Chesapeake Little League understands that circumstances change and on occasion a refund is required. The policy established by The Board of Directors is: 1) Refund requests must be made in writing, 2) Requests must be mailed to Chesapeake Little League P.O. Box 15016 Chesapeake, Va. 23328 and post marked prior to March 3rd of the current season (or September 1 for Fall Season), 3) A stamped, self addressed return envelope must be enclosed or a mailing fee will be imposed, 4) ALL REFUNDS (regardless of reason- ie: joined the wrong league, changed mind, etc.) will have a $5.00 Handling Fee deducted unless we were unable to form a team! 5) No refunds will be made after any part of the uniform has been distributed to the player, and 6) The league will not refund convience service charges incurred through registration on-line 7) There will be a $12 charge on all returned checks. 8) In addition, be advised that our League participates in the RESUBMIT IT Program to process all checks.