Charlton MA Little League: My Site News
Tuesday, June 21
2016 Annual Golf Tournament, Dinner, & Silent Auction - Postponed to August 27th
The Golf Tournament has been moved to Saturday August 27th @ 7:30am
(Check in @ 6:30am).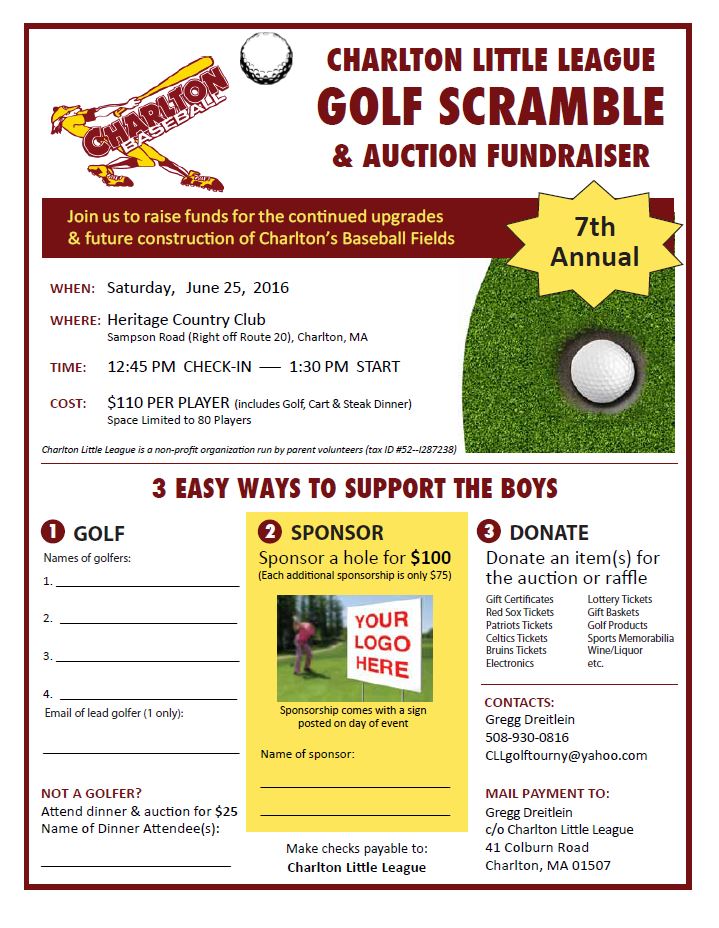 Golf Tournament is now August 27th!!!
Tuesday, April 26
Armed Forces Day Celebration 2016 w/ Parade
Armed Forces Day Celebration with Parade
When: Saturday May 21st 8:30am-7pm.
Where: Center Field/Bond Road Field
What:
The Charlton Little League is celebrating Armed Forces Day. It is a day to pay tribute to men and women who serve the United States' armed forces. Many events across the United States take place on Armed Forces Day (Third Saturday of May) to honor Americans in uniform who served their country in times of war and peace.
Those who are honored on this day include people who serve the Army, Navy, Marines, Air Force and Coast Guard.
Games are scheduled throughout the day at both Center, Memorial, & Bond Road Field.
This year CLL will begin with our Little League Parade at 9:00 am. Teams will assemble behind AmComm Wireless at 8:30 am.

There will be patriotic music played and boy scout color guard.

Teams will be announced at the beginning of every game.

The 99 Restaurant and Pub will be generously cooking BBQ lunch combo meals with all proceeds going to the Charlton Little League.

Player(s) and Team picture day scheduled.

Mini-Warrior Summer Baseball Camp Info/Signups

Raffles & Fun for the entire day.
i
Friday, June 3
2016 Joseph N. Fortier Memorial Scholarship- Charlton Little League
Joseph N. Fortier Memorial Scholarship
Help needed scholarship applicants!!! The Charlton Little League had an unfortunate incident happen to the 3 applications that were received in the PO BOX. The applications were stolen from a vehicle. If you are one of the 3 students who submitted an application for scholarship, please contact Michael Jacobs for additional information. mjacobs@glickmankovego.com
Charlton Little League is once again offering (2) $500.00 scholarships
Requirements:
All applicants for this scholarship must be graduating seniors who have participated in the Charlton Little League program for a minimum of two (2) years.

A typed 150 word or fewer essay must accompany this completed application form and must be titled:
"How Charlton Little League Enriched My Life."

Due Date: May 20, 2016

Award: Two (2) $500 Scholarships will be presented by the Charlton Little League Scholarship Committee upon review of all applications.

2016 Scholarship Application is available in the handouts section of the website.

The following information is needed:

Name, Date of Birth, Address, Telephone, E-Mail, Parent's Name(s)

Team(s) you played for; Where you have been accepted; School you plan to attend;

Your Signature; Parent(s) Signature.
Mail applications to:
Charlton Little League
P.O. Box 780
Charlton City, MA 01508
Attention: 2016 Scholarship Committee Chairman

Handout:
2016 Joseph N. Fortier Memorial Scholarship Application
Friday, June 3
Summer Camp Week - July 18 to 21 - MOVED TO LEICESTER LL
Due to low registration numbers - this week's camp is moving to Leicester LL.
Wednesday, April 27
Snack Shack 101
Snack Shack 101
Submitted by Kristin Kustigian
This is a general overview of how to operate the snack shack, for those who have not yet had the pleasure. Your coach should have a key to open the shack, bathrooms and equipment area.
*The key for the metal window cover at Bond is above the microwave. Just unlock, push the metal cover up, and put the locks in the shack snack above the microwave.
Cash Box
The cash box is located inside the bottom cabinet near the sink (in both shacks). It should contain $40 (a mix of ones, fives and a ten) and a bunch of coins. Please be sure to leave small bills for the next shift.
Prices
The prices for all items are listed near the windows.
There are frozen items in the freezers: pretzels, ice cream, hotdogs and buns.
Drinks and condiments are in the refrig. Thawed hotdogs and buns might be in refrig too. Usually, water, soda, ice tea, gatorade.
There is a keurig for making coffee.
Microwave for making popcorn (2.15 mins), pretzels (1.15 mins), hot chocolate (8 oz cup is 1.30 mins).
There is a steamer for making hotdogs. Fill the bottom reservoir to the line with water and turn it on. Hot dogs go in the middle compartment, and buns go in the top. It has a timer, so you know when they are ready.
Lightening Detection Device
There is a lightening detector device plugged in near the countertop, and it will alert you to bad weather in the area. If the 3-8 miles light comes on, please let the coaches and ump know.
First Aid/ AED
There is an AED, ice packs, and first aid kits if the need arises.
End of Shift
At the end of your shift: Count the bills and leave $40 in the cash box ($15 in ones, $15 in fives, and $10 in tens). If you don't have this combination -- just leave $40 in the smallest bills you have.
Put the rest of the money in an envelope (found in the drawer) mark the envelope with the date, amount, and your name and seal it and put it in the drop box located on the floor (under the micro at Bond // behind the door at Center). A board member empties the drop box and deposits the funds regularly.
Please wait for the next shift to arrive prior to leaving.
Last Game of Day
Empty and clean the steamer, wipe the counters, and put away all food items.
Please return the cash box with the $40 plus coins to the bottom cabinet. Put your envelope containing all other cash, your name, date and amount in the drop box.
The locks for the metal window cover at Bond Rd are hanging above the microwave.
The coach should lock up the snack shack, bathrooms and equipment shed.
Friday, April 10
Medical Insurance Reimbursement
Fallon Medical Reimbursement:
To receive a confirmation letter that your child/children are enrolled in the current season,
please email the CLL player agent Jerry Michaelson at jmichaelson@ptc.com with:

Your name and the children(s) name, address and children(s) date of birth.

You will only receive a letter for the current season - no letters will be produced for previous seasons.
Please allow 2-4 weeks for processing.
Not a member of Fallon - please check with your Health Insurance Carrier for possible reimbursement programs.
Charlton Little League - Facebook Site
Friday, April 25
Please, No Cemetery Parking @ Center Field
Regarding Parking Regulations at Center Field 
The Cemetery Commissioners voted unanimously at their June 3rd meeting that I should write to advise certain groups that use the municipal recreation fields that  are between the Library and the Westridge Cemetery that parking within the cemetery is NOT allowed and individuals who do park there may have their vehicles ticketed or towed.  This rule was made several years ago for safety reasons and the Commissioners intend  to fully enforce this rule so that no one gets hurt.  We request that each Charlton team that uses the field help us enforce this rule by advising all parents and those of the visiting teams.
We appreciate your assistance in this matter.
Thank you.
Cemetery Commissioners
            Donna L. Neylon, Clerk
            Kristen Russell-May, Chairman
            Jason Sciarappa, Vice Chairman