Charlton MA Little League: My Site News
Tuesday, July 26
Little League Bat Moratorium - In place after 2017 season.
Little League has adopted new bat standards for the 2018 season. For those planning on buying a bat in the next year or so, this could have an impact on your decision. Any bats not meeting the new standard will not be allowed after the 2017 season. The new bats are not yet being produced. See the info below from Little League, and you can click on the link at the end for more information.
With the Little League® International Board of Directors formally adopting USA Baseball's new standard for bat performance testing, Little League International fully supports this program. For more than seventy-five years, Little League has used improvements in science, engineering, and technology to take the sport of baseball to higher levels. By utilizing the most current advancements available, manufacturers can now develop bats with a wood-like performance, which is important for the long-term success of the game. Developed by a USA Baseball committee of scientific experts, Little League Baseball® has decided to adopt the new bat standard for mandated use effective January 1, 2018. All national members of USA Baseball, including Little League, are encouraged to adopt this new standard. Little League-approved bats can be used through December 31, 2017, and our current bat regulations will be in effect until then. That includes the moratorium prohibiting the use of all 2 ¼ inch barrel baseball bats constructed with composite material in the barrel, unless approved. Visit LittleLeague.org for detailed information. Little League looks forward to working with USA Baseball, and will begin educating our local leagues, and the parents of our 2.1 million baseball players, preparing them for the important change coming in 2018.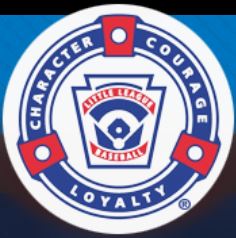 Click on image for more information
Monday, July 11
Home Run Derby - 8, 9, & 10 Year Olds in Grafton
2016 MASSACHUSETTS DISTRICT 5 LITTLE LEAGUE
JIMMY FUND HOME RUN DERBY
8, 9 and 10 Year Olds
Date: Saturday, July 30th
Time: Little League Age 8 (115 ft fence) – 11AM
Little League Age 9 (140 ft fence) - 2PM
Little League Age 10 (170 ft fence) – 6PM
Location: GRAFTON LITTLE LEAGUE – FERRY FIELD
115 Ferry Street, South Grafton
Entry fee: $20 donation to the Dana Farber/Jimmy Fund fundraising page of the Grafton 10 Year Old District All-Star Team. All proceeds will benefit the Dana Farber Jimmy Fund Foundation.
Entry Fee Payment:
Log on to www.jimmyfundlittleleague.org

Select "Support A Team"

Choose "Grafton Little League 10 Year Old All Stars"

Click On "General Team Donation"

Donate no less than $20

When filling out the Donor Form, use the entrants name and under "Company" write:

HRD8 (Little League Age 8) or

HRD9 (LL Age 9) or

HRD10 (LL Age 10)

Or contact cgouveia@charlesriverinsurance.com for other payment arrangements.
Contest rules:
Players must be league age 8, 9 or 10 for the 2016 season.

All 3 Age groups will be taking part in their own separate event.

Players shall arrive 30 minutes prior to start time to check in and warm up.

Players are encouraged to wear their regular season uniforms.

Batting order will be determined from a blind draw.

Batting cage may be used for warm-ups.

P

layers will warm up in the order in which they will be hitting.

Limit of 15 pitches in the cage. Baseballs will be provided in the cage.
Coach pitching will be used from behind an "L" screen.

Grafton Little League will have batting practice pitchers available or the player may bring their own pitcher.

If choosing their own pitcher, that pitcher must be ready when the player is called to bat.
Batters will be given 10 outs.

A homerun will be a point.

All other hits and/or misses will be an out.
The top six hitters will return for a second round.

Batting order will remain the same as the first round.

Batters will be given 7 outs.

Second round totals will be combined with the first round totals to determine a winner.

In the case of a tie after two rounds, the players tied will participate in 5 out rounds until a winner is determined.

One coach per player is allowed on the field.

A trophy will be presented to the winner of each age group.
Thursday, June 23
2016 Fall Baseball - REGISTRATION is OPEN
2016 Fall Baseball Registration
Online registration for 2016 Fall Baseball is:
OPEN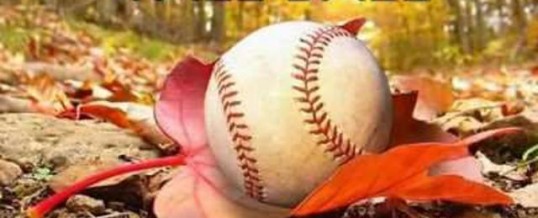 Click on image for Online Registration
Tuesday, June 21
2016 Annual Golf Tournament, Dinner, & Silent Auction - Postponed to August 27th
The Golf Tournament has been moved to Saturday August 27th @ 7:30am
(Check in @ 6:30am).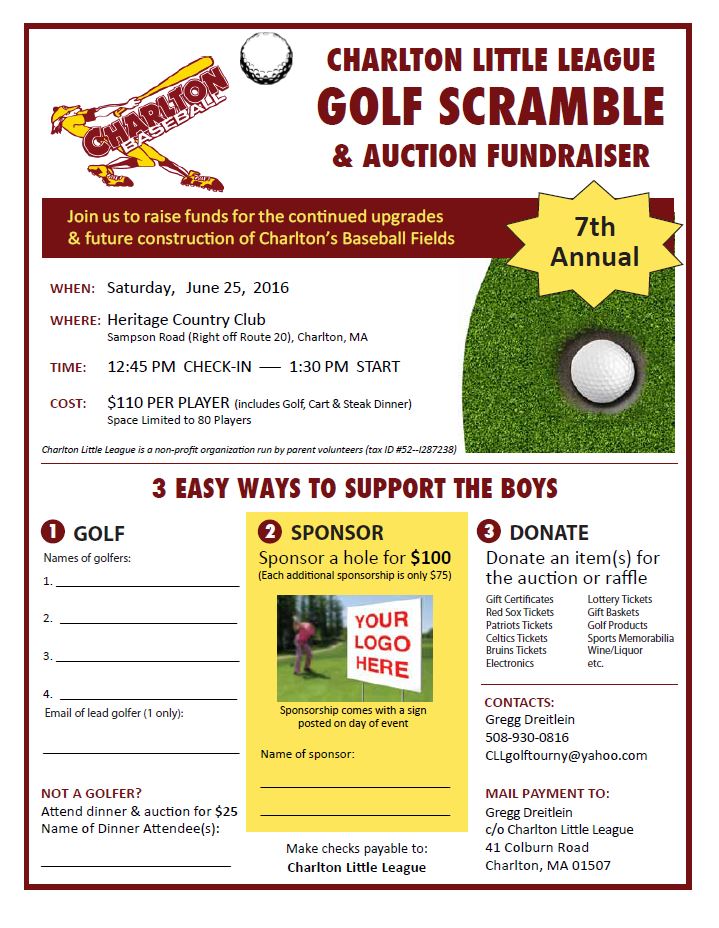 Golf Tournament is now August 27th!!!
Thursday, June 23
2016 Junior League All-Star Team
2016 Junior League All-Star Team
Manager: Brett Kustigian
Coach: Jarrod Johnston
Coach: Keith LaPan
Coach: Brian Lavoie
Brent Burlingame
Jacob Fortin
Cam Hackett
Zachary Hill
Connor Johnston
William Kinnes III
Christopher Kustigian
Parker LaPan
Brian Lavoie
Chase McKenney
Jared Merchant
Andreas Papoutsides
Friday, July 8
2016 Majors All-Star Team - The Road To WIlliamsport
The Road to Willamsport
07-July: Charlton faced their toughest competition in their bracket vs. Grafton at their Ferry St. Fields. A back and forth game in the beginning with a FERRY-load of runs. In the end the Charlton team found themselves on the backside of a 17-14 loss and possibly being eliminated from District 5 play. Offensively, Colin Hughes had an astonishing 5 for 5 night with (3) home runs. Mark Fields also added a 3-run shot for Charlton.
05-July: In Game 3 of the round-robin District 5 play, Charlton needed a must-win against their neighbors from Sturbridge with 14-7 victory at Bond Road Field. Charlton was led by the pitching of Mark Fields and Matt Kustigian. Offensively, Fields led the charge with 3 hits.
30-Jun: After several warm-up events against the likes of Sturbridge, Dudley, Auburn, Shrewsbury American, & Leominster. The Charlton Major League team started District 5 round robin play on Tuesday evening 6/28 with a 7-inning affair with Northboro and lost 6-4 despite homeruns by Nate Dreitlein and Kyle Burlingame.
The team had no time to dwell in the loss and was right back on the field Wednesday evening with a must-win game vs. Oxford. Continuing the theme of playing extra baseball, the game went 7-innings and Charlton pulled out the 13-5 victory. Matt Kustigian pitched 5 2/3 innings followed by Kyle Burlingame. Charlton opened up the 1st inning with a Brayden Michaelson 3-run homerun followed by a solo shot from Matt Reed. Oxford climbed back with 2 in the first and 3 in the fifth inning sending the game into extra innings. Charlton put it away with 8 runs in the top of the seventh highlighted by Reed's second homerun of the game, a 3-run shot!!!
The stage is set for a big matchup vs. Sturbridge on Tuesday night (7/5) at Bond Road Field.
2016 Major League All-Star Team
Manager: John Reed
Coach: Steve Sanderson
Coach: Gregg Dreitlein
Coach: Jerome Michaelson
Kody Bartkus #23
Austin Brush #9
Kyle Burlingame #24
Nate Dreitlein #11
Mark Fields #16
Colin Hughes #27
Colby Jacobs #17
Matthew Kustigian #34
Brayden Michaelson #10
Zachary Pingeton #64
Matthew Reed #42
Eric Sanderson #6
Monday, June 20
2016 Connie Mack Tournement Team
2016 Connie Mack (U12) All-Star Team
Manager: Robbie Barton
Coach: Rob Sheehan
Coach: Bob Delaney
Coach: Rich Lucht
Jordan Sheehan #5
Beau Desrosiers #21
George Koronis #50
Anthony Barbale #7
Coby Merchant #3
Camden Lucht #15
Connor Barton #34
Justin Barton #43
Andrew Forskett #2
Sam Streeter #37
Matthew Delaney #13
Michael Mullaly #12
Justin Generella #44
Sunday, July 3
2016 AAA All-Star Team
The AAA All-Star Team Just Misses Championship Round
After an 11th hour addition to the Holden Tournament, the Charlton AAA All-Stars took the field in Game 1 on 6/18 with a tough 11-6 loss to hard hitting Joe Schwartz (Worcester). After falling behind early, the boys battled back to control the 2nd half of the game. Barry Hanson was stellar on the hill, shutting down the Schwartz hitters over the last 3 innings. Trent Szela led the offense with a triple. Luke May, Garrett Clardy, and Peter Barbale contributed with hits.
In Game 2, The AAA All-Stars suffered a tough 18-4 defeat to the host Holden team. Offensively, the team was led by Cruze Leonard (single, 2 RBI) and Chase Brush (triple). Nathan Louis provided the ESPN Sportscenter highlight by making a diving stop to get the lead runner at 3rd base.
In Game 3, behind a complete game by Peter Barbale on the mound, the AAA All-Stars defeated Rutland 9-2. Barbale struck out 6. Offensively, every batter for Charlton reached base. Braden Bullard delivered a key 2-run single and Trent Szela delivered a criticle 2-run triple to extend the lead. Jayden Bish delivered the knockout blow with a 2-run double in the 5th inning. Camden Blum and Barbale spun a beauty of a double play.
In Game 4, the bats came alive in a 21-4 drubbing over West Boylston. Luke May (3/3 w/ single, double, & triple, 4 runs scored) and Trent Szela (2 Dbls/Triple, 3 runs scored) led the hit parade. Szela, Barbale, and Brayden Bullard pitched masterfully. Barbale and Barry Hanson turned a double play.
In Game 5, the AAA team defeated Harvard 19-5. Charlton erupted for 13 runs in the fifth inning, Peter Barbale led the offensive onslaught. Braden Bullard delivered a 3-run inside the park homerun to seal the victory.
The AAA Team ended the Holden Tournament with a 3-2 record but missed advancement due to tie breaker. They will look to continue their hot play in the upcoming Dudley Tourney.
2016 AAA All-Star Team
Manager: Robbie Bish-Warner
Coach: Patrick Lefebvre
Coach: Mark Szela
Coach: Dave Ugrinow
Peter Barbale #7
Jayden Bish #4
Camden Blum #99
Chase Brush #2
Braden Bullard #44
Garrett Clardy #5
Barry Hanson #10
Cruze Leonard #3
Nathen Louis #1
Luke May #36
Trent Szela #13
Andrew Trudel #37
Jack Ugrinow #15
Thursday, June 30
2016 10-Year Old All-Star Team
10 Year Old - Jimmy Fund Tourney
Jun-30:The 10YO team has started the Jimmy Fund tourney with a 16-0 win vs. Southbridge on Sunday (6/26). Thomas Carragher, Adrien Roach, and Tommy Hennessey combined to pitch a 4-inning shutout. The team came back on Tuesday (6/28) with a 16-10 victory over Oxford. Charlton jumped out to a 5-1 lead after 1, highlighted by a 3-run homerun by Matt Rousakos. Charlton proceeded to surrender the next 8 runs and suddenly found themselves down 9-5. Charlton didn't surrender and added 5 runs to take the lead 10-9 in the 3rd inning. Good team defense and timely hitting helped maintain the lead and close out the game. Now 2-0 in pool play - Charlton takes on Sturbridge on Thursday (6/30) at Bond Road Field.
2016 10-Year Old All-Star Team
Manager: Mike Dandridge
Coach: Chris Robertson
Coach: Adam Daniels
Coach: Art Rousakos
Chase Buniowski #10
Thomas Carragher #2
Troy Dandridge #7
Logan Daniels #14
Joshua Harrison #1
Thomas Hennessey #5
Kellen Kinnes #17
Kyle Moody #11
Martin Mullen III #6
Jacob Reed #22
Adrien Roach #25
Matthew Rousakos #9
Monday, June 20
2016 9-Year Old All-Star Team
2016 9-Year Old All-Star Team
Manager: Rich Lucht
Coach: Jeff Avoglia
Coach: Cory Moody
Coach: Ed Ramsey
Coach: Scott Hemingway
Coach: Mark Szela
Anthony Avoglia #1
Connor Fox #12
Joshua Hemingway #8
Garrett Lucht #85
Owen Lucht #68
Colin MacConnell #10
Kyle Mazur #50
Zachary Moody #11
Jeffrey Popsuj #21
Nicholas Ramsey #57
Benjamin Streeter #47
Reid Szela #20
Jacob Wojcicki #34
Sunday, July 3
2016 Minor League All-Star Team
Charlton Minor League All-Stars WIN Championship
The Charlton Minor League All-Stars claimed the 2016 Grafton Tournament Championship trophy on Saturday with a 10-3 victory over a strong Grafton team at Edward P. Miner Field (Mini-Fenway). The road to the championship was not an path. Charlton opened the first game with a 7-2 victory over Millbury.
The very next day faced a strong Grafton team and lost 10-1.
Needing a victory of more than 10 runs to reach the finals, Charlton delivered by beating Dudley 13-1. Congratulations to the Charlton Minor League All-Stars, managed by Rich Enberg.
2016 Minor League All-Star Team
Manager: Rich Enberg
Coach: Jared Green
Coach: Kevin Morin
Coach: Matt Gale
Coach: Brett Kustigian
Alex Brouillard #13
Dominic Calcagni #8
Anthony Desto #6
Preston Enberg #2
Caden Green #12
Andrew Henault #34
Gavin Hennessey #11
Joseph Kustigian #28
Adam LaFortune #4
Jacob Ramsey #24
Devin Rowden #16
Ed Simon #36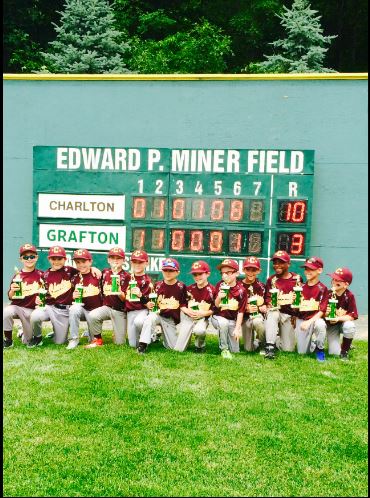 2016 Grafton Tourney Champions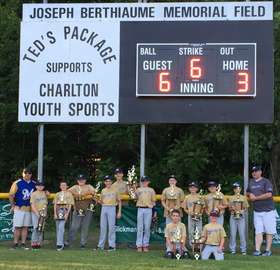 2016 Major League Champions - Ted's Package Store Brewers
Wednesday, June 22
2016 Charlton Little League Champions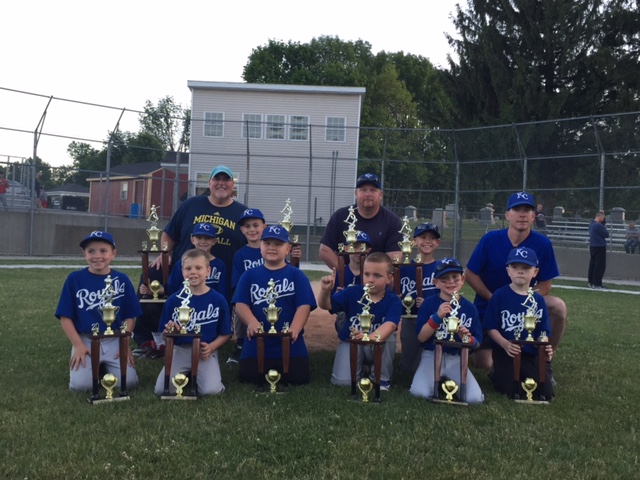 2016 Minor League Champions - O'Malley's Auto Body Royals
2016 Charlton Little League Champions
Major League
Regular Season Champions: Incom Cardinals
Manager: Mike Jacobs
Playoff Champions: Ted's Package Store Brewers
Manager: Wayne Cluett
Ted's Package Store Brewers 6 - Incom Cardinals 3
Will Reece started the game with a 1-2-3 inning for the Cardinals. Energized, the Cardinals scored 3 runs in the bottom of the first off of the Brewer's Mark Fields (5 2/3 w/ 13 Ks) . Colin Hughes started the scoring by scoring on a single by Colby Jacobs (2/2, 1 RBI). Matt Rousakos (1/2, 1 RBI) hit an single to score Jacobs.
In the Top of the 2nd, Mike Mullaly (2/3, 3 RBI) smashed a fastball just inside the left field line and over the fence for his first homerun to get the Brewers on the board. The score remained 3-1 on the baffling pitching dual between Reece and Fields.
In the 4th inning, Mullaly hit a 2-run ground rule double to score Josh Natale and Fields. Luke Hill followed on the hit-train with a single to score Matt Kustigian (1/2, 1 RBI). Adrien Roach (2/2, 1 RBI) hit a single to score Mullaly to extend the lead to 5-3. In the 6th inning Kustigian singled in Fields to finish the scoring at 6-3.
Fields went 5 2/3 with 13 strikeouts before reaching the maximum pitch limit. Kustigian followed on the bump to finish the game with a final strikeout.
The Brewers Road to the Championship
Ted's Package Store Brewers 12 - Fairway Mortgage Dodgers 9
Ted's Package Store Brewers 9 - Incom Cardinals 5
AAA League
Regular Season & Playoff Champions - Country Bank Mariners

Country Bank Mariners 14 - Camosse Masonry Rockies 13
Mariners got on the board with a deep 3 rbi double from Caleb Green. Antoine Nassour and Owen Reese battled hard on the mound with a back and forth game with the Rockies, who were countering the Mariners point for point making it 13-13 at the end of the 4th. Mariners were able to score one final run in the 5th inning before being shut down by the pitching of the Rockies Garret Lucht. Tommy Hennessey took over on the mound in the bottom of the 5th with a near flawless performance of 5 strikeouts out of the 7 batters he faced. Sawyer Ayotte provided defensive highlights with a critical catch to end the 5th inning. Tommy and Andrew Trudel each hit triples to help get the Mariners on top.
The Mariners Road to the Championship
Country Bank Mariners 14 - O'Malley's Auto Body Nationals 13
Country Bank Mariners 10 - Laer Realty Athletics 3
Minor League
Playoff Champions - O'Malley's Auto Body Royals
Manager: Rich Enberg
T-Ball League - Skills Challenge Results
Fastest Runner - Jacob Cote
Longest Hitter - Tate Lefebvre
Most Accurate Throw - Jacob Cote
Pop Fly Champion - Zachary Nyhaug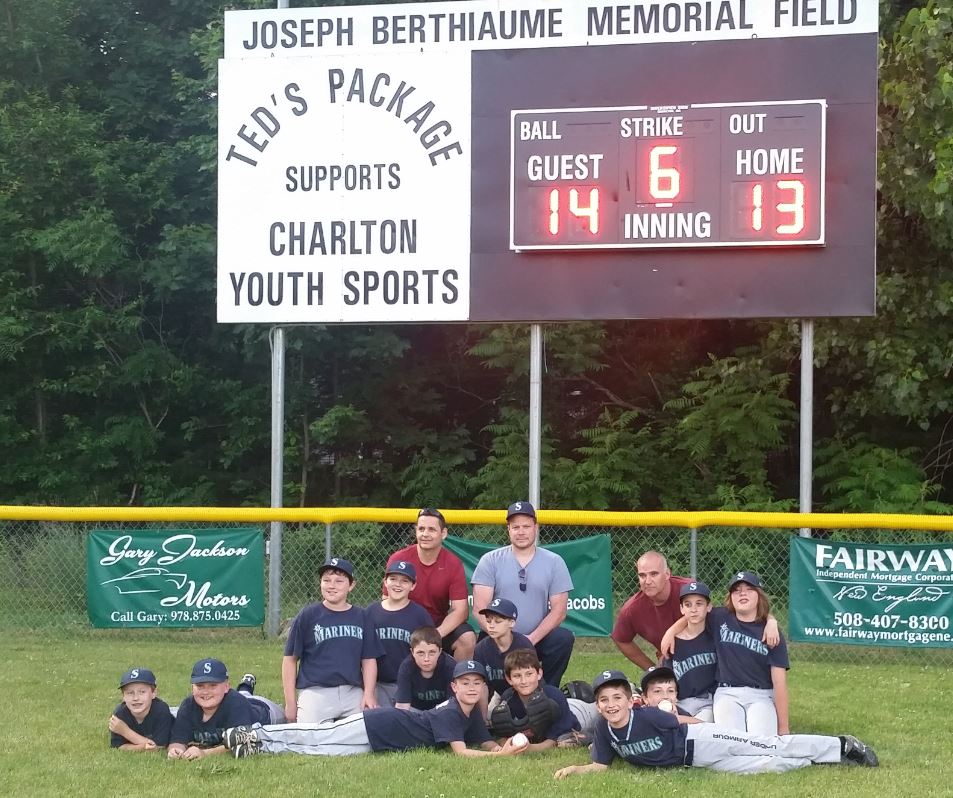 2016 AAA Champions - Country Bank Mariners
Wednesday, April 27
Snack Shack 101
Snack Shack 101
Submitted by Kristin Kustigian
This is a general overview of how to operate the snack shack, for those who have not yet had the pleasure. Your coach should have a key to open the shack, bathrooms and equipment area.
*The key for the metal window cover at Bond is above the microwave. Just unlock, push the metal cover up, and put the locks in the shack snack above the microwave.
Cash Box
The cash box is located inside the bottom cabinet near the sink (in both shacks). It should contain $40 (a mix of ones, fives and a ten) and a bunch of coins. Please be sure to leave small bills for the next shift.
Prices
The prices for all items are listed near the windows.
There are frozen items in the freezers: pretzels, ice cream, hotdogs and buns.
Drinks and condiments are in the refrig. Thawed hotdogs and buns might be in refrig too. Usually, water, soda, ice tea, gatorade.
There is a keurig for making coffee.
Microwave for making popcorn (2.15 mins), pretzels (1.15 mins), hot chocolate (8 oz cup is 1.30 mins).
There is a steamer for making hotdogs. Fill the bottom reservoir to the line with water and turn it on. Hot dogs go in the middle compartment, and buns go in the top. It has a timer, so you know when they are ready.
Lightening Detection Device
There is a lightening detector device plugged in near the countertop, and it will alert you to bad weather in the area. If the 3-8 miles light comes on, please let the coaches and ump know.
First Aid/ AED
There is an AED, ice packs, and first aid kits if the need arises.
End of Shift
At the end of your shift: Count the bills and leave $40 in the cash box ($15 in ones, $15 in fives, and $10 in tens). If you don't have this combination -- just leave $40 in the smallest bills you have.
Put the rest of the money in an envelope (found in the drawer) mark the envelope with the date, amount, and your name and seal it and put it in the drop box located on the floor (under the micro at Bond // behind the door at Center). A board member empties the drop box and deposits the funds regularly.
Please wait for the next shift to arrive prior to leaving.
Last Game of Day
Empty and clean the steamer, wipe the counters, and put away all food items.
Please return the cash box with the $40 plus coins to the bottom cabinet. Put your envelope containing all other cash, your name, date and amount in the drop box.
The locks for the metal window cover at Bond Rd are hanging above the microwave.
The coach should lock up the snack shack, bathrooms and equipment shed.
Friday, April 10
Medical Insurance Reimbursement
Fallon Medical Reimbursement:
To receive a confirmation letter that your child/children are enrolled in the current season,
please email the CLL player agent Jerry Michaelson at jmichaelson@ptc.com with:

Your name and the children(s) name, address and children(s) date of birth.

You will only receive a letter for the current season - no letters will be produced for previous seasons.
Please allow 2-4 weeks for processing.
Not a member of Fallon - please check with your Health Insurance Carrier for possible reimbursement programs.
Charlton Little League - Facebook Site
Friday, April 25
Please, No Cemetery Parking @ Center Field
Regarding Parking Regulations at Center Field 
The Cemetery Commissioners voted unanimously at their June 3rd meeting that I should write to advise certain groups that use the municipal recreation fields that  are between the Library and the Westridge Cemetery that parking within the cemetery is NOT allowed and individuals who do park there may have their vehicles ticketed or towed.  This rule was made several years ago for safety reasons and the Commissioners intend  to fully enforce this rule so that no one gets hurt.  We request that each Charlton team that uses the field help us enforce this rule by advising all parents and those of the visiting teams.
We appreciate your assistance in this matter.
Thank you.
Cemetery Commissioners
            Donna L. Neylon, Clerk
            Kristen Russell-May, Chairman
            Jason Sciarappa, Vice Chairman