Charlton MA Little League: My Site News
Monday, July 6
2015 Majors All-Star Team - Road to Williamsport
Major All Stars: (5-2) Mgr: Eric Rubin
2015 Road to Williamsport (2-0)

7/06: Charlton 25 Millbury 0 (4-innings)
The Charlton Majors brought the big bats tonight against an overmatched Millbury team. The team accumulated 6 HRs to power the team to a 25-0 in a 4-inning affair.
Going long ball for (2-0) Charlton were Joey Rubin (15), Brant Savage (10), Chris Kustigian (7), Andrew Sweet (5), Colby Jacobs (5), & Owen Hughes (2).
Charlton will conclude pool-play on Wednesday evening at 5:30pm @ Leicester.

6/30: Charlton 9 Northboro 0
Coming off 2 straight losses to Northboro in the Northboro Warm-Up Tourney, the Charlton Majors team went from warm to HOT with a monster victory against Northboro on Tuesday evening at Bond Road Field under the lights. Charlton was led by a remarkable pitching performance by Joey Rubin.
Rubin pitched a 1-hit complete game shutout with 12 K's to keep the bats of Northboro silent.
Chase McKenney (2) had a solo laser shot to left to help put the game out of reach.
2015 Northboro Tournament (3-2)

6/22: Charlton 8 Dudley 2
The Majors All-Stars began their tournament season with an 8-2 win in the Northboro Warm-Up Tourney. Colby Jacobs (4) and Chase McKenney (1) has home-runs to help power the team to victory.
6/24: Charlton 13 Westboro 8
The Majors All-Stars go to 2-0 in the Northboro tourney. Joey Rubin (12) helped the offensive barrage with 2 homeruns.
6/25: Charlton 8 Northboro 9 (8-innings)
The Majors All-Stars lost their 1st game to the host team 9-8 in an 8-inning affair. Jacob Fortin (8) delivered a homerun in the effort.
6/26: Charlton 7 Westboro 6 (10-innings)
The Majors All-Stars delivered a big 10-inning win in the Semi-finals of the Northboro Tourney to move onto the Finals on Saturday Evening at 7:30pm in Northboro. Joey Rubin (13) and Owen Hughes (1) delivered homeruns in the winning effort.
6/27: Charlton 2 Northboro 5
The Majors All-Stars finished the Northboro Tournament with 2nd place as they dropped a tough one to the powerful Northboro team. Joey Rubin (14) and Brant Savage (9) started the game going back-to-back homeruns but could not hold the big bats of Northboro down, as they swatted 3 homeruns to finish with the first place trophy on their home field.
2015 Majors All-Star Team
Manager: Eric Rubin
Coach: Michael Savage
Coach: John Hackett
Mark Fields
Jacob Fortin
Cam Hackett
Colin Hughes
Owen Hughes
Colby Jacobs
Connor Johnston
Chris Kustigian
Chase McKenney
Joey Rubin
Brant Savage
Cian Savage
Andrew Sweet
Thursday, July 2
2015 11/12 Year Old All-Star Team
11/12 All Stars: (4-3) Mgr: John Reed

2015 11YO Millbury Tournament (2-0)
7/2: Charlton 21 Spencer 0 (4-innings)
Charlton 11YO All Stars beat Spencer yesterday 21-0 to go 2-0 in the 11YO District 5 Tournament.
Brayden Michaelson, Sammy Streeter and Matt Reed combined to pitch a No-Hitter. Reed, Michaelson and Streeter also led the way with 2 hits apiece and Zack Pingeton scored 4 runs for Charlton in a 4 inning game.
6/29: Charlton 10 Sturbridge 7
2015 Holden Tournament (2-3)

6/20: Charlton 7 Jesse Burkett 8
The 11/12 All-Stars dropped a tough-luck decision to Jesse Burkett in the Holden Tournament (Majors) 8-7 after a valiant comeback attempt. Ed Knopf electrified the crowd with a 215 ft. monster home-run in the defeat.
6/22: Charlton 14 Rutland 12
Another dramatic comeback win for a Charlton team early in the All-Star season. The 11/12 All-Stars battled down 4 in the top of the 6th and held on to win 14-12 against a strong Rutland team.
Tonight the All-Stars were led by Zach Pingeton (1) with a laser shot over the left-center field fence, RBI Double, and an 11-pitch base on balls in the 1st to set the offensive tone.
Top of the 6th down by 4, Eric Sanderson and Sammy Streeter had back-to-back doubles to start the comeback bid. Mike Mullaly HBP loaded the bases. Andreas Papoutsides reached first on another HBP scoring a run. Brayden Michaelson followed with a 2-run single. The rally was complete on a 2-run error committed by Rutland and the elusive running of Kody Bartkus on a force out at first.
Michaelson (4 strong IP) and Papoutsides pitched Charlton onto victory.
6/25: Charlton 12 Holden 2 1

Ed Knopf, Eric Sanderson, and Kyle Burlingame limited Holden 2 to 4 hits to lead Charlton to their 2nd victory in the Holden Tournament.
Zach Pingeton, Andreas Papoutsides, and Mike Mullaly had 2 hits each to lead the offensive charge.
6/27: Charlton 10 Harvard 14

6/29: Charlton 6 Southboro 11
Zach Pingeton hit a grand slam but it wasn't enough to beat the Southboro team ending Charlton's run in the Holden tournament.
It was Charlton's 2nd game of the evening as pool play for the Millbury tournament began.
2015 11/12 Year Old All-Star Team
Manager: John Reed
Coach: Jerry Michaelson
Coach: Steve Sanderson
Anthony Barbale
Kody Bartkus
Kyle Burlingame
Edward Knopf
Andrew Lavoie
Brayden Michaelson
Michael Mullaly
Aidan Murray
Andreas Papoutsides
Zack Pingeton
Matthew Reed
Eric Sanderson
Samuel Streeter
Tuesday, June 16
2015 10-Year Old All-Stars
10 Year Old All Stars: (1-1) Mgr: Wayne Cluett
2015 Jimmy Fund Tournament (1-1)
6/29: Charlton 11 Webster 1 (4-innings)
The 10YO All-Stars began their tournament season with an impressive 11-1 victory in the Oxford Jimmy Fund Tournament.
Matt Kustigian and Connor Cluett combined on a 2-hitter on only 58 pitches.
The offense was led by Caden Savage (3-3), Brian Gosselin (2-3), Hunter Pocis (2-3) and Cluett (2-3).
Defensively, Hunter Pocis gunned out 2 runners daring to steal a base.
7/1: Charlton 1 Sturbridge 12 (4-innings)
The 10YO All-Stars met up against the big bats of Sturbridge and succumbed in a 4-inning match 12-1.
Matt Kustigian was a bright spot in this game, belting his first-ever homerun, a laser shot over the left field fence for Charlton's only run of the game.
2015 10-Year Old All-Star Team
Manager: Wayne Cluett
Coach: Michael Savage
Coach: Brett Kustigian
Coach: Jeff Hill
Joshua Carignan
Connor Cluett
Spencer Courville
Brian Gosselin
Luke Hill
Matt Kustigian
Jackson Philion
Hunter Pocis
William Reece
Caden Savage
David Trevarthan
Andrew Trudel
Saturday, July 4
2015 AAA All-Stars
2015 Charlton Little League
AAA - ALL STAR UPDATES
updated 7-July-2015

AAA All Stars: (6-0) Mgr: Gregg Dreitlein
2015 Holden Tournament (6-0)

6/16: Charlton 11 Sturbridge 5
Led by the defensive efforts of Justin Generella, Justin Barton, and George Koronis, the AAA All-stars scored an 11-5 victory over Sturbridge on Tuesday evening in Holden.
Matt Delaney, Nate Dreitlein and Connor Barton combined to allow only 2 hits. Jordan Sheehan ignited a 5th inning rally with a single to right and the team followed with 7 straight hits to plate 6 runs and take command of the game.
6/20: Charlton 14 Boylston/W. Boylston 1
The AAA All Star team improved to 2-0 with a 14-1 victory over Boylston/West Boylston on Saturday.
Connor Barton and Nate Dreitlein combined to pitch a no-hitter.
The offense was led by Cam Lucht, Andrew Foskett and Coby Merchant, each with a hit, rbi, and run scored
6/24: Charlton 18 Rutland 0

Led by the Charlton Wonder-Twins, the AAA All-Star team cruised to an 18-0 win over Rutland Wednesday evening improving to 3-0 in the Holden Tournament.
Connor and Justin Barton combined to go 6-6 with 4 RBIs.
Justin Generella chipped in with 2 hits and 2 RBIs.
Super Nate Dreitlein flashed the leather with a great catch at SS.
Coby Merchant and Matt Delaney combined for the 2-hit shutout.
6/27: Charlton 19 Holden 3
In a battle of 2 undefeated teams, the Charlton AAA team quickly jumped on their opponent led by Justin Generella's first ever out-of-the-park home run. Nate Dreitlein, Connor Barton, and Coby Merchant combined to shut down the Holden offense. Great defensive plays by Dreitlein and Cam Lucht helped in the Charlton effort.
7/1: Charlton 17 Jesse Burkett 7
In the final game of pool play, Charlton relied upon the pitching reserves of Cam Lucht and Andrew Foskett to keep a scrappy Jesse Burkett team down. The offense was led by Austin Brush with 5 RBI. This victory was a total team effort as they prepare for the Semi-Finals on Monday evening in Holden versus Joe Schwartz.
7/6: Charlton 5 Joe Schwartz 1
In the Semi-Finals of the Holden Tournament, Charlton stayed undefeated with a 5-1 victory of Joe Schwartz of Worcester. Nate Dreitlein pitched a remarkable 3-hitter with great defense supplied by Cam Lucht and Matthew Delaney. The offense was led by another laser by Justin "Boom Boom" Generella (2) over the right field fence and Andrew Foskett's timely 2-run triple to break open the game.
Charlton advances to the Championship game versus Holden 3 TONIGHT @ 7:30pm.
2015 AAA All-Star Team
Manager: Gregg Dreitlein
Coach: Rob Barton
Coach: Bob Delaney

Connor Barton
Justin Barton
Austin Brush
Jacob Collette
Matthew Delaney
Nathan Dreitlein
Andrew Foskett
Justin Generella
George Koronis
Camden Lucht
Coby Merchant
Jordan Sheehan


Tuesday, June 16
2015 8/9 Year Old All-Stars (A)
2015 8/9 Year Old (A) All-Star Team
Manager: Marty Mullen
Coach: Mike Dandridge
Coach: Chris Robertson
Peter Barbale
Thomas Carragher
Troy Dandridge
Logan Daniels
Christopher Davey
Joshua Harrison
Thomas Hennessey
Kyle Moody
Martin Mullen III
Jacob Reed
Adrien Roach
Matthew Rousakos
Tuesday, June 16
2015 8/9 Year Old All-Stars (B)
2015 8/9 Year Old (B) All-Star Team
Manager: Rich Lucht
Coach: Ed Ramsey

Camden Blum
Braden Bullard
Arlo Dzik
Caleb Green
Barry Hanson
Alex Lanpher
Garrett Lucht
Luke May
Zach Moody
Teague Murray
Nick Ramsey
Jack Ugrinow
Tuesday, June 16
2015 Minor League All-Star Team
2015  Minor League All-Star Team
Manager: Pat Lefebvre
 Coach: Andrew Streeter
Coach: Mark Szela
Coach: Sean Hennessey
Drew Aubin
Jayden Bish
Nathaniel Chute
Garrett Clardy
Miles Cormier
Zachary Cournoyer
Gavin Groh
Gavin Hennessey
Adam Lafortune
Cruze Leonard
Jeffrey Popsuj
Ben Streeter
Reid Szela
Jacek Wieglorecki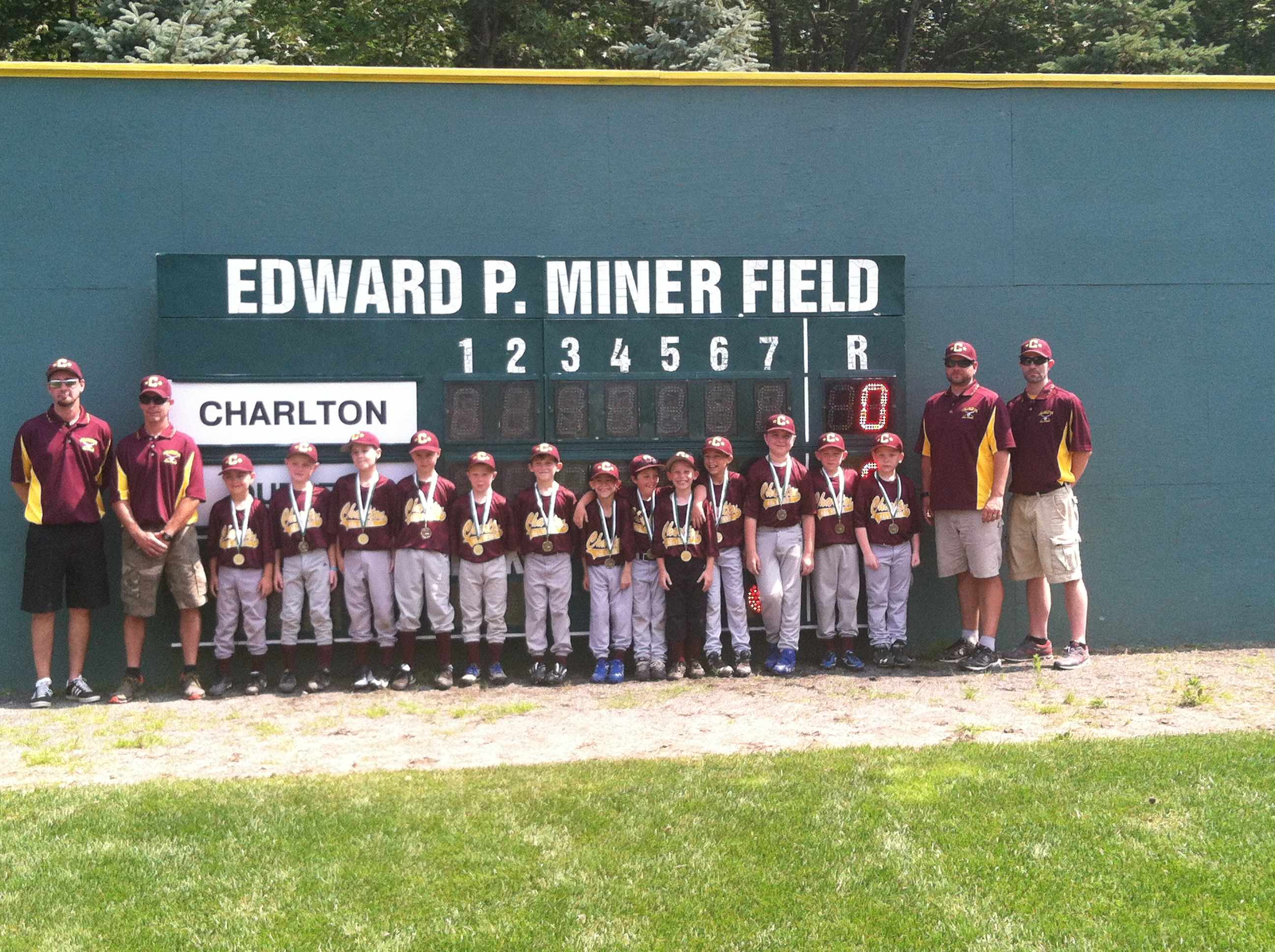 2015 Minor League Team
Tuesday, July 7
2015 Home Run Leaders
2015 Charlton Little League Home Runs (74)
* Denotes Grand Slam
* Denotes All-Star Homerun
Monday, June 8
Webster First Donation to Charlton Little League
**Thank You**

Webster First Federal Credit Union
Webster First Federal Credit Union recently donated $500 to the Charlton Little League. President John Reed accepted this donation with his AAA Oriole Team under the lights at Bond Road Field last Friday Evening.
Tuesday, May 26
Dining for a Cause Fundraiser at the Ninety Nine
Dining for a Cause at the Ninety Nine
A huge THANK YOU to the Ninety-Nine Restaurant and Pub in Auburn for their generous gift of a $1000.00 donation to the Charlton Little League, as we assisted them in re-opening the remodeled establishment.
Tuesday, May 12
2015 Pitch, Hit, & Run Competition Results
3rd Annual MLB Pitch, Hit, & Run Competition presented by MLB & Scott's
Results from May 9th
AGES 7/8
Garrett Lucht (Running, Pitching, OVERALL)
Jacob Reed (Hitting)
Ages 9/10
Kyle Moody (Pitching, OVERALL)
Matthew Rousakos (Hitting, Running)
Ages 11/12

Matt Reed (Hitting,Co-Pitching,OVERALL)
Nate Dreitlein (Running)
Connor Cluett (Co-Pitching)
Ages 13/14 - No Participants
Congratulations to all winners, who will now compete at the Regional Competition in Fitchburg on May 17th.
GOOD LUCK!!!
Friday, April 10
NEW LITTLE LEAGUE BASEBALL AGE DETERMINATION
Friday, April 25
Please, No Cemetery Parking @ Center Field
Regarding Parking Regulations at Center Field 
The Cemetery Commissioners voted unanimously at their June 3rd meeting that I should write to advise certain groups that use the municipal recreation fields that  are between the Library and the Westridge Cemetery that parking within the cemetery is NOT allowed and individuals who do park there may have their vehicles ticketed or towed.  This rule was made several years ago for safety reasons and the Commissioners intend  to fully enforce this rule so that no one gets hurt.  We request that each Charlton team that uses the field help us enforce this rule by advising all parents and those of the visiting teams.
We appreciate your assistance in this matter.
Thank you.
Cemetery Commissioners
            Donna L. Neylon, Clerk
            Kristen Russell-May, Chairman
            Jason Sciarappa, Vice Chairman
Friday, April 10
Medical Insurance Reimbursement
Fallon Medical Reimbursement:
To receive a confirmation letter that your child/children are enrolled in the current season,
please email the CLL player agent Jerry Michaelson at jmichaelson@ptc.com with:

Your name and the children(s) name, address and children(s) date of birth.

You will only receive a letter for the current season - no letters will be produced for previous seasons.
Please allow 2-4 weeks for processing.
Not a member of Fallon - please check with your Health Insurance Carrier for possible reimbursement programs.
Charlton Little League - Facebook Site
Tuesday, May 26
Mini-Warrior Baseball Summer Camps - Leicester