Charlton MA Little League: Welcome
Welcome to the Charlton Little League Baseball Website
Welcome to the website of Charlton Little League Baseball
Celebrating 53 years in Little League
1962-2015
Charlton Little League is committed to a Little League culture that assures all players, coaches and parents enjoy a high level experience in all facets of the game. We aspire to be an educational/athletic program that teaches the games most fundamental lessons:
· Promote proper skill sets and strategies of the game
· Explain merits of being part of a team and subsequent life lessons that derive from being a team member
· Enjoy the sport and make every effort to improve.
We recognize Little League as an important aspect in every child's life and shall base every decision and action using a single guideline – determine what is best for our players as they grow.
Charlton Little League
P.O. Box 780
Charlton City, MA 01508
***
The Charlton Little League: Board of Directors
Members of the Charlton Little League Board of Directors preside over the needs of the league for a term of one year. Each board member volunteers their personal time to ensure fields are maintained, uniforms are purchased, vendors are managed, communications are published, registration is taken care of, rules are established, teams are created, managers and coaches are selected, and sponsorships are secured.
The board formally meets each month throughout the year, and informally in subcommittees, as needed, through the guidance of the 2015 Executive Committee.
2015 Baseball Executive Commitee Members: John Reed (President), Wayne Cluett (Vice President), & Marty Mullen (Vice President)
Charlton Weather Link
Saturday, July 4
2015 Fall Baseball - REGISTRATION is OPEN
2015 Spring Baseball Registration
Online registration for 2015 Fall Baseball is:
OPEN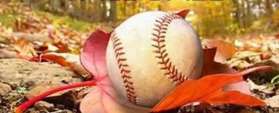 Click on image for Online Registration
Thursday, July 23
2015 Majors All-Star Team - Road to Williamsport
Major All Stars: (13-3) Mgr: Eric Rubin

2015 Connie Mack Champions (7-0)
Congratulations to the Majors All-Stars for capturing the Connie Mack Tournament in 2015.
You only need to review the Home Run page to understand how this happened.
2015 Road to Williamsport (3-1)

7/12: Charlton 6 Westboro 7
The Road to Williamsport hit a "dead-end" as the Charlton Majors dropped a hard fought 7-6 District 5 Semi-Final at Dean Park in Shrewsbury. Charlton was led by (2) 2-run blasts by Brant Savage. Unfortunately, the bats of Westboro took advantage of some bad break opportunities to push across the winning run in the bottom of the 6th.
Next up for the Major All-Stars, the Connie Mack Tourney.
7/08: Charlton 26 Leicester 3 (4-innings)
The Charlton Majors "Offensive Onslaught" tour made their way down the road to Leicester and quickly dispatched the host team 26-3 after 4-innings. With this win, Charlton assured themselves the top spot in their pool play division.
Going long ball for (3-0) Charlton were Joey Rubin with 2 homeruns (17), Brant Savage (11), & Owen Hughes (3) . Rubin and Hughes each had a Grand Slam.
Charlton will begin single-elimination tourney run on Sunday evening. Place & Time TBD.
7/06: Charlton 25 Millbury 0 (4-innings)
The Charlton Majors brought the big bats tonight against an overmatched Millbury team. The team accumulated 6 HRs to power the team to a 25-0 in a 4-inning affair.
Going long ball for (2-0) Charlton were Joey Rubin (15), Brant Savage (10), Chris Kustigian (7), Andrew Sweet (5), Colby Jacobs (5), & Owen Hughes (2).
Charlton will conclude pool-play on Wednesday evening at 5:30pm @ Leicester.

6/30: Charlton 9 Northboro 0
Coming off 2 straight losses to Northboro in the Northboro Warm-Up Tourney, the Charlton Majors team went from warm to HOT with a monster victory against Northboro on Tuesday evening at Bond Road Field under the lights. Charlton was led by a remarkable pitching performance by Joey Rubin.
Rubin pitched a 1-hit complete game shutout with 12 K's to keep the bats of Northboro silent.
Chase McKenney (2) had a solo laser shot to left to help put the game out of reach.
2015 Northboro Tournament (3-2)

6/22: Charlton 8 Dudley 2
The Majors All-Stars began their tournament season with an 8-2 win in the Northboro Warm-Up Tourney. Colby Jacobs (4) and Chase McKenney (1) has home-runs to help power the team to victory.
6/24: Charlton 13 Westboro 8
The Majors All-Stars go to 2-0 in the Northboro tourney. Joey Rubin (12) helped the offensive barrage with 2 homeruns.
6/25: Charlton 8 Northboro 9 (8-innings)
The Majors All-Stars lost their 1st game to the host team 9-8 in an 8-inning affair. Jacob Fortin (8) delivered a homerun in the effort.
6/26: Charlton 7 Westboro 6 (10-innings)
The Majors All-Stars delivered a big 10-inning win in the Semi-finals of the Northboro Tourney to move onto the Finals on Saturday Evening at 7:30pm in Northboro. Joey Rubin (13) and Owen Hughes (1) delivered homeruns in the winning effort.
6/27: Charlton 2 Northboro 5
The Majors All-Stars finished the Northboro Tournament with 2nd place as they dropped a tough one to the powerful Northboro team. Joey Rubin (14) and Brant Savage (9) started the game going back-to-back homeruns but could not hold the big bats of Northboro down, as they swatted 3 homeruns to finish with the first place trophy on their home field.
2015 Majors All-Star Team
Manager: Eric Rubin
Coach: Michael Savage
Coach: John Hackett
Mark Fields
Jacob Fortin
Cam Hackett
Colin Hughes
Owen Hughes
Colby Jacobs
Connor Johnston
Chris Kustigian
Chase McKenney
Joey Rubin
Brant Savage
Cian Savage
Andrew Sweet
Thursday, July 23
2015 11-Year Old All-Star Team
11 Year Old All Stars: (7-5) Mgr: John Reed

2015 11YO Millbury Tournament (5-2)
7/22: Charlton 3 Grafton 12
7/13: Charlton 13 Sturbridge 5
Charlton 11YO All-Stars finished pool play on a high note with a commanding 13-5 victory over Sturbridge. Leading the offense was Brayden Michaelson going 3-3 (a triple shy of the cycle) and Eric Sanderson (HR). Anthony Barbale, Sam Streeter, and Aidan Murray each had 2 hits.
Kody Bartkus pitched 4 1/3 of relief issuing only 1 hit and striking out 7.
7/11: Charlton 14 Leicester 5
Charlton 11YO All Stars beat Leicester 14-5 to go to 4-1 in the District 5 11YO tournament. Anthony Barbale, Matt Reed and Kody Bartkus all had 2 hits to lead the offense. Reed, Sam Streeter and Eric Sanderson combined to pitch 6 strong innings.
7/9: Charlton 11 Quaboag 3
Charlton 11YO All Stars got back up and beat Quaboag 11-3 to go 3-1 in pool play of the 11YO District 5 Tournament. Kody Bartkus pitched 4 solid innings only yielding 3 hits with 6 Ks. Brayden Michaelson closed out the win in the last 2 innings striking out 4. Matt Reed and Nate Dreitlein led the offense with 2 hits each.

7/7: Charlton 4 Oxford 5
Charlton 11YO All Stars lost a tough battle against Oxford under the lights at Bond Road Field 5-4.
Leading the way for Charlton was Anthony Barbale (3 for 3), Connor Cluett (2 RBI), and Sam Streeter (RBI Dbl).


7/2: Charlton 21 Spencer 0 (4-innings)
Charlton 11YO All Stars beat Spencer yesterday 21-0 to go 2-0 in the 11YO District 5 Tournament.
Brayden Michaelson, Sammy Streeter and Matt Reed combined to pitch a No-Hitter. Reed, Michaelson and Streeter also led the way with 2 hits apiece and Zack Pingeton scored 4 runs for Charlton in a 4 inning game.
6/29: Charlton 10 Sturbridge 7
2015 Holden Tournament (2-3)

6/20: Charlton 7 Jesse Burkett 8
The 11/12 All-Stars dropped a tough-luck decision to Jesse Burkett in the Holden Tournament (Majors) 8-7 after a valiant comeback attempt. Ed Knopf electrified the crowd with a 215 ft. monster home-run in the defeat.
6/22: Charlton 14 Rutland 12
Another dramatic comeback win for a Charlton team early in the All-Star season. The 11/12 All-Stars battled down 4 in the top of the 6th and held on to win 14-12 against a strong Rutland team.
Tonight the All-Stars were led by Zach Pingeton (1) with a laser shot over the left-center field fence, RBI Double, and an 11-pitch base on balls in the 1st to set the offensive tone.
Top of the 6th down by 4, Eric Sanderson and Sammy Streeter had back-to-back doubles to start the comeback bid. Mike Mullaly HBP loaded the bases. Andreas Papoutsides reached first on another HBP scoring a run. Brayden Michaelson followed with a 2-run single. The rally was complete on a 2-run error committed by Rutland and the elusive running of Kody Bartkus on a force out at first.
Michaelson (4 strong IP) and Papoutsides pitched Charlton onto victory.
6/25: Charlton 12 Holden 2 1

Ed Knopf, Eric Sanderson, and Kyle Burlingame limited Holden 2 to 4 hits to lead Charlton to their 2nd victory in the Holden Tournament.
Zach Pingeton, Andreas Papoutsides, and Mike Mullaly had 2 hits each to lead the offensive charge.
6/27: Charlton 10 Harvard 14

6/29: Charlton 6 Southboro 11
Zach Pingeton hit a grand slam but it wasn't enough to beat the Southboro team ending Charlton's run in the Holden tournament.
It was Charlton's 2nd game of the evening as pool play for the Millbury tournament began.
2015 11/12 Year Old All-Star Team
Manager: John Reed
Coach: Jerry Michaelson
Coach: Steve Sanderson
Anthony Barbale
Kody Bartkus
Kyle Burlingame
Edward Knopf
Andrew Lavoie
Brayden Michaelson
Michael Mullaly
Aidan Murray
Andreas Papoutsides
Zack Pingeton
Matthew Reed
Eric Sanderson
Samuel Streeter
Thursday, July 23
2015 10-Year Old All-Stars
10 Year Old All Stars: (4-3) Mgr: Wayne Cluett
2015 Jimmy Fund Tournament (4-3)
7/16 Charlton 6 - Northboro 9
7/14 Charlton 7 - Leicester 8
7/12 Charlton 7 - Quaboag 5
Charlton got big hits and great pitching today in a "hot summer game" in Sturbridge. Led by the bats of Caden Savage and Matt Kustigian the offense took the lead in the 4th and never looked back. Excellent pitching from Kustigian & Connor Cluett kept Quaboag in check. Caden Savage closed it out in the 6th.
7/11 Charlton 14 - Southbridge 1 (4-innings)
Charlton came out swinging as Matt Kustigian, Brian Gosselin, & Jackson Phillion each had inside the park homeruns to lead the offense. ...
7/7: Charlton 7 Oxford 5
The 10YO All-Stars started another winning streak with a hard fought 7-5 victory over Oxford at Bond Road Field. Pitchers, Matt Kustigian and Connor Cluett, kept the Oxford hitters guessing for the majority of the game. The offense scattered 5 timely hits throughout the game led by Caden Savage, Hunter Pocis, Brian Gosselin, Andrew Trudel, & Kustigian.
7/1: Charlton 1 Sturbridge 12 (4-innings)
The 10YO All-Stars met up against the big bats of Sturbridge and succumbed in a 4-inning match 12-1. Matt Kustigian was a bright spot in this game, belting his first-ever homerun, a laser shot over the left field fence for Charlton's only run of the game.
6/29: Charlton 11 Webster 1 (4-innings)
The 10YO All-Stars began their tournament season with an impressive 11-1 victory in the Oxford Jimmy Fund Tournament.
Matt Kustigian and Connor Cluett combined on a 2-hitter on only 58 pitches.
The offense was led by Caden Savage (3-3), Brian Gosselin (2-3), Hunter Pocis (2-3) and Cluett (2-3). Defensively, Hunter Pocis gunned out 2 runners daring to steal a base.
2015 10-Year Old All-Star Team
Manager: Wayne Cluett
Coach: Michael Savage
Coach: Brett Kustigian
Coach: Jeff Hill
Joshua Carignan
Connor Cluett
Spencer Courville
Brian Gosselin
Luke Hill
Matt Kustigian
Jackson Philion
Hunter Pocis
William Reece
Caden Savage
David Trevarthan
Andrew Trudel
Tuesday, July 21
2015 AAA All-Stars
2015 Charlton Little League
AAA - ALL STAR UPDATES
updated 21-July-2015
AAA All Stars: (13-0) Mgr: Gregg Dreitlein
2015 Charlton Tournament (6-0)
2015 TOURNAMENT CHAMPIONS
7/20 Charlton 13 Grafton 7
The AAA All stars capped off a remarkable undefeated summer by holding down a very tough Grafton team in the Charlton tournament finals.
Matt Delaney got the nod to start the game and went 2 1/3 strong. He turned it over to Nate Dreitlein who pitched the rest of the way. But this evening it was the bats of Charlton who struck fear into the hearts of the Grafton team. The top 5 in the order would not be held down this evening, going 9-10 with 3 walks and 11 runs scored. It started with 3 runs in the first led by Andrew Foskett's 2 run double. Then down 1 in the 3rd, it was Austin Brush and Cam Lucht pitched in with RBIs of their own. But Grafton would not go away easily, clawing their way back to 8-7 in the 5th. Once again, the team who couldn't lose, came though scoring 5 to grab a 13-7 lead. This time it was Matt Delaney with the big hit plating 2 runs. From there the team rode Dreitlein's arm for a 1-2-3 6th, striking out the last 2 batters to end the tournament.
The team finishes the summer 13-0, winners of the Holden tournament and the Charlton Tournament.
A special THANK YOU to Brian Wilbur for all he did for this tournament
7/18 Charlton 10 Shrewsbury 8
Struggling to find their rhythm against a very aggressive Shrewsbury team, the AAA All-Stars took a visit to the snack shack during a 1-hour rain delay for some much needed sustenance. Down 5-2 in the 2nd inning, the bats came alive to close the gap. In the 5th inning, they added 5 runs to pull ahead. Connor Barton provided the starting pitching followed by Nate Dreitlein and Coby "Nails" Merchant close out the victory. The offense was led by Merchant and Dreitlein reaching base 3x each and scoring.
7/15 Charlton 8 Sturbridge 2
With First place clinched, the AAA All stars looked to finish pool play undefeated, but ran into a very stingy Sturbridge team. That did not stop Justin Generella from going 4-4 and leading the team to an 8-2 win. Connor Barton started and Nathan Dreitlein closed the game, but it was star middle reliever Cam Lucht mowing down the heart of the Sturbridge order in a close game that lifted the AAA Allstars.
7/14 Charlton 18 Shrewsbury 7
The Charlton Bats came alive scoring 18 runs against a game Shrewsbury team. Matt Delaney pitched 4 solid innings and Andrew Foskett shut the door with an 8 pitch 6th inning. The offense was led by Austin Brush and Justin Generella (who has decided to hit for average this tournament, and forgo the HR). Nate Dreitlein, and the Barton Brothers chipped in with timely hits.
7/12 Charlton 9 Dudley 8
The AAA All-stars with their first defeat staring them in the face, battled through the hear and humidity and rallied for 2 runs in the bottom of the 6th to defeat a strong Dudley team. Colby "Nails" Merchant was solid in relief of Connor Barton (who earlier stepped off a plane at Logan from Seattle) and pitched a perfect 6th inning. Matt Delaney completed the victory driving in the winning run.
7/11 Charlton 12 Grafton 9
The AAA All-Stars opened the Charlton AAA Tournament with a thrilling come from behind victory over a solid Grafton team. Down 3 runs in the 6th inning, Charlton plated 6 runs to take the lead and hold on in this hard fought victory.
AAA All Stars: (7-0) Mgr: Gregg Dreitlein
2015 Holden Tournament (7-0)
2015 TOURNAMENT CHAMPIONS
7/7: Charlton 7 Holden3 5
The AAA All-Stars capped off an undefeated tournament with a 7-5 victory over the host team, Holden3.
The offense was led again by Justin "Boom Boom" Generella (3) with another tremendous bomb capping off a 5-run 3rd-inning.
The team rallied around some great pitching from Matt Delaney and Colby Merchant ti shut the door in the 5th with the tying run at the plate. Congratulations for a tremendous team performance.
Charlton will now focus their energy on the upcoming Charlton AAA tournament beginning on Saturday, July 11th.
6/16: Charlton 11 Sturbridge 5
Led by the defensive efforts of Justin Generella, Justin Barton, and George Koronis, the AAA All-stars scored an 11-5 victory over Sturbridge on Tuesday evening in Holden.
Matt Delaney, Nate Dreitlein and Connor Barton combined to allow only 2 hits. Jordan Sheehan ignited a 5th inning rally with a single to right and the team followed with 7 straight hits to plate 6 runs and take command of the game.
6/20: Charlton 14 Boylston/W. Boylston 1
The AAA All Star team improved to 2-0 with a 14-1 victory over Boylston/West Boylston on Saturday.
Connor Barton and Nate Dreitlein combined to pitch a no-hitter.
The offense was led by Cam Lucht, Andrew Foskett and Coby Merchant, each with a hit, rbi, and run scored
6/24: Charlton 18 Rutland 0

Led by the Charlton Wonder-Twins, the AAA All-Star team cruised to an 18-0 win over Rutland Wednesday evening improving to 3-0 in the Holden Tournament.
Connor and Justin Barton combined to go 6-6 with 4 RBIs.
Justin Generella chipped in with 2 hits and 2 RBIs.
Super Nate Dreitlein flashed the leather with a great catch at SS.
Coby Merchant and Matt Delaney combined for the 2-hit shutout.
6/27: Charlton 19 Holden 3
In a battle of 2 undefeated teams, the Charlton AAA team quickly jumped on their opponent led by Justin Generella's first ever out-of-the-park home run. Nate Dreitlein, Connor Barton, and Coby Merchant combined to shut down the Holden offense. Great defensive plays by Dreitlein and Cam Lucht helped in the Charlton effort.
7/1: Charlton 17 Jesse Burkett 7
In the final game of pool play, Charlton relied upon the pitching reserves of Cam Lucht and Andrew Foskett to keep a scrappy Jesse Burkett team down. The offense was led by Austin Brush with 5 RBI. This victory was a total team effort as they prepare for the Semi-Finals on Monday evening in Holden versus Joe Schwartz.
7/6: Charlton 5 Joe Schwartz 1
In the Semi-Finals of the Holden Tournament, Charlton stayed undefeated with a 5-1 victory of Joe Schwartz of Worcester. Nate Dreitlein pitched a remarkable 3-hitter with great defense supplied by Cam Lucht and Matthew Delaney. The offense was led by another laser by Justin "Boom Boom" Generella (2) over the right field fence and Andrew Foskett's timely 2-run triple to break open the game.
Charlton advances to the Championship game versus Holden 3 TONIGHT @ 7:30pm.
2015 AAA All-Star Team
Manager: Gregg Dreitlein
Coach: Rob Barton
Coach: Bob Delaney

Connor Barton
Justin Barton
Austin Brush
Jacob Collette
Matthew Delaney
Nathan Dreitlein
Andrew Foskett
Justin Generella
George Koronis
Camden Lucht
Coby Merchant
Jordan Sheehan


Wednesday, July 29
2015 8/9 Year Old All-Stars (A)
Northboro Tournament News:
Round #1: Monday, July 20th
Win over Shrewsbury 15-13 (Tough battle/Boys never gave up)
Round #2: Wednesday, July 22nd
Win over Upton 12-2
Round #3: Saturday, July 25th
Win over Northboro 10-9 in 7 innings
(Matt Rousakos hit HR #5 of the all-star season/

Thomas Carragher made a diving catch at SS

Throw from CF-Moody to C- Mullen play at the plate OUT.

Mullen relinquished the save in the 6th, but mowed them down in the 7th for the WIN. Great Game!!!
3-0 in Pool Play (#2 Seed)
Semi Finals: Sunday, July 26th
Win over Boylston/WB 6-1 (Best Game of the season defensively and offensively/With Rousakos and Mullen unavailable to pitch, Carragher 4.1 innings and Barbale 1.2 innings only giving up 1 run).
Championship Game: Wednesday, July 29th at 7:30pm vs. Westborough
7/7: Shrewsbury Nationals 14 - Charlton 1
In the championship game of the Shrewsbury Tournament, the Charlton All-Stars ran out of gas and succumbed to a powerful Shrewsbury National Team to receive 2nd-place honors. The final score is not at all indicative of the heart and effort that these boys poured into this tournament to reach the Championship game.
The 8/9 Year Olds will now focus on the Webster Tournament beginning on Saturday (7/11).
Congratulations!!!
2015 8/9 Year Old (A) All-Star Team
Manager: Marty Mullen
Coach: Mike Dandridge
Coach: Chris Robertson
Peter Barbale
Thomas Carragher
Troy Dandridge
Logan Daniels
Christopher Davey
Joshua Harrison
Thomas Hennessey
Kyle Moody
Martin Mullen III
Jacob Reed
Adrien Roach
Matthew Rousakos
Tuesday, June 16
2015 8/9 Year Old All-Stars (B)
2015 8/9 Year Old (B) All-Star Team
Manager: Rich Lucht
Coach: Ed Ramsey

Camden Blum
Braden Bullard
Arlo Dzik
Caleb Green
Barry Hanson
Alex Lanpher
Garrett Lucht
Luke May
Zach Moody
Teague Murray
Nick Ramsey
Jack Ugrinow
Tuesday, June 16
2015 Minor League All-Star Team
2015  Minor League All-Star Team
Manager: Pat Lefebvre
 Coach: Andrew Streeter
Coach: Mark Szela
Coach: Sean Hennessey
Drew Aubin
Jayden Bish
Nathaniel Chute
Garrett Clardy
Miles Cormier
Zachary Cournoyer
Gavin Groh
Gavin Hennessey
Adam Lafortune
Cruze Leonard
Jeffrey Popsuj
Ben Streeter
Reid Szela
Jacek Wieglorecki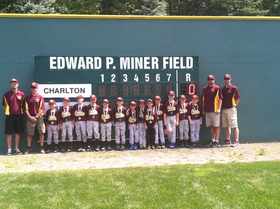 2015 Minor League Team
Sunday, July 26
2015 Home Run Leaders (105)
2015 Charlton Little League Home Runs (106)
* Denotes Grand Slam
* Denotes All-Star Homerun
Tuesday, May 12
2015 Annual Golf Tournament, Dinner, & Auction
Tuesday, May 26
Mini-Warrior Baseball Summer Camps - Leicester
Friday, April 25
Please, No Cemetery Parking @ Center Field
Regarding Parking Regulations at Center Field 
The Cemetery Commissioners voted unanimously at their June 3rd meeting that I should write to advise certain groups that use the municipal recreation fields that  are between the Library and the Westridge Cemetery that parking within the cemetery is NOT allowed and individuals who do park there may have their vehicles ticketed or towed.  This rule was made several years ago for safety reasons and the Commissioners intend  to fully enforce this rule so that no one gets hurt.  We request that each Charlton team that uses the field help us enforce this rule by advising all parents and those of the visiting teams.
We appreciate your assistance in this matter.
Thank you.
Cemetery Commissioners
            Donna L. Neylon, Clerk
            Kristen Russell-May, Chairman
            Jason Sciarappa, Vice Chairman
Friday, April 10
Medical Insurance Reimbursement
Fallon Medical Reimbursement:
To receive a confirmation letter that your child/children are enrolled in the current season,
please email the CLL player agent Jerry Michaelson at jmichaelson@ptc.com with:

Your name and the children(s) name, address and children(s) date of birth.

You will only receive a letter for the current season - no letters will be produced for previous seasons.
Please allow 2-4 weeks for processing.
Not a member of Fallon - please check with your Health Insurance Carrier for possible reimbursement programs.
Charlton Little League - Facebook Site