Charlotte Youth Rowing, Siskey YMCA: Welcome
Saturday, January 29
Welcome to Charlotte Youth Rowing, sponsored by the Charlotte Mecklenburg YMCA
Men's Quad qualifying for Nationals 2012
"Excellence Through Participation"
This is the website for Charlotte's first and largest youth rowing team. We are sponsored by the Charlotte Mecklenburg YMCA system and hosted by the Catawba Yacht Club on Lake Wylie. Our rowers come from over 20 different schools in several counties and 2 states. We have over 60 active rowers. About half are young men and half are young women.
We emphasize regular and active participation, without which sports teams are unrewarding. We strive to develop mature interpersonal skills and the acceptance of responsibility for one's own actions.
OUR ROWERS QUALIFY FOR NATIONALS - 8th YEAR!
Congratulations to our 2013-14 Women's Double and Men's Quad, who qualified for and raced at the 2014 USRowing Youth Nationals in Sacramento. The crew for the Women's Double was Laurie Ellen Moore and Mara Bhalla. The crew for the Men's Quad was Kemal Tursksonmez, Parker Golz, Seth Taylor-Brill and JJ Schacht (filling in for Micah Terrell). This was the second year of racing at Nationals for both Laurie Ellen and Kemal, both of whom return to us this fall.
BRAG ALERT:
These accomplishments mark our eighth year of qualifying crews for Nationals, and the sixth time we have qualified more than one crew. We believe that this is a record unmatched in North Carolina, South Carolina, or Virginia. The women's double progressed to B-Finals where they placed third (nationally ranked 9th in the US).
ACADEMICS?
USRowing - the sport's national and OIympic organization - recognizes fewer than 40 youth rowers annually for its national scholastic honor roll. We are delighted that rowers from our team have been selected in 2006-7 (Paige Wolf - rowing for UNC) and 2007-8 (Bekah Mynatt - rowing for Wake Forest University). Our scholar athlete for 2008-9 was Joe Metz, who attends Duke U. And Eric Melvin was selected for academic year 2009-10, as well as former teammate Emily Caldwell (who transferred to Groton School). Will McAlister was an Honorable Mention for 2011-12. Academic year 2012-13 found Ray Lancaster and Wilson Sink on the USRowing Scholastic Honor Roll, and Meghan Lemmen was an Honorable Mention.
Parents: collegiate rowers typically have the highest GPA's of any collegiate athletes. High school students who take up a sport do NOT see a drop in grades - but they do get more organized and spend less "screen time". Vigorous physical activity has been demonstrated to make brain changes which improve focus, ADD, depression and anxiety.
ATHLETES RECRUITED BY COLLEGES
In addition to the many rowers we have sent on to college crews, we have had several athletes recruited by colleges. Abigail Crenshaw and Brittany Busch were recruited athletes who entered college in 2009. Brittany was our first scholarshipped athlete.
In 2010 Jackson Hoynacki became our first recruited, scholarshipped male athlete. To our knowledge, Jackson is the first South Carolina resident male rower to be recruited to a Division 1 college crew. He attended U. California Berkeley where his coach was Mike Teti, former US Men's National Coach. Read more about Jackson at the websites below.

http://www.fortmilltimes.com/2010/05/21/1120309/fort-mill-athletes-ready-to-make.html
http://www.heraldonline.com/2010/05/20/2182104/water-appeals-to-three-fort-mill.html
Graduating in 2011, Hannah Hawks has been recruited as a scholarshipped rower for University of Miami in Florida. She has only been rowing for 2 years!
Katie Eidson, class of 2012 is our first recruited coxswain. She is attending Clemson University.
Scott Ortlip has been recruited to row at Dartmouth University and enters in fall 2013.
WHO ROWS?
Boys and girls, tall and short, heavy and lightweight are all welcome. Previous sports participation is helpful, but not at all necessary. If you are small and have leadership skills, we would love to talk to you about being a coxswain - the one who steers the boat, assists the coaches with practice, and strategizes about our races. If you are bored or "burned out" with your current sport, if you find your sport unrewarding, or you haven't found a sport you love - check us out!
LIMITATIONS: We are not accepting high school seniors as new novice rowers at this time. It is not practical to participate fully in rowing and another sport in the same season. Although it is not required, most of our rowers race in both fall and spring. Experienced rowers expecting to race in Spring are expected to participate in a winter sport or attend our winter land (erg) practice regularly.
NEWSPAPER ARTICLES ABOUT OUR CREW:
There is a great article about our participation in 2009 USRowing Youth Nationals in the South Charlotte News:
There was a nice article about our crew in the 11/12/06 Charlotte Observer. A copy can be found under "Handouts" in the left margin. Or you may go to:
http://www.charlotte.observer.com/mld/observer/news
and search for "Gaining speed with each stroke"
The South Charlotte Sports Report featured coxswain April Torres in an article June 2007. Check the "Handouts" section of our website, or go to... http://southcharlottesportsreport.com/news/2007/june/062607.html

Another South Charlotte Sports Report article is on page four of the May 26, 2011 edition, which can be found at... http://southcharlottesportsreport.com/issues/issue119.pdf or read the copy under "Handouts".
The USRowing website interviewed and reported on our participation at 2012 Nationals... http://www.usrowing.org/News/12-06-08/Start_the_Progression.aspx
MORE PHOTOS
http://siskeyyscharlotteyouthrowing.shutterfly.com/?email=charlotteyouthrowing%40yahoogroups.com
INTERESTED IN ROWING?
If you want to know more about the crew, check the Handbook under "Handouts". This is updated annually in August and February. Our sport seasons run from late August to early November in the Fall (doesn't interfere with winter sports), and late February to mid-May in the Spring.
Winter practices (on land) are also available and inexpensive. Watch this site each November for more information. You do not have to be a rower to participate in these practices.
If you are interested in participating with us - as a rower or as a coxswain - email Head Coach Byron "Doc" Walthall at Byron.Walthall@gmail.com, and include your phone number, rower's name and rower's year in high school. Please be aware that it is not reasonable to participate in rowing and another after-school sport in the same season, although rowing does not conflict with winter school sports.
LEARN-TO-ROW FOR HIGH SCHOOL STUDENTS
Our main Learn-to-Row camp is in late August each year. This is an overnight stay at Camp Thunderbird. Contact Byron Walthall ("Doc") by email - Byron.Walthall@gmail.com - to be put on the camp list. Please include the names and contact information (email, phones, addresses) of potential campers and/or parents. Also include camper's high school, birthdate and grade if possible.
REGISTRATION WILL OPEN AUGUST 1ST FOR OUR LEARN-TO-ROW AUGUST 23-24, 2014. Go to regattacentral.com, click "Learn to Row" and scroll down to YMCA dba Charlotte Youth Rowing.
We also hold a brief Learn-to-Row camp on a Saturday in late February or early March for new spring rowers.
ABOUT CREW PRACTICE
Rowing practices at the Catawba Yacht Club site are Monday through Friday after school for 1.5 hours (4:35-6:20 PM); and Saturday mornings (9-11 AM). NOTE: novice rowers practice 5 days per week (Mon-Thu and Sat), our most competitive rowers practice 6 days, and experienced but less competitive rowers must attend at least 4 days per week.
The Catawba Yacht Club is on Lake Wylie's eastern (Charlotte) shore, about halfway between Tega Cay and the Buster Boyd (HWY 49) bridge. Typical travel times to practice range from 20-30 minutes.

For DIRECTIONS to the Catawba Yacht Club click on LOCATIONS on the left menu.
Land practices on bad weather days and winter practices involve rowing machines ("ergometers"). These are currently held at the Siskey YMCA on a basketball court. We have access to the weight room and exercise balls as well. Announcements on bad weather days are made by email, text and Facebook by 2 PM. Directions are available as above.

FALL 2014 Calendar
8/18 All experienced rowers begin practice, at Catawba Yacht Club
8/23-8/24 Learn to Row at Camp Thunderbird
8/30-9/1 No water practice (Labor Day weekend)
9/20 Columbia Scrimmage, Columbia, SC. (Day trip - tentative)
9/27 Beaver Dam Head Race, Raleigh, NC (Day trip)
10/4 High Point Head Race, High Point, NC (Day trip)
10/18 Tail of the Tiger, Clemson, SC (overnight Friday night)
11/1-11/2 Head of the Hooch, Chattanooga, TN (2 overnights, Fri through Sun)
11/8 Head of the South, Augusta, GA (overnight Friday)
11/10 Unload trailer, and end-of season party
WINTER 2014-2015 Calendar
12/1 Winter indoor practice starts, Siskey YMCA
12/21 Winter Break
1/5 Winter indoor practice resumes
2/5-2/8 Ergathon fundraiser at the Mid-Atlantic Boat Show
2/14 Charlotte Erg Sprints indoor rowing machine races (date is tentative)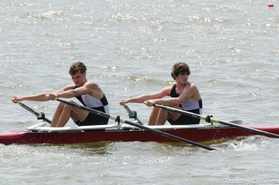 Men's Double at Regionals 2012
Race and other Information for Parents and Rowers
Monday, August 27
About Joining
Our crew has rowers from about 20 high schools in 4 counties and 2 states in the Charlotte area. Experienced rowers are always welcome. We will be accepting new rowers for the spring season in late February, and for the fall season in late August each year. Many new rowers join us from other sports which they find less rewarding or less fun. Note that crew does not conflict with winter school sports.
New (novice) rowers should be high school freshman or sophomores, although we accept selected juniors. Experienced rowers are welcome at any high school grade. At the present time we do not expect to hold tryouts or cuts.

Each participant must be able to document the ability to swim 100 meters/yards without stopping, and to tread water 15 minutes. Any pool lifeguard or swim coach unrelated to the rower may sign off on this using the Swim Certication form, downloadable under "Handouts". This should be done before the season begins for new spring rowers. (We do this as a group in the fall at our Camp Thunderbird Learn-to-Row weekend)
WHERE WE PRACTICE: Practices are at the Catawba Yacht Club, on Lake Wylie's Mecklenburg County shore. This is about halfway between Tega Cay and the (Hwy 49) Buster Boyd bridge. In bad weather the team practices in unleased retail space at McMullen Creek Market at least until daylight savings time begins in the spring. Afterwards we may return to land workouts at the Hemby Center, near the Arboretum in SE Charlotte. See "Locations and Directions" in the left margin of this page.
NOTE: We will row on EVERY PRACTICE DAY unless the air temperature is below freezing, there is evidence of lightning, or the wind is causing whitecaps. We have practice on land when the weather is bad.


OUR PROGRAM COSTS: The cost for participation has been lower than comparable crew programs, and much less than local "travel team" sports. The fee schedule is updated each semester. The YMCA can provide financial assistance in some circumstances (contact the Siskey YMCA for more information on joining, fees, and financial support).
Fees have been approximately $200-250 for each competitive season, fall and spring. This includes one racing uniform top, all instruction, and all supervised workouts on water and land . Race fees have ranged from $75-150 per regatta (hotel, transportation, entry fees, and equipment transportation included). Rowers are responsible for their own meals during transportation to and from regattas - typically Friday and Saturday evening stops for reasonably healthy fast food. (The parent organization supplies food items for lunches at regattas, and breakfasts have typically been free at the hotels)
Costs for rowing also include small personal costs for practice clothing (lycra rowing shorts, socks, sandals), post-workout food/drink, and transportation to practices - usually via carpool.
Parent participation is essential for this all-volunteer team. Parents help with regatta food, the regatta team tent, communication, uniform ordering, fundraisers and equipment maintenance.
For additional information about the team, contact Head Coach "Doc" Walthall at 704-488-2562 or via email at jwalth1590(at)aol.com (Please mention rowing in the header)
Our Logo Clothing and Gear
Gear with our NEW logo. Our rowers love these as gifts, but they are for parents, and supporters as well. Check here for specials and sales.
These clever rowing goods support our equipment costs.
These unique items are only available through our program.  All profits go to the Carolina Rowing Foundation, supporting rowing in the Carolinas.