Central Little League of Las Vegas: Welcome
Monday, August 31
Central Little League of Las Vegas - District 2 - Las Vegas, Nevada
The General Election for Central Little League will be held on Sepember 12th. If you would like to run for ANY board position, please email centrallittleleagueoflasvegas@gmail.com with your name, phone number and the position you would like to run for. A board member will get back to you about getting you added to the ballot for the election.
Tuesday, April 21
Abuela's Tacos are a proud sponsor of Central Little League of Las Vegas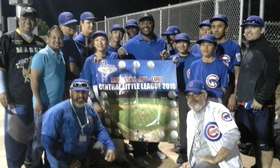 Jr Cubs share a win with their sponsors, The ACACIA Lodge No. 49
Wednesday, April 22
ACACIA Lodge No.49 share a win with the Jr Cubs
Tuesday, April 21
Ken Ashworth & Associates, another Proud Sponsor of Central Little League
Tuesday, April 21
Champions Baseball Acadmey Baseball Cages are Now OPEN!!!
Tuesday, April 21
Dicks Sporting Goods
Tuesday, April 21
Krispy Creme
Wednesday, April 22
LV All Womens Care Is a Proud New Sponsor of Central Little League
Tuesday, April 21
NV Contract Carpet
Tuesday, April 21
Pepsi
Tuesday, April 21
Premier Car Wash
Tuesday, April 21
Storage USA.... A Proud New Sponsor