Central Jersey Hitmen 13U: Welcome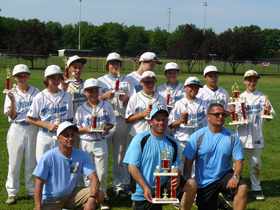 The Hitmen after victory!
Central JerseyHitmen
13U Baseball
Insane baseball for the truly INSANE!
Hitmen Resume'
2009 USABL Champions
2010 USABL Champions
2011 CJBL Runners Up
2012 GSYBL Champions
2010 Beach Blast Runner Up
2011 Ocean StingRays Memorial Tournament Champions
2012 Ocean StingRays Labor Day Tournament Champions
2012 Ripken Experience Myrtle Beach Runners Up
Just to mention a few recent accomplishments
2012 Season record 50-21-1
2012 Team Roster
Michael Anzalone
Andrew Beam
Anthony Elefante
Ryan Glickson
Salvatore Morreale
Salvatore Monticciolo
Gene Napolitano
Jake Papa
Perry Quartuccio
Connor Takacs
Donald Zellman
Hitmen baseball is for the serious baseball player. We play Spring, Summer and Fall baseball.
We play in the most competitive leagues and play the best teams we can find.
We play as much baseball as humanly possible!
The Hitmen Vision

Our vision is to continuously stretch ourselves so we can reach the next level of play, to continue to improve and develop as baseball players through dedication, commitment, hard-work, and a true love for the game.
We will continue to look for the best competition we can play.
We will never lay down.....ever!


2012 team record 50-21-1
2011 team record 46-14

More info coming every day

Any questions? feel free to e-mail us at

centraljerseyhitmen@yahoo.com
Central Jersey Hitmen 13U
Phillipians 4:13
"I can do all things through Christ who strengthens me"
Hitman