CedarcrestHoops.org (Cedarcrest Select Basketball): Welcome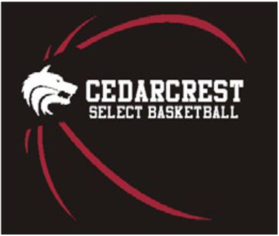 Go Redwolves!
Tuesday, September 9

Welcome to Cedarcrest Select Basketball!

Tryouts for the Boys 2015-2016 basketball season have been set. Please click the Tryouts menu for details. All players are required to have a completed form on file for the current season prior to trying out. To expedite registration, please complete the Registration and Release Form form prior to arriving.
Tryouts for the Girls 2015-2016 season have concluded. A big thanks to all the young athletes who attended. We look forward to another awesome season of CSB Basketball!!
______________________________________________________________________________________
The Cedarcrest Select program is a feeder program for the High School. We focus on developing our players to be competitive at the High School level. In you are interested in learning more about our successful program, please send an email to: info@cedarcresthoops.org
Program Mission
Our mission is to provide a fun and rewarding program for all ages, abilities, and competitive levels. In doing so, we will introduce the wonderful game of basketball, teach the basic fundamental skills required to play the game, develop and strengthen those skills, provide the opportunity to play at the highest competitive level possible (grades 5-8), and most importantly, have lots of FUN!
As a Cedarcrest High School feeder program, we feel it is very important for the athletes in the Riverview School District to participate in our select program. Participation in the program will develop and strengthen relationships and team bonding as the athletes move into the middle school and high school programs.
In addition to the new CBTL league, we also have the opportunity to participate in the Puget Sound Travel League (PSTL). Historically our program has participated in the PSTL league and will continue to do so for those advanced teams within the program.
What is AAU?
AAU stands for Amateur Athletic Union. AAU is a nationally recognized leader in organized amateur sports.
Cascade Basketball Travel League
CBTL is a league for those teams and programs that want to compete at a level higher than recreational basketball. The emphasis is on learing and developing skills in preparation for more advanced basketball.
General Season information:
Practices
Each team will practice twice a week, M-F, at the various Riverview Schools. Practices are normally 1.5 hours in duration.
Games
The AAU season runs from October thru early March. Games begin in late December and usually number ~12. CBTL games are played at various schools on the east side. There are normally 2 games per weekend, one on Saturday and one on Sunday. Games are not scheduled on holiday weekends but there are opportunities for teams to participate in holiday tournaments. The season wraps up in late February or early March.
For program information please send email to info@cedarcresthoops.org.
Wolf Growl