CanonMacLacrosse: My Site News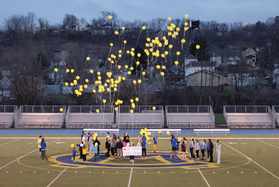 #LUKESTRONG NIGHT BALLOON RELEASE
Monday, April 21
#LUKESTRONG NIGHT - APRIL 9, 2014
#LUKESTRONG Night was a success in raising awareness of Ewing's Sarcoma, a rare childhood cancer. But most importantly to show support for Luke Blanock who has stayed strong in his battle against this disease and to help raise money to go towards his medical costs. We are pleased to announce that a total of $1400 was raised for Luke and his family in monetary donations, concession stand proceeds, t-shirt sales, and 50/50 winnings.
Our thoughts and prayers are with Luke and his family during his ongoing battle with Ewing's Sarcoma.
Monday, March 17
BOXES for BRANDON'S BATTALION - DONATION DRIVE HOME OPENER GAME - SAT, MAR 18TH
Parents & Players,
The team will be hosting a donation drive during their home opener (3/22/14) for their former teammate, Brandon Wehrle, who is currently serving in Camp Leatherneck, Afganistan with the US Marine Corps. The boys will also be sending a signed CM lacrosse t-shirt and a team photograph.
There is also a flyer (see handout link below). Make sure you share it with your friends and family!!! The high school will also be posting the flyers at the school and adding it to the annoucments on the TV's for this week.
Please let us know if you have any questions. Thank you in advance for your support with this cause!
Regards, Coach Schleifsten & Coach Niemeyer
---
The Canonsburg Elks Lodge #846 has adopted the Marine Battalion of Canonsburg native Brandon Wehrle for the duration of his deployment in Afghanistan. Brandon Wehrle is one of our own. He is a 2012 Canon Mac graduate and was a four year varsity defenseman for the Canon Mac Lacrosse team. His teammates would like to help the Elks support Brandon and his Battalion while he is in Country. The Canon Mac High School lacrosse team will be hosting a donation drive during their home opener against Trinity High School on Saturday, March 22, 2014. Game admission is FREE! Please join the Facebook group Boxes for Brandon's Battalion for a complete list of donation items. A few items are listed below.
Donation Items:
Beef Jerky, Flavored Coffee, Coffee Creamer (powder), Freeze Pops, Tootsie Pops, Packaged Tuna, Ramen Noodles, Cookies, Fruit Snacks, Granola Bars, Crackers, Gum, Nuts, Socks (brown or black crew), Tylenol, Advil, Batteries (AA&AAA), Body Wash, etc.
---
Handout:
2014 LAX Forms
Wednesday, March 5
MARCH FANWEAR SALE - Orders due Monday, March 10th - LAST SALE OF THE 2014 SEASON
Sale runs from Tuesday, March 4th to Monday, March 10th. This will be our last fanwear sale of the season. NO LATE ORDERS WILL BE ACCEPTED.
The Fanwear order form and information sheet can be found on the website under "Handouts".
Please turn in your order forms with payment to Josh Leeds NO LATER than March 10th. Make check payable to CMHS LAX. If you are using funds from your son's account, please email Cindy at clpodski@gmail.com and copy us at the below email address to make sure that you have the funds available in his account.
If you have any questions, please direct them Sharon Leeds at sl.leeds@verizon.net.
Wednesday, January 29
Physicals at Canon Mac High School on February 8, 2014 - CALL for APPT
The district has announced that spring sports physicals will take place on Saturday, February 8th at the high school. Please call 412-330-4469 to schedule an appointment. Cost: $10.00 Cash or check made payable to AGH. More information can be found below under "2014 Lax Season Forms".
The PIAA forms needed for physicals are available in the rack outside the AD's office or on the school district website under athletics. Scroll towards the bottom of the page-the link is on the left & then select physical forms, also on the left. All players must have a current physical and the proper forms completed & turned in prior to the start of the season on March 3rd - no exceptions. Completed forms can be given to Coach at any practice or they can be turned in to the AD's office in school.
Handout:
2014 LAX Forms
Wednesday, January 29
February Fundraiser - Hoagie Sale
February Fundraiser: Hoagie Sale
Hoagie Fundraiser orders and payment due by Thurs, Feb 20th to Lisa House. Please issue total amount due in one check payable to CMHS Lacrosse. Hoagies are $6.50/hoagie and the profit per hoagie is $3.00.
The order form can be found under "2014 LAX Season Forms".
Handout:
2014 LAX Forms
Wednesday, January 8
WEIGHT ROOM TRAINING starts January 9, 2014
Pre-season conditioning will take place every Tuesday & Thursday from 6-7 in the weight room beginning on January 9th and continue through February 2014.
If a player is not able to make any of the scheduled nights, please let Coach Schleifstein know in advance.
Although we're scheduled to be in the weight room, if the gym is available we will take advantage of that to do some stick work, so all players should bring helmets, gloves & sticks to ALL practices.