Sportmanship Awards: Welcome
Sportsmanship Awards - Added as a Continuous award in 2011
Canadian Masters Sportsmanship Awards

The 2011 Masters in Winnipeg featured the inauguration of annual Sportmanship awards.
The Martin Bailey Sportsmanship Award for men competitors !
The Curl Regina Sportsmanship Award for women competitors !


Selection is voted on each year by the all the participating players at each Championship.
The awards are presented each year to the curlers who best combine top skill factors,
alongside sportsmanship and leadership qaulities, plus a passion for the game!

The players choice !
WOMENS Sportsmanship Award - Sponsored by Curl Regina
2015 Whitehorse Yukon Event- Merle Kopach - Skip - Team Saskatchewan
2014 Alberta Coaldale Event- Audrey Crossan - Vice - Team Saskatchewan
2013 Thunder Bay PAAC Pauline Page 2nd Team Quebec
2011 Manitoba Event- Ellen Brennan- Vice - Team New Brunswick
2012 Quebec Event - Wendy Archer Vice Team BC
Some Previous Masters Championships featured Sportsmanship Awards.
Award winners listed below are on an "as known, as recorded, and reported" basis.
2007 Ontario Event – Heather Cousineau, Skip -Team Northern Ontario
2000 Cloverdale B.C Event – Adine Boutliere . . Skip Team Nova Scotia


MENS Sportsmanship Award - The Martin Bailey Memorial
2015 Whitehorse Yukon Event- Michael Witherspoon - Lead - Team Newfoundland
2014 Alberta Coaldale Event- Rod Aube - Skip - Team New Brunswick
2013 Thunder Bay Event Lew Andrews Skip Team Newfoundland
2012 Quebec Event - Toby McDonald Skip Team Newfoundland
2011 Manitoba Event- Ignace Baraneisk- Vice - Team Saskatchewan

Some Previous Masters Championships featured Sportsmanship Awards.
Award winners listed below are on an "as known, as recorded,and reported" basis.
2007 Ontario Event – Martin Bailey, skip, Team Manitoba
2000 Cloverdale B.C Event – Jerry Miller, vice, Team Yukon
,


______________________________________________________________________

Readers..Feel free to report and document any other Sportmanship winners you may be aware of. Should you wish to send any support contibutions for these awards contact John Helston or Elaine Jones in Manitoba. Thanks Elaine and John for being the initiators of the annual awards process.

. . Click through to the CMC Committee page from the home page of the CMC site to find the contcact informatiion . Thank you !
In answer to many queries ? No All star teams have been selected in past years .
Recognition has been centered on the Canandian Champions, Finalists, Playoff qaulifiers alongslide all of the Provincial Masters Champions who attend the Canadian Masters Championships.
.
A note to Mr. Derek Boe and Curl Regina Board members: Sept 30,2011

On behalf of our volunteer National Masters Committee, we wish to thank Curl Regina
for supporting this new Award for the Canadian Masters Curling Championships
( permanent plaque + annual keepers) .
Also, we thank Bernadette McIntyre for helping connect our two organizations and making this possible!
>
Mike Carson - Chair
National Masters Curling Championships
__________________________________________________________________________________
Tuesday, October 11
2011 SPORTSMANSHIP AWARD WINNERS
The 2011 Martin Bailey Memorial Award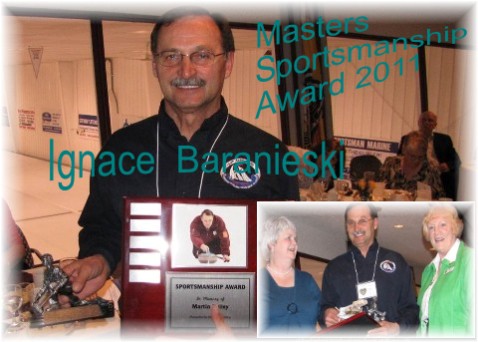 The Players Choice
Ignace Baranieski - Mens Sportsmanship - Team Saskatchewan

The 2011 Curl Regina Award Winner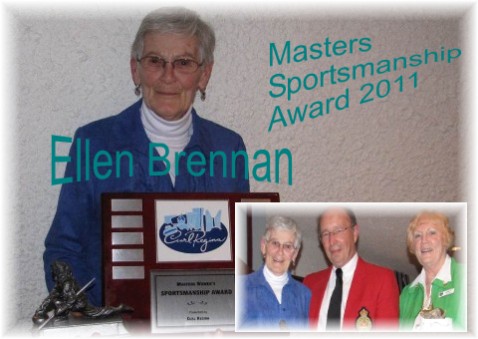 The Players Choice !
Ellen Brennan
- Womens Sportmanship Award -Team New Brunswick
MARTIN BAILEY AWARD - Background
"The Martin Bailey Sportsmanship Award is presented to the male curler who best exemplifies the qualities of passion, temperament and leadership that Bailey brought to the sport.
Martin skipped teams to the men's Manitoba Masters titles in 2004 and 2007, and won the Canadian Masters Championship in 2004. In his career, he earned the respect and admiration of teammates and curlers across the country. Martin Bailey himself was the winner of Canadian Sportmanship awards.( At the 2003 Canadian Seniors and the 2007 Masters Canadian Curling Championships.) Martin Bailey died in 2009 after a lengthy struggle with lung cancer."

Martin served as the Greens Superintendent at Pinawa Golf Course for several years before his untimely passing.
Martin Bailey Award
Having spoken with a number of Martin`s close friends and fellow curlers during his struggle with lung cancer and following his passing it appeared there was plenty of interest and will to create an annual sportmanship award in Martin's name.
Martin`s passion and approach to the game we all enjoy is something we all will remember . Martin had a skill level on the ice that many of us would love to possess, as well as his relaxed approach when under pressure. Never shy to say what was on his mind was a trait that Martin left you knowing exactly where they stood. Many of us still have vivid memories of Martin's priceless practical jokes on and off the ice.
With these thoughts in mind, there was a concensus that a recognition award should be created in his honor. Elaine Jones and I have taken the initiative to open an account at CIBC to handle any donations from friends and curlers that knew Martin for this award. The funds will be used to have a plaque for presentation to a masters curler that best exemplifies Martin`s qualities. The plan will be to continue this for the next ten years. The inaugural Martin Bailey award will be presented at this years Masters National Championship being held at the Assiniboine Memorial Curling Club on March 30 - April 5,2011.
If you wish to participate please forward your donation to a CIBC to a savings account in my name
" John Helston " # 00427/77- 46385 . The bank may be reached at 204- 944-6578 if you wish to call. Canadian Imperial Bank of Commerce, 1160 Pembina Highway, Winnipeg, Manitoba, R3T 2A4.
The alternative would be to mail Elaine or myself your donation and we will deposit it upon receipt.
Thanks for your consideration, John Helston
__________________________________________________________________
John Helston 840 Kebir Place Winnipeg, MB R3T 1W9

Martin Bailey- On the ice !