Chartiers Valley Hockey Club: Welcome
Chartiers Valley Hockey Club
Welcome to the Chartiers Valley Colts Hockey Club web page.
Middle School players serve at Pathfinders
This is the third time our MS players have volunteered. The boys help clear tables and put new place settings in place for new guests. They also help out by getting drinks and desserts if guests ask. The boys also get to meet and talk with students of Pathfinder and their families who attend the dinner. At the end, they get to enjoy a spaghetti dinner of their own.
2016 Steeler ticket raffle winner
The Chartiers Valley Hockey Club held a raffle for Steeler tickets. The lucky winner was James Stevenson. He had the ticket with the winning number from the evening PA lottery three digit number on September 10, 2016. He won 2 tickets to each of the following Steeler home games against the Bengals, Chiefs, Jets, Patroits, Cowboys, and the Giants. Trevor Stevenson sold the winning ticket. The hockey club would like to give a special thanks to Coach Paul Bonetti for his generous donation of the Steeler tickets.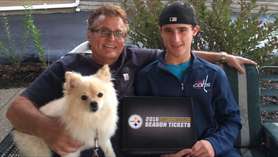 2016 Raffle ticket winner
SPOTS AVAILABLE
CHARTIERS VALLEY HOCKEY CLUB HAS SPOTS AVAILABE FOR THE 2016-17 SEASON.
THE CLUB IS STILL ACCEPTING PLAYERS FOR THE 2016-17 SEASON AT THE HIGH SCHOOL AND MIDDLE SCHOOL LEVEL. PLAYERS OF ALL LEVELS OF SKILL ARE ENCOURAGED TO CONTACT Frank Sedlak - Director of Coaching at fjsedlak@gmail.com
2016 Golf Outing
The Chartiers Valley Hockey Club will be holding it 2nd Annual Golfing Outing at Southpointe Golf Club on Monday, August 1, 2016. The cost is $150/golfer. Please see the attched flyer for more details and to register.
Handout:
2016 Golf Outing
---
Reminder to all Chartiers Valley Hockey Fans:
Captain's Clothing has all of your spiritwear needs year round. Playoffs for Varsity, JV, and Freshmen are starting soon so be sure to stop down to see the stock of available items for sale! They have many items in stock and available to purchase when you walk in the store- examples include: hats, tees ( performance and cotton), and hoodies.
The store hours are M-F 8:00 am - 4:30 pm.
Captain Clothing 25 E. Main St. Carnegie, PA 15106 www.CaptainClothing.com 412-278-3000