Cavalier Manor Football and Cheering Association: Welcome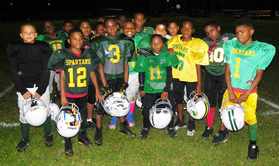 Mitey Mite football team
Mitey Mite football team with coaches and parents
Thanks you for visting our page. We are now in season and right now we have some exciting news! Our Mitey Mite football players and cheerleaders were chosen to exhibit in the Pop Warner Superbowl in FL this December! Goooo Spartans! We're going to need alot of help getting there, so that's where you and the community come in....please go to http://www.gofundme.com/e32nes and show your support by donating any amount you can (a little goes along way). On behalf of the Mitey Mite teams....thank you!
We are an association that is committed to the growing the and developement of our youth through football and cheering and teamwork. For more photos, visit http://cmspartans.shutterfly.com.
Our mission is to encourage our youth. Our purpose is to improve the talents and capabilities through teamwork, sportsmanship, honesty, responsibility, leadership and courage.

Join us on Facebook!