Central Kings Gator Football Booster Club: Photo Gallery

Link
Saturday, September 25
New this year! 2010 images on the Valley Football Flickr site
Please click on the link or the Football Helmet to access Flicker images.
Sunday, November 22
Sunday, November 22
Sunday, November 22
Sunday, November 22
Monday, November 16
CK on to Tier 2 Final!
Monday, November 16
Sunday, November 8
Quarter Final versus NKEC
Sunday, November 8
Sunday, November 1
Cole Harbour
Sunday, November 1
Saturday, October 24
J.L. ILSLEY
Saturday, October 17
Dartmouth 10/17/2009
Tuesday, October 13
Link to CK @ NKEC Photos provided by Scott Browning

http://photobucket.com/Gators_vs_Titans
Monday, October 12
Saturday, October 3
Link to Citadel Photos provided by Scott Browning
http://photobucket.com/CKvsCitadel
Saturday, October 3
Saturday, October 3
Saturday, October 3
Sir John A 2009
Sunday, September 20
Sunday, September 20
Friday, September 11
Horton Images
Friday, September 4
CK at Auburn
Friday, September 4
CK at Auburn
Saturday, August 29
High school squads ready for gridiron action
BY JOHN DECOSTE

jdecoste@kentvilleadvertiser.ca

NovaNewsNow.com

All three high school football teams from our area have started pre-season training and are looking forward to the 2009 season.

Four Valley schools – NKEC, Central Kings, Horton and Avon View – are scheduled to take part in a jamboree tonight in Wolfville and will all kick off their regular seasons this coming weekend.

Central Kings opens on the road Friday, Sept. 4 against Auburn Drive. Horton's opener is also Friday against Cole Harbour on the Burnside turf, and Avon View hosts NKEC Sunday at 1 p.m. in Windsor.

The following weekend, Central Kings hosts Horton Sept. 11 at 7 p.m. at Acadia, NKEC hosts Sackville Sept. 12 at 1 p.m. in Canning and Avon View travels to Fall River to take on Lockview Sunday.

At NKEC, there are "a lot of new bodies," says co-head coach Wally Archer, who will again be in charge along with Angelo Visentin. At the same time, the coaching staff is "very optimistic about the kids we have."

On the positive side, Archer said, "this will probably be the biggest team we've had" in the four years NKEC has played football. However, "we're very young, with probably 95 per cent of our team in Grade 9 or 10."

The Titans have added some bantam Bulldogs grads and there are "some really good athletes, including some who haven't played football before."

Notable returning players include linebackers Zack Kennie and Lee Benjamin, running back Tyler Cornell and linemen Brandon Bishop and Tony Marsters, as well as Jeff Longaphy, who will start at middle linebacker.

Among the best-looking newcomers are Vince Cashin, who will likely play at the safety position, and Will Mosher, starting centre for the Nova Scotia and Maritime champion bantam Bulldogs.

"It should be a fun season," Archer said. "We're really looking forward to it. The growth in football locally has been tremendous, and the success of the Bulldogs has had a lot to do with that."

Optimism reigns supreme at CK

Optimism reigns supreme at Central Kings, where head coach Jonathan Ingles welcomes no fewer than 19 graduates of the bantam Bulldogs, including a handful of players who could have an immediate impact.

"We'll have good team speed and we've seen a lot of aggressiveness and desire to win. If we can jell them into a cohesive unit, we'll be much better than last year (when the Gators finished 3-5 in their inaugural season)."

In a new format this year for Nova Scotia high school football, the league is divided into two divisions, with every team playing everyone else in their division as well as games against 'traditional rivals'.

The top four finishers in each division will play off for Tier 1, with five through eight in each division playing off for Tier 2.

Ingles said he has a good core group and is looking for good things from this year's team. The influx of talented new players should make for good competition at a lot of positions and the bottom line is, "no job is safe."

Chris Alguire, coming back from a foot injury, and newcomer Mike Stevens will battle it out at the quarterback position, with Alguire likely having a slight edge as a returning player.

Other returnees include running back 'Boo' DiGioacchino, receiver Devin Locke and, on defense, Shawndell Sampson (a Tier 2 provincial all-star in 2008) and Tyler Varner. As well, receiver Roland Provencal has transferred in from NKEC for academic reasons.

Among the newcomers are Stevens, running back Iain MacMillan, Jacob Gee, Todd Dow and Andrew Jennings-Lindsay, all former bantam Bulldogs.

Good core group at Horton

At Horton, head coach Alex Hyndman enters his third year as head coach and will be joined by former Bulldogs' coach Steve Melanson, a one-time provincial coach of the year who will take charge of the defensive unit.

"I've gone over to Horton this year," Melanson said. "I hope it will make a difference" in helping Horton "develop a long- term system."

Horton has had trouble getting people out to camp, but Hyndman expects things to improve once school starts. "We have a good core group, but we're young," he said. "We're hoping to do better than last year."

Key returnees include Nick Bawn, who takes over as the starting quarterback, and linebacker and defensive leader Grant Crowell.

A promising crop of newcomers includes former bantam Bulldogs Adam Melanson, Robert Adams, Will Stewart and Doug Spriggs.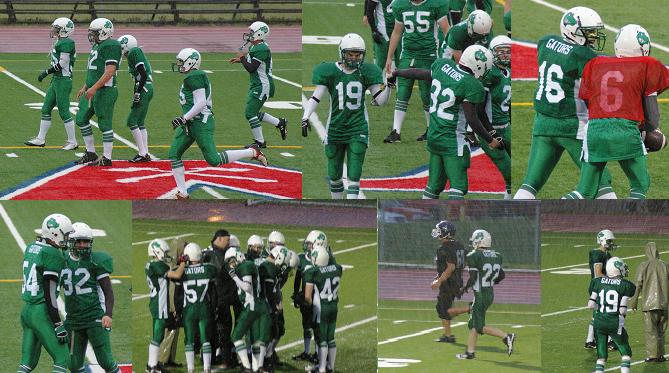 Jamboree 2009
Thursday, August 20
Camp Pictures
2008 Season 1
Citadel 2008