CA DISTRICT #65: Welcome
Welcome to the California District 65 webpage!
See the Links to the left to access your Local League.
*** News Update ***
Info on all 2016 District 65 All Star Tournaments..
District Level and beyond.. click Handouts / Tournament Info
Keep track of all the D65 Tournament action Live on Game Changer!
Best of Luck to all Teams!
Intermediate Tournament - Los Osos, CA 6/11 - 6/18/16
TOS Tournament - Nipomo, CA 6/14 - 6/29/16
10/11/12's Tournament - Nipomo, CA 6/25 - 7/13/16
9/10/11's Tournament - Lompoc, CA 6/25 - 7/13/16
No Game Changer for 9/10/11 Tournament
9/10/11 Section 1 CA Tournament - Nipomo, CA 7/16 - 7/20/16
8/9/10's Tournament - Santa Maria Westside, CA 6/25 - 7/13/16
8/9/10 Section 1 CA Tournament - Lompoc, CA 7/16 - 7/20/16
8/9/10 So Cal N Sub Div III CA Tournament - Lompoc, CA 7/23 - 7/28/16
8/9/10 So CA Sub Div III Tournament - Lompoc, CA 7/30 - 8/1/16
2016 D65 All Star Tournament Champions
Minor TOS Champions - Santa Maria Northside LL
8/9/10's D65 Champions - Santa Maria Northside LL
9/10/11's D65 Champions - Santa Maria Westside LL
10/11/12's D65 Champions - Santa Maria Northside LL
Intermediate D65 Champions - Los Osos LL
Sunday, May 22
2016 TOS D65 Bracket - Nipomo, CA 6/14 - 6/29/16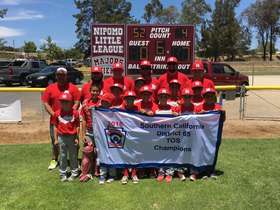 Santa Maria Northsidde 2016 D65 TOS Champions
Sunday, May 22
2016 D65 8/9/10 Tournament Bracket - Santa Maria Westside, CA 6/25 - 7/13/16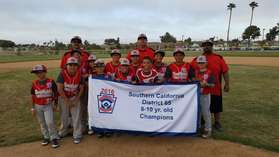 Santa Maria Northside 2016 D65 8-9-10 Champions
Saturday, June 25
2016 8/9/10 (Section 1) Tournament Bracket - Lompoc, CA 7/16 - 7/20/16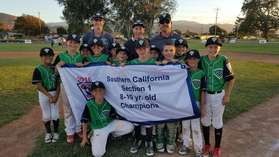 Thousand Oaks LL 2016 8-9-10 Section 1 Champions
Wednesday, July 6
2016 8/9/10 So Cal North Sub Division III Tournament - Lompoc, CA 7/23 - 7/28/16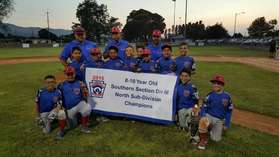 Temple City LL 2016 8-9-10 So Cal North Sub Div III Champions
Wednesday, July 6
2016 8/9/10 So Cal Division III Tournament - Lompoc, CA 7/30 - 8/1/16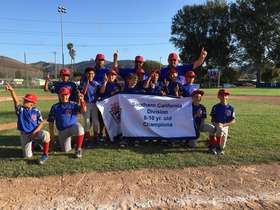 Temple City LL 2016 8-9-10 So Cal Div III Champions
Sunday, May 22
2016 D65 9/10/11 Tournament Bracket - Lompoc, CA 6/25 - 7/13/16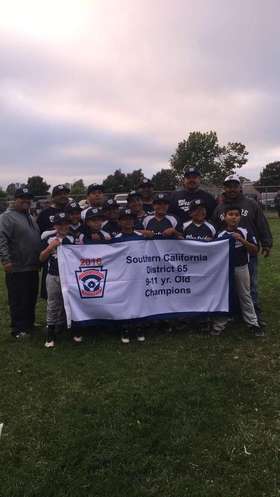 Santa Maria Westside 2016 D65 8-9-10 Champions
Sunday, June 26
2016 9/10/11 (Section 1) Tournament Bracket - Nipomo, CA 7/16 - 7/20/16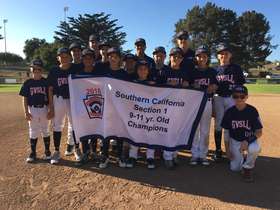 Goleta Valley South LL 2016 Section 1 9-10-11 Champions
Tuesday, July 5
2016 9/10/11 So Cal North Sub Division III Tournament - Upland, CA 7/23 - 7/28/16
Tuesday, July 5
2016 9/10/11 So Cal Division III Tournament - Upland, CA 7/30 - 7/31/16
Sunday, May 22
2016 D65 10/11/12 Tournament Bracket - Nipomo, CA 6/25 - 7/13/16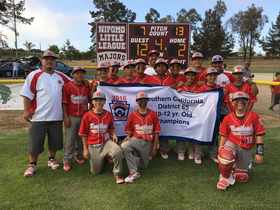 Santa Maria Northside 2016 D65 10-11-12 Champions
Saturday, June 25
2016 10/11/12 (Section 1) Tournament Bracket - Thousand Oaks, CA 7/16 - 7/20/16
Thursday, June 30
2016 10/11/12 So Cal North Sub Division III Tournament - Palmdale, CA 7/23 - 7/28/16
Thursday, June 30
2016 10/11/12 So Cal Division III Tournament - Escondido, CA 7/30 - 7/31/16
Wednesday, June 29
2016 Little League West Region Tournament San Bernardino, CA 8/7 - 8/13/16
Wednesday, June 29
2015 Little League Northwest Region Tournament San Bernardino, CA 8/7 - 8/13/16
>
Wednesday, June 29
2016 Little League World Series Williamsport, PA 8/18 - 8/28/16
Sunday, May 22
2016 D65 Intermediate Tournament Bracket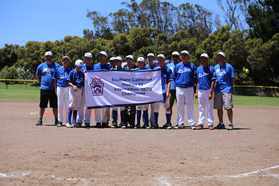 Los Osos LL 2016 D65 Intermediate Champions
Monday, June 20
2016 Intermediate Section 1 Tournament - Ventura, CA 6/26-6/28/16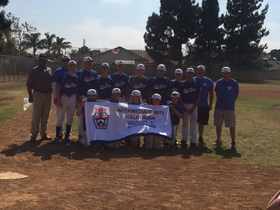 Los Osos LL 2016 Section 1 Intermediate Champions
Monday, June 27
2016 Intermediate So Cal North Sub Division III Tournament - Ventura, CA 7/2 - 7/7/16
Tuesday, June 28
2016 Intermediate So Cal Division III Tournament - Ventura, CA 7/9 - 7/10/16
Friday, July 15
2016 Little League Western Region Intermediate Tournament Nogales, Arizona - 7/18 - 7/25/16
Friday, July 8
2016 Little League Intermediate World Series 7/31 - 8/7/16