CA DISTRICT #65: Welcome
Friday, July 7
Welcome to the California District 65 webpage!
See the Links to the left to access your Local League.
*** News Update ***
Info for all 2017 District 65 All Star Tournaments..
District Level and beyond.. click Handouts / Tournament Info
Or you can click on 2017 Live Bracket tab
We will be updating the website daily with more brackets and information.
Keep track of all the D65 Tournament action Live on Game Changer!
Best of Luck to all Teams!
TOS Tournament - Santa Maria Southside, CA 6/16 - 6/30/17
Game Changer tournament scoreboard coming soon!
Junior Section 1 Tournament - Thousand Oaks, CA 7/12 - 7/16/17
Intermediate Tournament - Los Osos, CA 6/10 - 6/12/17
Game Changer Unavailable
10/11/12's Tournament - Nipomo, CA 6/17 - 7/5/17
9/10/11's Tournament - Coast LL Los Osos, CA 6/17 - 7/5/17
9/10/11 Section 1 Tournament- Los Osos, CA
8/9/10's Tournament - Nipomo, CA 6/17 - 7/5/17
8/9/10 Section 1 CA Tournament - Nipomo, CA 7/11 - 7/16/17
2017 D65 All Star Tournament Champions
Minor TOS Champions - Santa Maria Northside LL
8/9/10's D65 Champions - Coast LL
9/10/11's D65 Champions - Santa Maria Northside LL
10/11/12's D65 Champions - Santa Maria Westside LL
Intermediate D65 Champions - Coast LL
Junior D65 Champions - Nipomo LL
Wednesday, May 31
2017 TOS D65 Bracket - Santa Maria (Southside LL), CA 6-16 - 6-30-17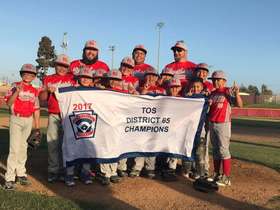 Santa Maria Northside 2017 D65 TOS Champions
Wednesday, June 14
2017 D65 8-9-10 Tournament Bracket - Nipomo, CA 6-17 - 7-8-17
Wednesday, June 14
2017 8-9-10 (Section 1) Tournament Bracket - Nipomo, CA 7-12 - 7-16-17
Wednesday, June 14
2017 8-9-10 So Cal State Tournament - Palmdale, CA 7-21 - 7-30-17
Wednesday, May 31
2017 D65 9-10-11 Tournament Bracket - Los Osos, CA 6-17 - 7-5-17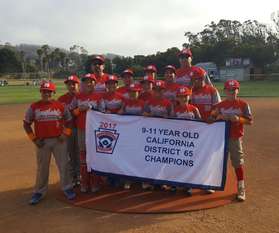 Santa Maria Northside 2017 D65 9-10-11 Champions
Wednesday, June 14
2017 9-10-11 (Section 1) Tournament Bracket - Los Osos, CA 7-12 - 7-16-17
Tuesday, July 4
2017 9-10-11 So Cal State Tournament - Upland, CA 7-20 - 7-29-17
Wednesday, May 31
2017 D65 10-11-12 Tournament Bracket - Nipomo, CA 6-17 - 7-5-17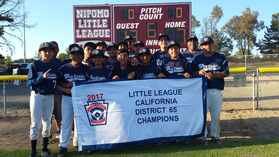 Santa Maria Westside 2017 D65 10-11-12 Champions
Wednesday, June 14
2017 10-11-12 (Section 1) Tournament Bracket - Moorpark, CA 7-12 - 7-16-17
Wednesday, June 14
2017 10-11-12 So Cal State Tournament - Long Beach, CA 7-19 - 7-30-17
Monday, July 3
2017 Little League West Region Tournament San Bernardino, CA 8-6 - 8-12-17
Monday, July 3
2017 Little League Northwest Region Tournament San Bernardino, CA 8-6 - 8-12-17
Monday, July 3
2017 Little League World Series Williamsport, PA 8-17 - 8-27-17
Wednesday, June 14
2017 Junior Section 1 Tournament - Thousand Oaks, CA 7-12 - 7-15-17
Tuesday, July 11
2017 Junior So Cal State Tournament - Anaheim, CA 7-21 - 7-28-17
Tuesday, August 1
2017 Little League Western Region Junior Tournament San Jose, CA 7-31-8-7-17
Tuesday, July 11
2017 Little League Junior World Series Taylor, MI 8-13 - 8-20-17
Tuesday, June 6
2017 D65 Intermediate Tournament Bracket - Los Osos, CA 6-10 - 6-12-17
Monday, June 12
2017 Intermediate Section 1 Tournament - Los Osos, CA 6-23 - 6-25-17
Wednesday, June 28
2017 Intermediate So Cal State Tournament - Laguna Niguel, CA 7-6 - 7-14-17
Monday, July 3
2017 Little League Western Region Intermediate Tournament Nogales, Arizona 7-18-7-25-17
Monday, July 3
2017 Little League Intermediate World Series 7-30 - 8-6-17