CABALL: Welcome
Wednesday, January 28
Central Arkansas Men's Senior Baseball League
Everyone welcome to the website for the Central Arkansas MSBL. We are a 25+ (28+ to pitch) mens baseball league in Little Rock Arkansas. Take a look around the page and sign the guestbook or contact us by filling out the Player Registration Form. Remember we are a WOOD BAT ONLY league. So come and check it out and get started playing REAL Baseball this Summer. If anyone is interested in getting in on seeing what our League is about, you can Call the Hotline @ 501-366-6542 and leave a message Starting 02/01/2015. There will be new info on this website every couple of days, so check it out and start having fun and come play Baseball....*** NEW*** This Summer we will be partnering with The Benton Parks and Recreation to play a majority of our games out at the old Benton Airport Complex.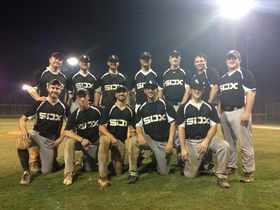 2015 Tournamet Champs
Friday, September 4
White Sox REPEAT in Tournament 2015!!
The White Sox have repeated as the 2015 CAMSBL Tournament Champions, With a 14-4 victory over the Reds. This the second year in a row and 3 of the last 4 years they have been the Tournament Champs. Congratulations to the Reds for a 3 game- Hard fought Series.
Wednesday, September 2
FALL BASEBALL !!!
***OK, Here is what we are going to do with Fall Ball. On Sunday 13th anybody who is interested in playing Fall Ball needs to show up at Benton Airport Field #5 at 1:00 PM. We will draft teams and go from there. There will be 2 or 3 games that day starting at 1:30 PM. Wear what ever you want to wear. No umpires, So Catchers will call Balls and Strikes and Honor System on Bases... No Cost and be ready to play. You can take BP in Cages will your team awaits there turn. we will Play 3-Inning Games So all get to play and maybe have some BBQ and Water for all attending. If you can I would like the White Sox players and whomever wins the Tournament to show up in Uniform for some Team Pictures and Trophy Presentation for the National Newsletter. So I will see lots of guys out there and Let's Have Some FUN !!!! Commissioner- Randall Guard ****
Tuesday, June 2
LIKE OUR FACEBOOK PAGE!!!
Click on the link above and it will send directly to our Central Arkansas MSBL Facebook Page.
Saturday, August 22
CAMSBL Playoffs 2015