Burien Bearcats: Parents
Heads Up - Concussions In Youth Sports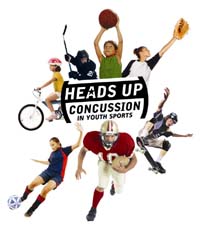 A concussion is a brain injury caused by a bump or blow to the head that can change the way your brain normally works. Even what seems to be a mild bump or blow to the head can be serious.
To help ensure the health and safety of young athletes, CDC developed the "Heads Up: Concussion in Youth Sports" initiative to offer information about concussions—a type of traumatic brain injury—to coaches, parents, and athletes involved in youth sports. The "Heads Up" initiative provides important information on preventing, recognizing, and responding to a concussion.
Volunteers Welcome and Needed
Volunteers
Burien Bearcat Football and Cheer is a volunteer organization. A lot of people contribute their time and effort for the benefit of the kids. We would like to encourage all of you to take an active role in helping out whenever possible. There will be plenty of opportunities where volunteers will be needed and very much appreciated!!
Specifically teams will need help with:
- Coaches
- Team Parent(s)
- Organzing half time and after game snack for teams
- Getting information out to players and parents
- Home game chain gang
- Practice and coaching help (holding bags, etc.)
- Concession
And many other opportunities as the season gets under way.
If your willing to help out let us know. You can talk to your team parent or to your coach.
Equipment
Players will be provided everything they need with the following exceptions: Shoes, Mouthguard and Cup.
Shoes must be a molded rubber cleat (no removable cleats)

Mouthguards must have a strap that attaches to the facemask.

Cups can be purchased at sporting goods stores. *A soft youth cup (if you can find one) is typically more comfortable for younger players.

Suiting up your player can be a little tricky, especially if you are unfamiliar with football gear. Please don't hesitate to ask any of the coaches if you have any questions.