Buckeye Bucks Football: Welcome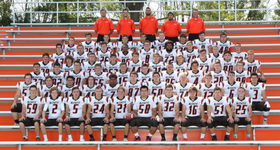 The 2017 (10-0) PAC12 Stars Division Champion Buckeye Bucks
Welcome To Buck Country!
Welcome to the internet home of the Buckeye High School Varsity Football team of Medina, Ohio, who completed their 65th Season at the conclusion of 2017. They had another great campaign going 10-0 in the regular season for only the 3rd time in Bucks Football History. They made their 5th straight appearance in the OHSAA Playoffs, but again bowed out in the first round losing to the 27-14 to the visiting Tallmadge Blue Devils. As of the end of 2017 they have scored 3,154 points against the PAC12 opponents, while giving up 1,252 in 91 Games owning a 74-17-0 conference record.
The 2016 season was the 1st season under Head Coach Greg Dennison who came to the Bucks in the off season when former Head Coach Mark Pinzone took the Head Coach job at Brunswick. The Bucks also claimed their 5th straight PAC12 Stars Division Crown, which is their 9th overall. It was also the 5th straight year of qualifying for the OHSAA Football Playoff. The Bucks had previously qualified for the State Playoffs in 2002, 2003, 2005, 2009, 2013, 2014, 2015 and 2016. Former Head Coach Pinzone had a 33-10 record with in his 4 years here and left the team in great shape for Coach Denniso
Coach Greg Dennison is the 16th Head Coach in Bucks History. He was an assistant coach last season in Brunswick, previously to that he led the Wadsworth Grizzles for 21 Seasons from 1995-2015. His accomplishents there have him in the company of some of the greatest coaches in Medina County history. He compiled a 148-77-0 recored and led the Grizzles to Suburban League Titles in 1996, 2007 and 2009 along with three regional final appearances in 1999, 2003 and 2011. His 10-1 record this season gives him a 158-78 record which is good for 2nd All Time in Medina County behind Black River's Al Young.
Go Bucks! Buckeye Pride!!
All Ohio Football Selections
Congratulations to Senior Dom Kriz (OL) on being chosen Division III All Ohio Football Award winner as a 3rd Team Offensive Linemen. Senior Adam Fauver (QB) was also chosen a Division All Ohio Football Award Winner and given Honorable Mention.
2017 All Northeast Inland District Selections
Congratulations To These Buckeye Players!
| | | | |
| --- | --- | --- | --- |
| 2017 | Dominick Kriz | Offensive Line | First Team |
| 2017 | Adam Fauver | Quarterback | First Team |
| 2017 | Ryan Smith | Offensive Line | Second Team |
| 2017 | Gage Williams | Linebacker | Second Team |
| 2017 | Justin Canedy | Wide Receiver | Honorable Mention |
| 2017 | Dominic Monaco | Linebacker | Honorable Mention |
| 2017 | Logan Schulz | Tight End | Honorable Mention |
| 2017 | Jonathon Neel | Wide Receiver | Honorable Mention |
HS Football Stats, Standings, & Rankings
Here is the link to
Joe Eitel's
High School site. He ranks all the teams in their respective divisions. The Bucks are in Division III Region 9 for the 2017 Season. Click on the highlighted text to go to that page. He does a weekly update every Friday night or early Saturday morning. Not enough football on Fridays? Try
MaxPreps
or
J.J. Huddle
for high school football and all other sports.