Buckeye Bucks Football: Welcome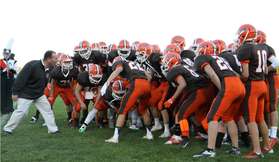 Coach Pinzone & The Buckeye Bucks
Home Of The Bucks
Welcome to the internet home of the Buckeye High School Varsity Football team of Medina, Ohio, who will embark on their 62nd season in 2014. In 2013 they finished their 9th season in the Patriot Athletic Conference by posting a 6-4 overall record and a 6-1 record in Conference play. They finished 7th in Division III for the OHSAA State Playoffs and drew Willard as an opponent in the first round. The Fliers were just too much for the Bucks and they were eliminated by the score of 62-14. They now have scored 1,809 points against the PAC opponents, while giving up 990 in 63 Games and own a 46-17-0 conference record.
The 2013 season was the first winning season after posting 3 consecutive losing seasons. The Bucks were 8-3 in 2009, and had gone 51-21-0 over that seven season stretch. They made OHSAA State Playoff appearances in 2002, 2003, 2005 and 2009 and made their fifth this year.
A new day dawned as the Bucks turned things around in the 2013 Season. That can be credited to their new Head Coach Mark Pinzone and the new coaching staff he brought aboard to right the ship and get the Bucks back to the winning ways they had become accustomed to durning the early part of the the 2000's. He hit the ground running with not only his high school players but also his Junior High and Youth League players. He has the players buying into the system and had everyone excited about Buckeye Football at all of the levels!
Go Bucks! Buckeye Pride!!
Medina County Champions
1953

Inland Conference Champions

1960, 1961, 1963, 1965,

1979, 1983, 1984, 1987

Mohican Area Conference Champions
2002
Patriot Athletic Conference Champions
(Stars Division)

2005, 2007, 2008, 2009, 2013

Division III State Playoff Qualifier
2002, 2003, 2005, 2009, 2013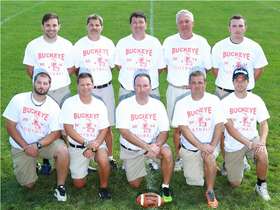 2014 Bucks Coaching Staff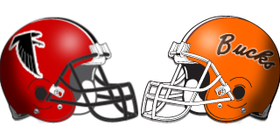 Week 10 Matchup - Bucks @ Firelands
Bucks Look To Finish With A Win
The Bucks will head over to Henrietta Township this Friday night to take on the 6-3 and 2-2 Firelands Falcons at Fireland Stadium for the outright Stars Championship. The Bucks hold a 16-12-2 All Time edge over the Falcons. Since the series resumed in 2011 they are 2-1 over Firelands including a 48-7 win at Alumni Stadium last season. The Bucks are currently ranked number 6 in Division III Region 8 of the OSHAA Playoff Rankings. They control their own destiny, win Friday night and they are in and will have to wait for all the dust to settle to see where they finish. In the mean time head on over to Firelands this Friday night and celebrate Halloween with high school football! Game time there is 7:00 PM on "Senior Night" for the Falcons!
Friday, October 24
Bucks Make Their 4th Appearance In 2014
Our Buckeye Bucks are on the radio again tonight, October 24th, vs. the Keystone Wildcats. This one has both Stars Crown implications and playoff implications to it. The Bucks are 6-2 overall, and 3-0 in the conference, while Keystone is 7-2 and 3-0 in the PAC. They will get it on at 7:00 PM on "Senior Night" at Buckeye at Steingass Field at Alumni Stadium. This game is alson on WEOL AM930. You can listen on the radio or streaming on the internet at
www.weol.com
. Tune in and catch the action, Let's Go Bucks!
Sites Of Interest
Here is the link to
Joe Eitel's
High School site. He ranks all the teams in their respective divisions. The Bucks are in Division III Region 8 for the 2013 Season. Click on the highlighted text to go to that page. He does a weekly update every Friday night or early Saturday morning.
Not enough football on Fridays? Try Yappi or J.J. Huddle for high school football and all other sports. The Ohio Helmet project is a site that is trying to create and post the helmet graphics of all 711 high schools in the state of Ohio. We submitted the Bucks helmet pictures in 2002 and an actual decal in 2006. Kevin did our helmets with and without the stripes during those season. When we abandoned the "buck" graphic in 2012 and went with those antlers he tried to copy it but needs a decal for that, if someone has a decal please let me know. First thing in August I sent him the Bucks script graphic and we have the newest helmet design. These helmet graphics have been used on stat and record pages.
Thanks go out to Kevin Dudley, the man behind the project, who has been working hard on this site. It is interesting to look through so surf by and check out. We have also helped out by submitting Wellington, Highland, Avon, and Vermilion helmet pictures. THis season I submitted Keystone, Firelands and Midview along with a old Cloverleaf helmet picture. The Patriot Athletic Conference has a page on the site, so take a look to see what type of protective headwear all the other teams in the state are wearing by clicking on their link!
Click On The Icon To Sign Our Guest Book