Buckeye Bucks Football: Welcome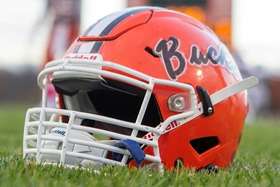 Internet Home Of The Buckeye Bucks
Welcome to the internet home of the Buckeye High School Varsity Football team of Medina, Ohio, who completed their 63rd Season during 2015. They ran the table posting a 10-0 record. The last time that happened was in the 2005 season and is only the second time in Bucks history. They made their 7th appearance in the OHSAA Playoffs, but again bowed out in the first round losing to the West Geauga Wolverines 35-28 in a Triple Over Time thriller! As of the end of the 2015 season they have scored 2,439 points against the PAC12 opponents, while giving up 1,137 in 77 Games owning a 60-17-0 conference record.
The 2015 season was the 3rd straight winning season for 3rd year Head Coach Mark Pinzone who came to the Bucks prior to the 2013 season. They also clinched their 3rd straight PAC12 Stars Division Crown, their 7th overall. In addition the Bucks 3rd straight year of qualifying for the playoffs. Buckeye previously qualified for the OHSAA State Playoffs in 2002, 2003, 2005, 2009, 2013 and 2014.
Coach Mark Pinzone and the Bucks coaching staff have gotten not only the high school players buying into the system the three years he has been here, but the junior high and youth players as well. They are excited about Buckeye Football at all levels!!
Go Bucks! Buckeye Pride!!
Medina County Champions
1953

Inland Conference Champions

1960, 1961, 1963, 1965,

1979, 1983, 1984, 1987

Mohican Area Conference Champions
2002
Patriot Athletic Conference Champions
(Stars Division)

2005, 2007, 2008, 2009

2013, 2014, 2015

Division III State Playoff Qualifier

2002, 2003, 2005, 2009

2013, 2014, 2015

Thursday, July 28
4th Annual Community Morning
Coach Mark Pinzone and the Bucks will host their 4th Annual Community Morning on Saturday, August 6th at Buckeye High School. The event starts at 10:00AM in the high school cafeteria with a short presentation by Coach Pinzone acompanied by coffee and donuts. After that you are invited out to the field to watch the second session of that days doubles. You can be right up close to the players and coaches as they prepare for the 2016 Season getting a close look and asking questions as the practice progresses. The Bucks extend the invitation to all parents, students, alumni, friends, school staff and youth & junior high players. Please RSVP the number attending to Coach Pinzone at mpinzone@buckeyeschools.org by Thursday, August 4th. Hope to see you all there!!
Thursday, July 28
Buckeye Football Wing Nite Fundraiser
Please come out and support Buckeye Bucks Football on Saturday, August 6th from 6:00 to 9:00PM at Johnny Malloy's, 1038 N. Court Street in Medina. Food, Drinks, Raffles, Music and Fun!! Tickets are on sale in advance for $20.00 per person ($25.00 at the door). Please contact Lisa Gray for tickets at softball08@me.com. This fundraiser is a 21 and over event. Thanks for supporting Buckeye Bucks Football!!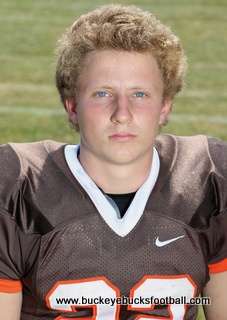 Trevor Thome
Thome Honored By Ohio Chapter Of National Football Foundation
A big congratulations to current senior, Trevor Thome for being selected for one of the Northeastern Ohio Chapter of the National Football Foundation and College Hall of Fame's 2015 Scholar-Athlete Awards. This award is very prestigious and is given to the top area scholar athletes based on academics. Jim Tressel will be presenting the award this March to Trevor and the other recipients at the LaCentre in Westlake. Other keynote speakers include former Browns, Kevin Mack and Robert Jackson as well as Youngstown State Coach, Bo Pelini.
If you recall, former Buckeye Bucks quarterback/defensive back, Christian Petek, was given the same award for his academic and athletic achievements in the fall of 2013. Considering there are 235 schools in the area that have players as candidates for this award, As head coach of the Buckeye Bucks Football team, I could not be prouder of Trevor and all of our players who consistently perform so strong in the classroom. While we certainly emphasize the hard work and commitment to winning each and every season, academics and character as young people has been, and always will be the first priority for these young men.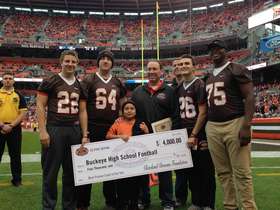 Accepting The $4,000 Check From The Browns
Head Coach Mark Pinzone Honored By The Cleveland Browns
BEREA, OHIO – The Browns named today Buckeye High School football Head Coach Mark Pinzone the 2015 High School Coach of the Year, the team announced during Sundays 24-10 victory over the San Francisco 49ers at FirstEnergy Stadium. Throughout the season, nearly 1 million votes were submitted by Northeast Ohio youth and high school football supporters through the Browns 2015 High School Game of the Week, presented by PNC Bank. Pinzone, who was recognized during halftime of yesterday's game, guided the Bucks to their first undefeated regular season in 10 years and an outright Patriot Athletic Conference Stars Division championship.
It marked the school's third division championship in as many years en route to the team's third OHSAA State Playoff appearance. According to Buckeye High School Athletic Director Glen Reisner, Pinzone has helped grow participation in the school's football program from 49 kids to nearly 80 since his arrival in 2013. "He has built the program up," said Resiner. "The kids have completely bought in. He is a great asset to Buckeye."
The Browns will make an additional $4,000 donation to Pinzone's high school football program, while all finalists initially received $2,000 contributions (Buckeye Got That After the Brookside Game) from the franchise to benefit their teams. All 10 finalists participated in Sunday's in-game recognition for their commitment to developing the sport in Northeast Ohio. The Browns High School Coach of the Year award is based on a coach's overall body of work during the regular season after being featured in the Cleveland Browns High School Game of the Week, presented by PNC Bank.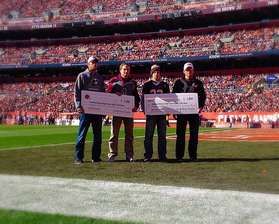 Coach Musal & Trevor Thome (R) Accepting Game of the Week Check
Trevor Thome Named Gazette Football MVP
Now a Buckeye senior, Thome had already learned life lessons by the time he was in kindergarten most his age don't realize until their 20s. There is never room for laziness, ego or shortcuts because farming, and in particular dairy farming, requires old-fashioned hard work to survive. The cows don't milk themselves, the crops don't harvest themselves and broken machinery doesn't fix itself. Thome's maturity is why so many adults associated with Buckeye proudly say he's the All-American kid. There's never a trace of hesitation in that claim, either, because, as one his old coaches put it, "Everybody loves Trevor." Football is Thome's outlet, a game he can enjoy with his closest friends and forget about the cows, forget about the chores and forget about the long hours.
Playing on Edwin Steingass Field under the lights of Friday night was a euphoric feeling he will always cherish. And my, oh my, could he play the game. Using those lessons learned on the farm — work, pride, toughness, humbleness, initiative — the soft-spoken Thome was the emotional rock of a Bucks team that went 10-0 in the regular season and, above all else, represented York, Liverpool and Litchfield townships with class. There may never again be a Gazette MVP like Thome, as almost all of the dairy farms that once dotted the Medina County landscape have been sold off into housing developments. "I've never played with somebody who just wants it so bad," best friend and All-Ohio quarterback Nathan Polidori said. "Everybody knows he's grown up on a farm, and that's the way he's been raised. He's got great parents (Jason and Shannon), that's why. "We both have that mentality that you're going to have to drag us off the field before we're done. Even in the West Geauga game (a triple-overtime loss in the playoffs), he was hobbling around and sticking through it for three more quarters and three more overtimes after (hurting his hip)." Never did the 5-foot-8, 180-pound Thome consider leaving the field, often forcing his battered and bruised body to arise from the turf before trainers could reach him. He said his teammates would have done the same, but someone still had to show them that pain is temporary and glory lasts forever.
Asked what makes him that way, Thome naturally pointed toward his family's 250-acre, 60-cow operation in York Township. He's been chased by a territorial 1,800-pound bull, so he's not afraid of a blitzing 200-pound linebacker. He's torn clothing on barbed wire, had gloves freeze to metal barn gates, stepped into potholes hidden by manure and corralled escaped cows, so he doesn't sweat the small stuff and, in turn, never loses his composure. He's survived stacking 50-pound hay bales in a 100-degree barn loft, so he's not afraid of hard work without complaint. He's been driving John Deere 4440, 4430 and 4630 tractors that, even at 35 years old, are worth more than a gently used Cadillac, so he's never been concerned with expensive, materialistic things. Above all else, he's been kicked by an ornery heifer, cut his hands while working on equipment and lost a finger as a toddler in a hay elevator accident, so he can tolerate pain at an extraordinary level. "You definitely have to be a hard-working guy and a hard-working person that is capable of going through adversity," said Thome, who expressed gratitude that his parents do almost all of the milking twice per day so that he and his younger sister Tayla have time for a relatively normal social life.
"Like fixing things when they go wrong, not putting them off, that kind of stuff. "I'd say there's a lot of similarities (between farming and football), especially starting in the summer with two-a-days getting up early, going to two practices, going home and doing it all over again." When the time came to slip on his brown, white and orange No. 22 jersey, Thome was in his element. Expectations were through the roof in August when the senior-laden Bucks hit the practice field. A third straight Patriot Athletic Conference Stars Division championship was an afterthought because a 10-0 regular season and, the ultimate goal, the first playoff victory in school history were the only acceptable accomplishments.
Coach Mark Pinzone's team was confident because they had players like Thome, whose nonexistent ego and love for his teammates were unconditional. Already the reigning PAC Offensive Player of the Year with a 280-pound bench press and 320-pound squat — numbers comparable to NFL players his size — Thome kept his eyes on doing whatever the team needed to reach those goals. So he again took handoffs at halfback and pounded between the tackles. He again lined up in the tight slot to run jet sweeps. He again split out wide and blew by defenders for pass receptions from his boy Polidori. He again flew all over the field at safety, stopping opposing ball carriers dead in their tracks a mere nanosecond after they thought they had a breakaway touchdown.
Despite missing eight fourth quarters because of lopsided scores, Thome had 978 rushing yards, 444 receiving yards, 259 return yards and school records for touchdowns (29) and points (176). The Division III second-team All-Ohioan had six touchdowns on seven first-half touches against Fairview and averaged 10.5 yards on 160 touches for the season. When his career ended with that epic 35-28 playoff loss to West Geauga — he had 145 yards from scrimmage, a touchdown and an interception despite the first-half hip injury — Thome became the first player in county history with 2,000 yards rushing (2,400), 1,000 yards receiving (1,304) and 300 points (336). "It was fun," Thome said. "It was a heckuva ride and it's disappointing we didn't come out on top in Week 11, but tons of memories were made and relationships that are definitely going to last a lifetime.
I'm definitely glad I was able to be a part of this team." Thome's next team won't be located far from home, as the four-year starter decided being a preferred walk-on slot receiver at D-I Marshall wasn't more appealing than being a potential starter for D-III superpower Mount Union. Neither the T's have been crossed nor the I's dotted, but Thome really isn't looking at anyone else besides the Purple Raiders. No matter how successful Thome becomes at the next level, however, he'll always have a place in his heart for Buckeye. "Buckeye football has definitely changed me a little bit," he said. "It made me realize the importance of different types of things, like family. "It was awesome. If I could go back to do it 1,000 times over again, I would." Why? Because the Bucks work hard, play hard and always, always, always … stick together.
Gazzette Article by Albert Grindle

Coach Pinzone Named Gazette's 'Coach of the Year'
All Gazette Players
The Bucks placed several players on the All Gazette Team this season. Offensive Team Honors went to QB Nate Polidori and OL Hunter Gray. Defensive Team Honors went to DB Trevor Thome, LB's Jaret Yohman, Kyle Svagerko and Dustin McCullough, DL Brad Calta. Defensive Honorable Mention went to Jalin Brock, Nate Scott and Justin Lowry. Congratulations!
2015 Buckeye Football Team Awards
There were plenty of awards to go around at the 2015 Football Banquet as the Bucks gathered and reflected on the Season in which they went 10-0 for only the second time in history. Even witht the loss in the first round of the playoffs the 10-1 Season was a remarkable one.
Four Year Award: Dylan Fields, Nathan Scott & Trevor Thome
MVP: Trevor Thome & Nathan Polidori
Iron Antler: Brad Calta
Golden Buck: Jaret Yohman
PAC First Team: Nathan Polidori, Trevor Thome, Hunter Gray, Brad Calta, Jalin Brock, Dustin McCullough, Jaret Yohman & John Garner
PAC Second Team: Bruce Barnby, Kyle Svagerko, Jack Schroeder, Nathan Scott & Justin Lowry.
PAC Honorable Mention: Bailey Gundling
PAC Conference MVP: Trevor Thome
PAC Conference Coach of the Year: Mark Pinzone
Tuesday, November 3
There's No 'I' In Svagerko: Bucks Senior Embraces Unhearlded Fullback Role
By Albert Grindle, The Gazette
If Kyle Svagerko was paid a dollar for each time he saw fear in an opposing cornerback's eyes, he'd, well, you know, never be considered poor. Touchdowns and personal glory be damned because Svagerko is the ultimate teammate — the unsung hero who does the dirty work so slotbacks Trevor Thome and Nathan Scott can run to daylight and quarterback Nathan Polidori can throw bombs, the one who never complains, the one who couldn't be nicer off the field but also couldn't be more physical on it. The 2015 Buckeye team will forever be known for a 10-0 record in the regular season.
The jet sweep also will be prominent in the memory bank, and that play wouldn't be possible without bulldozer No. 40 burying defenders into the football version of hell — on their back and completely worthless. The respectful, well-spoken senior, whose Twitter profile picture is of him lead blocking for Scott, apologizes for nothing when it comes to his philosophy. "(My job on) the jet sweep? Just kill the corner," Svagerko said. "That's the only thing I have to do. If I do that, we're 10, 15 yards and probably a touchdown — mostly touchdowns, you know?
"That's my job. On the jet, the only thing on my mind is, 'Kill the corner and knock him down.' If I pancake him, our guy is running. He's running for lots of yards. That's my job, so when I complete it like that, there's no better feeling." Old-school, I-formation fullback in a new-school, spread offense is the best way to describe the 5-foot-8, 183-pounder. He'll never line up anywhere other than next to shotgun quarterback Polidori and, barring a drastic surprise, won't lug the pigskin Friday when the third-seeded Bucks host sixth-seeded West Geauga (9-1) in the first round of the Division III, Region 7 playoffs. Svagerko is more than cool with that.
His past explains why, as he was the right guard when the Buckeye Jets (Jaret Yohman, Scott and Bruce Barnby) played the Buckeye Jaguars (Thome, Polidori, Brad Calta, Jack Schroeder, Justin Lowry) in the 2009 Brunswick Blue Devils Youth Football championship game. To say Svagerko was born for the fullback role is the understatement of the century, as he has thrown the lead block on 24 of the team's 50 offensive touchdowns this season — 10 on jet sweeps, three on isolation runs and 11 as personal protector for Polidori.
"He plows into everyone as I run by," Scott said. "That's Kyle personality. He's the kind of guy who will do anything for someone he cares for. He cares for all of us, and he'll do anything for this team." "I feel like some people could interpret it wrong, like, 'Oh, all this kid does is block like another lineman,' Svagerko added. "But I feel like this is my kind of job. I like to hit people, and our team does a good job of glorifying everyone because if I make a good block on someone, it's not like I'm going to go unnoticed.
Everyone gives me credit for it and everyone pats me on the back. I love that." The reward was a one-man drive against Wellington in Week 6. With the Bucks up 34-0 to start the second half, offensive coordinator Bill Turner decided the time had come for the big dog to eat, and Svagerko's first carry was a counter trey right in which pulling linemen Hunter Gray and Jalin Brock made a massive hole for a 43-yard gain. That paled in comparison to the next play, as "Beefcake" ran the same play to the left, patiently waited for the hole and cut right up the field. A safety was waiting at the 8-yard line, so Svagerko lowered his helmet, drilled him squarely between the eyes, spun out of the desperation tackle attempt and rumbled into the end zone without any emotion.
All-Ohioan Thome about lost it in excitement, jumping on Svagerko's shoulders in front of the goal post after the two-play, 71-yard, all-Svagerko sequence. "The second run when I scored, I was like, 'Oh, man, this is amazing,"' said a grinning Svagerko, who only has three carries for 3 yards since that TD. "It kind of made me ball-hungry, but I had to put that aside and save it for the jet sweeps." It's easy to forget Svagerko is a hard-hitting outside linebacker, too.
Life as strong-side linebacker next to Yohman wasn't what Svagerko expected after playing defensive line for his entire previous football life. However, the then-new coaching staff felt his talents would be better served elsewhere, so Svagerko switched positions. Last season was a bit of an adjustment, as Svagerko sometimes was caught out of position but still posted 68 tackles (4 for loss). He's been a quick study, however, and now teams with Yohman and All-Gazette pick Dustin McCullough to form the most intelligent corps in the Patriot Athletic Conference.
Svagerko leads the team with 10½ tackles for loss (6½ sacks) and brought the "wow" factor last week when he unloaded on Brookside standout Dudley Taw for a forced fumble that was recovered by McCullough. This comes as no surprise to anyone who's known him. "With Kyle, he was just one of those kids that was a quiet kid except when it came to hitting drills — then he tired to kill all his teammates," youth coach Steve Watkins said.
"We really had to really watch what we did with contact during the week because you couldn't have him killing Jaret Yohman and Nate Scott." Buckeye enters tonight as the highest-scoring team in Medina County history at 43.1 points per game. The Bucks also haven't allowed more than seven points since beating Rocky River 42-28 in Week 2. They all know who selflessly helps them put up such gaudy numbers. "He's a throwback," coach Mark Pinzone said. "He's definitely a throwback.
Looking For More HS Football Stats, Standings or Rankings?
Here is the link to
Joe Eitel's
High School site. He ranks all the teams in their respective divisions. The Bucks are in Division III Region 8 for the 2013 Season. Click on the highlighted text to go to that page. He does a weekly update every Friday night or early Saturday morning. Not enough football on Fridays? Try
Yappi
or
J.J. Huddle
for high school football and all other sports.