Buckeye Bucks Football: Welcome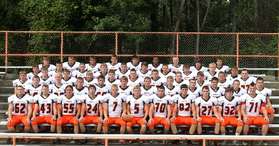 The 2013 Buckeye Bucks
Buckeye Bucks Football
Welcome to the internet home of the Buckeye High School Varsity Football team of Medina, Ohio, who will embark on their 62nd season in 2014. In 2013 they finished their 9th season in the Patriot Athletic Conference by posting a 6-4 overall record and a 6-1 record in Conference play. They finished 7th in Division III for the OHSAA State Playoffs and drew Willard as an opponent in the first round. The Fliers were just too much for the Bucks and they were eliminated by the score of 62-14. They now have scored 1,809 points against the PAC opponents, while giving up 990 in 63 Games and own a 46-17-0 conference record.
The 2013 season was the first winning season after posting 3 consecutive losing seasons. The Bucks were 8-3 in 2009, and had gone 51-21-0 over that seven season stretch. They made OHSAA State Playoff appearances in 2002, 2003, 2005 and 2009 and made their fifth this year.
A new day dawned as the Bucks turned things around in the 2013 Season. That can be credited to their new Head Coach Mark Pinzone and the new coaching staff he brought aboard to right the ship and get the Bucks back to the winning ways they had become accustomed to durning the early part of the the 2000's. He hit the ground running with not only his high school players but also his Junior High and Youth League players. He has the players buying into the system and had everyone excited about Buckeye Football at all of the levels!
Go Bucks! Buckeye Pride!!
Medina County Champions
1953

Inland Conference Champions

1960, 1961, 1963, 1965,

1979, 1983, 1984, 1987

Mohican Area Conference Champions
2002
Patriot Athletic Conference Champions
(Stars Division)

2005, 2007, 2008, 2009, 2013

Division III State Playoff Qualifier
2002, 2003, 2005, 2009, 2013
2nd Annual Buckeye Community Day
Buckeye Bucks Head Coach Mark Pinzone has put together his 2nd Annual Community Morning for Parents/Youth/Alumni/Friends to attend the second session of a two-a-day practice on Saturday, August 9 from 10:00 AM until 1:00 PM at the high school. It starts with donuts and juice in the high school cafeteria and then out to the stadium field where you can be right on the field with the coaches and high school players to watch and ask questions as they go through their practice routine.
During the practices Buckeye Youth Football will be selling hot dogs and drinks. Please come out and enjoy a morning with the Buckeye Bucks players and coaches. Please RSVP to Coach Pinzone at mpinzone@buckeyeschools.org by Thursday, August 7th if you are attending so he can have a head count. You can download a copy of the flyer above by clicking on the link below. Let's Go Bucks!!
Handout:
2014 Community Practice Day
Buckeye Bucks WingNite Fundraiser
The Buckeye Touchdown Club will be holding a WingNite Fundraiser for Buckeye Bucks Football on Saturday, August 9th from 6:00 PM until 9:00 PM at
Johnny Malloy's
 in Medina. Tickets are $20.00 in advance or $25.00 at the door that night. Come out for an evening for food, drinks, music, prizes and fun all the while raising money to support the Buckeye Bucks Football Team. Advance tickets are available by contacting Paul Schnepp at
paul.schnepp@yahoo.com
. So please come out and support the Bucks!! This is a 21 and over event.
Handout:
2014 Bucks Summer Calendar
Buckeye Athletic Passes
Where: Buckeye High School Athletic Office
When: Beginning August 1, 2014 - Monday-Friday 8:30 am – 2:30 pm
Adult All-Season Pass $ 75.00
Student/Sr. Citizen All-Season Pass $ 50.00
Family All-Season Pass $150.00
(Includes: 2-Adults & 2-Students) – Children under 5 are free
These passes are good for regularly scheduled home contest.
They will not be accepted for admission to any Invitational or Tournaments.
High School Games – Only
Football
Adult Football Pass (5-Games) $20.00
Student/Sr. Citizen (65 or older) (5-Games) $15.00
Preferred Parking (5-Games) $75.00
(2-seats, Park in fence-in area, availability to grill)
Bucks Will Make Three Radio Appearances In 2014
Our Buckeye Bucks will be on the radio for three of their contest during this fall's PAC 12 Campaign. You can tune in and catch the action as Head Coach Mark Pinzone and the Bucks build on their success last season.
The games scheduled are Cloverleaf@Buckeye on September 12th, Buckeye@Black River on October 10th and Wellington@Buckeye on October 17th which is also "Youth Night" and "Cheer With the Bucks" for Buckeye Youth Football.

The games will be streaming live on 930AM WEOL as part of their Medina County Matchup Series. You can listen live or listen at a later date as all the games are archived, or download the app from their website. Click on their logo above to be taken to their site.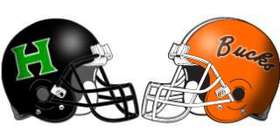 58th Edition Of Buckeye/Highland Returns
2014 Brings Back An Old County Rivalry
On September 4, 2014 Buckeye will again have the Highland Hornets on their football schedule. They will be the Week 2 Opponent next season and we will make the trip to Granger Township to face off in the renewal game of what was the longest continuous rivalry in Medina County Football. Buckeye and Highland had played every year since Buckeye Schools were formed in 1953 through the 2009 season, a total of 57 years. Now after a 4 year hiatus it will be time for these two team to hook it back up. They will get back to the yearly rivalry game that every kid that played Buckeye Football was used to and was known as "Highland Week".
Highland holds a 33-22-2 edge in the all time series with Buckeye having a .386 winning percentage during that time. In the last 8 games these two teams played they were an even 4-4. The Hornets were taken off the schedule as being deemed too tough opponent, that argument can be held up with the deep run they and were replaced first by Elyria Catholic which we only played the first year and dropped us because we weren't tough enough, and then by Sandusky Perkins in 2011 and Canton South the last 2 seasons. It;s all about points when you have these no conference games.
Revere came on to the schedule for the 2013 season and will remain for 2014. That will make the non conference games Revere, Highland and Cloverleaf and then Patriot Athletic League after those first 3 contests. Welcome back to the Hornets and we look forward to lining up in Granger Township this fall!! We can smell the sausages on the grill now!!
Updates For 2014
The website is being updated for the 2014 Season, the schedule for this fall is already posted and the season will open on August 29th at the Bucks travel to Revere to take on the Minutemen at 7:00PM. Feel free to click on all the tabs in the menu to check out all the information that is here.
The calendar for players that Coach Pinzone put together can be downloaded by clicking on the link at the bottom of this item. It covers all the activities for the Bucks for June and July. If you click on the 'Calendar' tab in the menu you will see the games, along with everything that is on the summer calendar listed. You will find other things listed as needed as we get closer to getting the season started.
Past stats can be found along with past season schedules, results and records. We try to keep as much information as we can on this site so you can stay informed on everything regarding the Buckeye Bucks! So come in and look around!
Handout:
2014 Bucks Summer Calendar
Sites Of Interest
Here is the link to
Joe Eitel's
High School site. He ranks all the teams in their respective divisions. The Bucks are in Division III Region 8 for the 2013 Season. Click on the highlighted text to go to that page. He does a weekly update every Friday night or early Saturday morning.
Not enough football on Fridays? Try Yappi or J.J. Huddle for high school football and all other sports. The Ohio Helmet project is a site that is trying to create and post the helmet graphics of all 711 high schools in the state of Ohio. We submitted the Bucks helmet pictures in 2002 and an actual decal in 2006. Kevin did our helmets with and without the stripes during those season. When we abandoned the "buck" graphic in 2012 and went with those antlers he tried to copy it but needs a decal for that, if someone has a decal please let me know. First thing in August I sent him the Bucks script graphic and we have the newest helmet design. These helmet graphics have been used on stat and record pages.
Thanks go out to Kevin Dudley, the man behind the project, who has been working hard on this site. It is interesting to look through so surf by and check out. We have also helped out by submitting Wellington, Highland, Avon, and Vermilion helmet pictures. THis season I submitted Keystone, Firelands and Midview along with a old Cloverleaf helmet picture. The Patriot Athletic Conference has a page on the site, so take a look to see what type of protective headwear all the other teams in the state are wearing by clicking on their link!
Click On The Icon To Sign Our Guest Book