Buckeye Bucks Football: Welcome
You Are In Buck Country
Welcome to the internet home of the Buckeye High School Varsity Football team of Medina, Ohio, who completed their 64th Season during 2016. They had another great campaign going 9-1-0 in the regular season. They made their 4th straight appearance in the OHSAA Playoffs, but again bowed out in the first round losing to the 17-14 to the visiting New Philadelphia Quakers. As of the end of the 2016 season they have scored 2,679 points against the PAC12 opponents, while giving up 1,196 in 84 Games owning a 67-17-0 conference record.
The 2016 season was the 4th straight winning season for 4th year Head Coach Mark Pinzone who came to the Bucks prior to the 2013 season. The Bucks also claimed their 4th straight PAC12 Stars Division Crown, which is their 8th overall. It was also the 4th straight year of qualifying for the playoffs. Buckeye previously qualified for the OHSAA State Playoffs in 2002, 2003, 2005, 2009, 2013, 2014 and 2015.
With the departure of Coach Pinzone to the Brunswick Blue Devils as Head Coach the Bucks will open 2017 under the tutelage of Head Coach Greg Dennison. Coach Dennison was an assistant last eason under Luke Beal at Brunswick and Head Coach at Wadsworth for 21 Seasons prior to the 2015 Season. Coach Dennison will be the the 16th Head Coach in Bucks History as the start their 65th Season in August.
Go Bucks! Buckeye Pride!!
Medina County Champions
1953

Inland Conference Champions

1960, 1961, 1963, 1965,

1979, 1983, 1984, 1987

Mohican Area Conference Champions
2002

Patriot Athletic Conference Champions

(Stars Division)

2005, 2007, 2008, 2009

2013, 2014, 2015, 2016

Division III State Playoff Qualifier

2002, 2003, 2005, 2009

2013, 2014, 2015, 2016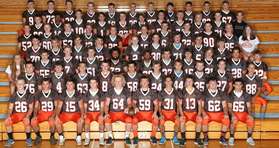 2016 Buckeye Bucks
Tuesday, May 23
2017 Buckeye Bucks Youth Football Camp
New Head Coach Greg Dennison and the Bucks Varsity Football team will be holding a Youth Football Camp on June 12th and 13th at Buckeye High School on the Varsity Practice Field. The camp will go from 9:00AM until 11:30AM both days. Campers will be coached by current Bucks coaches and players. The camp is open to players entering the 2nd through 7th grade. The cost for the 2 day camp is $50.00.
Click on the link below for the information and the registration form.
Handout:
2017 Bucks Football Camp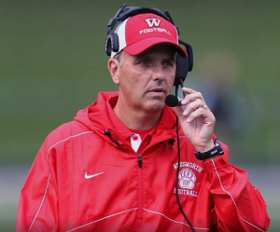 Bucks Head Coach Greg Dennison
Thursday, January 26
Greg Dennison Is New Buckeye Football Coach
YORK TWP. — Greg Dennison knew in his heart that he wasn't finished as a head football coach, and he couldn't submit his impressive resume quickly enough when the Buckeye position became available. Those feelings proved to be mutual, as the Bucks selected the 52-year-old to become the 16th coach in school history pending board approval at a special meeting scheduled for 9 a.m. today. Dennison replaces Mark Pinzone, who had a 33-11 record with four Patriot Athletic Conference Stars Division championships and as many Division III playoff berths before taking the head coaching job at D-I Brunswick. Dennison was selected from a group of finalists also comprised of Medina offensive coordinator Mike Zografos and Strongsville assistant Matt Wilson, formerly head coach at Clearview and Berea.
"I'm really excited, especially to be at a place like Buckeye," a noticeably upbeat Dennison said. "The more I found out about it, the more I liked — the community, the returning players, where the program is headed, the administration. There's so many positives. "I wanted to go back and be a head coach, but I didn't want to jump at anything. This is a job that could be a special job." Dennison's accomplishments already put him in the company of the greatest coaches in county history. He compiled a 148-77 record, three Suburban League titles (1996, 2007, '09) and three regional final appearances (1999, 2003, '11) at Wadsworth from 1995-2015.
The Grizzlies developed a reputation for organized, fundamentally sound play built mostly around an I-formation offense and hard-hitting defense. But Wadsworth also featured dazzling passing attacks in the late 1990s and early 2000s with star quarterbacks Mike Hoover and Clint Cochran. Wadsworth won at least seven games 13 times in Dennison's 21 seasons. The three losing records had asterisks, as 1995 was his first season, 2010 was handicapped by superstar tailback Jack Snowball missing most of the year with injuries and 2015 saw All-Ohio running back Daniel Weinerman out for multiple games. Before coming to Wadsworth, Dennison had an 11-9 record at his alma mater, Norton. He also has been an assistant at North Canton Hoover (1987), Barberton (1988-92) and Brunswick (2016). Dennison will continue to teach math at Wadsworth High.
"The impressive part, of course, is someone of his success and experience was interested in the Buckeye position," said Buckeye superintendent Kent Morgan, formerly head boys basketball coach at West Holmes and athletic director at Cloverleaf and Brunswick. "That was impressive alone. It really made us feel like we have a very strong football program and tradition here. We knew we were expecting some of the top-notch coaches in the area. "The things that really impressed us were the different experiences he's had — not necessarily at Wadsworth, but also when he was at Norton — and that he's been able to take programs that had been fairly successful and take them to the next step."
Buckeye is in the midst of its most glorious run since the school was founded in 1953. The Bucks went 9-2 this season and lost to New Philadelphia in the first round of the D-III, Region 9 playoffs. New Philadelphia's coach is Dennison's brother, Matt. The last two seasons have been electric, as Buckeye went 19-3 and outscored opponents 797-235. The Bucks have won 27 of their last 28 regular-season games, including 18 straight in the PAC Stars Division. The winning culture established by Pinzone — Buckeye was 9-21 from 2010-12 — and proximity to his Wadsworth home made Buckeye attractive to Dennison, who also interviewed for the opening at Medina, which is expected to make its decision soon. "Everything seemed to work out well. That was a big part of it," Dennison said. "They have had a lot of success, and one of the first things I'm going to do is see what they like. I don't want to go in and change everything, because there's a lot of things working."
Though they must replace two-time All-Ohio tackle Hunter Gray, three-time All-Gazette linebacker Dustin McCullough and PAC Stars Division Offensive Back of the Year Michael Doerge, the Bucks appear to be loaded with offensive talent. Slotback Justin Canedy rushed for 1,102 yards and nine touchdowns. Receiver Jonathan Neel posted solid numbers before missing most of the year a broken collarbone, while quarterback Adam Fauver (torn ACL) and running back/wide receiver Dominic Monaco (broken leg) were highly touted before going down with injuries. Slotback Anthony Watkins dominated at the junior varsity level. Two-way lineman and All-Ohio punter Dominick Kriz is another key returnee, and the offensive line also will return Turner Mitchell, Luke Conrad and Spencer Murphy. The top defensive underclassmen are end Logan Schulz and linebackers Isaiah Williams and Brandon Williams.
"I talked to my brother, and he was impressed with how hard they played and how physical they were," Dennison said. "If you're doing those things, you're going to have a chance to win."
Buckeye Touchdown Booster Club
The Buckeye Touchdown Booster Club supports our Varsity, JV and Freshmen Football Teams. Please visit their site and considered joining and getting involved in supporting Buckeye Football!
Buckeye High School Touchdown Club is a non-profit school organization that endeavors to financially support the Buckeye High School Varsity, Junior Varsity, & Freshmen football teams. Our mission is to provide the players & the coaches with the equipment that they need during the season, opportunities for team bonding events, inclusion of the families in a mutual goal: the best possible path to a successful season!
HS Football Stats, Standings Rankings
Here is the link to
Joe Eitel's
High School site. He ranks all the teams in their respective divisions. The Bucks are in Division III Region 9 for the 2016 Season. Click on the highlighted text to go to that page. He does a weekly update every Friday night or early Saturday morning. Not enough football on Fridays? Try
MaxPreps
or
J.J. Huddle
for high school football and all other sports.