Buckeye Bucks Football: Welcome
Saturday, October 24
Home Of The Bucks
Welcome to the internet home of the Buckeye High School Varsity Football team of Medina, Ohio, who are in their 63rd Season during 2015. Last season they finished their 10th season in the Patriot Athletic Conference by posting a 8-3 overall record and a 5-0 record in Conference play. They were Stars Division Champions for the sixth time. They finished 5th in Division III for the OHSAA State Playoffs and drew Bowling Green as an opponent in the first round. The Bobcats got out to an early lead in the game and the Bucks couldn't recover losing by a score of 41-7. As of the end of the 2014 season they have scored 2,119 points against the PAC12 opponents, while giving up 1,108 in 70 Games owning a 53-17-0 conference record.
The 2015 season is the 3rd straight winning season for 3rd year Head Coach Mark Pinzone who came to the Bucks prior to the 2013 season. They also clinched their 3rd straight PAC12 Stars Division Crown, their 7th overall. In addition the Bucks 3rd straight year of qualifying for the playoffs. Buckeye previously qualified for the OHSAA State Playoffs in 2002, 2003, 2005, 2009, 2013 and 2014.
Coach Mark Pinzone and the Bucks coaching staff have gotten not only the high school players buying into the system the three years he has been here, but the junior high and youth players as well. They are excited about Buckeye Football at all levels!!
Go Bucks! Buckeye Pride!!
Medina County Champions
1953

Inland Conference Champions

1960, 1961, 1963, 1965,

1979, 1983, 1984, 1987

Mohican Area Conference Champions
2002
Patriot Athletic Conference Champions
(Stars Division)

2005, 2007, 2008, 2009

2013, 2014, 2015

Division III State Playoff Qualifier

2002, 2003, 2005, 2009

2013, 2014, 2015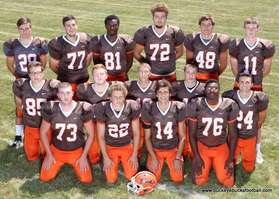 2015 Bucks Seniors
Congratulations & Thanks Bucks For A Great Season!!
Looking For More HS Football Stats, Standings or Rankings?
Here is the link to
Joe Eitel's
High School site. He ranks all the teams in their respective divisions. The Bucks are in Division III Region 8 for the 2013 Season. Click on the highlighted text to go to that page. He does a weekly update every Friday night or early Saturday morning. Not enough football on Fridays? Try
Yappi
or
J.J. Huddle
for high school football and all other sports.
NFL Hall of Fame Shirt Selections
Touchdown Boosters Hall of Fame Apparel
The Touchdown Boosters will begin selling NFL Hall of Fame T-Shirts & Ball Caps that we have in stock at our next home game with September 18th when the Bucks host the Fairview Warriors. They have quite a bit of stock, multiple sizes. All of the products are brand-new and have the original tags and pricing still attached. Some of the team shirts include the Giants, Patriots, Cowboys, Packers, Steelers, Jets and Saints.
All items are just $5.00! They have Adult, Children, & Women's shirts. All Ball Caps are adjustable except the Caps that are the "50-Yard-Line" logo are FITTED and only Large and Extra Large are available in that Cap.

Feel free to share this information with distant families & friends. The items can be shipped and they can use the Touchdown Boosters Go Fund Me account for money collection. For more info you can Email Lisa Gray at softball08@me.com.
All proceeds go toward our football team's needs for the 2015 Season and next season! GO BUCKS!
NFL Hall of Fame Hats & T's Selections
Click On The Icon To Sign Our Guest Book