Brunswick Soccer Association: 2014 Brunswick Fall Classic - Cancelled
Tuesday, August 26
2014 Brunswick Fall Classic - Cancelled
Due to circumstances beyond our control, we have decided, based on what was best for all our participants, to cancel this year's soccer tournament and put all our efforts into working on next year's tournament which will be moved to earlier in the year (when the time is warmer and drier). And with the tournament being Halloween weekend, we wanted you all to enjoy your time with your family and have the kids enjoy their Halloween evening without worrying about getting up early for a potential 8am Saturday game.
Again, we apologize for not being able to host our annual soccer tournament which always provided all the competition you looked forward to for an end of the outdoor season tournament. We believe by making this decision early, you all can plan accordingly.
It was a tough decision by our board and especially me however based on what our circumstances are, we did not want to put on a soccer tournament less than what we had always provided to you, our participants. We rather cancel this year only then to return to provide you all a soccer tournament next year with better weather, conditions, fields, etc.
Please understand our decision as it was based on you, our participants. We appreciate your patronage and loyalty. Please check back soon with our new date for next year. By changing our date, our issues will no longer exist.
Come see us next year.
Sincerely and Yours in Soccer
Jeff Petrenko
Brunswick Soccer
President
Brunswick Fall Classic
Tournament Director
Monday, November 4
2013 Fall Classic Results
2013 BRUNSWICK FALL CLASSIC "BOYS"
DIVISION
CHAMPION
FINALIST
Under 10 Boys Royal
Medina Rangers U10-I (OH)
4
Brunswick Royal Romanchok (OH)
2
Under 10 Boys Gold
Mansfield Crew (OH)
4
Medina Rangers U10-II (OH)
2
Under 10 Boys Blue
North Ridgeville Rangers (OH)
8
Medina Rangers U9-I (OH)
4
Under 10 Boys White
North Central United (OH)
2
Amherst Stingers (OH)
1
Under 11 Boys Royal
Perrysburg Gold (OH)
2 (PK's)
North Ridgeville Narwhals (OH)
1
Under 11 Boys Gold
Buckeye Greer (OH)
4
Amherst (OH)
3
Under 11 Boys Silver
North Royalton Bears (OH)
6
Lakewood Purple (OH)
0
Under 11 Boys Bronze
CCJ-Avon II (OH)
2
Shaker PFC McCabe (OH)
1
Under 12 Boys Royal
Perrysburg Gold (OH)
9
Foundation SC Navy (OH)
2
Under 12 Boys Gold
Beaver Creek Rapids (OH)
3
Twinsburg Blue (OH)
2
Under 12 Boys Silver
Oregon Crew (OH)
3
Shaker Heights Raiders (OH)
0
Under 13 Boys Royal
Canton Celtic 01 White (MI)
2 (PK's)
Century United North Elite (PA)
1
Under 13 Boys Gold
Westlake Warriors (OH)
1
Medina U12 Notarianni (OH)
0
Under 13 Boys Silver
Middleburg Hts Monsters (OH)
4
Wadsworth Invaders (OH)
0
Under 13 Boys Bronze
Canton Celtic 01 Green (MI)
6
Lakewood Purple (OH)
0
Under 14/15 Boys Royal
AMFC Ajax (OH)
1 (PK's)
North Central United (OH)
0
Under 14/15 Boys Gold
Lakewood (OH)
4
Amherst (OH)
2
Under 14/15 Boys Silver
Oregon Crew (OH)
1
Bedford Travel Soccer (MI)
0
2013 BRUNSWICK FALL CLASSIC "GIRLS"
DIVISION
CHAMPION
FINALIST
Under 10 Girls Royal
Mansfield Crew Cook (OH)
4
Cleveland FC 03-04 Gold (OH)
2
Under 10/11 Girls Gold
PA Crew White (PA)
2
Samba (OH)
1
Under 10 Girls Blue
Mansfield Crew Bise (OH)
4
Medina Melcher (OH)
3
Under 10 Girls White
Amherst U9's (OH)
4
Bees SA (OH)
0
Under 11 Girls Royal
MGSDP (Medina) (OH)
1
Mansfield Crew Bise (OH)
0
Under 11 Girls Gold
PA Crew (PA)
2
Lakewood Purple (OH)
1
Under 11 Girls Silver
Mansfield Crew Gleisinger (OH)
1 (PK's)
North Royalton Bears (OH)
0
Under 11 Girls Bronze
North Central United (OH)
3
Strongsville Green (OH)
1
Under 12 Girls Royal
Mansfield Crew (OH)
3 (PK's)
Twinsburg AC Tigers (OH)
2
Under 12 Girls Gold
Metro FC Storm (OH)
4
North Central United (OH)
3
Under 12 Girls Silver
Medina Baker (OH)
1
Bees SA (OH)
0
Under 13/14 Girls Royal
North Royalton Lady Bears (OH)
1
Samba (OH)
0
Under 13 Girls Gold
Medina Olesinski (OH)
1
Shaker PFC (OH)
0
Under 13 Girls Silver
Mansfield Liederkranz (OH)
3
Strongsville Lady Mustangs (OH)
0
Under 14/15 Girls Gold Group A
Mansfield Crew (OH)
4
MGSDP White (Medina) (OH)
2
Under 14/15 Girls Gold Group B
MGSDP Green (Medina) (OH)
1
Oregon Crew U13's (OH)
0
Under 14/15 Girls Blue
Medina Juka (OH)
1
Lakewood (OH)
0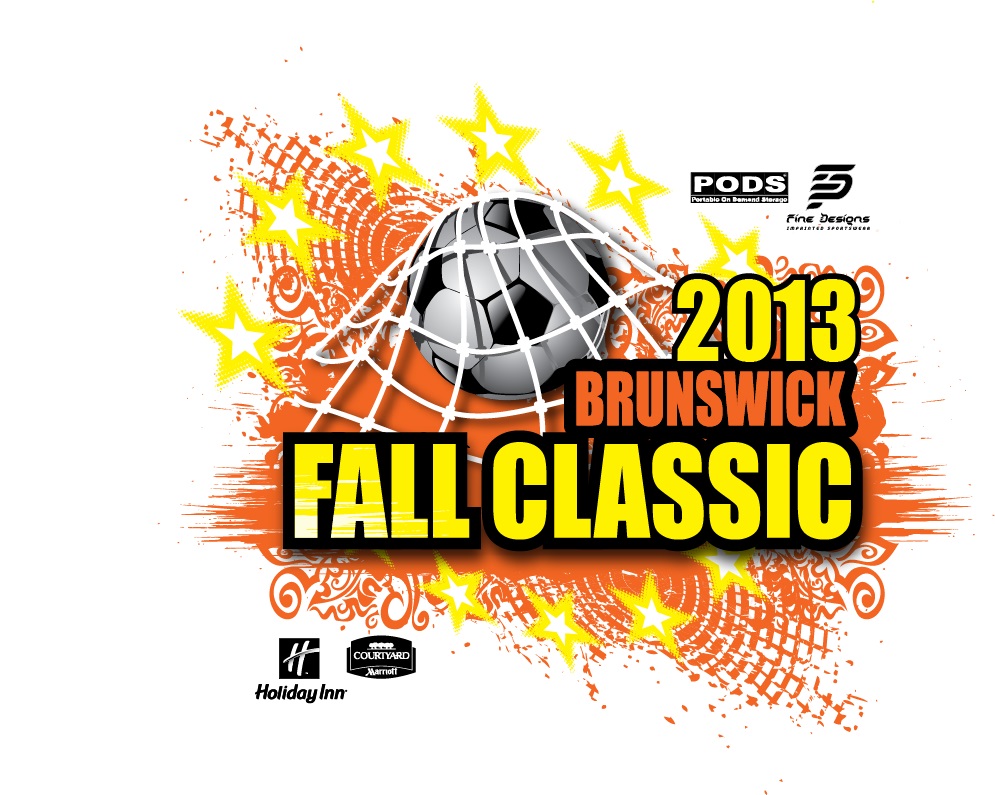 Saturday, March 2
FAQ's
Download this file please. A lot of useful information here that may answer most if not all of your questions. This file has been compiled over the years we have been hosting this tournament. Of course, contact the tournament director if you still have questions and require clarification.
Handout:
FAQ's
Tuesday, July 30
Holiday Inn - Strongsville
Making hotel reservations should be a simple process so the Holiday Inn Strongsville has created a personalized link which has the Brunswick Classic block code BCS built into it. This tool is extremely user friendly. You will undoubtedly enjoy this easy method for securing your group reservations. If your guests would prefer, they may call our reservations department directly at
1-877-408-4913 and reference group block BCS. Please feel free to call or email me directly if you have any questions.
Right click on the link below

Select OPEN hyperlink

The

Holiday Inn Reservations Website will open

Save it to your desktop or in your favorites

The destination is already set at the Holiday Inn Strongsville

In the traveler information section please enter your date of arrive and date of departure

.

The

Brunswick Classic

group block code,

BCS,

is already entered

Your rate will be displayed

Select the room type

You will then be asked for guest and credit card information

A confirmation number will be generated
Sales & Catering Coordinator
Direct Line: 440-783-3015
Map Link: http://maps.yahoo.com/#mvt=m&lat=41.275765&lon=-81.80781&zoom=13&q1=15471%20royalton%20rd.%2C%20strongsville%2C%20oh&q2=3637%20center%20rd.%2C%20brunswick%2C%20oh&gid2=15639143
Tuesday, July 30
Marriott Hotels (several locations to choose from)
Welcome to Cleveland and our family of Marriott hotels! Conveniently located within minutes of the fields
As a key sales contact for Amateur Sports, I can provide you with the convenience you need to secure your room blocks at any one of our great properties:
Courtyard Cleveland Airport North - $87.00
Cleveland Airport Marriott – $94.00
Courtyard Cleveland Airport South - $95.00
To make reservations, please call Christine Petitto at 440-541-6216
We look forward to accommodating you and your team during your visit to Cleveland.
Sincerely,
Christine Petitto, Area Sales Manager
Handout:
Marriott Hotels
Sunday, October 13
Fine Designs
Our Tournament Apparel Outfitters
Wednesday, October 16
PODS - Press Release
Call 800-776-7637 for your storage needs.  Download file for the flyer for PODS.
PODS Scores Big
With the Brunswick Soccer Tournament
Now in it's 9th year, the Brunswick Fall Classic has been the largest soccer tournament in North East Ohio for the past few years. With 200 teams converging from all over Ohio, as well as surrounding states, they come to compete at various field locations in and around Brunswick. It takes a tremendous amount of organization to handle the influx of thousands of soccer players for the November 2 and 3, as well as their families who come to cheer them on, and the logistics of having hundreds of games run smoothly.
This is where Ed McCrady, owner of PODS of Northeast Ohio, was able to step in. Ed donated 4 PODS brand storage containers so the tournament staff and volunteers would have a place to store the necessary equipment (golf carts), awards (trophies for championship games), cones (for parking), tables and chairs (for the main tent) and any extra needs for the soccer complex and requirements for the soccer tournament. 
"The PODS containers are truly a blessing as we do not have to load and unload all weekend regarding the needs of the soccer site.  We can just load the PODS containers and use them for the weekend as they are placed close the main tent," says Jeff Petrenko. "As the tournament director, it has made my job so much easier knowing I have the PODS containers in place since we have multiple locations. The PODS units can be loaded up with the necessary needs of the site versus trying to distribute everything the morning of the tournament."
Ed McCrady responded, "Jeff and his team do a fantastic job managing an event this large that can bring in so many people into the community, especially with the hotels and restaurants in the area. PODS is happy to be able to support them in their efforts."
The Brunswick Classic Tournament has also teamed up with the Brunswick Food Pantry. They hope the teams will consider this great opportunity to learn the importance of giving back by donating items to the Brunswick Food Pantry. With 200 teams participating, they can Fill the Shelves for the hungry families of the community! Items will be collected per team and handled by the coach at the Fall Classic registration night on November 1 or brought to the main tent during the tournament.
For more information about the Brunswick Fall Classic or their Fill the Shelves event, go to their website at: www.eteamz.com/brunswicksoccerasc.
About the Brunswick Soccer Association
The Brunswick Soccer Association is a youth travel soccer organization for ages U8 through U14, for both boys and girls. Their address is: P.O. Box 633, Brunswick, Ohio, 44212.
About PODS Enterprises, Inc.
Founded in 1998, PODS currently provides moving and storage services to more than 240 million consumers in 48 U.S. states, Canada, Australia and soon the United Kingdom through its company-owned and independent franchise network. To date, the PODS network has completed more than 250,000 long-distance relocations, exceeded 1 million deliveries and has more than 140,000 PODS® containers in service.
PODS® secure containers are constructed of a steel frame and are available in three sizes: approximately 8-by-7-by-7 feet, 8-by-8-by-12 feet and 8-by-8-by-16 feet. The 12- foot and 16-foot containers have been tested to withstand winds of more than 110-mph when partially loaded.
For more information or to schedule local PODS service, visit http://www.pods.com/cleveland.aspx or call 404-220-7995.  We serve Akron, Cleveland, Elyria, Lakewood, Medina, Mentor, Painesville, Ravenna, Warren and other areas. You can also join us at www.facebook.com/PODSNortheastOhio or www.twitter.com/podcleveland.
Handout:
PODS