Brunswick Soccer Association: 2015 Brunswick Classic - Cancelled
Wednesday, June 3
2015 Brunswick Classic Soccer Tournament - CANCELLED
Teams,
We unfortunately have to cancel the Brunswick Classic 2015. We didn't get the turnout we had hoped and expected. There are probably a number of reasons which we need to explore some which may be people going on vacation and also coming off other tournaments towards the end of the year. Last Fall, we had last minute, unexpected circumstances regarding fields which forced us to cancel last November. We then worked hard to come up with an alternate date which turned out to be June 19th as the next best alternative.
We of course are not happy with this decision but we have more time to account for field availability in 2015 and plan to return the date to the end of the season which seems like the best time to be able to host more teams. Details to follow so please stay tuned.
We will be sending out refunds soon as possible. Again sorry for the cancelation but to host a tournament with such low numbers will not benefit any teams are participating.
Thank You
Julius Bohrer- BSA Travel President and Tournament Director.
Saturday, January 10
Marriott Hotels (several locations to choose from)
Welcome to Cleveland and our family of Marriott hotels! Conveniently located within minutes of the fields.
Marriott Cleveland Airport North:
I know you are looking forward to your upcoming stay, and I wanted to take a moment to introduce myself. My name is Stephanie Villeneuve, the Event Specialist for the Courtyard by Marriott Cleveland Airport North. I am taking over from Tawyna Dysarz, your Sales Manager and will be your contact through the planning process for your group and will be happy to assist in any way possible.
We will contact you periodically with updates on your room block and lists of reservations made, if you need anything at all, please don't hesitate to contact us.
-Did You Know-
* Sleeping rooms in your room block are $109 for a King room with a sleeper sofa or a room with two Queen beds for $109
* Your guests can utilize the group rate beginning 6/19/15 and ending 6/21/15
* Breakfast IS NOT included in this room rate
* Rooms are ready to be reserved by calling reservations (800.228.9290) and referencing the Brunswick Soccer Tournament Room Block
* Reservations for the group rate must be made prior to 5/29/15
At this time, your guests may call 800.228.9290 and reference the Brunswick Soccer Tournament at the Courtyard by Marriott Cleveland Airport North to make their reservations at the group rate. They may also book directly online by via the links below:
If there is anything I can do to help you throughout your planning process, please do not hesitate to ask. We look forward to hosting your group at the Courtyard by Marriott Cleveland Airport North!
o 440.716.9977 f 440.716.1995

Courtyard Cleveland Airport North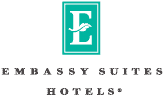 Friday, February 20
Embassy Suites 2015
Welcome Soccer Teams TO THE Brunswick classic
and the "Best Hotel" in cleveland for "team accommodations"
Reasons to Choose our embassy suites Hotel
*Our hotel is chosen more for our exceptional service & amenities.
271 Suites, Double Bed Rooms or King Bed Rooms each with a Sofa Sleepers

Complimentary Full Cooked to Order Breakfast

and Evening Manager's Reception with Complimentary Cocktails and Snacks

Complimentary On-Site Bus Parking

2 Pool Tables

Indoor Swimming Pool and Hot Tub

24 hour Fitness and Business Centers

Complimentary shuttle to Airport and nearby locations

Casual dining at Embassy Grille
*Take Advantage of the Brunswick Classic Rate of $105.00 Per Room Per Night Plus Taxes. To receive this Special Group Rate for your Team, please contact Heather Daprano at 216-617-2112 or heather.daprano @hilton.com. The Embassy Suites Cleveland - Rockside has all the quality and service you expect and deserve.
Embassy Suites Cleveland Rockside - 5800 Rockside Woods Blvd. Independence, Ohio 44131
Sunday, October 13
Fine Designs
Our Tournament Apparel Outfitters