Bronco Little League: Welcome
WELCOME TO BRONCO LITTLE LEAGUE
Representing the towns of Hampden, Newburgh & Winterport
---
Registration for all levels of Bronco Little League are now open.
Please click on the following link to register:
Registration night for Bronco Little League has been postponed to Wednesday 3/21 at the Skehan Center from 5:30-7pm. Bronco LL registration is online. You only need to come to registration night if you need assistance registering.
2018 Bronco Little League Tryout Schedule - Hampden Academy Gym
All players are evaluated and will be placed on teams.
Skills to be evaluated are hitting, throwing, catching, and speed among others.
| | | |
| --- | --- | --- |
| Team | Date | Time |
| Winterport (All Levels) | 3/24 | 2:30 pm - 4:30 pm |
| Bronco Farm and Minors (Ages 7-11) | 3/24 | 4:30 pm - 6:00 pm |
| Bronco Majors (Ages 9-12) | 3/24 | 6:00 pm - 7:30 pm |
| Bronco Softball (All Levels) | 3/25 | 10:00 am - 12:00 pm |
| Bronco Majors (Follow-up) | 3/25 | 12:00pm - 2:00 pm |
---
2018 Dick's Sporting Goods Bronco Little League Appreciation Weekend
Saturday, March 24 & Sunday, March 25
Save 20% Throughout the Store
Pick-up everything you need for the upcoming season
See Handouts page for store coupon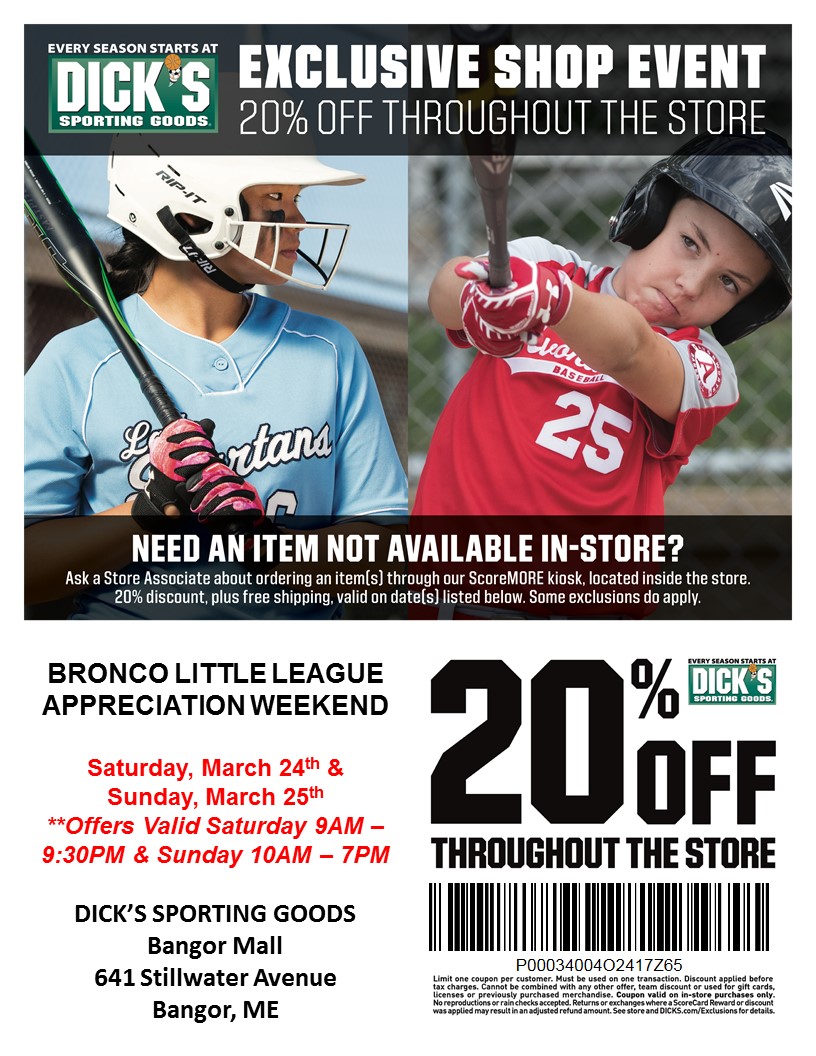 Bronco Little League Leagues