Bethesda Roadrunners: My Site News
Thursday, May 15
Where Are they Now????????????
So Where are the self proclaimed "Favela boys" now?
Shaquille Philips - U17 US National Team
Samir Badr. - VA High School State champ U17 US National Team player pool
Julio Arjona - U17 US National Team verbally committed to West Virginia
Desean Ragland - Baltimore Bays Academy team
Haakon Sand - Freestate Elite (MD State finalist)
Jeff Juarez - Freestate Elite (MD State finalist)
Eli Dennis - Freestate Elite (MD State finalist) ODP Regional pool
Chris Woodruff - Freestate Elite (MD state finalist) ODP State
Jamal Umar - GFC (VA State Champion)
Trey Bright - SYA
Fabio Correa - Fresstate Elite(MD state finals) ODP State Committed to MT. ST Mary's.
Sam Bradley - DC United Academy (U17 US National team player pool)
Peabo Doue - DC United Academy committed to West Virginia University
Paul Torres - DC United Academy (U18 US National team Player pool) committed to University of Maryland
Toby Iquade - DC United Academy
Philip Nwosu - DC United Academy
Ole Sand - RETIRED last seen at a Capital playoff game looking for a fast pace attacking sport.
Julio Arjona Sr. - Coaching in Bethesda and Olney Soccer Club
Joseph Gyau - U17 US National team
Lester Dewee - Marsialle Youth Team ( France)
Chris Hegngi - DC United U18 committed to Ohio State
Martin Sanchez - Freestate Elite (MD State finalist) ODP Regional team ( captian) Committed to NAVY
Philip Gyau - Coaching ST John's High School and BSC.
Jeff Zifrony - Favorite player "JAY Z" married Beyonce and somewhere plotting to rule the world.
William Seymore- Playing in England
As one of the players said "I miss Joga in my life" . Best of Luck to all the birds.
Check out a few Early Training videos and the foundation of any good soccer player. http://www.nldsoccer.com/videos.htm
Tuesday, July 3
Regional Recap
The RRs had another great Regional experience, winning the three pool games, but also learning a hard lesson in the semi-final.
After 9 months of training, developing, and working on many of the technical aspects of the game, it was FIFA Law #12 which ultimately would help end the Roadrunners USYSA season. As the players were huddling on the field before the 2nd half was about to start, a RR player was red carded for foul language. While perhaps harsh, the call was right in line with one of USYSA focal points for referees for this Tournament. It is important to note that in the hundreds of games the roadrunners have competed in since U9 No Roadrunners or opposing team has ever been red carded for abusive or foul language. It is also an important lesson to learn for our squad.
This left the Roadrunners a man short and with a field player in goal. The team put forth a valiant effort and continued to press the attack, providing many good opportunities to win the game. Unfortunately at the top Regional level playing a man down is a tough hill to climb. The Roadrunners would eventually concede a goal on a well executed play with 7 minutes remaining. Congratulations to Hota Academy who played a great game. The superb efforts by both teams made this one of the most entertaining games of the Region 1 tournament.
Finally, congratulations to PDA winning the U15B Final and getting the ticket to represent Region 1 in the National Championship in Frisco, Texas. Good luck!
As for the Roadrunners, we will focus our attention on the US Club Soccer Nationals in Greensborough, NC later this month and preparations for the U16 campaign.
Sunday, June 3
RRs win State Cup, going to Maine to defend 2006 Regional Championship Title
The RRs continues its dominance in state cup, beating Potomac Internationals in the U15 final at the SoccerPlex Statium field on June 2nd to win its third MD State Cup title in four years.
The hot weathers and cup final athmosphere did not make for a great championship game. However, both teams fought a very clean and fair battle in the mid-day heat. Potomac led the game 1-0 at half-time, but the continued pressure from the RRs finally payed off with two nice goals early in the 2nd half to secure a well deserved win. Credit should go to Potomac Internationals for having made the State Cup Final three years in a row and consistently proving they are very hard to beat.
Other than a loss on PKs in the MD state cup semifinal at U13, the Roadrunners has never lost a game in state cup (or playing on age in NCSL). The next challenge is to defend the Region 1 Championship in Maine in late June-early July.
Sunday, May 27
RRs qualify for US Club Soccer National Championship, winning Region A
This Memorial Day weekend, the RRs broke with the tradition of playing locally to compete in the US Club Soccer Region A Championship. In line with the growing popularity of US Club Soccer as an alternative to USYSA and Super-Y, most top teams and clubs now compete in on of the eight Regional Championships to try to gain a spot playing for the National Championship in Greensborough in July.
The RRs played in the Super Group against a good mix of top Region 1 and Region 3 teams, including Blau Weiss Gottschee, Goldstar 91 Select NC, Pasco Stallion NJ, Syracuse FC, Rochester FC, and Massapequa Aces.
The tournament was also a warm-up for MD State Cup final. Playing its best soccer all year, the RRs won the tournament, beating Syracuse (3-0), Masapeaque (3-1), Pasco Stallions (4-0) and Goldstar (3-0) in the final.
The scoring was well distributed, with seven different players finding the net.
Thursday, January 25
Bethesda Soccer Club Boys ranked #13 by Soccer America Magazine
Tuesday, January 16
Speed: Physical Speed vs. Speed of Thinking
Speed is important in soccer. When a kid is blowing by opposing players, we often go "wow, that kid is good". Many implicitly or explicitly closely equate the degree of a kids' soccer potential with his/her physical speed. This is not surprising. Raw "leg speed" is easy to compare across a pool of players. As such, it is often used as the determining factor picking players for teams (along with a few other attributes such has ball skills, strength and power).
While physical speed is important, it has major limitations as a determinant of soccer potential. In fact, overly focusing on physical speed can be a big mistake.
Another aspect of speed in soccer is the "speed of thinking".
Question: Whom would you pick if you have a choice between
1) a player with exceptional leg speed, but average speed of thinking, or
2) a player with exceptional speed of thinking, but average leg speed?
This question was posed to Graham Ramsey, a local soccer guru in the DC area. Mr. Ramsey was very quick and definitive in his answer. Speed of thinking is more important than physical speed. Mr. Ramsey went on to say that "physical speed and soccer brains rarely go together."
In a recent interview with Zinedine Zidane (FIFA Player of the Year 2000), he noted that when he grew up people did not believe he would do well at the top professional level, because there were many kids much faster than him. He then noted that it was his "speed of thinking" that made him a star soccer player.
Mr. Ramsey's conclusion is logical. After all, the ball moves much faster than anyone can run and there are only 22 players on the 10,000 square yard pitch, implying continuos quick decisions related to where to pass the ball, make runs or cover opponents.
Friday, January 5
TopDrawerSoccer recap of the Disney Showcase U15 Final.
Behind the Rankings - A reflection on what they really mean
Sunday, November 26
Roadrunners -5 win Baltimore Boys College Showcase
2 weekends 2 tournament championships and 2 many injuries.
The Roadrunners limped into their first College showcase -3 National team players with the goal simply to keep sharp, speed up the play and get some work in for all the players. 
Game 1 everything went as planned a few minor bumps and bruises. In Game 2 things would change for the worse with several players pulling hamstrings and worse of all Jamal going down with a badly broken leg.
Saturday would start off shaky with a average performance and another starter out injured. Not completely happy with the performance, the coaching staff called to the players to refocus. The goal of the day-
"Deliver the Championship Trophy to Jamal".
 The renewed spirit and passion of the Roadrunners became evident as the much improved Baltimore Bays (look out, we have all been warned) stepped up their game to make this one of the most entertaining and impressive finals of the day. In the end Jamal would have to make more room on the trophy mantle for the championship trophy. 
Final: Roadrunners 2 Baltimore Bays 1.

Roadrunners U9
Tuesday, November 21
Roadrunners win Bethesda Tournament
Bethesda vs. Lower Merion Velez 1-0 in the final.
With 4 current State Champions [FC Delco (EPA), Richmond Strikers (VA), Kirkwood Nemesis (DLW) and RRs (MD)] and 8 other high quality U15 premier teams in the Potomac Division, this was a good confirmation of the RRs recent progress. 
The birds gave up no goals for the tournament, including an intense 80 minute final playing a man down for the last 30 minutes. 
Question of the day: Find 6 of the Roadrunners from the U9 team winning the BSC Tourney in the fall of 2000, who are still on the Roadrunners' U15 roster six years later. See picture above for a clue (Note that Julio jr. is hiding in the picture). 
Question for the rest of the week: Find 7 of the Roadrunners from the U11 team winning the BSC Tourney in the fall of 2002, who are on the Roadrunners' U15 roster. See picture below for a clue (Note that actualy 11 players from the U11 team still train or guest with the team from time to time).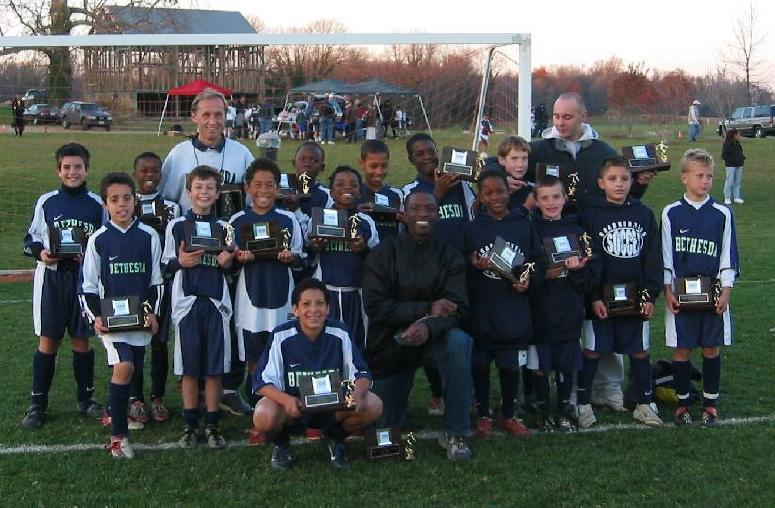 Roadrunners U11
Tuesday, October 24
Roberto Da Silva new Head Coach for the RRs
Monday, October 30
Ole C. Sand to stay on as assistant coach and Head of Norwegian boat camp.
Saturday, November 18
Berhanu Soccer Foundation Fall and Winter fundraising
Community involvement is key to our success. Berhanu Soccer Foundation is a 501(c)(3) non-profit organization. We rely on volunteers to help spread the word and donations from companies, foundations and individuals to help as many children as we can. All donations are completely tax deductible and are used exclusively for the grants. Everyone involved in the Berhanu Soccer Foundation donate their time to this cause, drawing no salary of any kind.
Many of our contributions come from parents who want to see a player in their area get some help. If you are a local business and would like your donation go to a player in your area, that's usually not a problem. We have worthy applicants from all over the Greater Washington-Baltimore area, including Northern Virginia. Sharing your time and monetary donations are so appreciated! If you'd like to find out more ways you can help, please call us at (703) 837-8342.
Tuesday, October 24
"Putting the band back together"
Monday, July 31
A National Championship Experience
Representing Region I playing in the "Final Four" National Championship against the best U14 teams in the US was ...
Tuesday, July 4
Good old Roadrunner touch and spirit back to take the Regional Championship
With only 3 team practices in the last 3 weeks after state cup the Roadrunners started the regionals championship ...

Daily Rooftop Meeting at Regionals
Monday, June 5
Roadrunners is MD 2006 STATE CUP CHAMPIONS!
While the MD U14 Championship game was not a great game for the spectators, it nonetheless capped a return of the Championship title to the Roadrunners after a very solid 13-zip (GF-GA) run against four high quality MD state cup opponents. Being named as an underdog by soccer experts gave the kids a helpful push in the key games.
However, celebrations were limited and emotions were low after a tackle broke Phillip Nwosu's leg with 3 minutes to go in the game. Phillip will join his teammates at Regionals in a cast.
Congratulations to Inter Bethesda on a great season and another runner-up title in state cup.
Tuesday, May 30
RRs go 1-3-2 and 4-7 (GF-GA) in Nike Man U. Tourney
The Nike Manchester United Tournament lived up to its high expectation: Top competition (many of the best 91's ...
Wednesday, March 22
REVIVED IN EUROPE
Days away from giving up the game, Brian West decided to give professional soccer one more go. The once-bright ...
Wednesday, March 22
Jefferson cup recap
Jefferson cup game 1 - The Roadrunners came out against WASA Ambassadors on fire. The first 3 minutes would see ...
Thursday, March 9
State Cup Bracket
Roadrunners Win at Disney Showcase
Playing under Coach Armstrong's Heroes banner, the team was accepted to Copa Division of the Disney Showcase. Orlando's perfect weather and well-groomed fields made conditions close to ideal. The Roadrunners' bracket included pool games against Hota Academy (N.Y.), Brevard United (Fla.), and Texans 91/92. In the semifinal, the team faced a tough team from Georgia--Augusta Arsenal Blue--and went on to beat the Kendall Soccer Coalition 3-0 in the final.
The team played with the cohesion and intensity that Coach Armstrong has been developing over the past 18 months. The kids showed they have heart and played with good intensity and finess. Congratulations to all.
Fall 2005 NCSL Recap
RRs prevail in another showdown with the 'Green Machine'
Each time MSC United and the Roadrunners have played each other over the past 5 years, the energy level and spirit have been high (a bit too high a few years back, but that is history), and the games have been tough and competitive.
This NCSL Sunday was no different. Both teams came to the MD SocerPlex ready to play, if for nothing else, then at least the bragging rights at school on Monday. After an even start for the first 10 minutes, the RRs took control of the game and scored 3 nice unanswered goals before the break. Being comfortably ahead, the RRs played a sub-par 2nd half without proper intensity and focus. The Green Machine on the other hand picked up the pace, started to create chances and ended up winning the last 35 minutes 1-0. Final score 3-1.
While there were a few rough tackles (and consequentially a few cards) on the field, the sidelines and the atmosphere stayed positive throughout the game.
Next up is Potomac Cougars, and the 10th and last game of the Fall NCSL season is against Team America, both games at the SoccerPlex.
Early Birds get the worm
From the start, things went against ASC Milan this Sunday. First, the Roadrunners came ready to play. The game venue--the SoccerPlex--with its near perfect field conditions--has seen some the team's best games. Then, on this Sunday, the Roadrunners's mix of free spirit, creativity, intensity and discipline came together and paid off. It was Roadrunners' soccer from start to finish. An own goal by ASC Milan (created by the Roadrunners' signature pressure) was followed in quick succession by two RR goals; the last goal came in the 70th minute of the game.
In division 1, no team goes away quietly and ASC Milan was no different. Our goalie had to once again prove why he is "THE WALL" to keep his 4th clean sheet of the league season. Final: 5-0.
With the league off for a week, we are looking forward to meeting some very stiff competition next wekend at the Yardley Columbus Day tournament. Like last year, nearly all the top U14 teams in Region 1 will be there.
Roadrunner Fact: Out of 4 orginal Roadrunners that made the transition from rec team to NCSL at U9, 3 are still with the team, and all 3 have contributed to the Roadrunners scoring this season.
A perfect weekend for Birdwatching
Roadrunners' Core Beliefs
Roadrunners' fundamental coaching philosophy is based on three convictions:
1. In general, people are ...
RRs knocks off #1 Freestate Titans
Roadrunners take an unwanted day off
As usual, the Roadrunners find great competition in the Olney Washington Fall Classic. Two tough games on Saturday yeilded a 1-1-0 record. Sunday morning proved to be a new chapter in one of the friendliest rivalries in NCSL. FCH Premier came to play and a failure to capitalize on goal scoring opportunities by the Roadrunners would result in a well deserved victory for Premier.
The Roadrunners would like to congratulate FCH Premier and coach Greg on a great victory. For Coach Greg this was only the tip of the iceberg for a spectacular week for him and his family. A special Congratulations to Mr and Mrs. Bryant on the birth of their daughter--...the newest edition to a great family. We would also like to apologize to Mrs. Bryant for not making sure Greg would be home changing diapers all day Monday.
Roadrunners set to kick off the season
After a summer of world travel, tanning, kicking back at the pool, reading the critics make lousy prediction, it is time once again to dust off the F-50's go out and kick the ball around a bit.
With Paul T. and Chris W. back full time with the team one thing is for sure. There is going to be a heck of a birthday party in October.
The Roadrunners would also like to welcome long time friends and new Roadrunners Jeff and Eli.
RRs go 1-2-0 and out in BSC Thanksgiving pool play
The 22nd Annual Bethesda Thanksgiving Tournament on November 19 & 20th was blessed with perfect playing condition, with the U14 divisions playing at the beautiful OBGC fields.
In pool play, the RRs first faced FCH Premier (VA) and came away with a solid 2-0 win. However, in the 2nd game against FC Delco, the RRs were flat. Lead by a brilliant Dylan, Delco won a well deserved 2-0. All 4 teams in our pool went 1-1 on Saturday (as FCH Premier beat South Central 3-1), leaving it wide open for Sunday.
The RRs came out strong in the last pool game against South Central Premier (CT), but failed to convert on several good chances early in the game. As often happens in soccer, the other team then scored on a quick counterattack. After this goal, neither team was able to find the net.
Because South Central beat Delco 3-2 in pool play, they earned a slot against RFC in the final. While the RRs performance and results did not match our goals (leaving plenty of room for improvement over the winter) it was a great fall weekend for soccer at the OBGC.
Roadrunners to play on age
After spending several successful seasons playing up, the Roadrunners this year have decided to play on age. Looming high school commitments, the growing size differential as the puberty/age difference is maximized, the rise and development of our own U14 age bracket, and the desire to just relax enjoy and learn the finer details of the game from our new coach all contributed to the decision to play on age this season.
We thank NCSL and of our friends in the U15 age bracket for helping make these past seasons what we were hoping they would be: challenges that gave us opportunities for player and team development.
Heroes Football Association
We are proud members of the Heroes Football Association. Please visit us at www.sportnheroes.com to learn more about the Heroes.
Freestate Titans KO RRs on PKs and wins MD State Cup
We congratulate Freestate Titans and Coach Pat with the MD State Cup Championship, beating Roadrunners on pk in the semi-final (after a 1-1 tie) and the Inter-Bethesda (1-0) in the final. The Roadrunners wish the Titans good luck representing Maryland in the Region 1 Championship Tourney.
Freestate Titans has developed into a GREAT team and they deserve lots of credit. Contrary to many teams at this age group, they play a skilled and disciplined possession game as opposed to "kick and run" soccer. It is certainly no accident the Titans is the new MD
State Champion AND the new #1 team in Maryland.
On our part we are disappointed we did not get the job done, but this is the beauty of soccer and great competition. The stage was set for an exciting MD State Cup semi-final between the Freestate Titans and Roadrunners. Both teams have had a good season and it was clear this would be a battle. The game was well played, but the RRs lacked a bit in intensity for periods of the game. When we created good opportunities (in particularly towards the end of the game and in OT), we failed to convert. This was a hard, but important lesson for the young squad. Respectfully, the Roadrunners have joined the group of challengers in MD.
The RRs will now focus on US Club Soccer Regional Championship in NJ June 25-26.
Roadrunners ends NCSL season on a scoreless tie against Takoma
In the last NCSL game of the season, the RRs faced a Team Takoma in need of at least a tie to avoid relegation. TT came to the SoccerPlex highly motivated and on fire. On our part, we had to do a "gut check" after the heartbreaker against Freestate Titans yesterday.
While the game ended without any goals scored, it was a very intense, exiting and well played game by both teams. In a sense both teams won. With one point, Takoma will likely avoid relegation, while the Roadrunners passed the gut check with flying colors.
The Roadrunners ended the spring 2005 NCSL season in 4th place, the same place we ended in the fall 2004.
We wish everyonbe a great summer.
SAC United Premier Steamrolls the Roadrunners
Last week we made the mistake of complaining about a few bad calls, confusing the real story, i.e., the kids valiant efforts against a clearly superior team (SYC Fire Gold). Naturally, the anonymous Coyotes enjoyed a "good meal."
On this beautiful Sunday at the SoccerPlex, the RRs faced a SAC Premier team that is on a roll. Having outscored their opponents 16-0 in their last 4 NCSL games, SAC quickly showed they are now getting tuned for their state cup semi-final. Down 2-0 after only 15 minutes,
the RRs never really got into the game, although in general the efforts and performance still were reasonably good. Final result, 3-zip in a clean (no cards) and well-played game.
The RRs have played SAC Premier a full six times over the past 2 years (we very much appreciate SAC's willingness to also scrimmage us!). Reflecting on these games playing up, we have clearly lost some ground relative to the top teams in U14 over this 2-year period. The impact of the puberty growth spurt is very significant. Having said that, we are pleased to hold our own in U14 D1 and to get the developmental experience that comes with games like today's.
SYC Fire Gold best, but needed ref's help to beat RRs
SYC Fire Gold is a well-coached, great team, playing clean good soccer. The RRs have no issue losing 2-1 to such classy team. Considering possessions and the flow of the game, it was not a problem either.
Still, the game was ultimately decided on a bad call. On a long SYC throw-in, the ball took a bad bounce on this bumpy field and went straight into the net, past the RRs goalie. The linesman wrongly claimed the ball had touched a player and the ref allowed the goal. With a score of 1-1 with only 30 seconds to go, SYC also got a questionable pk for an inadvertent handball at the edge of the box.
Sometimes the key calls go our way, but clearly not on this Sunday. More important than the game result, the kids should be very proud of a great effort against the reigning VA State Champion and NCSL U14 Champion.
Strong finish by Arlington not enough, RRs collects 3 points
Typically, when Roadrunners play Arlington, the RRs start well while Arlington finish strong. Last spring the RRs were up 5-0, before Arlington scored 3 unanswered late in the game for a 5-3 result. Last season, the RRs were up 2-0, but the game ended 2-2. Today, the RRs were up 3-0, but Arlington scored 2 goals (on nice headers from long crosses) within the last 5 minutes of the game.
The teams are evenly matched and as usual, it was a clean nice game by both sides. Unfortunately, the ref. seemed intent to exercise his power and dished out 6 yellow cards (3 to each team), all for mild disent after questionable calls.
Next week the RRs face SYC Fire Gold, the defending Champion and undefeated in NCSL for several seasons. x910
Best of the season for the RRs against McLean
The bumpy Lewinsville Park field #3 did not put any damper on the RRs game performance against McLean's solid U14 team. Having played a hard-fought and always emotional game against MSC United the previous day did not throw off the players concentration either. In fact, considering the difficult playing conditions, this game was easily the best performance of 2005 for the RRs.
All 13 players put in a very good performance. The kids were quick to the ball, avoided excessive dribbling and made quick and sometimes spectacular combination plays. We are starting to see the benefits from Coach Armstrong's change of formations and playing style.
The RRs scored two nice goals in the 1st 15 minutes of the game, one off a new set play on corner. These goals ultimately held up, as the final score was 2-zip. With 6 additional points for this weekend, the RRs is already "safe" from relegation with 4 league games to go. Once again the RRs has proven it is worthy playing up in U14 D1.
Unfortunately, William got injured (sprained ankle) early in the game, but we hope he is ready for next weekends rescheduled MD State Cup game at the Polofields against Maryland Fotball Club.
RRs prevails in another showdown with MSC United
The RRs had signed up to potentially play our friends and local rival MSC United no less than 4 times this season. Due to weather cancellations and early exits in tourneys, in the end it came down to only one NCSL "U14" match. The venue was MD SoccerPlex on this rainy Saturday morning late April.
The game was a typical MSC vs. RRs game, played with lots of energy and emotions, but a bit short on composure and good possession soccer by both teams. After almost 2*40 minutes (the ref added time both halves), the RRs came out on top after three spectacular goals. The 3-1 result was fair, but MSC United should get credit for staying in the game until the final whistle, creating its best chances in the last few minutes of the game.
While one member of the referee crew talked about a brawl before the game, the athmosphere on the sidelines was very good and friendly --- as it has been for every RRs vs. MSC game over the past few seasons. The proper perspective is of course that our toughest competition plays a critical role pushing us to be the best we can be. Coach Julio has done a great job developing a formidable team and respected opponent in the U13 age bracket and we are thankful --- until next game anyway.
RRs back "in balance" after 2nd NCSL week
With a full roster, the RRs put together two solid games for the 2nd NCSL week. Both games were played at the Muldoon's Farm, which now offers two excellent, full-sized fields.
On Saturday, the RRs came out very strong and went up 2-0 over DCST Eagels after about 15 minutes of play. The rest of the game was very even, with nice clean soccer by both teams. Final score 3-1 RRs.
Gunston Team America was the opponent on Sunday. TA is an excellent team, moving the ball around very well and applying speed and power to go with their high skill level. The last two seasons TA beat the RRs 5-0. Our confidence was not high going into the game. While the RR played well in the 1st half, the score was still 3-0 in favor of TA as their forwards showed they can finish with authority. Some RRs feared an even worse whopping than last time. However, after a challenge by coach Desmond at halftime, the kids were fired up for the 2nd half. With great effort and good finishing during the last 35 minutes, the RRs managed to pull out an improbable 3-3 tie to a team we recognize as a superior opponent.
Unfortunately, the game got a bit "testy" with a few incidents on and off the field, which we all would have been better off without. Both teams need to take its share of the blame and yes, the ref could have sent a few individuals to the parking lot. We appologize for our contribution to this ending.
Roadrunners Welcome New Head Coach, Desmond Armstrong
We are proud to announce that one of U.S. soccer's most talented and consistent players--former National Team defender and U.S. Olympic Team player Desmond Armstrong--has signed on as Head Coach of the Bethesda Roadrunners.
Desmond has a long-running, star-studded history on the national and international soccer scene: He played eight years with the U.S. National team, has 81 Caps, was a member of the 1988 U.S. Olympic team, and played with Santos FC (Brazil 1st Division) as the first American to sign professionally in Brazil.
Desmond's top notch credentials as a player are accompanied by his impressive coaching history. He holds a US Soccer Certified "A" License; is National Director of Coaching for Soccer in the Streets and is Technical Director of Blue Ridge Rapids. Desmond is Staff Coach with adidas esp (www.adidasesp.com). With U.S. National team former goalie Brad Friedel, Desmond is a director of Premier Soccer Academies (www.premiersocceracademies.com). Coach Armstrong's most recent success is the coach of 89 Heroes Select US Club Soccer U14 National Championship Team.
Desmond retired last year as head coach for Montreat College in North Carolina and recently moved back to his hometown of Columbia, MD., with his wife and six children.
Coach Armstrong has also worked with ABC Sports and ESPN as a studio analyst during the 1994 World Cup. In 1991 he founded the inner-city ministry Soccer Beats, now known as Heroes FC.
We are thrilled to welcome Desmond Armstrong to the Roadrunners, and are excited about the team's future with Desmond. His professionalism and wide-ranging experience will take the Roadrunners to the next level of play, and prepare them well for the future on and off the field.
RRs starts NCSL season on the wrong foot
Olney Cougars hosted the RRs for the first Spring 2005 NCSL game at the beautiful OBGC. Playing conditions were ideal.
While dominating in possession and chances, the RRs played sub-par. Too much hesitation accross the board, poor finishing, uncharacteristic lapses defensively outweighed an otherwise decent effort. It did not help matter that a key player was missing. The RRs left Olney feeling we had been too generous to our hosts.
Having said that, the Cougars played with good intensity and had several opportunities of their own, particularly on "long ball" counter-attacks to their strong man up front. Final score: 2-zip Cougars.
Reflections, Transitions and Some Words of Thanks
"Don't change a winning team," goes the conventional wisdom. Well, this is a season of change and transition for the Roadrunners. The transitions are important positive steps for the long run viability and success of the team, particularly if we actually mean it when we say it is about the kids, and not the egos of coaches and/or Alpha parents.
If you do the same as everybody else, you will likely get the same result as everybody else. Since forming the Roadrunners 8 ½ years ago, I've done many things differently--taking more risk and challenging the kids (e.g., applying hyper-attacking formations).
We play up for the challenge and for the lessons that come with it, but we also offer a less structured and tolerant environment, encouraging individual creativity. In general, it has worked well.
However, as the Roadrunner players enter puberty, they need more structure and individual responsibility, while maintaining a positive and encouraging environment. I am convinced Desmond is our man! We are very fortunate that Desmond has just moved back to this area and is available. Having seen Desmond work with the kids, I am honored to hand the baton to such all-star. With Desmond as the new teacher, these kids will accelrate their development and get a fresh perspective from a superb coach and player. Beyond the soccer field, Desmond's strong personal values will have a great influence on the kids as they enter a period of huge changes in their life.
I also take this opportunity to thank Philip Gyau for all his substantial contributions to this team--his last, to introduce Desmond to the team. There is no doubt Philip's training regiment, with a strong focus on skills and small-sided scrimmages, should be part of any successful soccer development menu for pre-puberty youth soccer. In many ways, the success of the Roadrunners over the past years is a testament to this philosophy coupled with a creative positive environment with limited constraints. I recommend without reservation that parents with youngsters seek out Dr. Skillz training sessions wherever they are. Philip's training will give them a head start on their soccer dreams.
Philip has decided to take a break from the team this season. We will miss him--not just the skill and fitness he taught, but the joy and exuberance he brought. With Philip, our phenomenal, zippy U12-players Lester and Joseph will also leave the team. For the Roadrunnners, this represents two very fast steps backwards and a triple hit to our roster. Regardless, we wish the Gyaus and the Dewees all the best.
Ole C. Sand, X-Coach
(BUT, with continued bad 1st touch)
RRs bumps out of Jefferson Cup in Semifinal OT
The U13 Championship Bracket was scheduled to play all games except the final on Shirley Plantation. RRs got off to a good start beating Greensboro (NC) 4-0 in the first game.
After late morning rain showers on Saturday, the Plantation fields closed. The remaining Saturday games were rescheduled for Sunday, and all games were shortened to 44 minutes and moved a small, hilly and very bumpy Cosby Field. This was bad news for everyone: The U13 games on Cosby turned into simple kick and run physical soccer. It also eliminated the advantage of skills.
In the first game Sunday the RRs played our good old rivals the LM Velez (EPA) to a hard fought 0-0 under very difficult playing conditions, with strong wind to top off the bad field conditions. Neither team could get any decent game going, so it was mostly a matter of contesting energy and effort.
With this tie, the RRs won its bracket, facing CASL Elite (NJ). The other semifinalists were Strictly Soccer (FL) and Norcross (GA). While Region 1 claimed all 4 semi-final spots last year, this year the RRs was the only Region 1 represenative.
The semi-final against CASL was almost like a replay of the game against Velez: two 22 minutes halves of kick and run, with no team able to put together any decent soccer under the prevailing conditions. However, in the 2nd OT (playing 7v7), CASL managed to break free at the top of the box and sent of a nice shot sailing into the upper 90s.
Strictly Soccer, a big and physical team, seemed better able to handle the conditions than any other U13 team, beating Norcross 2-0 in the other semifinal. Strictly eventually went on to beat CASL in the final at Striker Park, and is a worthy Champion.
Jefferson Cup is a top ranked very well run tournament. Unfortunately, the playing conditions at the Cosby field were far from premier. This was nonetheless an important learning experience for these young kids. While the RRs came to Jefferson to play and win the final on Striker Park, we are happy with a great effort and strong showing by the kids. Just like last year, the RRs went 4-0 in the GF-GA stat for pool play, but lost the semi on the only goal against for the Tourney.
Thursday, June 8
Training while your ribs are touching-- Clint Dempsey web blog
Trainin an Our Ribs Touchin (Meanin We Hungry)
gettin ready for a closed-door scrimmage against the african nation, angola. should be a good test. we keep workin hard as that june 12 date with the czech republic approaches.
everybody is puttin in the work so that we will be successful here in germany. there is a good attitude. we pull for each other. everybody is hungry. our ribs touchin, so we keep playin hard.
u know what they say, if u dont grind u dont shine.
back when we were trainin in north carolina, i was asked after our fitness challenge if I was ready to run a marathon. i was honest, man, an said, "no, im just tryin to survive." it is true. you gotta work to get ahead.
yeah, playin with this team, it is such a good level, man. i wouldnt say one guy has stood out. we all are performing.
we are ready to show the world who we are while we are here in germany.
Posted by deuce on June 05, 2006
Good Team Players Make a Good Team
Legendary Yankee manager Casey Stengel said, "It's easy to get good players. Getting them to play together, that's the hard part."
Coaching is only half the equation that produces a successful team: The players need to be good teammates, to develop a team mentality.
An article in the KidsPost has advice on how to be a good teammate: Be on time for practices and games, play hard, get along with teammates, and accept the coaches' decisions. Most importantly, a good team player puts the team's interest before his own.
Click on the Information icon for the article. It's a quick read for kids. And parents.
Fall 2005 NCSL Recap
Fall 2005 NCSL Recap
Congratulations to the birds with another NCSL league Championship!
Judging by comments from our soccer fans, the coyotes would feast on the slow and weakened Roadrunners this fall NCSL season. Frankly, such predictions were reasonable given the fact that the two fastest Roadrunners left for a younger team last spring and this summer three key players moved out of the area (California, England and ok, just across Potomac River). No doubt, the Roadrunners had a challenge on its hands this fall. After uncharacteristically weak performances in the pre-season Olney Tournament, it seemed ACME had finally come up with a foolproof plan to finish the Roadrunner.
Meanwhile, Coach Armstong focused on correcting flaws in our game, integrating new players and establishing better discipline and mental preparations. The return of Paul from a 2-year vacation in Venezuela and Chris from a case of the Green flu ensured that the roster stability remains high in spite of losing a team record five (all impact) players in one year. Having added Jeffrey, Eli, Brian and Fabio this summer, the roster now sports 16 puberty-stricken boys. On closer inspection, the physical characteristics of the squad have changed even in comparison with other U14 teams. While the bird's speed advantage over the coyotes is long gone (preventing us from simply running away), the birds now have "presence and mass" to face most coyotes head on.
Should we dare to BELIEVE that the combination of a more refined game plan and each individual player (old and new) stepping up would keep the Roadrunners at the top of the NCSL standing? Certainly, if we don't believe, nobody else will either.
In light of these circumstances the league results are that much more satisfying. Maybe no big deal, but it is a confirmation that our transition is on track. While the competition among the top teams in the league is getting closer (it invariably happens at this age), nonetheless the Roadrunners remain undefeated in league play (on age). The difference between the top 5-6 teams in this area is mostly the mental team approach on any given day. We knew (and have experienced…) the rise and power of Freestate Titans, but were also impressed to see the continued strong development of teams such as FCH Premier, MATT Crew and in particular Inter-Bethesda. IB has always had a rock solid defense, but recent recruits have also given them a very potent offense.
As usual, the scoring on the RRs was widely distributed this season with 11 different players finding the net, most of them on multiple occasions. This is a healthy sign for the team and our development. Twenty-eight tallies were 1/3 more than any other team in the division. Four goals allowed in ten games is also impressive given the strong competition and experimental rotations in the back. Of course, it is not easy to beat Samir.
However, the difference in both team and individual player performance from game to game is still too high. We are continuously reminded that every time we enter the field thinking "it will be easy," we have a big problem. The fact is, we had several close games and needed some pure luck along the way to win the 2004 Region 1 Championship. Last spring, the margin of luck was not on our side, but that is the beauty of the game. As for the future, the only thing we know for certain is that competition will be even tougher. Winning NCSL this fall was a nice boost to team confidence, but means nothing when we step on the field for the first game this spring. If anything, it puts us at a slight mental disadvantage, to the extent we actually think we are ahead.
We fully understand the sympathy of the soccer community-audience must lie with the Coyote. Presumably, the day we no longer create any attention, we are no longer competitive with the best. For the time being the RRs is still in the game, but surely there are more than a handful sharp coyotes able to catch the Roadrunner on any given day, even here in our own back yard.
We thank our fellow U14 teams in NCSL for a great season (w/o any significant negative incidents)!
PLEASE SIGN OUR GUESTBOOK
Saturday, December 30
RRs provide the Show at Disney
Having recently won the Bethesda Thanksgiving and Baltimore Showcase, the RRs were eager for the debut in the #1 ranked US youth soccer tournament, the Disney Showcase (which apparently had some 8 National, 10 Regional and 78 State Champions teams attending last year).
In a tough pool group, the birds outscored opponents 7-1. Andromeda (Texas North state champion), Cobb Chiefs (Georgia, Dallas Cup Champion), and FC Delco (Pennsylvania East state champion) were picked off 3-0, 2-1 and 2-0, respectively. Many scoring chances were created in each game and the RR defense played water tight in the back, the only goal against coming on a pk after an inadvertent handball on the top of the box.
In the semi-final, the RRs faced Dallas Texan's Red, the 2006 National Runner-up. After a well-played game, the RRs prevailed 3-1. In the Championship game, the RRs seemed a bit tired in the first half, going down 1-0 against a strong Solar 92 team. However, at halftime Coach rallied the troops to a very strong finish. Final Score: 2-1 RRs.
Congratulations to players and coaches! The Disney Showcase puts a nice end to a successful fall U15 season.
>
Monday, January 28
In progress
This free script provided by
JavaScript Kit