Boy Scout Troop 278: Welcome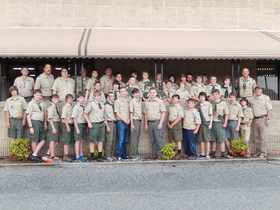 Troop 278
Welcome to our Troop's website.
Our Troop has been chartered by American Legion Post 278, located at 800 Romancoke Road (Route 8) in Stevensville, Maryland, since 19xx and is the oldest Troop on Kent Island. We serve age 11 through 17 boys from the Stevensville / Kent Island area. We offer a high quality BSA scouting program stressing camping, outdoor activities, and advancement of as many scouts as possible toward the rank of Eagle Scout. We observe and promote high standards of conduct, appearance and achievment to our scouts but also strive to make fun and enjoyment an integral part of our program. We are guided by the principles set forth by the Scout Oath, Scout Law, Scout Motto, Scout Slogan and the Outdoor Code. With the guidance of our trained adult leadership and advanced level scouts, our goal is to help boys become responsible young men of good character who make a positive contribution to the community and to the world.

Our weekly meetings are on Monday nights from 7:00 to 8:30 at the American Legion on Route 8 in Stevensville, MD and generally follow the school year (see our Troop Calendar Page for specifics).
If you are a boy between the ages of 11 and 17 and are interested in joining our Troop, or just want to check us out, simply stop by one of our meetings or contact anyone listed on our Troop Committee Page. For boys or girls between ages 14 and 20 explore the high adventure activities of a Venture Crew.
GENERAL TROOP INFORMATION
Click on link to open flyer.
Handout:
Basic Troop Information
CONGRATULATIONS MATT!
Congratulations go out to the Troop's latest Eagle Scout, Matt, in achieving scouting's highest rank!! Matt's Eagle Scout Service Project was restoration and improvements to the basketball courts at Old Love Point Park in Stevensville. According to Wikipedia, there have been a total of 83,486,083 Boy Scouts since its inception in 1911. Of that number 1,835,410 have earned their Eagle. That's about 2% of the total number of Boy Scouts, ever. (2005 numbers). So think of it this way, when you started in Cub Scouts, assume there were 50 scouts in your Pack, you were the only one to make it to Eagle out of the entire Pack. When only 1 out of 50 people reach a goal, it's quite the accomplishment and you should be very proud.
Why Eagle Scout is So Important
Click on the headline for a message from Mike Rowe, the host of Dirty Jobs on the Discovery Channel.
The Scouting Webring
Previous Site | Join Webring | Random Site | Next 5 | Next Site
What is Scout Spirit?
Scout spirit applies to how a Scout lives and conducts his '
daily'
life. He shows Scout spirit by being a role model to his peers, living by the Scout Oath and Law. The concept of Scout spirit is not based on how many Scouting events or outings a Scout attends, but rather by how he helps bring out the best in others as a reflection of his own character and attitude in his '
daily'
life.
The Boy Scout Field Book On-Line
Click on Headline for on-line version of the Field Book.
The Boy Scout Handbook On-Line
Click on headline for on-line version of the Handbook.