Boulder Arrowhead Little League: Welcome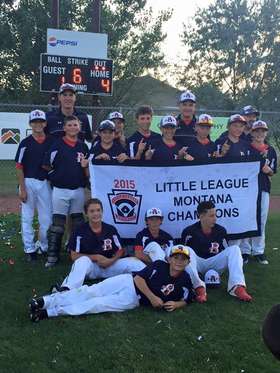 Montana Little League 2015 Champions!
Fall Ball 2015
Registrations for Fall Ball 2015 is closed.
---
2015 TOC Champions
11/12 Baseball- BA4 Apricot Lane
9/10 Baseball- BA3 Yellowstone Bank
Senior Softball- Western Security Bank
Majors Softball- Universal Athletic
Competative Minors Softball- Brewer Dental
---
---
---
Volunteer Now for the 2015 Season!
Parents are encouraged to volunteer for the 2015 BALL season. Little League Baseball and Softball is an organization designed to build good citizens. It is a program of leadership, preparing today's youth to be tomorrow's leaders. At the local level, Little League relies on a devoted legion of adult volunteers to help ensure that the organization remains structured and runs smoothly.
Boulder Arrowhead Little League is always looking for responsible and enthusiastic individuals to support and coordinate Little League events and activities. As a volunteer, you should have a keen interest in the safety, well-being, and overall development of children. By participating as a volunteer, you will discover the benefits of volunteering are endless.
What can you volunteer for? Umpire, manager, coach, team parent, concession stand, grounds keeper, facility maintenance, etc.
---
---
Where does the money go?
List of BALL Funding Expenditures for 2014:
New concession stand, banners, treated dirt, concession stand repair, mowing, hardware supplies, ice, fuel, toilet rentals, Northwest Energy, paint, umpire equipment, lawn treatment, trash, concession stock, electric, uniforms, sprinkler repair, advertising, LL baseball association fee, scoreboard supplies, park fees, business license, food permit, Sportsplex rental, MSUB baseball donation, lock change, newsletter, centennial park donation, insurance, winter and fall ball space rental, All Star logsitics support and equipment.
---
Field Practice and Make-up Game Schedules


---
Special Notice:
Mission Way adjacent to AH2 is a private drive and should not be used for baseball related parking activities. Please observe the newly posted parking restriction and use 38th street west to access fields. According to the signs, unauthorized vehicles will be towed at the owners expense.
Follow our posts and updates on Facebook!
---