Boulder Arrowhead Little League: Welcome
Baseball Fall Ball
Fall baseball is organized and managed by District 1. Jeff Keller is serving as the point of contact for Boulder Arrowhead. He can be reached at rznboys@gmail.com or 698-4050.
The fall baseball season is scheduled to be run from September 6th through the end of October or about 8 weekends, depending upon weather. Games are currently scheduled to be played on Saturday at 2 and 4 pm, as well as Sundays starting at 2 PM. 9/10, 11/12 and Intermediate Divisions (12/13 year olds) will be offered if there are enough teams/players signed up for any particular division and the appropriate number of volunteers are obtained.
All leagues will be reporting team/players counts to the District by Tuesday, September 2nd with final team counts for scheduling, so please ensure they have your registration form in-hand by Saturday, August 30th.
Fees will remain at $25 per player. T-shirts will be provided.
For more information click here
---
MSUB Fall Camp & Fall Ball
MSUB will hold a softball camp September 7th at 3 p.m. The cost is $25 for the camp and $10 for pitching. The District will be taking registrations for camp and fall softball at Central Park Tuesday September 2nd at 5:30 and at MSUB the day of camp at 2:30. The camp and fall season are open to girls the will be league age 9-16 next season.
---
All Star Team Results
11/12 Northwest Regional Results:
(Eliminated by Washington in the semi-final)
Seniors District 1 & State Champions
50/70 District 1 & State Champions
11/12 District 1 Champions & State Champions
(advanced to Northwest Little League Tournament)
11 District 1 & State Champions
9/10 District 1 & State Champions
11/12 Softball District 1 & State Champions
(advanced to West semi-final vs. Northern California)
9/10 Softball District 1 Champions
---
11/12 All Star Team
Jasper Berg
Ryan Devries
Ben Egan
Josh Erbacher
Brad Haynes
Cade Hemby
Mike Horrell
Josh Lambourne
Eric Laughlin
Cayden May
Johnathan Nickoloff
Zack Tallman
Cade Tyson
Manager- Tyler Johnson
Coaches- Jeremy Devries, Chad Lambourne
---
11 All Star Team
Jacob Bohn
Colton Chavez
Tucker Clarin
Sam Dull
Zach Erbacher
Alex Good
Spencer Kalotay
Max Keller
Logan Lee
Keeven Luhman
Ethan Murray
Sterling Sullivan
Cade Westerlund
Manager- Jeff Keller
Coaches- Garth Clarin, Wayne Moller
---
9/10 All Star Team
Caden Dowler
McLean Dowler
Max Murphy
Jalen Vladic
Treyden Haber
Brett Hilton
Kyler Northrop
Ryan Nelson
Cade Wagner
Spencer Berger
Riley Bergeson
Brock Blatter
Keaton Mickelson
Manager- Randy Northrup

Coaches- Gavin Murphy, Josh Haber
---
50/70 All Star Team
Corey Brownson
Tyler Brownson
Evan Chambers
Drake Coonfare
Mike Deschane
Jake Halligan
Cole Kitzenberg
Carson Mayer
Jack McCalla
Braden Molvig
Cade Nelson
Jace Rhodes
Brooks Rohrer
Manager- Mark Kitzenberg
Coaches- Joe Halligan, Kendal Mayer
---
Senior All Star Team

Corbin Bodine
Joaquin Bodine
Andrew Driscoll
Austin Hanna
Austen Harrell
Karver Kinne
Jordy Liberty
Ryan Paul
Ty Rider
Taylor Sears
Bradyn Sears
Hunter Spring
Jeremy Williams

Manager Dan Williams
Coaches- Larry Liberty, Scott Sears
---
11/12 Softball All Star Team
Cassidy Venner
Emma Carrier
Haley Sedlacek
Jensen Keller
Kaia Schreder
Kinzee Koch
Lauren Gordon
Lily Johnson
Molly Kappel
Parker Sappington
Sydney Nelson
Tiahna Vladic
Manager – Jim Keller
Coaches – Mark Venner, Greg Koch, Zane Gordon
---
9/10 Softball All Star Team
Allie Cummings
Amanda Johnson
Aubree Soft
Elaina Caton
Halle Spring
Jessica Morgan
Kennedy Venner
Lauren Blaschak
Marleigh Nieto
Morgan Stoppel
Raigan Skillestad
Winter Johnson
Manager- Scott Stoppel
Coaches- Dave Blaschak, Steve Morgan
---
---
---
Volunteer Now for the 2014 Season!
Parents are encouraged to volunteer for the 2014 BALL season. Little League Baseball and Softball is an organization designed to build good citizens. It is a program of leadership, preparing today's youth to be tomorrow's leaders. At the local level, Little League relies on a devoted legion of adult volunteers to help ensure that the organization remains structured and runs smoothly.
Boulder Arrowhead Little League is always looking for responsible and enthusiastic individuals to support and coordinate Little League events and activities. As a volunteer, you should have a keen interest in the safety, well-being, and overall development of children. By participating as a volunteer, you will discover the benefits of volunteering are endless.
What can you volunteer for? Umpire, manager, coach, team parent, concession stand, grounds keeper, facility maintenance, etc.
---
Where does the money go?
List of BALL Funding Expenditures for 2014:
New concession stand, banners, treated dirt, concession stand repair, mowing, hardware supplies, ice, fuel, toilet rentals, Northwest Energy, paint, umpire equipment, lawn treatment, trash, concession stock, electric, uniforms, sprinkler repair, advertising, LL baseball association fee, scoreboard supplies, park fees, business license, food permit, Sportsplex rental, MSUB baseball donation, lock change, newsletter, centennial park donation, insurance, winter and fall ball space rental, All Star logsitics support and equipment.
---
---
Special Notice:
Mission Way adjacent to AH2 is a private drive and should not be used for baseball related parking activities. Please observe the newly posted parking restriction and use 38th street west to access fields. According to the signs, unauthorized vehicles will be towed at the owners expense.
Follow our posts and updates on Facebook!
---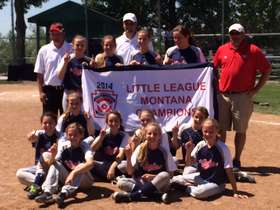 11/12 Montana State Softball Champions