Boulder Arrowhead Little League: Welcome
Sign-up for the 2016 season
Registration Dates:
Tuesday February 16th 6-8pm
Thursday February 18th 6–8pm
Saturday February 20st 9-12pm
Location- St. John's Lillis Center; Corner of Shiloh and Poly Dr. (Mission Ridge Campus)
Application for New Volunteers
Application for Returning Volunteers
---
---
Important Dates:
BALL Registration: February 16,18,20
Baseball Winter Workouts start: Feb 3th
Softball Winter Workouts start: Feb 10th
Baseball Observations: March 12th
Softball Observation: March 16th
Field Cleanup Day: April 9th 9:00-12:00
Opening Day: April 18th
2015 B.A.L.L. Picnic/BBQ: May 14th
---
2016 Baseball Observations
Majors 9/10 Observations–March 12th from 2:00-4:00 PM @ The Swing Lab
Majors 11/12 Observations–March 12th from 4:00-6:00 PM @ The Swing Lab
*** The Swing Lab is located at Yegan Golf Course at 1390 Zimmerman Tr.
All baseball and softball players aged 9-12 are required to attend an observation session. For a variety of reasons, This observation session is used by many to evaluate players prior to the draft. Please contact your VP if you cannot attend your scheduled observation.
VP 9/10 Majors: Randy Northrop – randynorthrop@gmail.com ;
VP 11/12/ Majors: Chad Lambourne – chadlambourne@gmail.com
---
Little League Approved Bat List (Updated Frequently) here
---
Girls Softball Update
Registration for softball will be February 16th and 18th from 6-8 P.M. and February 20th from 9A.M.-12 P.M. at the Lillis Center located on the corner of Shiloh Rd. & Poly Dr.(Mission Ridge Campus)
Observations: 8-10 year olds will be March 16th from 5:30-6:45 P.M. and the 11-12 year olds will be March 16th from 7:00-8:15 P.M.
Winter Workouts will be on Wednesdays starting February 10th through March 9th at the Swing Lab located at 1390 Zimmerman Tr. Cost is $25 per player and is to be paid up front. All checks can be made out to Boulder/Arrowhead and will be accepted at the first session.
Contact Jim Keller at kellerjim@optimum.net or 697-7072. With questions or to register for winter workouts
---
Volunteers – B.A.L.L.'s Greatest Strength! Umpires – We Need You!
The District requires trained home plate umpires at all home games for interleague games and a field umpire when the team is the visitor. Major level teams and above will be required to provide at least two volunteers per team for umpire training.
We promise to offer training, support and hot dogs/pop at each game! In addition, B.A.L.L will again refund each umpire $50 off the registration fee for umpiring 3 games behind the plate. Please contact Carl Hansen for umpire scheduling, training and questions at 671-4705.The B.A.L.L. Board and the kids thank you!!!!
District Umpire Training and Parent Volunteer Umpire Field Mechanics training dates to be announced on the Boulder Arrowhead Baseball website.: http:// www.eteamz.com/MT1Softball/index.cfm?subsite=4525150&league=4237750
Managers/Coaches/Field Prep/Team Moms Interested in managing or coaching a team during the upcoming season? Can you help with field preparation, scoreboard worker or helping team managers as a team Mom?
Any interested manager/coach should attend one of the registrations or contact the VP of his/her child's league and submit an application by the Friday March 4th, 2016 deadline.
Mail applications to: B.A.L.L. Attn. Volunteer Application, P.O. Box 21401, Billings, MT 59104. Applications will be available at any of the 3 sign-ups or on our web site at www.boulderarrowhead.com Click on 2016 BALL Volunteer Application to download. The board will approve coaches at the March 5th board meeting.
Get your applications in A.S.A.P.
---
Concession Stand Help Needed!
We have a new concession stand at the Arrowhead Complex requiring 3 to 4 volunteers each game and one at the Boulder Field that requires 1 to 2 volunteers. All can be run with a parent and older child or teenager. Training will be offered on the first shift and you can eat for free while working.
The money is used to keep our fields among the best in the city, and to purchase new equipment and new uniforms. In addition, B.A.L.L will again refund each worker $50 off the registration fee for working 5 concession shifts.
Please contact Anna Wessell at 839-5379 or Shawn Hanser at 208-9228 if you are interested.
---
Off-Season Training Programs at the Swinglab
9/10 Baseball Feb. 3- March 9, 5:30-6:30 p.m., the cost is $30
11/12 Baseball Feb. 3- March 9, 6:30-7:30 p.m., the cost is $30
and
Softball training Feb. 10-March 9, 7:30-8:30 p.m., the cost is $25
Contact Randy Northrop to sign-up at randynorthrop@gmail.com
Triple Play Academy will be hosting the Montana State University-Billings Softball Camps- hitting and pitching softball camps will take place January 16th and February 20th. Hitting will run from 9-11 a.m. and pitching from 11-noon. The cost for each camp is $80 ($60 for just the hitting camp). Camps are open to ages 9 and up. Camps will be instructed by MSUB Coaches and Players. Call 969-3969 to register.
---
---
---
Volunteer Now for the 2015 Season!
Parents are encouraged to volunteer for the 2015 BALL season. Little League Baseball and Softball is an organization designed to build good citizens. It is a program of leadership, preparing today's youth to be tomorrow's leaders. At the local level, Little League relies on a devoted legion of adult volunteers to help ensure that the organization remains structured and runs smoothly.
Boulder Arrowhead Little League is always looking for responsible and enthusiastic individuals to support and coordinate Little League events and activities. As a volunteer, you should have a keen interest in the safety, well-being, and overall development of children. By participating as a volunteer, you will discover the benefits of volunteering are endless.
What can you volunteer for? Umpire, manager, coach, team parent, concession stand, grounds keeper, facility maintenance, etc.
---
---
Where does the money go?
List of BALL Funding Expenditures for 2014:
New concession stand, banners, treated dirt, concession stand repair, mowing, hardware supplies, ice, fuel, toilet rentals, Northwest Energy, paint, umpire equipment, lawn treatment, trash, concession stock, electric, uniforms, sprinkler repair, advertising, LL baseball association fee, scoreboard supplies, park fees, business license, food permit, Sportsplex rental, MSUB baseball donation, lock change, newsletter, centennial park donation, insurance, winter and fall ball space rental, All Star logsitics support and equipment.
---
Field Practice and Make-up Game Schedules


---
Special Notice:
Mission Way adjacent to AH2 is a private drive and should not be used for baseball related parking activities. Please observe the newly posted parking restriction and use 38th street west to access fields. According to the signs, unauthorized vehicles will be towed at the owners expense.
Follow our posts and updates on Facebook!
---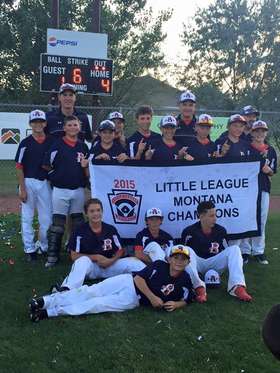 Montana Little League 2015 Champions!