Beverly Little League: Major Playoffs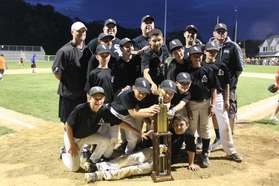 City Champs!
2014 City Champions!
The White Sox are the 2014 Beverly LL City Champions!
Team Members
William Adams
Nick Buoniconti
Brayden Clark
Nicholas Cole
Jacob Demers
Jackson Erwin
Jacob Fortini
Nicholas Fox
Michael O'Brien
Cameron Schlegel
Zachary Sparkman
Michael Wilson
Manager Mike Schlegel; Coaches Chris Sparkman, Gary Cole, Matt Fox, Jason Clark.
Thursday, June 12
Final Standings
Red Sox 14-5
Pirates 12-6-1
Orioles 9-8-2
Rays 8-8-3
Yankees 6-9-4
Cardinals 8-11
White Sox 7-11-1
Indians 5-11-3
Sunday, June 22
2014 Major A Playoffs
Sunday, July 27
2014 Mass LL Championship