Beverly Little League: Champions
Beverly Little League City Champions
Beginning in 2013 the City Championship became a double elimination series.
2015 Red Sox over Indians
2014 White Sox over Yankees
2013 Yankees over Indians
From 1984-2012 The City Championship was best of 3 series.
2012 Red Sox over Dodgers
2011 Pirates over Indians
2010 White Sox over Rockies
2009 Giants over Yankees
2008 Padres over Red Sox
2007 Giants over White Sox
2006 White Sox over Cardinals
2005 Giants over A's
2004 Giants over A's
2003 Giants over Rangers
2002 Marlins over A's
2001 White Sox over Braves
2000 Rangers over Dodgers
1999 Padres over A's
1998 Braves over Red Sox
1997 Reds over Orioles
1996 Blue Jays over Giants
1995 Padres over Orioles
1994 Padres over A's
1993 Royals over Giants
1992 A's over Dodgers
1991 Padres over Orioles
1990 Pirates over A's
1989 Blue Jays over Cardinals
1988 Yankees over Braves
1987 Yankees over Giants
1986 Pirates over White Sox
1985 Cardinals over Yankees
1984 Cardinals over Yankees
From 1959-1983 The City Championship was a round robin series with 3 teams.
1983 Tigers over Giants & A's
1982 Tigers over Phillies & Dodgers
1981 Braves over Orioles & Phillies
1980 Orioles over Giants & A's
1979 A's over Dodgers & White Sox
1978 Indians over Senators & Cardinals
1977 White Sox over A's & Cardinals
1976 White Sox over Astros & Dodgers
1975 A's over Cubs & Orioles
1974 Browns over Indians & Cardinals
1973 Braves over A's & Tigers
1972 Browns over White Sox & Braves
1971 Orioles
1970 Orioles over Browns & Giants
1969 Orioles over Phillies & Giants
1968 A's over Orioles & Cardinals
1967 Browns over Orioles & Cubs
1966 Orioles over Senators & Braves
1965 Indians over Cubs & A's
1964 Indians over Cubs & Nats
1963 Giants over Nats & Indians
1962 Giants over Indians & Browns
1961 Giants over Yankees & A's
1960 Dodgers over White Sox & Red Legs
1959 Cardinals over White Sox & Phillies
1958 Red Sox over Pirates
1957 Red Sox over Giants
1956 Giants over Yankees
1955 Red Sox over Dodgers
1954 Yankees
1953 Braves
1952 Yankees
1951 Yankees over Red Sox
1950 Dodgers over Yankees
---
Team Championships
Giants 9 - 2009, 2007, 2005, 2004, 2003, 1963, 1962, 1961, 1956
Yankees 6 - 2013, 1988, 1987, 1954, 1952, 1951
White Sox 6 - 2014, 2010, 2006, 2001, 1977, 1976
Padres 5 - 2008, 1999, 1995, 1994, 1991
Orioles 5 - 1980, 1971, 1970, 1969, 1966
Red Sox 5 - 2015, 2012, 1958, 1957, 1955
A's 4 - 1992, 1979, 1975, 1968
Braves 4 - 1998, 1981, 1973, 1953
Pirates 3 - 2011, 1990, 1986
Cardinals 3 - 1985, 1984, 1959
Indians 3 - 1978, 1965, 1964
Blue Jays 2 - 1996, 1989
Browns 3 - 1974, 1972, 1967
Tigers 2 - 1983, 1982
Dodgers 2 - 1960, 1950
Reds 1 - 1997
Rangers 1 - 2000
Royals 1 - 1993
Marlins 1 - 2002
District Champions
1973 Beverly National Williamsport
1984 Beverly East Williamsport
1985 Beverly East Williamsport
1986 Beverly East Williamsport
1987 Beverly East Williamsport
1992 Beverly West Williamsport
1993 Beverly West Williamsport
2013 Beverly 11's
2013 Beverly Williamsport
Jimmy Fund and misc Tourney Champions
1989 Beverly East Jimmy Fund 10's
2002 Beverly East Jimmy Fund 9's
2006 Beverly East Jimmy Fund 9's
2007 Beverly East Jimmy Fund 11's
2008 Beverly East Jimmy Fund 11's
2009 Beverly West Jimmy Fund 11's
2009 Beverly East Jimmy Fund 12's
2010 Beverly West Jimmy Fund 12's
2013 Jimmy Fund 12's
2013 H-W Tourney 10's
2013 H-W Tourney 9's
2014 Jimmy Fund 10's

1973 District Champs
This was taken during a post game celebration on the day that Beverly National had won the district championship in 1973. Beverly National had defeated Danvers American for the district championship and moved on to face East Lynn for what was at that time called the bi-district game.
---
1973 District 15 Champions
---
The 1973 Beverly National Williamsport Team. This team defeated Danvers American in the district championship game and East Lynn in the sectional game.
front row (L-R): Ray Marchelli, Jon Mackenzie, Jack Nimblett, Glenn Davis, Paul Gaudenzi
middle: Scott Maxner, Kevin Regan, Gary Pfaff, Dan McKenna, Roger Geary, Steve Panzero
back: National League President Bill Lowd, Jon Connaughton, Jim Herzog, Bob Donlan, manager Norm Pfaff, coach Jack Dean
---
1985 District 15 Champions
Front L-R: Stew Cowles, Eric Rosum, Robbie Gelwick, Andy Silverman, Gavin Bell, ? , Aaron Torgler
Middle L-R: Danny Arena, Matt Kelly, Matt Kelleher, Scott Hyland, Casey Arena, Bryan Conley
Back: Coach Jack Dean, Manager Tom Smith, Coach Rod Maxner
1993 District 15 Champions
The 1993 Beverly West Wiliamsport Team. District Champions.
Front row (left to right): Cal O'Gorman, Justin Shairs, Alan Petrosino, Tom Phelan, Mike Phelan, Mike O'Brien
Back Row: Chris Timson, Brett Dodge, Nick Adams, Andy Hall, Mark Filtrante, Eric Tosi Coaches: Keith Adams, Al Timson (Manager), Gary Lapointe
---
2013 District Champions X2!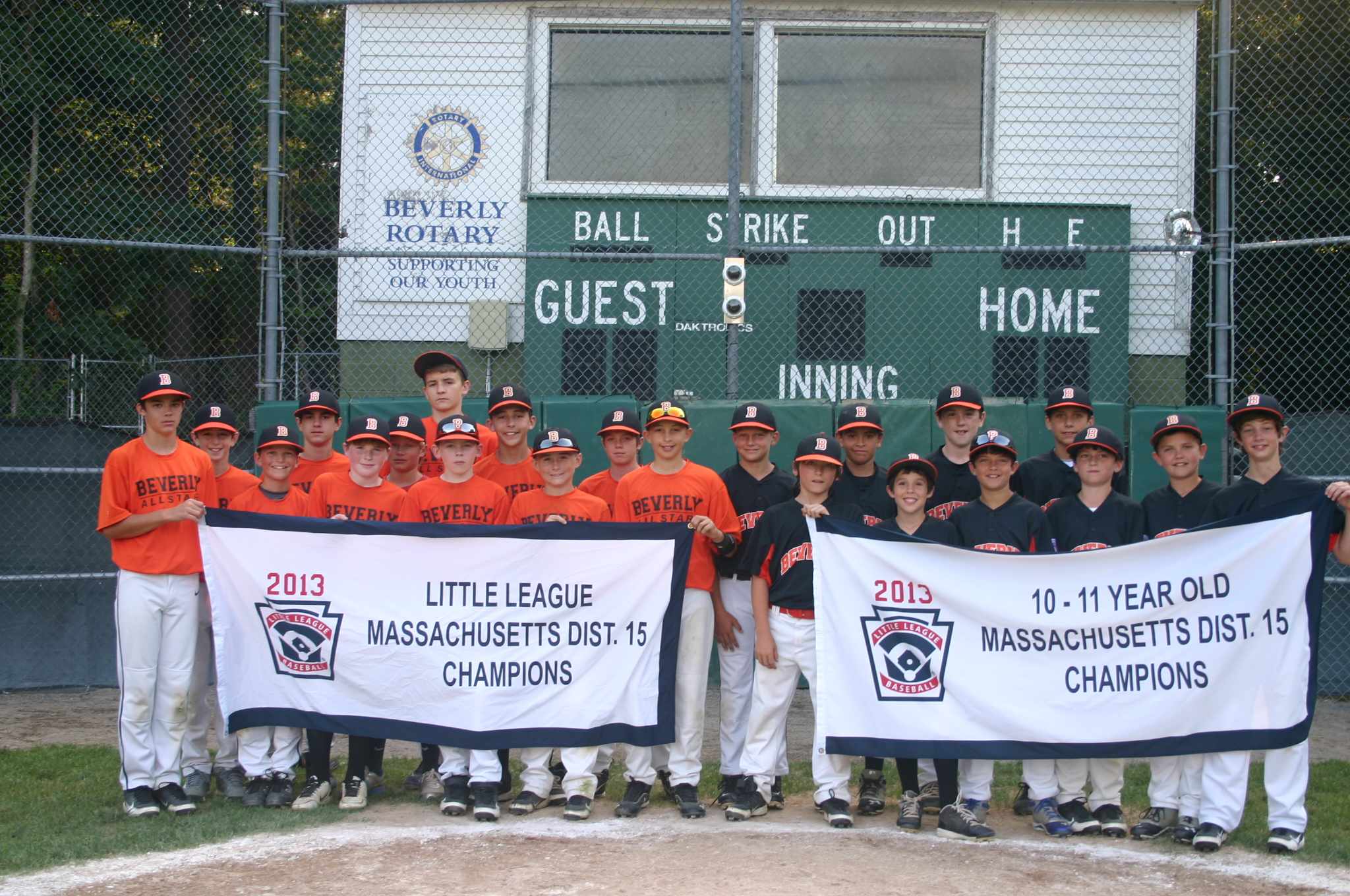 District 15 Champions!
2013 District 15 Williamsport Champions
front L-R; Joey Ward, Kyle Camara, Matt Collins, Ryan Barror, Ryan Munzing, Jack Cairns, Brayden Clark, Timmy McCarthy, Johnny Gilbride
middle; Matt Cross, Clayton McAlpine, Colton Petrosino
back - Coach Cross, Coach Bryson, Coach Lewis
---
2013 District 15 11 Year Old Champions
front L-R; Nick McIntyre, Andrew Mezza, Keith Ridley, Jackson Erwin, Matt Ploszay, Shane Cassidy.
middle; Nathan Randazza, Mike Andersen, Andrew Samperi, Robbie Black, Tommy McDonald, Cam Schlegel
back; Coach Marsella, Coach Chruniak, Coach Samperi
---
2013 Jimmy Fund 12 Year Old Champions
12 Year Old Jimmy Fund Champions
Bottom row L to R: Eric DiPietro, Andrew Curran, Hunter Stacey, Justin Loreti, Ryan Kalmpalikas, Jack Laganas
Back row L to R: Coach Lenz, Owen Cairns, Conor Dunleavy, Andrew Shea, Luigi Derrane, Coach Corning, Bryce Visnick, Nick Johnson, Coach Smitty
---
2013 Hamilton-Wenham Tourney 10 Year Old Champions
H-W 10 Year Old Champions
Back row: Nicholas Cole, Billy Adams, Sam Hachey, Adam Donaghue, Owen Keve, Jack Andersen, Anthony Pasquarosa, Gavin Russo
Front Row: Brady Trask, Carter Shepard, Dylan Zocco, Ryan Martell

Not pictured - Coaches Tony Pasquarosa, Gary Trask, Roger Martel, Gary Cole, Kevin Hachey
---
2013 Hamilton-Wenham Tourney 9 Year Old Champions
Front row L-R: Matthew Stevenson, Max Edelstein, Alex O'Neil, Connor Francesconi, Griffin McCay
Middle row L-R: Liam Dickson, Alec Gibbs, Jordan Irvine, Jackson Sumner, David DiPietro, Jack Andrews
Back row L-R: Coach Paul DiPietro, Coach Jeff Stevenson, Coach Steve Gibbs
Not shown: D.J. Bachini & Blake Moran, coach Bill Bachini
---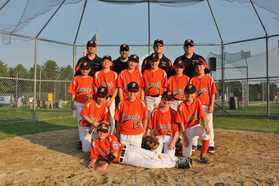 10 year Old Jimmy Fund Champions
2014 Jimmy Fund 10's Tourney Champions
Austin Bernard - Griffin Francis - Nick Fox - Brennan Frost - Jordan Irvine
Joe Kotwicki - Joey Loreti - Charlie Mack - Ryan Rushton - Zach Sparkman - Jackson Sumner
---
Beverly LL Photos