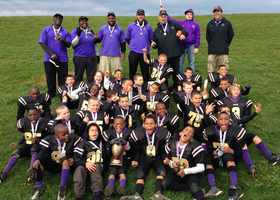 2013 S-BMYFL American Conference Undefeated PeeWee Champions
The Northeast Bethlehem Raiders Athletic Association welcomes each football player, cheerleader, family member and football fan.

Established in 1964, the Bethlehem Raiders continue to strive to make each youth's involvement with football and cheerleading a positive experience. The season is filled with education, hard work,development of team building skills, and most importantly ... fun!

The Bethlehem Raiders are a member of the Suburban Youth Football League that competes with other Suburban Youth Football League teams in pre-scheduled weekend games. The Bethlehem Raiders serve all local children with the desires and ambitions of being part of a winning team, because at the Raiders, ALL children are winners!

Bethlehem Raiders Organization is an approved community service location for Bethlehem Area School District.

Check us out on Facebook -- click on "Links"





2013 Season/Bethlehem Bowl/S-BMYFL Championships




Suburban-Blue Mtn. Youth Football League American Conference All-Star Games

Raiders all star JV players will play at 11 am and Varsity all star players will play at 1 pm. The games will be held at East Stroudsburg South High School Stadium.

Directions: Route 33 North to Route 80 East. Use Exit 309. Make a left onto Route 447 North. Turn left onto East Broad Street and then a quick right onto North Courtland Street. Turn left onto West Broad Street and then right onto Elizabeth Street. Follow to stadium. The GPS address is: 279 North Courtland St, East Stroudsburg, PA

Bethlehem Raiders 49th Annual Awards Banquet

The Banquet will be held at Northampton Community Center on Sunday December 8th. The doors will open at 1 PM. There will be raffle and 50/50 tickets. Athletes will be recognized and awarded individual trophies.

Suburban-Blue Mtn. Youth Football League Championship (Nov.10th @ Parkland HS Stadium)

Raiders PW team defeated Forks Twp. to win the organizations first championship in 22 years. The Raiders PW 100lb team completed an 11-0 season. The Raiders became the first S-BMYFL champion. Congrats to all the players,coaches and parents for an amazing and memorable season!!

Bethlehem Bowl at Raiders Sell Field

The Raiders hosted the annual Bethlehem Bowl for the Flag A, Flag B and 80lb levels on Oct 26 and 27. The tournament included all the Bethlehem area teams (Raiders, Steelers, Saints, Bulldogs). ALL OF THE GAMES WERE EXCITING AND CLOSE CONTESTS. Great job to all our Raider teams!!

The regular season finale/Homecoming game. The Raiders Varsity team won their final game against ESYC 18-13 in a comeback victory. The Flag A tied ESYC is an back and forth game 28-28, JV team fell to ESYC in hard fought contest. The PW team won in convincingly to stay unbeaten and Jr. PW won a close game 25-24. Great job to all the football players and cheerleaders.

Congrats to all of our Raiders graduating football players and cheerleaders and best of luck in the future !!





League Merger




For the 2013 season, the SYFL merged with the Blue Mountain Youth Football League. The new Suburban - Blue Mountain Youth Football League now consists of 23 teams, the teams are separated into two conferences (American and National). The league has grown to become the most competitive youth football league in the Lehigh Valley. The Bethlehem Raiders are in the American Conference. For more infomration click on the headline "League Merger".

The team levels are now called: Flags, Junior Pee Wee, Pee Wee, Junior Varsity, and Varsity.

**Bethlehem Raiders A.A. will be using Coordinated Health Certified Athletic Trainers to cover all home games for the 2013 season. Stay tuned for more details regarding this partnership with Coordinated Health**





January 2014 Board Meeting




January board meeting will be held at Sue's dad's house at 6:30pm on Monday 1/20. Click on "Directions" if unsure of how to get there.





SYFL News




Check www.syfl.org for schedules & updates as well as link to complete rundown of scores and standings each week for competitive level teams. No scores or standings are kept for Flag and 80lb instructional levels.





2012 Post Season




The Bethlehem Raiders 110lb team faced off against 2nd seeded South Parkland in the first round of the SYFL Play-offs. The Raiders fell to SP after going into the 4th quarter 0-0 with SP with the game not being decided until late in the game. the 110lb team finished the regular season with a 6-2 record. The Raiders 125lb team pushed the 1 seeded Lower Mac Mustangs to the limit in their playoff game. The Raiders battled to the end and definately earned some respect and left everything out on the field. They finished the seasonwith a 5-3 record.

The Raiders 80lb team finished the season 10-0 and won the Bethlehem Bowl Championship 25-18 over Bethlehem Township Bulldogs. The game was a close exciting contest and not decided until the final minute of the game.

Gongrats to all the players, coaches, and cheerleaders. Thank you for the support throughout the season. See you at the banquet, Sunday Decemeber 2nd Northampton Community Center.





2012 Season




Bethlehem Raiders' 2012 Regular Season Finale

Raiders 95lb, 110lb and 125lb sweep Upper Saucon in the last regular season game with exciting and hard fought wins. 95lb team battled to a 12-7 win, the 110lb team won going away 25-6 and the 125lb team prevailed 30-25 to finish on a 3 game winning streak going into the playoffs.

Raiders 110 and 125 lb teams will advance to the 1st round SYFL playoffs. 110 lb Raiders will play South Parkland and 125 lb Raiders will play Lower Macungie. The games are both at Grange Field on Sunday 10/28

Raiders 80lb team finished the season with a victory over Nazareth to complete an undefeated 8 - 0 regular season. Raiders Flag and 80lb teams will compete in the Bethlehem Bowl on Sat.& Sun. 10/27 and 10/28 at the Bethlehem Steelers Field.

Click on link below to see complete playoff schedule: www.syfl.org

Click on Game Schedule or Calender for Regular Season Games.





2011 Post Season




95lb Raiders finished as the SYFL league runner up. Congratulations to the players and coaches!!


The Raiders 47th Annual Awards Banquet was on December 4th. Thank you to all board members and a special thanks to Sue for making it a great success.





2010 Season finale




Thank you to all the coaches, players, cheerleaders, and parents for a great season.

Congratulations to the 95lb football team for placing second in their division !!

Congratulations to the Flag A football team for being 2010 Bethlehem Bowl Champions! Great Job to the 80lb football team for finishing third in the Bethlehem Bowl.

Coaches phone numbers can be located clicking on Raiders coaches/teams. Contact your coach regarding your child's uniform and equipment return.

The Raiders 46th Annual Awards Banquet was held on December 5, 2010 at Northampton Community Center. Thank you to all that participated, the banquet was a great success. A fun time was had by all :)

We look forward to seeing everyone next season. Have a safe and joyous holiday !!





Bethlehem Raiders New Press Box Building




On October 16th, the Bethlehem Raiders organization dedicated the new Press Box/field house in honor of Jarred Phillps, a beloved member of the Raiders Family and 95 lb football player who passed away last season. The new building will be used as our announcing booth as well as storage for field equipment.





Iron Pigs Night !!





Fabian's moment

Ferrous and football players

Ben's first pitch ball




THANK YOU TO OUR SPONSORS


Click on the link above to see video.



ESPAñOL


PARA INFORMACION EN ESPAñOL SE PUEDE COMUNICAR CON: Berto Tirado AL 610-694-8096



No Dogs Allowed




Attetion: All Parents, Fans, Guests, Players, Cheerleaders & Board Members

Please remember that DOGS ARE NOT PERMITTED @ the field. The city has posted signs stating this around the field. Thank You.





Parent Info.




Raiders' Parents: We encourage parents to be involved with the organization as each season begins. This organization can only become stronger with parent participation. If you feel you can help please feel free to approach a board member or coach and ask what you can do to help!!

** Please note that parents are asked to view practice from the side of the field ( along the fence line). We ask that parents not be in the practice areas while practice is occurring. If you have a question or concern, please feel free to talk to the coach or coordinator following practice. Thanks for your cooperation.