Bay River Rumble: Welcome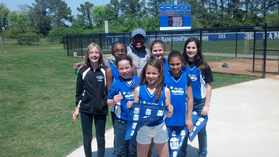 10U Girls Meet the Hampton University Team
Bay River Rumble

The Bay River Rumble Fastpitch Softball organization was designed for the purpose of providing fastpitch softball players an opportunity to extend their playing season into the fall, by providing them an environment in which they can experience dedicated coaches, the utmost in quality instruction, a true sense of team, sportsmanship, solid competition, preparation for higher levels of play and success. Our goal is to focus on the player as a whole, allowing them to be well rounded, strong, intelligent, and responsible young female athletes. Our mission will empower these young women to develop into the strongest competitive softball players that they can be as well as the best citizens.
The Bay River Rumble Fastpitch Softball currently fields teams at the 10U, 12U Royal, 12U White, 16U and 18U levels. Please visit the team link for individual team updates and schedules.
If you are interested in trying out for one of our teams,
please contact the Manager on the team's homepage.
*******************************************
Tournament pictures can be viewed on each team's page.
*******************************************
Rumble Hotline 369-9800
PO Box 1126
Yorktown, VA 23692
Friday, March 15
Spring Improvements to our home field at the Salvation Army