Baltimore Metro Wheelers Cycling Club: BMWCC News
Sunday, June 8
Memorial Day Ride 2014. Another Great Turnout!
We had our largest turnout to date for our annual Memorial Day Ride. A total of 53 riders attended!
Wednesday, April 29
Tennessee Summit 2009 a Big Success for BMWCC!
Nine members of the BMWCC attended the 2009 Major Taylor Cycling Club's Tennessee Summit in Townsend, TN from April 22nd-25th. The majority of the BMWCC riders completed all of the most challenging rides (The Wall, Tail of the Dragon, Foothills Pkwy, Butterfly Gap, Happy Valley, Sweetie Pie) and rode nearly 190 miles during three days of cycling in and around the Smoky and Appalachian Mountains. BMWCC also had the largest number of participants of all of the clubs in attendance. Not too bad for a club that did not even exist last year this time. Last year's Summit served as the catalyst and motivation for the formation of our club. Congratulations on a strong showing and a job well done to all of our members and guests that attended the 2009 TN Summit!
Thursday, May 13
One Less Car Executive Director Speaks at BMWCC Meeting
The BMWCC members in attendance at our May 12th meeting were treated to an opportunity to hear from Carol Silldorff, Executive Director of One Less Car (OLC). Ms. Silldorff shared insights on some of the key initiatives and activities of OLC such as the newly formed Baltimore Bicycle Alliance, B'More Streets, OLC's annual cycling event the Tour Du Port (Oct. 3rd), the Bike and Smart Transportation Symposium and next week's Bike to Work Day (May 21st) in which Ms. Silldorff treated everyone in attendance to the latest, very nicely designed, Bike to Work Day tee shirt. In addition, she spoke about Baltimore and State Legislative activities and highlighted the new "3 Feet Law" that was recently passed which requires motorist to give bicyclists 3 feet of space when passing. The downside of the passing of the law is that it does not officially go into effect until Oct. 1, 2010 and it could have stronger protections for cyclists, but its a start.
Ms. Silldorff also shared that while there are plenty of good ideas to go around when it comes to making Baltimore and the surrounding areas more bike friendly, there is a shortgage of funding, gov't resources and there's the need to get more cyclists involved to assist in One Less Car's efforts and to put faces and numbers in the minds of legislators when they are considering funding and other decisions that impact cycling. If you are interested in learning more about One Less Car and how you can help, check out OLC's website www.OneLessCar.org.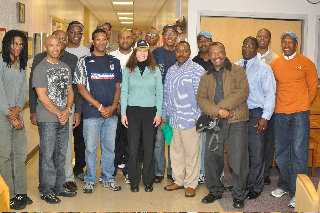 Carol Silldorff and members of BMWCC
Friday, September 3
Columbus Major Taylor Cycling Club Helps Name Trail in Honor of "The Major"
Congratulations and recognition to the Columbus (OH) Major Taylor Cycling Club on their time and effort to gain support to highlight the accomplishments and cycling career of the great Marshall "Major" Taylor!
Sunday, May 8
BMWCC Represents at the 2011 Major Taylor Mountain Summit in Helen, GA
From April 20th through 23rd twelve members of
BMWCC
experienced some great cycling, networking and fun, riding some of the most well known and beautiful cycling roads in north Georgia!
Click on the headline link and check out photo scenes from the 2011 Major Taylor Mtn. Summit through the lens of our very own Kenny "Roadblock."