Father's Day Tournament
Tuesday, April 26
About the Back Yard Bombers 10U......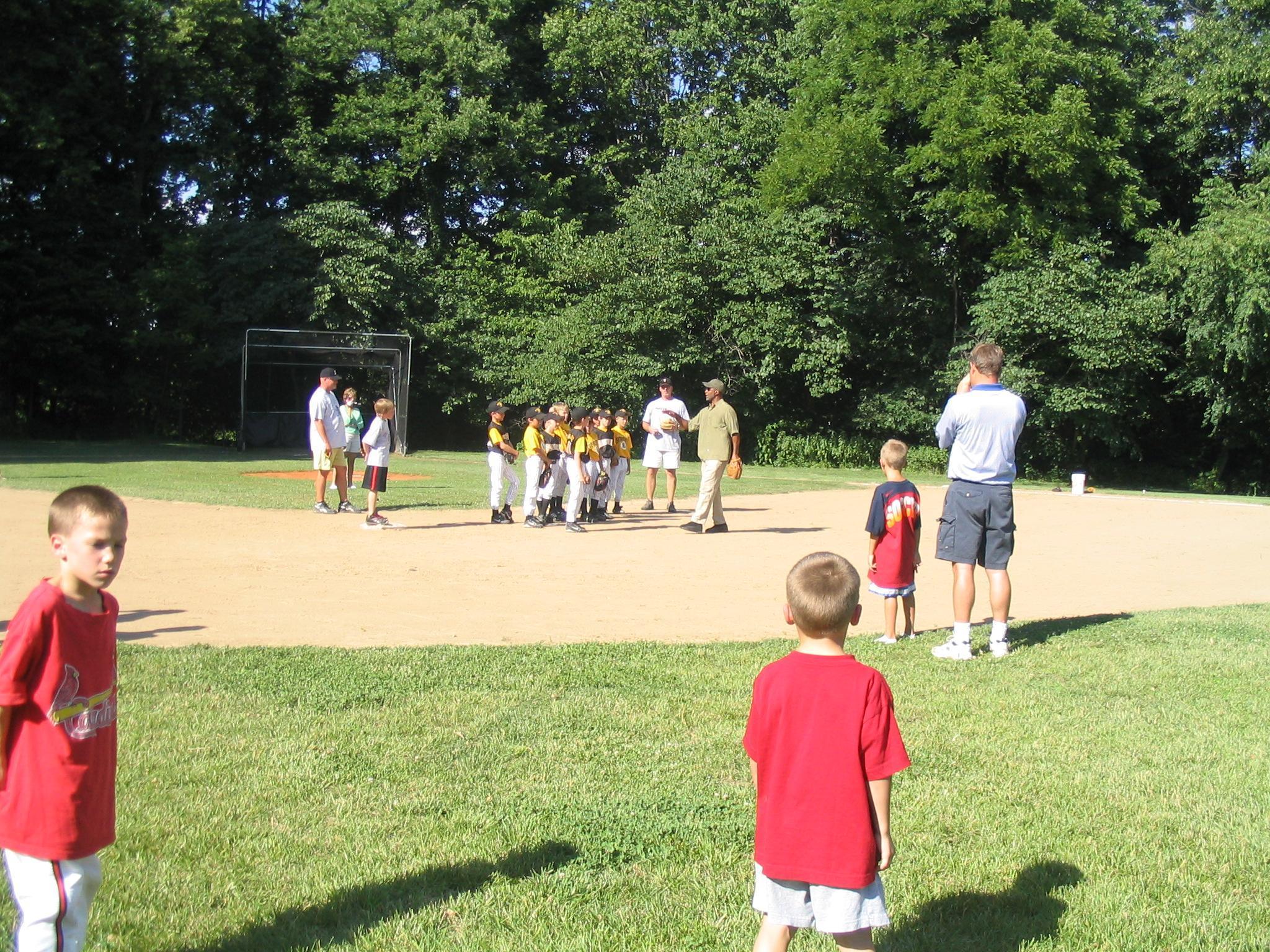 Ozzie Smith talks to the kids

6/15/05 - OZZIE SMITH VISITS THE BACKYARD BOMBERS!!! Spring will begin our 5th season for the Back Yard Bombers 11U team. We practice in our Back Yard.

At this point in time, the emphasis is having fun and learning how to play baseball. Every aspect of baseball. There is so much to learn. For those of you whose kids have played on this team, you know that our philosophy is... the more you expect, the more you get. That was very true last season. Our team won it's league, finished 3rd in the USSSA CJsportsmidwest tournament, 3rd in the USSSA Father's Day tournament, and just completed a very succesful run in the USSSA World Series. This season we are off to a great start winning the County Tournament as we apply what we learn in practice into the games.

7/15/06 - In our final tournament as the Backyard Bombers our guys finished up in grand style. We finished in the Elite 8 of the AAYBA World Series, competing against teams from all over the country. I'm very proud of what they accomplished!11/30/09




OZZIE SMITH VISITS THE BACKYARD BOMBERS!


It's been said that if you build it...they will come. Well, they just did!! The 10U Backyard Bombers experienced the thrill of a life time when Hall of Fame shortstop Ozzie Smith paid them a visit! Not only did Ozzie visit with all the kids, but when he hit the field, school was truly in session. Ozzie not only shared some great stories about how he learned how to play, he actually demonstrated. Rex and Ozzie were actually turning double plays! What a great experience for everyone. Thank you Ozzie!!



If TALENT is what you have......EFFORT is what you give!





Bringing in more dirt...






Final touches





Ready for play!



The Natural



Location...


242 Fick Farm Road
Chesterfield, MO 63005
636 537-9624
Hwy 40 to Long road south to Wildhorse Creek Road rt (west) 2.2 miles, rt on Old Wildhorse Creek then rt on Fick Farm. Go to the end of the street cul de sac and the house in the middle. 242 Fick Farm.