Beverly Youth Soccer Association: Travel Program U12 U14
Monday, September 15
ECYSA ZERO TOLERANCE POLICY
Handout:
Essex County and Beverly In-Town Rules
Monday, September 15
U-12 U-14 Guidelines Parents 2008
Handout:
U-12 U-14 Guidelines Parents 2008
Information for Parents
PARENTS IF YOU NEED INFORMATION REGARDING TRAVEL TEAMS PLEASE CHECK www.ecysa2.org
BYSA offers soccer programs in the fall and the spring. The fall season begins the soccer 'year' and all players need to register before they can practice or play with a BYSA team. The age groups are determined by Massachusetts Youth Soccer Association (MYSA). If a player is to move up in age groups, it will first happen in the fall program. All players are expected to play in their age group. They can never play 'down' a level.
The U6 , U8 and U10 programs are in town programs, with all regular games played in Beverly. The U12, U14, U16, U18 and U19 teams are travelling teams that participate in the Essex County Youth Soccer League (ECYSA).
For the travel teams, the level of competition is determined by the team's strength. The U12 and up teams have Division 1, 2 and 3 (with Division 1 being the most competitive teams). This is created to best establish good competition that will foster player development and team development.
For the U12 and above travel teams: The Fall season is a building season with no playoffs, where all players should get a chance to try different positions. The Spring season could result in the team going to the Essex county playoffs, typically played at Pingree. The top 2 teams in each group go to the playoffs. Div. 1 and Div. 2 playoff winners go to the state tournament, sponsored by MYSA (Mass. Youth Soccer Assoc.) and is typically played at UMass, Amherst.
BYSA asks all parents and friends attending the games to cheer all good plays by both teams, to not be yelling instructions to the players on the field (that's the coach's job to teach them what to do) and to be good sports and respect all players and referees on the field (this means no yelling at players or at referees). To help facilitate this, all non team members must stand on the opposite side of the field from the team during the game. All parents and friends should know that spectator misconduct may result in game suspension, termination and eventual forfeiture (per FIFA Law V). BYSA and Essex County Youth Soccer have a zero tolerance policy toward negative comments or threats towards players or referees on the field.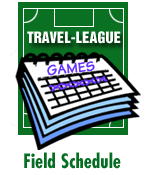 MAPS TO ALL TRAVEL GAMES