Wednesday, January 21
This weeks Schedule
This Week's Schedule
Monday 9-18 - Away vs Unionville JV 3:30pm Varsity after
Tuesday 9-19 - Practice 3:30pm - 6:30pm Chipolte Fundraiser
Wednesday 9-20 - Away vs WC East JV 3:30pm Varsity after
Thursday 9-21 - Practice 3:30pm - 6:30pm
Friday 9-22 - Practice 3:30pm - 6:00pm
Saturday 9-23 - Home vs Arch Bishop Carroll
"Spikes at Night Under the Lights"
Region 17 CYO All-Stars - 4:00pm
JV - 5:30pm
Varsity 7:00pm
Next Week
Monday 9-25 - Practice 3:30pm - 6:30pm
Tuesday 9-26 - Away vs Avon Grove JV 3:30pm Varsity after
Wednesday 9-27 - Away vs Hempfield JV 6:00pm Varsity after
Thursday 9-28 - Away vs Coatesville JV 3:30pm Varsity after
Friday 9-29 - Practice 3:30pm - 6:00pm
Saturday 9-30 - Cycle Bar Team Spin class (TBA)
Wednesday, January 4
Shanahan's Shultz puts together dominant rookie season
DOWNINGTOWN >> In her first season of high school volleyball, Cara Shultz made such a big splash, she ...
Monday, November 14
Unbeaten Shanahan rolls into state semifinals behind Ashman, Shultz sisters
BRYN MAWR – Cara Shultz filled the stat sheet with 20 kills, 16 digs and seven aces to power unbeaten Bishop Shanahan to a 3-0 conquest of previously unbeaten Archbishop Carroll in the PIAA-AAAA quarterfinals Saturday at Harriton.
The victory sends the Eagles (23-0), who prevailed by scores of 27-25, 25-14, 26-24, into a state semifinal showdown with defending PIAA 3A champion Parkland Tuesday at a time and site to be determined.
Other key contributors for Shanahan were Renee Shultz (12 kills, 28 assists, 13 digs) and Ceandra Ashman (16 assists, 2 aces, 8 digs).
"It's just another challenge," Shanahan coach Greg Ashman said of the semifinal matchup with Parkland in the Daily Local News. "We beat the third-ranked team in the state in Carroll, now we have to face No. 2. There's no easy road."
Shanahan is currently ranked No. 1 in the state in the PA Volleyball Coaches Association poll.
Monday, November 14
Shultz sisters lead gritty Shanahan to state quarterfinals
FORT WASHINGTON – Bishop Shanahan has been on cruise control most of the season en route to a perfect record and the District 1-AAAA and Ches-Mont League National Division championships.
But the unbeaten Eagles (22-0) were forced to take a much different route to the PIAA 4A quarterfinals Tuesday night at Upper Dublin, coming from behind to top District 11 runnerup Liberty 3-1 (19-25, 25-15, 26-24, 25-16) in the opening round of the state tournament.
Cara Shultz (14 kills, 11 digs, 3 aces), Renee Shultz (16 assists, 8 kills, ace) and Jenna Losito (15 digs, 2 aces) keyed the comeback for the Eagles, who move on to face unbeaten Archbishop Carroll (23-0) in the Elite Eight Saturday (time, site TBD).
After dropping the opening set 25-19, Shanahan used a 7-0 run to pull away from a 12-12 standoff in Game 2, then overcame an 18-13 deficit in Game 3 as Cara Shultz delivered a three-point service run and Renee Shultz provided a clinching kill to close out a narrow 26-24 victory.
Game 4 featured another strong finish as Shanahan emerged from a 12-12 tie with a closing run of 13-4, Losito's ace sealing the deal in the 26-16 win.
Sunday, November 6
Bishop Shanahan sweeps Plymouth Whitemarsh to win District 1-AAAA title
Bishop Shanahan sweeps Plymouth Whitemarsh to win District 1-AAAA title
UPPER DUBLIN >> Saturday afternoon's District 1-AAAA girls volleyball championship game featured a pair of heavyweights doing battle as the No.1 seed Bishop Shanahan (13-0 Ches-Mont) and no.2 seed Plymouth Whitemarsh (18-0 Suburban One League Continental) squared off.
"I think it's a tribute to the system that we got running that we get the No. 1 and No.2 team in the last two years in the finals," Shanahan coach Greg Ashman said. "This year, to have a team 25-0 and a team 21-0 to represent this, I think it's the most exciting thing you can have."
Simply put PW played well, just not well enough to win the match as Shanahan, which claimed the district title with a 3-0 (26-24,25-21,25-10) straight-sets win.
"I am completely happy with the way they played. They played really, really well," PW coach Seely Byler said. "They played really well they just came across a team who is excellent."
The Colonials made great defensive plays all game as the work for their back line was definitely cut out with the powerful and skillful hitters of Shanahan. The size of the Eagles also made it difficult for the hitters of PW to hit through or around the Eagle block.
"We did our best to line out block up against their really strong outsides and do what we could in the back row and I think my girls played awesome," Byler said.
The match swung in the second set as Shanahan trailed 15-12 but a 6-1 run from the Eagles allowed them to recapture the lead and never looked back. Shanahan closed the second set out on a 13-6 run, giving it a two sets to none lead and momentum heading into the third set.
"I knew once we came back in that second set even if it did go four or even five that we had the confidence and the jitters were all out of us that we were going to be able to do things," Ashman said.
Shanahan will have a tough draw in the first round of the PIAA playoffs as it takes on one of the top ranked teams in the state in Liberty. While the matchup is unfavorable, the Eagles enter states with immense confidence as they blew through the district playoffs without dropping a set.
"We've only dropped three sets all season," Ashman said. "We haven't dropped a set in October or November yet."
"We're capable of anything and the last few weeks have proven that. We got a tough draw right out of the gate; we play the no.1 team in the state on Tuesday night we play Liberty. That's a match equivalent to a state final, we have to play them in the first round, and hopefully we can do the same thing over again."
For the district runner-up Colonials the loss will not shake their confidence as they know they lost to a high caliber team and also knows it's capable of playing with any team.
"We're trying to just build on the momentum," Byler said. "They played a great match tonight so we're just going to use that going into states. We played a really defensive game and I'm so happy with how they played so we're going to use that against whoever we see on Tuesday."
Sunday, November 6
Shanahan tops Whippets, advances to district final
By NEIL GEOGHEGAN
DOWNINGTOWN – It was one of those rare instances in athletics when the head coaches from both sides came away feeling pretty darn good.
Of course, Bishop Shanahan's Greg Ashman was thrilled that his top-ranked volleyball squad advanced to its third straight District 1 Class AAAA final with a 3-0 triumph over visiting Downingtown West on Thursday evening. But David Parrish, who guided the Whippets to their first district semifinal ever, was a bit giddy with just how difficult his fourth-seeded squad made it for the favored Eagles.
"That was probably the biggest test we've had this year," Ashman admitted. "Previously, we haven't had to play really well to win, but tonight Downingtown West made us play.
"They were phenomenal. They played a lot better than I anticipated."
In a complete departure from a previous regular season clash 28 days earlier, these two crosstown rivals battled for three close, contested sets. The Whippets were in each one, but the unbeaten Eagles managed to put on a spurt at end of each set to ultimately prevail, 25-23, 25-22, 25-23.
"We made (Shanahan) work hard for it," Parrish said. "I'm not sure many people believed we are this good. Maybe tonight, we showed some people some things."
Now 21-0 overall, Shanahan will play second-seeded Plymouth Whitemarsh for the district crown on Saturday, 6 p.m., at Upper Dublin High School. The Eagles have already made five District 1 final appearances under Ashman, and have taken home four titles, including the 2015 crown.
"We knew (Downingtown West) would come out fighting," said Shanahan's super freshman Cara Shultz.
"This was absolutely the best thing we couldn't ask for: to be challenged," Ashman added.
"West was able to compete with us at the net, which a lot of people haven't been able to do because of our size and power. They made our hitters and setters think more."
The Whippets fall to 17-3 overall, and will play sixth-seeded Council Rock North in the third-place match on Saturday. Downingtown West has already punched its ticket to the state tournament.
"I am very proud of the way my girls played," Parrish said. "We basically lost by a nine or 10 point margin (in each set) the first time we played. This time we closed that margin. We are a much better team than we were a month ago."
The Whippets served notice in the opening set that the second time around wasn't going to be anything like the first. There were 13 ties in all, the last coming at 23-23. Bishop Shanahan, however, closed it out by forcing West into making errors on the last two points.
Set No. 2 was tied at 15-all when the Eagles went on a 7-0 run that started with back-to-back blocks by Renee Shultz and Michaela Devlin. The Whippets fought hard to stay in it, but Shanahan got late kills from Cara and Renee Shultz to make it 2-0.
"In between the second and third set, I told our kids 'it's not over yet. You have to be prepared to go five. These guys are going to come back,'" Ashman recalled.
And West did, roaring out to a 15-11 lead. But that's when the Eagles staged an 8-0 surge, on the strength of two service aces from junior Ceandra Ashman and a couple blocks from Devlin.
"Ceandra had been struggling with her serve. It seemed like it was either an ace or an error," said her father and coach. "But she did phenomenal. I'm proud of her."
The Whippets made one last stand to regain the lead at 23-22, but Shanahan scored the final three points. Renee Shultz delivered a kill and an ace, and Alexa Marcum registered a kill on match-point.
"We are still coming together as a team and figuring it out," said Ceandra Ashman, who finished with 18 assists.
"This match was good for us. (Shanahan) gave is a better match this time, and that's good because it showed us how good we can be if we push ourselves."
Downingtown West got 11 kills from Aly Reardon, six kills apiece from Sophie Gelling and Kenzie Pincura, and 17 digs from Regina Schetroma.
"(Bishop Shanahan) served us very tough in a couple rotations, and we got stuck there," Parrish explained. "The last two (sets), the difference was that one rotation.
"We had our chances, and when you get close like that, you have to take advantage. Hopefully we'll learn from this."
Cara Shultz led the way for the Eagles with 17 kills, including five in the deciding set. Marcum added nine kills and Renee Shultz notched four of her seven kills in the third.
"To beat a team like (West) 3-0 is huge," Cara Shultz said.
"From here on, every match is going to get harder and harder. If we are going to go ahead and win districts and eventually states, we are going to have to play our very best."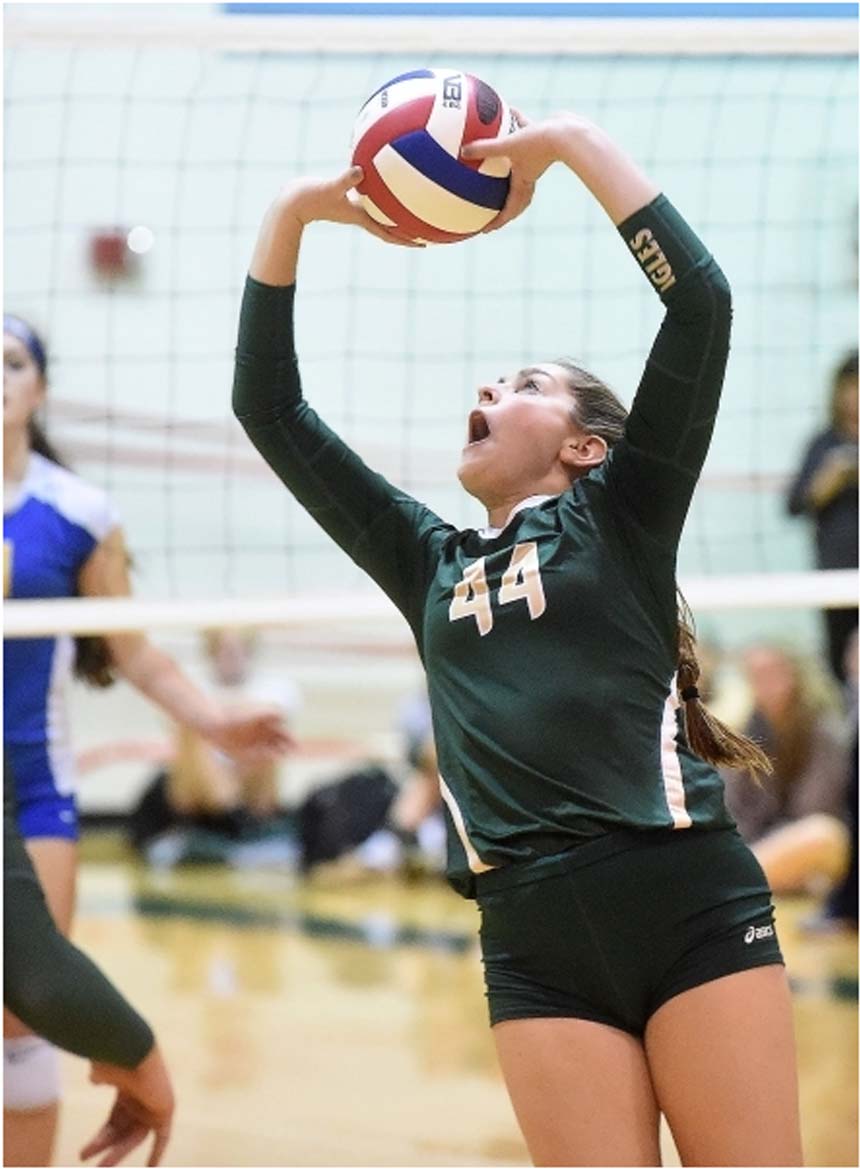 Ashman setting one of her 18 assists
Wednesday, September 21
Shanahan makes quick work of Unionville, stays perfect in Ches-Mont
Tuesday, September 11
PVCA State Rankings
State Pre Season AAAA 2017
AAAA
| | | | |
| --- | --- | --- | --- |
| Rank | District | School | Previous Rank |
| 1 | 1 | Bishop Shanahan | - |
| 2 | 11 | Parkland | - |
| 3 | 7 | North Alleghney | - |
| 4 | 3 | Hempfield | - |
| 5 | 12 | AB Carroll | - |
| 6 | 1 | Plymouth Whitemarsh | - |
| 7 | 7 | Seneca Valley | - |
| 8 | 11 | Emmaus | - |
| 9 | 1 | Garnet Valley | - |
| 10 | 6 | State College | - |
Wednesday, January 4
Volleyball 1st, 2nd & honorable mention
Firts Team
Renee Shultz, Bishop Shanahan A junior, Shultz was the most versatile performer on the area's top team. An All-League, All-District and All-State selection, Shultz led the Eagles in digs (281) and assists (448), and chipped in with 166 kills and 62 aces. "Renee has so much talent, we tried not to pigeon-hole her," Ashman said. "She could be a setter in most programs and do a good job with it. But she is so valuable as a hitter, we didn't want to waste that."
Alexa Marcum, Bishop Shanahan A first teamer on the All-Ches-Mont team, the senior hitter amassed 153 kills, served up 43 aces, scored 224 points on her serve and added 193 digs. But more importantly, Marcum was a valuable leader for Shanahan, who went 24-1 and captured the District 1 crown. "Alexa was our MVP," Ashman said. "She has great talent and is so good with her teammates. We noticed when we took her off the court, the team didn't have the same cohesion."
Second team
Jenna Losito, Bishop Shanahan, Sr., libero
Honorable Mention
Alysa Wright, Bishop Shanahan
Sunday, November 8
Shultz's triple-double leads Shanahan past Great Valley for district crown
LOWER MERION – Renee Shultz recorded a triple-double with 10 kills, 22 assists and 11 digs as top-seeded Bishop Shanahan earned the District 1-AAA girls volleyball title with a 3-1 victory over (2) Great Valley Saturday at Harriton.
One year after dropping the district final to Upper Merion 3-1, the Eagles (16-2) gained their first district championship since 2012 by prevailing 25-22, 25-12, 23-25 and 25-15. Chloee Kleespies (17 kills), Alexa Marcum (8 kills), Michaela Devlin (7 kills) and Marissa Hoertz were forces at the net for Shanahan, which also got 36 digs from Gina Lewis and 13 digs from Jenna Losito.
For the Patriots, who were making the first district final appearance in program history, Aimee Christen had 15 kills, Abby Daniels posted 11 kills and Kenzie Farrelly contributed solid overall play.
In the opening round of states Tuesday, Shanahan returns to Harriton for a 7 p.m. date with (District 3, No. 3) Cumberland Valley while Great Valley faces (12-1) Cardinal O'Hara at High School of the Future in Philadelphia at 5 p.m.
Monday, November 16
No. 1 Bishop Shanahan beats Perkiomen Valley, reaches 1-AAA final
Sunday, November 8
Bishop Shanahan, Great Valley advance to district final


FORT WASHINGTON – Bishop Shanahan validated its standing as the No. 1 ranked girls volleyball team in District 1-AAA Thursday night with a hard-earned 3-1 victory (25-22, 23-25, 25-22, 25-16) over fourth-seeded Perkiomen Valley at Upper Dublin.

Sophomore Renee Shultz led the way with a triple-double, delivering 14 kills, 26 assists and 10 digs. Also for the Eagles (29-3-1), who will meet Ches-Mont rival (2) Great Valley in the district final Saturday at Harriton (4:30 p.m.), junior Chloee Kleespies (14 kills), freshman Michaela Devlin (10 kills, 3 blocks) and senior Gina Lewis (28 digs) had strong showings. "This should have been the finals," said Bishop Shanahan coach Greg Ashman on papreplive.com. "We saw the draw and thought that Perk Valley was the team to beat with their size and the way they battle at the net."

Cayla Veverka (23 kills, 13 digs), Helena Clauhs (11 kills, 3 aces), Emily Oltman (9 kills), Adrianna Lattanzi (17 digs) and Ellie Min (56 assists, 14 digs) contributed outstanding efforts for the Vikings (19-2), who will face Penncrest Saturday at Harriton (3 p.m.) for third-place in the district. Perk Valley has already locked up the program's first state playoff berth.

"We knew about them coming in," said PV coach Drew Scheeler of the Eagles, ranked second in the state in one poll. "The first three games were close and could have gone either way. Give credit to Bishop Shanahan. They kept battling. But I am happy with my girls. They battled the entire game. They played well."

(2) Great Valley 3, (6) Penncrest 0 – The Patriots earned a rematch with Shanahan in the district final after topping the Lions 25-23, 25-23, 25-18 in the other semifinal Thursday at Upper Dublin.



Monday, November 16
Upper Merion falls to No. 1 seed Bishop Shanahan


DOWNINGTOWN >> All season long the Upper Merion High girls ...



Monday, November 16
Top-seeded Shanahan settles score with Henderson


DOWNINGTOWN – Revenge was sweet for top-seeded Bishop Shanahan Thursday ...



Monday, November 16
Bishop Shanahan clinches Ches-Mont National behind Kleepsies, Shultz, Marcum
DOWNINGTOWN – Bishop Shanahan clinched the Ches-Mont League National title by sweeping Unionville 3-0 (25-8, ...

Monday, November 16
Bishop Shanahan alumnus defies odds with incredible comeback

Monday, September 14
Bishop Shanahan tops Hempfield in Spartan Invitational final
KEVIN FREEMAN Sports Writer
In a girls' volleyball tournament filled with teams that have ...
Wednesday, November 5
Upper Merion defeats Bishop Shanahan 3-1 in highly-anticipated District One final
Wednesday, November 5
Pennridge handed 1st loss by Bishop Shanahan in District 1-AAA semis
Posted: 10/30/2014 10:00:56 PM EDT
ABINGTON — Ask Megan Keefe as a freshman or a sophomore if she would have been OK playing the third place game in the District 1-AAA tournament and she would have said absolutely. A spot in states secured and at least a top for finish in the district for the Pennridge girls volleyball team was far from a reality a few years ago.
But as a senior, with this team, a 3-0 (25-12, 25-18, 25-13) sweep at the hands of Bishop Shanahan in the semifinals was just not what Keefe could smile about. It was Keefe and the Rams' first loss of the season, a match shy of the title game, two wins shy of the program's first district championship in almost 40 years.
"We did not come out strong and it was not a good start overall,' Keefe said. "We never expected to make it this far and we are happy we did. Tonight was not our best effort and it's disappointing we lost.'
The Rams (18-1) rolled into the playoffs without a blemish on their record, but the Eagles' 17-4 mark was not too shabby and the fifth-seeded side brought playoff experience — finishing third last year in in districts — to the Abington court Thursday. The Rams have rallied back from slow starts all season, but a 12-1 run in Game One set the tone for the night.
"Game One they wanted more than we did,' Rams coach Zech States said. "They are experienced and we are not used to this at all. That's what it came down to. That played a factor, but it's not excuse.'
The Rams play Garnet Valley — which lost 3-1 to Upper Merion in the other semi — for third place noon Saturday back at Abington. They will try and rally back for a strong and long run in the PIAA tournament. Upper Merion, defending district champs, will do battle with the Eagles at 2 p.m. after the Rams and Jaguars jostle.
"It is good to have states to look forward to,' States said. "We have one day here to practice and we have to use it. Garnet Valley is going to want it and we have to come ready to battle.'
The Rams will need to find the offense that disappeared against the Eagles. Their swings seemed telegraphed and Shanahan made the consistent back row pass to their setter, who found any number of their powerful hitters. It was 4-0 and 9-2 Eagles in Game Two, which completely zapped the Rams' confidence. The Eagles were an opponent they could not solve for the first time all season.
"We did not play nearly close to what we are capable of,' States said. "They put a big block up. We could not get our middles going (four total kills) at all tonight, It's hard because I know what they are capable of. and I was not able to get them motivated to play the way they should.
Keefe, Pennridge's four-year starter at setter, won 17 games (23 losses) in her first three seasons with the Rams — three as freshman, four as sophomore, and 10 as a junior. The Rams continued to get better and nothing can take away the season they put together so far. So far being the key words. A District 1 championship would have been nice, but they will refocus and come back stronger in the state tournament next week,
"We came out with a lot of nerves,' Keefe said. "We need to do everything a little better.'
Monday, June 9
Titus Sports Academy
Tuesday, November 6
Shanahan wins Third District title!
Eagles sweep way to district crown
By DENNY DYROFF


Sunday, November 15

STATE CHAMPIONS

STATE CHAMPIONS
YORK — There were over three years of playing volleyball together pointing to this - more than 1,000 hours of time in a gym whacking away at a round white ball leading up to this - a full season of focused dedication and hard work culminating in this.

At 6:39 p.m. on Nov. 14 at Central York High's gymnasium, Bishop Shanahan setter Katie Pisano's serve dropped to the floor on Allentown Central Catholic's side of the net and the match was over. Bishop Shanahan had won the PIAA Class AAA Girls Volleyball championship.

The Eagles proved that they had the best team in the state - something they had known since back in August - by defeating Allentown Central Catholic 3-0. They accomplished the feat by playing 75 points of "Shanahan Volleyball."

Shanahan held off a late-game surge by the Vikettes to take the opening game of the best-of-five 25-23. The Eagles continued their strong play in the second game and posted a 25-17 victory. They were even more dominant in the third game and finished with a convincing 25-13 win.

It was supposed to be a state championship volleyball match. Instead, it was more like a Shanahan "Block Party" featuring Amanda Nickels, Maria Ficca, Susan Frick, Nicole Lott, Katie Pisano and Emily Carlin. Nickels led the way with 10 blocks followed by Ficca with nine and Lott with eight. The others all contributed blocks at key times throughout the state title match.

"We knew blocking would be the key - that as long as we got touches on the ball, it would be great," said Shanahan coach Greg Ashman. "And with the lineup we have, if they started shutting down any of our girls, we just move it around."

Pisano said, "I thought this match would come to five games. But once we got going, we didn't have any slumps. Our middle blockers were blocking so well and Nicole (Lott) did awesome."

The third game was competitive early in its early stages and still close at 8-8. A four-point service run by Ficca followed by a five-point run by Nickels put the Vikettes on the ropes. Pisano started her serve with Shanahan ahead 20-13, served four straight points and then delivered the message-sending, match-ending, head-spinning,

title-winning ace.

In the first two games, Shanahan held the lead for the majority of the time but ACC was always right there. But, almost every time the Vikettes threatened to snatch the lead or the momentum, they were put in their place by a decisive kill by either Ficca or Carlin.

"Before the match, Maria and I both said - this is it…this is our game…we are in control," said Carlin.

Ficca said, "Me and Emily - this was our match. There was no way we were going to let it slip away after getting this far. We came out so strong tonight. It was great."

Allentown Central Catholic coach Laurie Corcoran said, "Shanahan definitely outplayed us. They came at us really strong with their attack and had the momentum the entire match. I'm proud of our girls. We've accomplished a lot. This year's seniors have two state gold medals and two silver medals. But, Shanahan was the better team tonight."

In the morning semifinals, ACC defeated Hempfield 3-2 (22-25, 25-22, 26-24, 24-26, 16-14). In the other semifinal, a showdown between the teams ranked first and second in the state, Shanahan knocked off top-ranked Mount Lebanon 3-1 (19-25, 25-19, 25-21, 25-18).

"We came out slow in the first game," said Shanahan libero Julie Joyce. "Our passing wasn't where it should have been. Our whole offense was sloppy. In the second game, we picked up our passing. We were able to put the passes on Katie's forehead and run our offense really fast. In the third game, once we got our offense going and started playing 'Shanahan Volleyball', we had things under control."

Nickels said, "Mount Lebanon really reminded us of us. We play a very similar style. So, they did the same things we do and that made them really easy to read. And, we knew their middle hitter (Olivia Gratton) hurt her ankle Friday and was playing injured. We went after her because we knew she was weak."

Mount Lebanon coach Dawn Begor said, "Olivia bring hurt changed our team a bit. We had to run a different offense. Our options were limited so we became very predictable. We lost to a very good team. Shanahan is big and strong - like a lot of teams out west."

Carlin said, "We wanted it so much and we played with so much heart. We came out really strong and stayed strong. Everyone was on -- no one was off. The whole team played great."

NOTES: Carlin was named the MVP of this year's state championship tournament and Joyce was selected as the defensive MVP…Ficca and Pisano were named to the All-Tournament Team….The Eagles' history-making state championship roster also included Cait Watson, Allison Lott, Kristina Dale, Kelly Hutchison, Clare Keating, Summer Jaros, Gabriella Nagy, Nicki Ruszkay, Grace Capuzzi and Natalie Deritis along with assistant coaches Brian Smith, Mimi Deritis, Michelle Lott, Jackie Smith and Pat Rucker…Shanahan became the first team from District 1 other than Villa Maria Academy to win a Class AAA state title….The only other District 1 team to win a PIAA championship has been Merion Mercy Academy in Class AA…On Saturday, Merion Mercy captured its third straight Class AA title….Shananan finished the season with a 27-1 record and its only loss was a five-set nailbiter to Merion Mercy…At this year's Ford Tough Tournament at Haverford High, the Eagles defeated Allentown Central Catholic in the quarterfinals and Merion Mercy Academy in the semifinals…Shanahan pinned losses on three district champions at states this year - Mount Lebanon (District 7), Hempfield (District 3) and Allentown Central Catholic (District 11).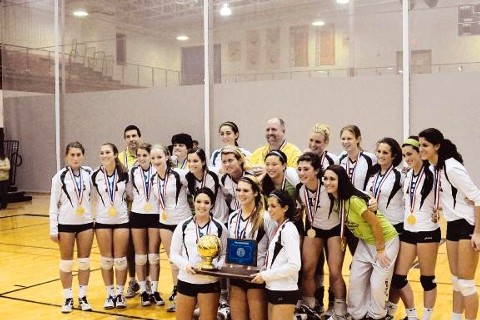 Wednesday, December 23
Shanahan's Carlin head and shoulders above the rest
Wednesday, December 23
Ashman's Eagles soar to perfection
Saturday, November 14
Bishop Shanahan volleyball keeps rolling along
Wednesday, November 11
Shanahan soars highest in battle of the Eagles
Friday, November 6
Eagles tough out win
Sunday, November 8
Shanahan wins Second District AAA Volleyball Title


Friday, October 23
2010 GIRLS District 1 Volleyball AAA Playoffs

Wednesday, November 4
Lott to smile about for Shanahan volleyball

Thursday, October 22
Bishop Shanahan spikes Unionville for league title

Sunday, October 18
Shanahan blitzes through tourney

By DENNY DYROFF, Staff Writer
UNIONVILLE/KENNETT SQUARE — ...
Thursday, October 15
Shanahan falls in five-set showdown


Friday, October 9
Eagles Sweep Villa

Wednesday, September 30
Shanahan continues its surge

Wednesday, September 30
Shanahan volleyball team stays unbeaten

Tuesday, September 15
Shanahan Tops in PA

Monday, September 14
Shanahan girls' volleyball team ranked No. 2 in state

Thursday, September 10
Soaring Eagles