Sunday, November 15
STATE CHAMPIONS
STATE CHAMPIONS
YORK — There were over three years of playing volleyball together pointing to this - more than 1,000 hours of time in a gym whacking away at a round white ball leading up to this - a full season of focused dedication and hard work culminating in this.

At 6:39 p.m. on Nov. 14 at Central York High's gymnasium, Bishop Shanahan setter Katie Pisano's serve dropped to the floor on Allentown Central Catholic's side of the net and the match was over. Bishop Shanahan had won the PIAA Class AAA Girls Volleyball championship.

The Eagles proved that they had the best team in the state - something they had known since back in August - by defeating Allentown Central Catholic 3-0. They accomplished the feat by playing 75 points of "Shanahan Volleyball."

Shanahan held off a late-game surge by the Vikettes to take the opening game of the best-of-five 25-23. The Eagles continued their strong play in the second game and posted a 25-17 victory. They were even more dominant in the third game and finished with a convincing 25-13 win.

It was supposed to be a state championship volleyball match. Instead, it was more like a Shanahan "Block Party" featuring Amanda Nickels, Maria Ficca, Susan Frick, Nicole Lott, Katie Pisano and Emily Carlin. Nickels led the way with 10 blocks followed by Ficca with nine and Lott with eight. The others all contributed blocks at key times throughout the state title match.

"We knew blocking would be the key - that as long as we got touches on the ball, it would be great," said Shanahan coach Greg Ashman. "And with the lineup we have, if they started shutting down any of our girls, we just move it around."

Pisano said, "I thought this match would come to five games. But once we got going, we didn't have any slumps. Our middle blockers were blocking so well and Nicole (Lott) did awesome."

The third game was competitive early in its early stages and still close at 8-8. A four-point service run by Ficca followed by a five-point run by Nickels put the Vikettes on the ropes. Pisano started her serve with Shanahan ahead 20-13, served four straight points and then delivered the message-sending, match-ending, head-spinning,

title-winning ace.

In the first two games, Shanahan held the lead for the majority of the time but ACC was always right there. But, almost every time the Vikettes threatened to snatch the lead or the momentum, they were put in their place by a decisive kill by either Ficca or Carlin.

"Before the match, Maria and I both said - this is it…this is our game…we are in control," said Carlin.

Ficca said, "Me and Emily - this was our match. There was no way we were going to let it slip away after getting this far. We came out so strong tonight. It was great."

Allentown Central Catholic coach Laurie Corcoran said, "Shanahan definitely outplayed us. They came at us really strong with their attack and had the momentum the entire match. I'm proud of our girls. We've accomplished a lot. This year's seniors have two state gold medals and two silver medals. But, Shanahan was the better team tonight."

In the morning semifinals, ACC defeated Hempfield 3-2 (22-25, 25-22, 26-24, 24-26, 16-14). In the other semifinal, a showdown between the teams ranked first and second in the state, Shanahan knocked off top-ranked Mount Lebanon 3-1 (19-25, 25-19, 25-21, 25-18).

"We came out slow in the first game," said Shanahan libero Julie Joyce. "Our passing wasn't where it should have been. Our whole offense was sloppy. In the second game, we picked up our passing. We were able to put the passes on Katie's forehead and run our offense really fast. In the third game, once we got our offense going and started playing 'Shanahan Volleyball', we had things under control."

Nickels said, "Mount Lebanon really reminded us of us. We play a very similar style. So, they did the same things we do and that made them really easy to read. And, we knew their middle hitter (Olivia Gratton) hurt her ankle Friday and was playing injured. We went after her because we knew she was weak."

Mount Lebanon coach Dawn Begor said, "Olivia bring hurt changed our team a bit. We had to run a different offense. Our options were limited so we became very predictable. We lost to a very good team. Shanahan is big and strong - like a lot of teams out west."

Carlin said, "We wanted it so much and we played with so much heart. We came out really strong and stayed strong. Everyone was on -- no one was off. The whole team played great."

NOTES: Carlin was named the MVP of this year's state championship tournament and Joyce was selected as the defensive MVP…Ficca and Pisano were named to the All-Tournament Team….The Eagles' history-making state championship roster also included Cait Watson, Allison Lott, Kristina Dale, Kelly Hutchison, Clare Keating, Summer Jaros, Gabriella Nagy, Nicki Ruszkay, Grace Capuzzi and Natalie Deritis along with assistant coaches Brian Smith, Mimi Deritis, Michelle Lott, Jackie Smith and Pat Rucker…Shanahan became the first team from District 1 other than Villa Maria Academy to win a Class AAA state title….The only other District 1 team to win a PIAA championship has been Merion Mercy Academy in Class AA…On Saturday, Merion Mercy captured its third straight Class AA title….Shananan finished the season with a 27-1 record and its only loss was a five-set nailbiter to Merion Mercy…At this year's Ford Tough Tournament at Haverford High, the Eagles defeated Allentown Central Catholic in the quarterfinals and Merion Mercy Academy in the semifinals…Shanahan pinned losses on three district champions at states this year - Mount Lebanon (District 7), Hempfield (District 3) and Allentown Central Catholic (District 11).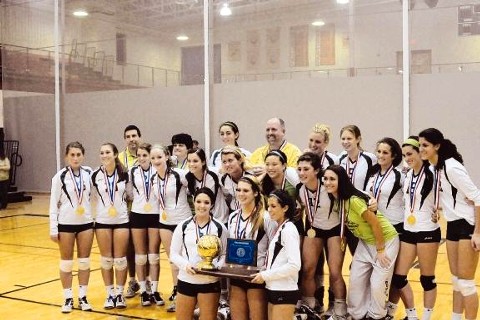 Wednesday, December 23
Shanahan's Carlin head and shoulders above the rest
Wednesday, December 23
Ashman's Eagles soar to perfection
Saturday, November 14
Bishop Shanahan volleyball keeps rolling along
Wednesday, November 11
Shanahan soars highest in battle of the Eagles
Friday, November 6
Eagles tough out win
Sunday, November 8
Shanahan wins Second District AAA Volleyball Title


Friday, October 23
2010 GIRLS District 1 Volleyball AAA Playoffs

Wednesday, November 4
Lott to smile about for Shanahan volleyball

Thursday, October 22
Bishop Shanahan spikes Unionville for league title

Shanahan blitzes through tourney

By DENNY DYROFF, Staff Writer
UNIONVILLE/KENNETT SQUARE — When Bishop Shanahan was named as an 11th-hour addition to the lineup for this year's Crosstown Invitational Volleyball Tournament, the path to the team title for the other nine teams changed dramatically. It went from being "very competitive" to "highly challenging."
Shanahan arrived for Saturday's tournament with a 12-1 record. The Eagles have been ranked either first or second in the PVCA Class AAA poll every week this season and are currently second behind Mount Lebanon .
The tournament, which was played at both Kennett High and Unionville High, featured an all Ches-Mont final with Shanahan facing Kennett on the Blue Demons' home court. At 7:29 p.m., Shanahan's Nicki Ruszkay served the final point of the championship game.
The play ended when the Demons hit the ball out of play. A full 11 hours after starting pool play (an 8:30 a.m. match against West Chester East), the Eagles capped a perfect day with a 2-0 win over Kennett. Shanahan won the opening game of the best-of-three final 25-10 and then finished it off with a 25-20 victory.
"Focus was a little bit of an issue - 11 hours of volleyball will do that -- but we've been able to bring it back well," said Shanahan's hard-hitting Maria Ficca. "Other teams pushed us at times but we stayed in control. We were most into our game in the match against Garnet Valley. We did really well in that match."
The Eagles knocked off Garnet Valley 2-0 in the semifinals with a 25-18 win in the first game and a 25-9 decision in the second.
"We were just digging in and getting loose," said Shanahan's standout freshman hitter Nicole Lott. "It (the Garnet Valley match) was definitely a fun game. We had a great time."
Garnet Valley coach Jen Shrader said, "I thought we came out and played pretty well in the first game. In the second game, our defense let us down. Shanahan has a really good team so I was happy with the way we played them."
In the other semifinal, Kennett defeated Mount St. Joseph Academy 3-2 (26-24, 13-25, 15-12).
"I'm very proud of how everybody played," said Kennett coach Molly Szychulski, who played collegiate volleyball at Shippensburg University. "I hope we proved ourselves today - that we showed we deserve a seed in the district (District 1 Class AAA) playoffs."
The Demons definitely boosted their "cred" with a win over the Mount, a perennial District 1 powerhouse, and a respectable performance against Shanahan, a team that has won five consecutive titles in the Ches-Mont League.
In pool play, Shanahan topped Pool "B" with an 8-0 record while Kennett was runnerup at 5-3. The Demons posted 2-0 wins over West Chester East (27-25, 25-13) and St. Pius X (25-21, 25-18), split with Villa Maria Academy (25-27, 27-25) and were swept by Shanahan (18-25, 18-25).
Shanahan did not lose a game all day. The Eagles' other pool play sweeps were against West Chester East (25-17, 25-12), St. Pius X (25-13, 25-22) and Villa Maria (25-13, 25-22).
In Pool "A", which was played at Unionville, Mount St. Joe's took first with an 8-0 record while Downingtown East and Garnet Valley tied for second at 3-5. In a special playoff for second place - and a berth in the semifinals - Garnet Valley prevailed 15-9. "I think we played tough but we were playing some very good teams," said Downingtown East's talented freshman hitter Tori Wakelee. "This was a good tournament for us. It will help get us ready for districts."
Thursday, October 15
Shanahan falls in five-set showdown


Friday, October 9
Eagles Sweep Villa

Wednesday, September 30
Shanahan continues its surge

Wednesday, September 30
Shanahan volleyball team stays unbeaten

Tuesday, September 15
Shanahan Tops in PA

Monday, September 14
Shanahan girls' volleyball team ranked No. 2 in state

Thursday, September 10
Soaring Eagles

Shanahan
impressive


Friday, September 11
Team Stats and results

Sunday, September 13
Shanahan Wins the Spartan Invitational at Garden Spot HS!!!


Spartan Invitational @ Garden Spot (9/12/09)

1. Bishop Shanahan (D1 AAA) 2. Brandywine (D3 AA) 3. Holy Name (D3 AA) / Parkland (D11 AAA) 5. Allentown Central Catholic (D11 AAA) / Avon Grove (D1 AAA) / Lancaster Mennonite (D3 AA) / Spring Grove (D3 AAA) ..... Finals - Bishop Shanahan def. Brandywine (25-24, 29-27), Semis - Bishop Shanahan def. Parkland (25-15, 15-15), Brandywine def. Holy Name (25-21, 25-21), Quarters - Bishop Shanahan def. Spring Grove (25-17), Brandywine def. Avon Grove (25-12), Holy Name def. Lancaster Mennonite (26-24), Parkland def. Allentown Central Catholic (25-16) ..... Pool A - 1. Brandywine (7-1) 2. Bishop Shanahan (6-2) 3. Daniel Boone (5-3) 4. Penn Manor (2-6) 5. Cedar Cliff (0-8) ..... Pool B - 1. Allentown Central Catholic (7-1) 2. Lancaster Mennonite (7-1) 3. Garden Spot (3-5) 4. Reading Central Catholic (2-6) 5. Carlisle (1-7) ..... Pool C 1. Spring Grove (6-2) 2. Avon Grove (6-2) 3. Manheim Central (6-2) 4. Ridley (2-6) 5. Wilson (0-8) ..... CFC Pool 1. Holy Name (6-2) 2. Parkland (5-3) 3. Archbishop Wood (5-3) 4. Pennsbury (3-5) 5. Exeter (1-7)



Monday, November 13
Shanahan Reaches State Semifinals; Villa Maria Ousted

Tuesday, January 25
2010 Results

Sunday, August 15
2009 Results - State Champions!

Wednesday, August 27
2008 Results

Wednesday, November 28
2007 Results

Thursday, March 23
2006 Results

Tuesday, August 1
2005 Results

2004 Results

Sunday, November 5
Shanahan Guts Out First District Title
By Denny Dyroff

ROYERSFORD – After two hours of heated, intense volleyball between two great ...

Monday, November 13
Shanahan Celebrates One Amazing Season!


Season Wrap-up
Bishop Shanahan finishes their unforgettable season as one of the best teams in the state. The Eagles posted a 25-3 overall record, winning their third straight undefeated Ches-Mont League Title (15-0), their first District 1 Title (22-1) and making it all the way to the semi-finals of the PIAA State AAA Championships, finishing tied for third in the State. Along the way the Eagles finished second at the "Ford Tough Challenge" losing to Hempfield in the Finals. (Hempfield also beat Shanahan in the Semi-Finals of the PIAA Tournament and went on to win the state championship) Shanahan won the Cumberland Valley "Rally in the Valley" Tournament, one that Hempfield lost in the semi-finals to Spring-Grove HS. Shanahan beat Spring-Grove in the Finals 2-1. Along this fantastic season Shanahan ended the regular season with a win over Villa Maria, a team that they have never beaten before giving the Eagles a regular season record of 18-1. The Eagles then make a run at their first district title and along the way met Villa in the finals. The Eagles did the impossible. After being down 2 games to none, the Eagles came roaring back to win the next 2 to tie the match at 2 games a piece. Starting game 5 the Eagles found themselves down early 8-1. With out giving up and settling for the second place medals, they pulled out the spectacular victory and won the match by 16-14! Along the journey Shanahan met another very tough opponent, not once, twice or even three times... Hatboro-Horsham is a young team that has only had a program for three seasons. The Eagles won all four times, including the Semi-finals of the district and in the quarter-finals in the State tournament.
Shanahan girl's volleyball was also chosen to host a match with a team that traveled a long, long distance. China's Zibo #10 HS from Shandong Province put on an exhibition match with the Eagles. The Eagles played some phenomenal Volleyball to compete with them.
This season was extraordinary! The JV Team was nothing short of amazing too! They went undefeated in their regular season only losing one single game in their way to an 18-0 record. The two tournaments they entered, they came home with third place finishes. With the young talent that the JV possesses the future of Shanahan volleyball looks very bright.




Awards
Shanahan had 7 girls named to the
All Ches-Mont League Teams;
League MVP - Cayleigh Ashman
1st Team – Kayla Beck & Courtney Smith
2nd Team – Kellie Conahan & Ali Huss
Honorable Mention – Kristen Hughes & Jess Lynch

We are also honored to have two players named to the
PVCA Regional Seniors Match;
Kayla Beck & Cayleigh Ashman

2006 PVCA All-State Team
Cayleigh Ashman & Kayla Beck

2006 PVCA State Championship All-Tournament Team
Cayleigh Ashman
In addition to this all tournament team Both Kellie Conahan & Cayleigh Ashman were named to the Rally in the Valley All-Tournament Team.

All 6 Starters named to the
All District 1 Teams;
First Team – Cayleigh Ashman & Kayla Beck
Second Team – Kellie Conahan
Third Team – Ali Huss & Courtney Smith
Honorable Mention – Kristen Hughes

All 6 Starters named to the
Daily Local News All Area-Team;
Co-Players of the Year - Cayleigh Ashman & Kayla Beck
First Team – Kellie Conahan
Secon Team - Courtney Smith
Honorable Mention - Kristen Heghes & Ali Huss
Coach of the Year – Greg Ashman

2006
PIAA AAA STATE SEMI-FINALIST
DISTRICT 1 AAA CHAMPION
UNDEFEATED CHES-MONT LEAGUE CHAMPION
CUMBERLAND VALLEY "RALLY IN THE VALLEY" CHAMPION
HAVERFORD "FORD TOUGH CHALLENGE" 2ND PLACE



Tuesday, September 15
Bishop Shanahan tops in PA


Shanahan volleyball has made it on USA Volleyball website!

http://usavolleyball.org/news/article/15974