Belmont Redwood Shores Youth Girls Softball Association: Sponsors
Thank you to all of our sponsors for your generous support!
Val Vandervort Estates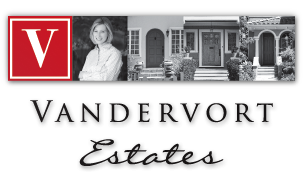 B&L Commercial Seating
701 Phelps St.
San Francisco, California
94124



blseating@aol.com
Phone: 415.285.5300
Fax: 415.285.5301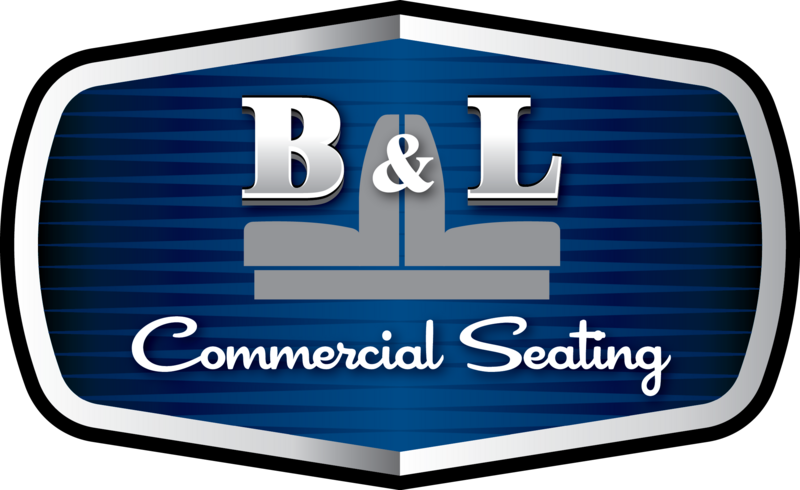 California Sports
1464 El Camino Real
Belmont, California
94002


California Sports and Cyclery is a preferred supplier to BRSYSA. We refer all our players to them for their consultative friendly service, their knowledge of youth sports and their quality equipment selection.
info@californiasportsandcyclery.com
Phone: (650) 593-8806
Canyon Woodworks Inc.
Our goal is to provide quality woodworking solutions using experienced craftsmanship and original ideas.
scott@canyonwoodworks.com
Phone: 650.302.4601
Fax: 650.240.1718

Charles P. Stone, Esq.
1025 Alameda De Las Pulgas, Apt. 224
Belmont, California
94002


Charles P. Stone, Esq. provides counseling and litigation services to individuals and business with a focus on strategies aimed at achieving economically rational outcomes. Charles P. Stone, Esq. also provides contract attorney services to local litigation firms.
cstone@charlesstonelaw.com
Phone: 650-678-6657
Dr Brett Hofmann, DDS
2120 Carlmont Drive, Suite One
Belmont, California
94002


Dr. Brett Hofmann's dental practice delivers first-class service focusing on individualized care. We value long-lasting relationships with local families and believe our attention to detail is the key to keeping our patients smiling. Welcome to Your Home for Cosmetic Family Dentistry.
frontdesk@hofmanndds.com
Phone: (650) 593-2139
Hometown Realty
1090A Ralston Avenue
Belmont, California
94002


Home Is Where The Heart Is!
janetpepedavis@msn.com
Phone: 650.596.8882

Lisa Rothstein Photography
McDougall Law
1640 Laurel Street
San Carlos, California
94070


The Law Office of Jonathan D. McDougall specializes in the legal representation of those involved in the criminal justice system. Jonathan focuses his practice on California criminal defense, including serious felonies, violent crimes, sex crimes, gangs, guns, drugs, fraud, and driving under the influence.
jdm@jdmesquire.com
Phone: (650) 594-4200
Fax: (650) 594-4205

Menchie's Frozen Yogurt
1200 El Camino Real, Suite A3
Belmont, California
94002


Menchie started mixing when he was only a baby. It quickly became his passion and led him to do what he loves and love what he does: making mixes of yogurt and toppings with his sweet friends.
Together, the Sweet Friends represent the United Flavors of Yumm (UFY) and travel the world in the pursuit of yumminess with one mission in mind: to spread the yumm with smiles. In the UFY, any mix possible and all mixes are created equal.
Now, be a Sweet Friend and carpe yumm! Grab a cup, enjoy the sweet ride!
Hours: Sun-Thurs: 11:30am -10pm, Fri-Sat: 11:30am – 10:30pm
Phone: (650) 802-8373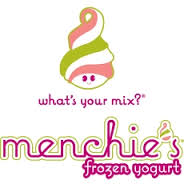 Mistral Restaurant and Bar
370-6 Bridge Parkway
Redwood City, California
94065


Tim Fabatz's New American cuisine is very Mediterranean-influenced, using the best fresh fish, shellfish, meat, & local produce available on our menu. Located on the water in Redwood Shores, we feature cozy, well heated year-'round patio dining, water views, & an outdoor fireplace. Try our new Sunday brunch and live music 10:30-2:30.
toby@mistraldining.com
Phone: 650 802-9222
Fax: 650-802-9221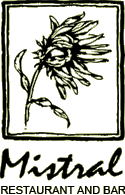 OPI Commercial Builders
445 Leigh Avenue
Los Gatos, California
95032


Founded in 2002 on the principle of "Commitment to Service" to the demands and fast pace of Silicon Valley and the Bay Area. The team at OPI combine to deliver a high level of service, confidence and competence in their approach, along with a strong core of architects and subcontractors capable of delivering commercial interiors faster and more cost-effectively than their competitors.
TLA@opibuilders.com
Phone: (408) 377-4800

Pegas.us.com
| | |
| --- | --- |
| | Many stores in one registry. |

Re/Max Vision Real Estate
| | |
| --- | --- |
| | 40 Years of Outstanding Agents & Outstanding Results. From a single office that opened in 1973 in Denver, Colo., RE/MAX has grown into a global real estate network of franchisee-owned and -operated offices with more than 90,000 Sales Associates. Those agents constitute the world's most productive real estate sales force. Through their efforts, they've made it possible to say that nobody in the world sells more real estate than RE/MAX. |

Sushi Monster
955 Ralston Ave
Belmont, California
94002



Phone: (650) 595-3965
Window Genie of Peninsula
At Window Genie, we clean windows and a whole lot more! We are your San Francisco Peninsula - Belmont CA locally owned and operated leader in streak free Window Cleaning, lifetime guaranteed Window Tinting products, Pressure Washing services, Gutter Cleaning and more. All Window Genie technicians wear Photo ID badges for your protection, and have been trained on the importance of quality service before entering your home. We are fully insured, bonded and ready to provide you with the very best in professionalism, customer satisfaction and job quality.
wgofpeninsula@windowgenie.com
Phone: 650-779-5177
TopDown Consulting, Inc.
530 Divisadero, Suite 310
San Francisco, California
94117


TopDown Consulting is your EPM/BI partner for scalable and adaptable Oracle Hyperion solutions. With over 1000 successful implementations for more than 400 clients, we are the acknowledged leaders in designing, implementing, and deploying Hyperion solutions. Our deep and varied technology, industry, and process experience enables us to quickly assess your business requirements, and partner with you to deliver a tailored solution that increases productivity, reduces risk, and helps your organization become more efficient and make more effective business decisions.
info@topdownconsulting.com
Phone: (888) 644-8445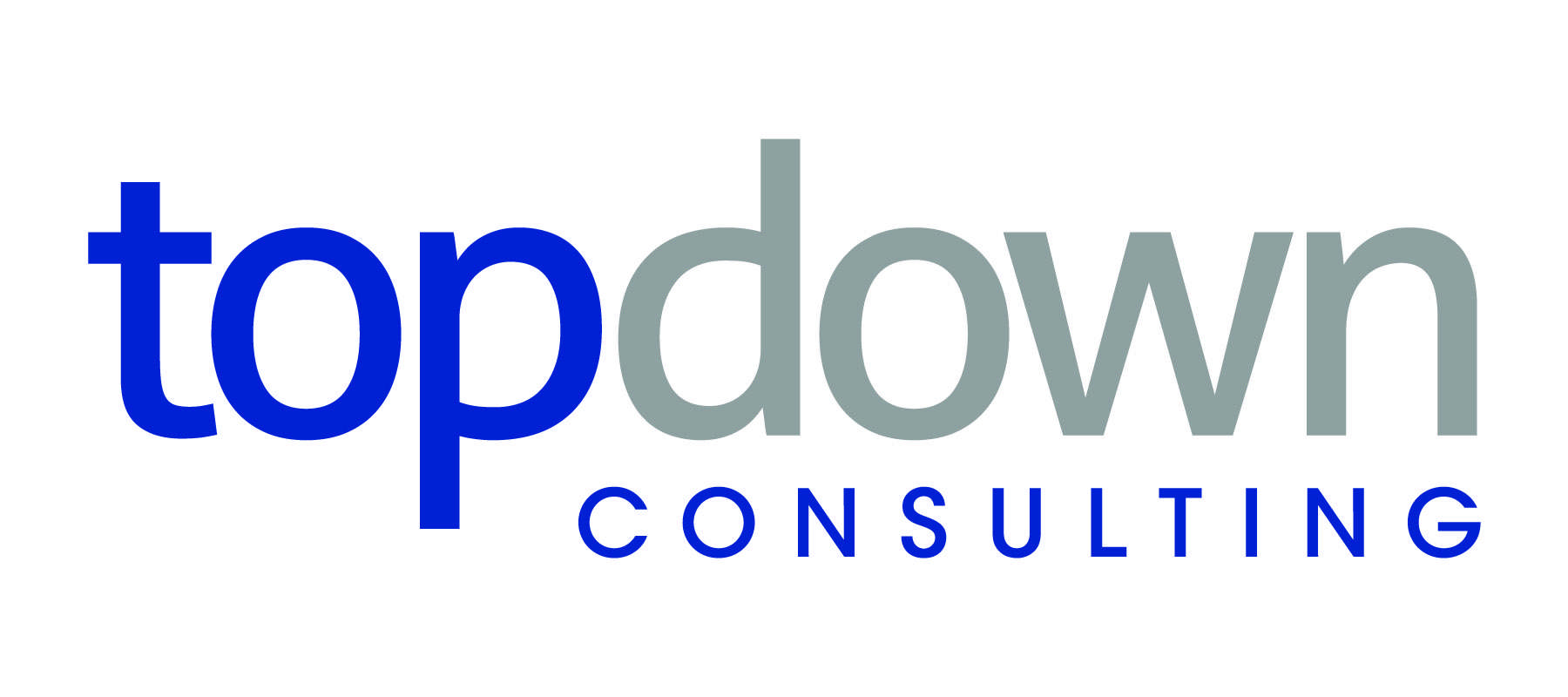 Vita Benefits Group
900 North Shoreline Blvd.
Mountain View, California
94043


At the Vita Companies, our focus and our goal is to preserve, protect, and enhance the lives of each person in the organizations that we serve through the caring implementation of employee benefits and personal financial planning. Our Benefits Group provides full spectrum employee benefit consulting and brokerage services to employer groups of all sizes.
jason@vitamail.com
Phone: 650-968-8811

Woodcraft of San Carlos
40 El Camino Real
San Carlos, California
94070


Woodcraft Supply, LLC is one of the nation's oldest and largest suppliers of quality woodworking tools and supplies. Since 1928, Woodcraft has been supplying a wide array of tools and supplies to woodworkers in 117 countries through retail outlets, by catalog and woodcraft.com. Come check out our San Carlos location for tools, materials, classes and great advice for any project you have in the works.
sancarlos-retail@woodcraft.com
Phone: 650-631-9663

Godfather's Burger Lounge
1500 El Camino Real
Belmont, California
94002


Featured on Best of the Bay as one of the best if not only upscale gourmet burger restaurants in the bay area. Godfathers offers and unique decor and theme and excellent food and service. Godfathers uses locally raised produce and features Coppola wines and local brews from one of Belmont's own, Devils Canyon. Come enjoy a break from ordinary dinning at Godfathers.
bencem@hotmail.com
Phone: 650-580-6577
Mad Dawg School of Fitness
335 Convention Way, Ste. D1/2
Redwood City, California
94063


Mad Dawg School of Fitness specializes in teaching athletes of all ages and abilities how to strength train safely and effectively as well as how to support your training with nutrition, all within a community that nurtures athletic success. Get started today by signing up for a free bootcamp class. Conveniently located near the Wipple exit. https://clients.mindbodyonline.com/ASP/home.asp?studioid=6975

info@maddawgfitness.com
Phone: 650-787-5033
Richards Dry Cleaners
940 Old County Rd
Belmont, California
94002


Richard's gives meaning to the term "family-run business". We've been serving the peninsula community for over 40 years and we look forward to serving members of the Belmont Redwood Shores Youth Softball Association. Go Blast!
rdcleaners@sbcglobal.net
Phone: (650) 591-4668
Steve Fiorentino Insurance Agency, Inc.
1182 Chestnut Street
Menlo Park, California
94025


Our mission is to help people manage the risks of everyday life, recover from the unexpected and realize their dreams. We are a full service agency. Call us for a quote or an assessment of your insurance needs.
lupe.greenbaum.ndg7@statefarm.com
Phone: 650-322-3499
Julie Mifsud Interior Design
Principal designer Julie Mifsud founded her eponymous firm on the principles of inspired design, diligent project management, and a deep understanding of the designer-client collaboration. With a background in retail and formal training in design and color theory, Julie believes the success of her firm lies in getting the entire design concept in front of the client. Julie summarizes her approach: "I never want to leave the client frustrated or confused. I want the meeting to feel productive. Julie has been an avid supporter of BRSYSA for years. Her community support is synonymous with her client support.
jklinks@aol.com
Phone: (650) 303-8797
Fax: (650) 637-8797

Goetz Bros. Sporting Goods
2629 Broadway
Redwood City, California
94063


Welcome to Goetz Brothers Sporting Goods. Goetz Brothers is your team sports specialists. We can help you with all of your equipment and clothing needs for baseball, basketball, football, softball, soccer, volleyball and more. A preferred supplier to BRSYSA.

Phone: (650) 366-4082
Fax: (650) 366-4098
Hartnett, Smith & Paetkau Law
777 Marshall St.
Redwood City, California
94063


With more than 80 years of combined legal experience, the partners in the San Mateo County law firm of Hartnett, Smith & Paetkau are uniquely qualified to handle any litigation in the San Francisco Bay Area or Silicon Valley and to provide legal counsel in a variety of business and real estate matters. From complex commercial disputes to sensitive criminal matters, our firm has an unparalleled record of success litigating matters for our clients and for providing legal counsel that accomplishes client objectives.


hartnett@hslawoffice.com
Phone: 650-568-2820
Fax: 650-568-2823

C&C Builing Automation, Inc.
390 Swift Avenue, Suite 22
South San Francisco, California
94080


For more than 25 years C&C has been a leader in intelligent building solutions because of our reliable, comprehensive and effective service and control systems. What this means is that we offer a wide variety of building automation solutions providing unmatched range, reach and innovation.

cj@ccbac.com
Phone: (650) 292-7450
Fax: (650) 292-7460
Think Active!
Where education is the hidden agenda. Creating fun and educational iPhone/iPad apps.
info@thinkactivenow.com
Phone: 760-743-7721

The Village Host - Belmont
1017 Alameda De Las Pulgas
Belmont, California
94002


Since our Burlingame beginning in 1965, The Village Host has become a welcome addition to several California communities with a menu that stands the test of time and a reputation as "The Host" making us a preferred gathering place for the communities we serve. Families, teams and familiar faces are part of who we are.
Phone: (650) 591-6791
Kids Posh Parties
400 Solstice Lane
Redwood City, California
94065


Let your child be the star of the party. A birthday bash from Kids' Posh Parties is the perfect answer for your busy life. We provide creative and stylish parties for boys and girls living in the San Francisco Bay Area. Our signature events feature elegant table settings, dress up, crafts, and creative activities and entertainment, all in the comfort of your own home or desired location. Just tell us where to go and we'll bring the party to you.


jessica@kidsposhparties.com
Phone: 650.453.3543
NAPA Auto Parts - Belmont
415 Old County Rd
Belmont, California
94002


More than 85 years ago, the National Automotive Parts Association was founded to meet America's growing need for an effective auto parts distribution system. NAPA has been the industry leader ever since and an invaluable partner in the flow of parts from manufacturers to NAPA AUTO PARTS Stores
Phone: (650) 595 - 3880
Ceviche' Bar & Grill
648 El Camino Real
San Carlos, California
94070


Ceviche Bar & Grill offers a variety of dishes including burgers, Mexican cuisine, steaks and seafood. Its menu includes shrimp quesadillas, chicken and steak tacos, cheeseburgers, ceviche tostada, half-chicken plates and sandwiches.
tacoburrit@aol.com
Phone: 650-593-7019
Martin Screen Shop
301 Old County Road
San Carlos, California
94070


At Martin Screen Shop we take great pride in delivering quality screens and old fashioned workmanship. As a family business with deep ties to the community, we are accountable for every single screen we install. In our local shop in San Carlos, employees of long standing custom build wood screen doors to fit any style of home, and any style of door and window. Installation is performed by experienced technicians with years of experience working at the shop.
martinscreenshop@yahoo.com
Phone: (650) 591-7010

Iman Construction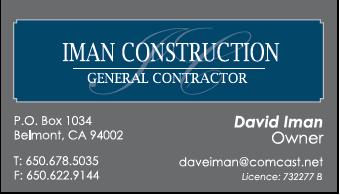 Kazakoff's Painting
Kazakoff, Inc. was founded by my grandfather, George Kazakoff, in 1941. As the third generation owner, I still value the old-fashioned commitment to professional quality, service and customer satisfaction. Kazakoff, Inc. has been Value Star approved for four consecutive years, with a 92.5% customer satisfaction rating. We are currently Diamond Certified. We have proven, and I strongly believe, that customer satisfaction drives a successful business. This is the foundation of my philosophy, and the basis in which I carry on our family business.

Kazakoff, Inc. is a full service painting contractor. We perform all aspects of interior and exterior painting; residential, industrial, and commercial. We have professionally completed jobs ranging from a small bathroom to waterproofing a 7 story building. We also install interior moldings such as crown molding, chair molding, baseboards and door casings.

Phone: (866) 817-7917

All Fence Co.
1900 Spring Street
Redwood City94063


All Fence Company, Inc. has been serving the needs of the San Francisco Bay Area Peninsula for over 27 years. Whether your job is large or small, commercial or residential, we have solutions to meet all projects.
info@buildallfences.com
Phone: (650) 369-4556
Mike Kelty - State Farm
1075 Old County Rd.
Belmont, California
94002


Our mission is to help people manage the risks of everyday life, recover from the unexpected and realize their dreams.
Phone: (650) 593-1400
Fax: (650) 592-1400
Jack's Prime Burgers and Shakes
3723 South El Camino Real
San Mateo, California
94403


A modern day diner where family and friends come to enjoy the classic favorites of flame-grilled burgers and hand-spun shakes.
Phone: 650-638-1479
Fax: 8312462354