Bettendorf/PV Youth Baseball: Welcome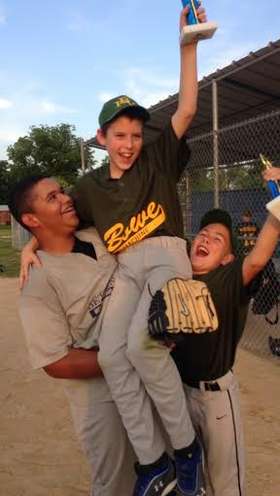 Sportsmanship at its best!
Thursday, July 31
The President's message (July 31, 2014):
Welcome back to our website!
Our 2014 summer season has wrapped up, and as the above photo shows, it was another great BPV campaign on the diamonds of Bettendorf.
In a great show of sportsmanship, Bettendorf Heating's Carlos Rivera is pictured hoisting Bowe Machine's Christian Miller, with help from Bowe's Jack McAfoos, during the Bronco League Tournament. Fifth-seeded Bowe overcame an 0-6 regular-season start and completed a string of postseason upsets to win the title, including a semifinal victory over Rivera's regular-season champs.

Obviously, we are extremely proud of both teams and all of the players involved. This moment captured in the photo reminds us again why we do what we do every year. It's not about the winning; it's about helping the young people of our community to become productive citizens and fantastic neighbors in our great community.
On behalf of the entire BPV Board of Directors, thank you to all of the players, coaches, sponsors, supporters and families that have made for another fantastic summer of baseball in our league.
As we look to our new
Fall League offering for 10-12 year-olds
(see the handout below or at
http://www.eteamz.com/BPV/handouts/
), and peek forward to the
2015 summer season
, there will be several openings on the Board, with "old timers" (myself included) stepping aside and finally retiring from this very worthwhile effort and organization.
We sincerely hope you will consider volunteering to help out the league in some way in the future, whether as a coach or just as importantly as a behind-the-scenes board member (or both in some cases).
From trophies and medals, to team and individual pictures, to concessions, sponsorships, fundraising, game equipment and league management, there's much to do in assuring more than 600 local youngsters annually get to play baseball in our city-wide league.
To find out ways to help, please contact one of our league represenatives:
Umpires also are needed, and compensated for their work in all leagues except Pinto (where a parent from each team is asked to umpire those games). If interested, please apply with one of the above league directors.

Fundrasing always is needed, too, wanted and very much appreciated! Please let us know if you can help with this aspect.
In regards to the
Fall League
, games are being contested for five Saturdays through September. The program begins
Aug. 23
, with the registration deadline
Aug. 15
. For more information, see the registration flyer (below or at
http://www.eteamz.com/BPV/handouts/
) or contact Bob Tappa.
Jim Smith,
BPV Board President
Rain-out Hotline: 344-4467
Handout:
2014 Fall League