Bettendorf/PV Youth Baseball: Welcome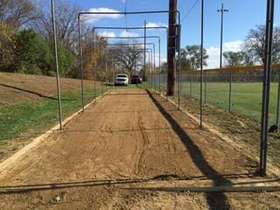 The re-made batting cage at Devil's Glen
Thursday, June 16
The President's message:
The Devil's Glen batting cage workers
Welcome back to our website!
Online Registration System Link:
https://active.leagueone.com/Olr/Pages/Welcome.aspx?ClubId=14196
Happy to report
Pleasant Valley High School's new varsity baseball coach, Bill Sandry
, is hosting
BPV Night
at their ballpark on
Monday, June 20
, when the
Spartans host the rival Bettendorf Bulldogs!
The doubleheader starts at 5, with the second game beginning around 7:30 under the lights, so even if you are scheduled to play that night, the hope is you can join in the fun and perhaps make this a group outing for your own teams!
Any player in a BPV jersey gets in free
and they will be acknowledged during the twinbill. Coach Sandry is working out details to hopefully get all of the BPV players introduced and meet the players in the dugout.
DIRECTIONS:
To reach the stadium, take the Scott Community College entrance off of Belmont Road (just south of PVHS if driving toward the river). The fields are located on the right about a half-mile down the access road to the college.
---
The 2016 youth baseball season is underway! All levels are in action and fast approaching the postseason. Tournament and All-Star Game plans are soon to be announced, as well as a "Fall Ball" option for extra play!

For every level, it's a good idea to check with the appropriate league director:

Ages 6-8: Steve Tappa, tappa@qconline.com, 563-676-8111 or Ron Johns, johnsronald@johndeere.com, 706-220-7286
Ages 9-10: Dan Escontrias, Escontrias_Dan@xpac.com, 563-210-3489
Ages 11-12: Robert Schwan, rjsymgss@gmail.com, 563-209-1949
Ages 13-14: Bob Tappa, rftappa@gmail.com, 563-499-4702
Ages 15-19: Steve Tappa, tappa@qconline.com, 563-676-8111


For coaching information, or any questions about each age-level division, contact the appropriate league director listed above:

Umpires are needed, and compensated for their work in all leagues except the 8-under division (where a parent from each team is asked to umpire those games). If interested, please apply by calling or emailing Don Wendel at dwendel@windstream.net or 563-271-7046.


For information about joining BPV's all-volunteer board, to help with behind-the-scenes work running the league, please contact league president Bob Tappa at rftappa@gmail.com or 563-499-4702.

===

For those playing in the 15-19 age bracket this season, or participating in our affiliated Diamond Kings 13-14 travel program, you will notice a new batting cage at Saldivar Field at Devil's Glen Park.

Andrew Dresselhaus, the oldest son of Diamond Kings 14-under coach John Dresselhaus, completely overhauled and refurbished that part of the facility as his Boys' Scout Eagle Project. Pictures of the finished work are posted above.

We salute the all-volunteer work done by Andrew, his family and friends on behalf of the Bettendorf Parks Department, BPV and the Diamond Kings. We also encourage you to do the same in your own way, whether it's coaching your son's or daughter's team, helping BPV's behind-the-scenes work, or supporting the program financially.

Please consider donating your time and talents on behalf of the children of this community. And, don't feel as if you need to be a baseball expert! From trophies and medals, to team and individual pictures, to concessions, sponsorships, fundraising, game equipment and league management, there's much to do in assuring more than 600 local youngsters annually get to play baseball in our city-wide league.

Volunteer work helps ensure the scholarship program as well as much-needed improvements to equipment and at all of the diamonds we use. Besides the batting cage work at Devils Glen, among the other projects we are tackling this season: new batting cage nets at the 4-Plex, a new scoreboard at Devil's Glen, and new scoreboard consoles at the 4-Plex. The ultimate long-range goal is adding lights for the 4-Plex.

If you are new to our program, here's a little bit about BPV Youth Baseball:

-- Our mission is simple: to offer an affordable, city-based, competitive baseball league for the youngsters of our families in this great community;
-- Our all-volunteer program strives to offer the best experience possible for all players, coaches, officials, sponors and fans by providing a safe, fun, structured outlet;
-- Besides baseball skills, BPV also hopes to develop sportsmanship, leadership, social responsibility and a sense of community;
-- Our non-profit program raises funds to not only support this mission, but also partners with the City of Bettendorf and Bettendorf's Park & Rec Department to continually improve the baseball-playing facilities in our community;
-- BPV annually awards a $500 college scholarship to one senior each at the Bettendorf and Pleasant Valley high schools that went through our program and exhibits the traits we admire the most. (To apply, please see your high school guidance counselor);
-- With backing from our generous sponsors, no youngster is denied the chance to play baseball for financial reasons. (Contact Bob Tappa to inquire about financial assistance);
-- Our motto: It's not about the winning; it's about competing and learning to try your hardest and work together with others. We're all about helping the young people of our great community become productive citizens and fantastic neighbors.

A couple of important facts about BPV Youth Baseball:
-- More than 600 youngsters annually participate in our program via one of our five age-bracket divisions -- 6-8, 9-10, 11-12, 13-14, 15-19.
-- All players receive a baseball uniform of a jersey, hat and socks. Baseball pants and shoes are the participant's responsibility;
-- Each team also is provided batting helmets, catcher's gear and bats upon request. Players are expected to have their own gloves;
-- Volunteers are always needed and welcomed, whether for coaching or behind-the-scenes board work. Those volunteers must clear a background check to work with children per city rules;
-- The City of Bettendorf and Bettendorf's Parks and Rec Department allows BPV to use their diamonds at the following parks: Crow Creek, Devil's Glen, Middle, Kiwanis, Hoover, Scheck, Edgewood and Meier. We thank them for their ongoing support and invaluable partnership;
-- BPV partners with youth baseball organizations in LeClaire, the North Scott School District and cross-river East Moline to provide easily-reachable, regularly-scheduled, regular-season and postseason games at certain levels.
-- I'd also like to direct you to the rest of our website, which includes sections for Standings and Schedules, Handouts (division ruiles and other pertinent information), Pictures (please send us 2015 action!) and About Us.


A look back at the 2015 season:
DEFIBRILLATOR AT THE 4-PLEX:
G and R Integration graciously donated a defibrillator this summer for any emergencies at the 4-Plex. Defibrillation saves lives. The technology is a common treatment for life-threatening cardiac dysrhythmias and ventricular fibrillation. Defibrillation consists of delivering a therapeutic dose of electrical energy to the heart with a device called a defibrillator. We can't thank G and R Integration enough, or for that matter all of our sponsors and volunteers for supporting us.

THE 4-PLEX CONCESSION STAND:
Part amenity for the families attending games there, part fundraiser for the many good works of BPV. Please consider volunteering your time to help offer a concession stand this season! Sign ups are available through Pat English: 563-209-7733 or pat.english@americold.com, Hayley English: 417-439-1212 or henglish2010@hotmail.com, or Deb McGrath: 563-343-2087 or domerswife@gmail.com
NEW SCOREBOARD AT CASTRO FIELD:
As you'll see in one of the photos on this page, our fundraising efforts allowed BPV to add an electroic scoreboard before the season at one of our two Pony League diamonds, Castro Field (Kiwanis Park/Paul Norton School). This is in addition to scoreboards at the 4-Plex, and at Diamonds No. 5 and 6 at Crow Creek Park, among other improvements we've made to the fields of Bettendorf over the last few years. (We also partnered with the City a few years ago to replace the 30-year-old lights at Castro). Among the long-range goals is adding lights at the 4-Plex. If you would like to help with these good works, please contact Bob Tappa at 563-499-4702 or rftappa@gmail.com.

BPV SCHOLARSHIPS:
Our organization annually awards a college scholarship to a worthy graduating senior each year at both Bettendorf and Pleasant Valley High Schools. Our winners this year were Bettendorf's Thomas Byrne (pictured) and Pleasant Valley's Grant Morthland. To be considered for the scholarship, seniors need to apply through their guidance counselors, and must have played a minimum of six seasons in the BPV (DiamondKings count). The more BPV seasons, the better. Grade-point average and community involvement also are considered, as well as an essay addressing the candidate's experience in the BPV.

BATTING CAGES:
Among the baseball-related ameneties we offer each year for the community are batting cages -- two at the 4-Plex, and one each at the Pony diamonds (Smitty and Castro). We hang the batting cage nets each year before the season (see picture), and take them down each fall after the weather turns to nasty for hitting practice.
Bob Tappa,
BPV Board President
rftappa@gmail.com
or 563-499-4702
Rain-out Hotline: 344-4467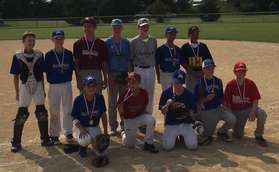 Some of the 2015 All-Stars in the 11-12 year-old division