Bettendorf/PV Youth Baseball: Welcome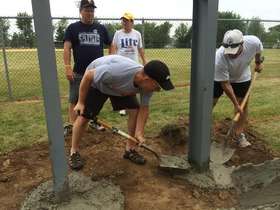 New scoreboard: Castro Field at Kiwanis Park
Wednesday, July 22
The President's message:
Welcome back to our website!
The summer season has hit the home stretch with only the Colt League tournament and All-Star game remaining.
However, just around the corner is our
Fall League
. Play is offered for Ages 7-14, with Pinto, Mustang, Bronco and Pony divisions forming depending on sign ups. The
registration deadline is Aug. 15
, with
play starting Aug. 22
for five Saturdays this fall. For details, please visit this link to a registration flyer:
http://www.eteamz.com/BPV/files/2015FallLeagueRegistration.pdf
=====
Here's a division-by-division recap of the summer season:
COLT DIVISION (Ages 15-19):
Here's an updated tournament link (for final regular-season standings, please see the "standings" section of the website):
https://docs.google.com/spreadsheets/d/1JrRzofS05cauzYNJbjuU5mgakd5Nm05PVr6oauUWaMI/edit#gid=1809129452
The
All-Star Game
is
Monday, July 27
(rain date July 28 or the next day weatherwise thereafter).
Devils Glen hosts the event at approximately 6:30 p.m.
The game is preceded by a
reception (5:30 p.m.) and ceremony (6 p.m.) to honor Terry Heible
, the late and longtime former Colt League Director. Bettendorf/Pleasant Valley Youth Baseball is dedicating a bench at Devils Glen in Heible's honor.
Please join us for refreshments and one of Terry's favorite past times before and after the ceremony.
If planning to attend, please
RSVP current Colt League Director Steve Tappa at 563-676-8111 or tappa@qconline.com.

Here's the official invitation to the ceremony:
http://www.eteamz.com/BPV/files/HelbleInvite.pdf


PONY DIVISION (Ages 13-14):
Here's a final look at the Pony League Tournament (for final regular-season standings, please see the "standings" section of the website):
PINTO DIVISION (Ages 8-and-under):
The Pinto League Postseason offered one-game shootouts for the BPV teams, with the regular season's top finisher taking on the No. 2 team, the No. 3 and 4 seeds meeting, and so forth. The three East Moline teams also had a round-robin tournament for bragging rights.

A final look at the Shootout results and regular-season standings is located here:

https://docs.google.com/spreadsheets/d/1U8zGcvW3qeAZ5rFcqgIviO6ZnpkbcPEeTTiURLOl2Kc/edit#gid=1882585107

The All-Star Games were Saturday, July 4 at the Crow Creek Park 4-Plex (Diamonds No. 10 and 11). Please send us your All-Star pictures at tappa@qconline.com to include on this website!

=====

I'd also like to highlight some of the good works being done in the BPV this summer:

DEFIBRILLATOR AT THE 4-PLEX:
G and R Integration graciously donated a defibrillator this summer for any emergencies at the 4-Plex. Defibrillation saves lives. The technology is a common treatment for life-threatening cardiac dysrhythmias and ventricular fibrillation. Defibrillation consists of delivering a therapeutic dose of electrical energy to the heart with a device called a defibrillator. We can't thank G and R Integration enough, or for that matter all of our sponsors and volunteers for supporting us.

THE 4-PLEX CONCESSION STAND:
Part amenity for the families attending games there, part fundraiser for the many good works of BPV. Please consider volunteering your time to help offer a concession stand this season! Sign ups are available through Pat English: 563-209-7733 or pat.english@americold.com, Hayley English: 417-439-1212 or henglish2010@hotmail.com, or Deb McGrath: 563-343-2087 or domerswife@gmail.com
NEW SCOREBOARD AT CASTRO FIELD:
As you'll see in one of the photos on this page, our fundraising efforts allowed BPV to add an electroic scoreboard before the season at one of our two Pony League diamonds, Castro Field (Kiwanis Park/Paul Norton School). This is in addition to scoreboards at the 4-Plex, and at Diamonds No. 5 and 6 at Crow Creek Park, among other improvements we've made to the fields of Bettendorf over the last few years. (We also partnered with the City a few years ago to replace the 30-year-old lights at Castro). Among the long-range goals is adding lights at the 4-Plex. If you would like to help with these good works, please contact Bob Tappa at 563-499-4702 or rftappa@gmail.com.

BPV SCHOLARSHIPS:
Our organization annually awards a college scholarship to a worthy graduating senior each year at both Bettendorf and Pleasant Valley High Schools. Our winners this year were Bettendorf's Thomas Byrne (pictured) and Pleasant Valley's Grant Morthland. To be considered for the scholarship, seniors need to apply through their guidance counselors, and must have played a minimum of six seasons in the BPV (DiamondKings count). The more BPV seasons, the better. Grade-point average and community involvement also are considered, as well as an essay addressing the candidate's experience in the BPV.

BATTING CAGES:
Among the baseball-related ameneties we offer each year for the community are batting cages -- two at the 4-Plex, and one each at the Pony diamonds (Smitty and Castro). We hang the batting cage nets each year before the season (see picture), and take them down each fall after the weather turns to nasty for hitting practice.
BASEBALL FOR KIDS:
More than 600 youngsters, from age 6-19, annually benefit from our program, which provides uniforms, equipment and competition at the following age divisons: Pinto (8-under), Mustang (9-10 year-olds), Bronco (11-12 year-olds), Pony (13-14 year-olds), and Colt (15-19).
If interested in supporting BPV financially, your contributions are extremely important and very much appreciated in helping offset our ever-increasing expenses. Please contact me or any of the apporpriate board members: Megyn Moser, Sponsors: 563-505-3018 or msquared78@gmail.com, Peter Duytschaever, Sponsors: 309-738-3238 or peteduytschaever@gmail.com, Martha Garcia-Tappa, Marketing: 563-505-2909 or marthagarciatappa@yahoo.com, or Jimmy Tappa, Fundraising: 563-349-9681 or jtappa@qconline.com.

Also, contact me if interested in helping behind the scenes or joining our umpiring crew at rftappa@gmail.com or 563-499-4702.

I'd also like to direct you to the rest of our website, which includes sections for Standings and Schedules, Handouts (division ruiles and other pertinent information), Pictures (please send us 2015 action!) and About Us.

If you are new to our program, here's a little bit about BPV Youth Baseball:
-- Our mission is simple: to offer an affordable, city-based, competitive baseball league for the youngsters of our families in this great community;
-- Our all-volunteer program strives to offer the best experience possible for all players, coaches, officials, sponors and fans by providing a safe, fun, structured outlet;
-- Besides baseball skills, BPV also hopes to develop sportsmanship, leadership, social responsibility and a sense of community;
-- Our non-profit program raises funds to not only support this mission, but also partners with the City of Bettendorf and the Bettendorf's Park & Rec Department to continually improve the baseball-playing facilities in our community;
-- BPV annually awards a $500 college scholarship to one senior each at the Bettendorf and Pleasant Valley high schools that went through our program and exhibits the traits we admire the most. (To apply, please see your high school guidance counselor);
-- With backing from our generous sponsors, no youngster is denied the chance to play baseball for financial reasons. (Contact me to inquire about scholarship details);
-- Our motto: It's not about the winning; it's about competing and learning to try your hardest and work together with others. We're all about helping the young people of our great community become productive citizens and fantastic neighbors.

A couple of important facts about BPV Youth Baseball:
-- More than 600 youngsters annually participate in our program via one of our five age-bracket divisions -- Pinto (8-and-under), Mustang (9-10), Bronco (11-12), Pony (13-14) and Colt (15-19);
-- All players receive a baseball uniform of a jersey, hat and socks. Baseball pants and shoes are the participant's responsibility;
-- Each team also is provided batting helmets, catcher's gear and bats upon request. Players are expected to have their own gloves;
-- Umpires are paid for their work at all levels except Pinto, where parent volunteers are asked to help run the game. For those interested in paid umpiring jobs, please contact Bob Tappa;
-- Volunteers are always needed and welcomed, whether for coaching or behind-the-scenes board work. Those volunteers must clear a background check to work with children per city rules;
-- The City of Bettendorf and Bettendorf's Parks and Rec Department allows BPV to use their diamonds at the following parks: Crow Creek, Devils Glen, Middle, Kiwanis, Hoover, Scheck, Edgewood and Meier. We thank them for their ongoing support and partnership;
-- BPV partners with youth baseball organizations in the North Scott School District and cross-river East Moline to provide easily-reachable, regularly-scheduled, regular-season and postseason games.
-- The tentative starting date for the season for all divisions except Colt is Monday, May 4 (weather permitting).
-- The Colt division start date is Monday, May 11, with a special ceremony this season to honor forner league director Terry Heible, who died last fall after 30 seasons of behind-the-scenes volunteer work on behalf of youth baseball in our community.
-- The targeted finish for all divisions except Colt is mid-July. The Colt division's desired finish is July 24.


Bob Tappa,
BPV Board President
rftappa@gmail.com
or 563-499-4702
Rain-out Hotline: 344-4467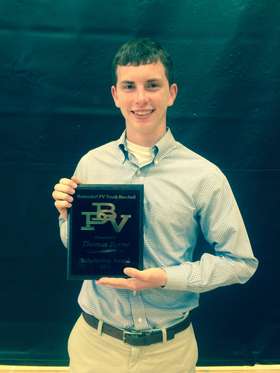 Thomas Byrne, BPV Scholarship winner