Bettendorf/PV Youth Baseball: Welcome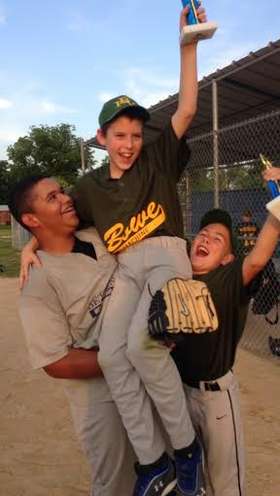 Sportsmanship at its best!
Wednesday, December 10
The President's message (Dec. 10, 2014):
Welcome back to our website!
'Tis the season to wish you and yours a very sincere Happy Holidays from Bettendorf-Pleasant Valley Youth baseball.

It's also a good time to look back on a very successful 2014 season, and look ahead to another great baseball campaign on the diamonds of Bettendorf in 2015.

As the picture above depicts, sportsmanship and competition were again an emphasis of our program, which included more than 600 local youngsters playing baseball from ages 6-19.
Bettendorf Heating's Carlos Rivera is pictured hoisting Bowe Machine's Christian Miller, with help from Bowe's Jack McAfoos, during the Bronco League Tournament last summer. Fifth-seeded Bowe overcame an 0-6 regular-season start and completed a string of postseason upsets to win the title, including a semifinal victory over Rivera's regular-season champs.

Obviously, we are extremely proud of both teams and all of the players involved. This moment captured in the photo reminds us again why we do what we do every year. It's not about the winning; it's about helping the young people of our great community to become productive citizens and fantastic neighbors.
There's other photos on our website you'll want to see, too, including a look at the Fall Instructional League we hosted for eight teams and more than 90 youngsters between the ages of 9-12. We also worked to re-open the wonderful concession stand provided to us by the City of Bettendorf and the Parks Department at the Crow Creek 4-Plex.

On behalf of the entire BPV Board of Directors, thank you to all of the players, coaches, sponsors, supporters and families that made for a great spring, summer and fall.

Looking ahead to 2015, we'll announce dates soon and have handouts and sign-up information soon. For those playing in the Pony League, you'll also notice an electronic scoreboard finally installed at one of our oldest diamonds, Castro Field at Kiwanis Park/Paul Norton School.
We sincerely hope you will consider getting involved in our organization by volunteering to help out the league in some way in the future, whether as a coach or just as importantly as a behind-the-scenes board member (or both in some cases).
We are currently assembling a new Board, with several long-time volunteers retiring in the last year, so we'd appreciate you donating your time and talents on behalf of the children of this community.

And, don't feel as if you need to be a baseball expert! From trophies and medals, to team and individual pictures, to concessions, sponsorships, fundraising, game equipment and league management, there's much to do in assuring more than 600 local youngsters annually get to play baseball in our city-wide league.
To find out ways to help, please contact me, Bob Tappa, at 563-499-4702 or rftappa@gmail.com.
We'll again be offering play in five different age divisions:
Pinto League (8-and-under): League director, TBD
Mustang League (9-10 year-olds): League director, TBD.
Umpires also are needed, and compensated for their work in all leagues except Pinto (where a parent from each team is asked to umpire those games). If interested, please apply by calling or emailing me.

Fundrasing always is needed, too, wanted and very much appreciated! Please let us know if you can help with this aspect.
Bob Tappa,
BPV Board President
Rain-out Hotline: 344-4467