Bettendorf/PV Youth Baseball: Welcome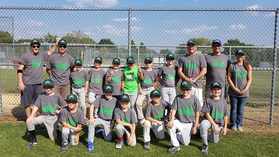 Team Sophie from the 2017 fall season.
Welcome back to our website!
The Bettendorf-Pleasant Valley Youth Baseball Association still is accepting
registrations online
at
https://active.leagueone.com/Olr/Pages/Welcome.aspx?ClubId=14196
.
However, teams have formed in every division
EXCEPT SENIORS
, so you may want to check with the division contacts listed below to ensure there remains room in the program in which you are interested!
-- Coach Pitch (Grades 1-3): Steve Tappa (tappa@qconline.com or 563-676-8111)
-- Intro to Kid Pitch (3rd Grade/Advanced): Ron Johns (JohnsRonaldO@johndeere.com or 706-220-7286)
-- Minors (Grades 4-5): Darren Erickson (ericksondarren@pleasval.k12.ia.us or 563-209-3416)
-- Majors (Grades 6-7): Dan Escontrias (danesco33@gmail.com or 563-210-3489).
-- Juniors (Grades 8-9): Garry Cato (gstrattusone@aol.com or 563-499-4664) or Bob Tappa (rftappa@gmail.com or 563-499-4702).
-- Seniors (Ages 15-20): Steve Tappa (563-676-8111 or tappa@qconline.com).

Renewing registrations from past years is as easy as reviewing contact information and making necessary corrections. First-time users also will find using the system less time-consuming while offering greater data accuracy. Online registration also offers credit-card payments (check also may be sent to: BPV, P.O. Box 215, Bettendorf, Iowa, 52722).
===

CALLING ALL "SENIORS!"
A league-wide informational meeting for the Seniors Division is planned for 6 p.m. Sunday, April 22 at Devils Glen Park (Saldivar Field). All prospective players are asked to attend the meeting, which will cover expectations and specifics, and answer any questions you may have. Teams also will begin forming!

Walk-up sign-ups also will be offered. For more information, contact Steve Tappa at tappa@qconline.com or 563-676-8111.
===
NOTES ABOUT THIS SEASON:
Practices for all but the oldest division begin after Easter, with games planned to start on or about April 30. (The Seniors Division begins May 14). All-Star Games are planned on and around the July 4 holiday. Depending on weather, all seasons should wrap up by mid-July (Seniors run until approximately July 31).

In general: Expect to play a couple of games each week. Once games start, practice time is mostly available on the weekends, decided on by a team-by-team, first-come basis. (The two oldest divisions usually play 3 games per week).

All players receive a jersey, hat and baseball socks for their uniform. Baseball pants and shoes, as well as gloves are the responsibility of the participant. (Some also provide their own helmets and bats, but BPV also provides those, along with catchers gear, in a set of team equipment).

Note: BPV does not exclude participation due to financial hardship. Contact Bob Tappa (rftappa@gmail.com or 563-499-4702) for more information or to discuss payment options.

Behind-the-scenes help running the all-volunteer organization also is necessary. Please consider volunteering by contacting Steve Tappa (tappa@qconline.com or 563-676-8111).
For sponsorship information, please contact Dan Escontrias (danesco33@gmail.com or 563-210-3489).

Umpires are also needed and compensated for their work; contact Ron Johns (johnsronald@johndeere.com at 706-220-7286).

Coaches also are needed in all divisions! (Contact any of those listed above).
===

DIVISION BREAKDOWN:
The divisions offered this year are the same as last season (in all divisions, all players bat in order and participation rules are followed):
-- Coach Pitch: A beginning program for Grades 1-3. Coaches pitch to batters. Players run the bases with some restrictions. Six-inning games. Fields used are at Hoover School and the diamonds nearest to Splash Landing at Middle Park (Called Lowry & 23rd St.). Most teams grouped by school. Also: LeClaire-only teams are a registration option on a first-come, first-serve basis.
-- Intro to Kid Pitch: Geared for 3rd graders and any advanced/veteran coach pitchers ready for a new challenge. Kids pitch to hitters with restrictions. A mixture of rules are used from the Coach Pitch and Minors Division to prepare players for the next level. Six-inning games. Field used: Crow Creek #6 (by the soccer fields). LeClaire-only teams are a registration option on a first-come, first-serve basis. New this year: Evaluations & a draft!
-- Minors: For Grades 4-5. Full kid pitch with base-running restrictions. Regulation games are six innings. Fields used: Scheck Park and Crow Creek #10 & #11 at the 4-Plex. Teams formed by a draft following evaluations. LeClaire-only teams are a registration option on a first-come, first-serve basis.
-- Majors: For Grades 6-7: Full base running rules. Regulation games now seven innings. Fields used: Crow Creek #8 & #9 at the 4-Plex. Teams formed by a draft following evaluations.
-- Juniors: For Grades 8-9. Full baseball. Fields used: Crow Creek #5 and Paul Norton School. Teams formed by a draft following evaluations. Games are seven innings. Fields have lights; night games are normal. Also plays games with and at North Scott Little League. Note: If pairing BPV with high school baseball, consider playing in Seniors on a full-sized diamond against older competition.
-- Seniors: Ages 15-20. Full baseball. Fields used: Devils Glen Park and McCausland City Field. Grab your friends and create a team (adult coach needed). All registrants are placed on a team! Schedule includes doubleheaders on lighted fields on Mondays, Wednesdays and Fridays.

===
VOLUNTEER OPPORTUNITIES:
Planning sessions for the 2018 season are on going! Consider helping with the behind-the-scenes work necessary to help ensure a low-cost activity for more than 700 kids annually in our community, and raise funds for college scholarships and improvements to our city's diamonds and this program. Please contact Steve Tappa at tappa@qconline.com.

Besides volunteer coaches, the BPV Board of Directors is actively seeking additions! Baseball knowledge is not necessary; but candidates must have a passion for kids' activities and supporting community efforts. Help make the next season happen and plan the future of baseball in Bettendorf! Interested candidates please send a note or ask for more information from Steve Tappa (tappa@qconline.com) or Bob Tappa (rftappa@gmail.com).

Among the positions open:

-- A volunteers chairperson to help coordinate volunteers, including the Service Learning students at Pleasant Valley, as well as recruit new members and coordinate efforts with other volunteer/service organizations. Will work closely with the concession chair for concession stand staffing.

-- A fundraising chair (and or committee, with a volunteer representing each division) to work on outside, off-field projects such as "Birdies for Charity" (donation pledge cards tied to the John Deere Classic, with the program providing the incentives/prizes, and 100-percent of the proceeds coming back to us) and a BPV River Bandits Night at the Ballpark (each team buys/sells tickets, Bandits offer the prizes/incentives and game night entertainment, we get half of the ticket money generated from our sales, with the other half defraying the discounted admission prices – needed are people to oversee this program, taking/filling the orders and distributing the tickets).

-- An assistant equipment manager to help "retire" unusable equipment, fixing what can be fixed, ordering replacement hard goods as needed, and stocking team equipment bags check in/out, and managing that process, as well.

-– The Concession Stand at the 4-Plex is a big project. We always can use help. The stand provides a much-needed amenity for the fans and families at the 4-Plex while also raising money for many of the BPV's good works. The Juniors diamonds do not yet have concession stands, but we are looking to add those in the near future. Devils Glen does offer a concession stand for the seniors; however, another charity runs that for their only fundraiser and we allow them to do this as part of our good works/community outreach. The other diamonds (coach pitch and kid pitch and Scheck Park) do not have plans for a concession stand at this time.

-- We also need general volunteers to help with game-day operations (scoreboards during games) and the special events (like the All-Star Games & tournament championship games from handing out awards and programs; operating Public Address sound systems; serving on grounds crews).

-- There also are several other details (picture nights, trophy ordering/distribution, tryouts and evaluations) where people can help.
===
ABOUT THE BPV:
The Bettendorf-Pleasant Valley Youth Baseball Association annually offers more than 700 youngsters, ages 6-20, the chance to play affordable, city-based
baseball regardless of financial need
. The all-volunteer, non-profit organization also works with our city's parks department to
maintain, develop and improve the baseball facilities in Bettendorf
. The BPV's fundraising efforts also provide an
annual scholarship for a graduating senior
at both Bettendorf and Pleasant Valley high schools, as well as a wild-card winner from all of the area high schools.

Coaching and other volunteer opportunities
are available during the registration process. For more information, contact
Bob Tappa
(563-499-4702 or rftappa@gmail.com) or
Steve Tappa
(563-676-8111 or tappa@qconline.com). Information to sponsor teams or purchase outfield signs also is available for download
http://www.eteamz.com/BPV/files/2017BPVSponsorshipRegistrationForm.pdf
.
Umpires also are needed, and compensated for their work. If interested, please apply by contacting Steve or Bob Tappa at the above contacts or
Ron Johns
(706-220-7286 or johnsronald@johndeere.com).
Our volunteer work is responsible for several community projects, improvements and amenities you might take for granted at our city's baseball fields. From scoreboards to batting cages, to lights at Devils Glen, Paul Norton School and Crow Creek No. 5, the BPV continues to make baseball better in our community. Among the most-recent good works:
-- The BPV offers a
college scholarship annually
to a graduating senior at both Bettendorf and Pleasant Valley High Schools, as well as a wild-card candidate from all area schools. Candidates must have good academic credentials. Community involvement is a plus. Winners must also have played at least six seasons in the BPV. If you know of a graduating senior, urge them to apply for the scholarship this coming school year. For an application, ask your school guidance counselor or visit
http://www.eteamz.com/BPV/files/2018BPVScholarshipapplication.pdf
-- A
new scoreboard at Saldivar Field at Devils Glen Park
, ready for the 2017 season. New batting cage nets also were installed prior to the 2017 season at Crow Creek No. 5 (Smitty Field) and Castro Field at Kiwanis Park (Paul Norton School).
-- A
new batting cage at Devils Glen
, prior to the start of the 2016 season, in a partnership with our affiliated Diamond Kings 13-14 year-old travel program. Andrew Dresselhaus, the oldest son of Diamond Kings 14-under coach John Dresselhaus, completely overhauled and refurbished that part of the facility as his Boys' Scout Eagle Project. Pictures of the work and completed project are on the News & Pictures section of our website. http://www.eteamz.com/BPV/news/index.cfm?cat=578684
--
New batting cage nets at the Crow Creek Park 4-Plex
ahead of the start of the 2016 season. The BPV also hangs, stores and maintains those nets, along with the batting cages at Devils Glen, CC#5 and Paul Norton School/Kiwanis Park/Castro Field. When not in use by BPV teams, the batting cages are for the entire community's benefit. Pictures of the annual project are available on the News & Pictures section of our website.
-- The
concession stand at the 4-Plex
is once again a going conern. Part amenity for the families attending games there, part fundraiser for the many good works of BPV. Please consider volunteering your time to help offer a concession stand!
-- The
concession stand at Devils Glen
is run by volunteers from
Bettendorf's New Choices, Inc
. The proceeds from the stand benefit the organization's charitable mission to allow local individuals with disabilities to live as independently as possible.
-- G and R Integration Services generously donated in 2015 a
defibrillator to the 4-Plex Concession Stand
for emergencies. Defibrillation saves lives. The technology is a common treatment for life-threatening cardiac dysrhythmias and ventricular fibrillation. Defibrillation consists of delivering a therapeutic dose of electrical energy to the heart with a device called a defibrillator.
-- A
new scoreboard
was installed after the 2014 season at
Castro Field at Kiwanis Park (Paul Norton School)
. As you can see in the News & Pictures section of our website, our fundraising efforts allowed BPV to add to scoreboards at the 4-Plex, and at Diamonds No. 5 and 6 at Crow Creek Park.
-- BPV partnered with the City of Bettendorf in 2013 to replace the
30-year-old lights at Castro
.
-- A long-range fundraising project we continue working toward --
LIGHTS AT THE 4-PLEX.
===
NEWS & ANNOUNCEMENTS:
-- BPV Scholarship winners:
The BPV's practice of annually awarding a $500 scholarship to our top graduate at both Bettendorf and Pleasant Valley High School was expanded this year. The Board voted to increase the award to $1,000 each, and a third wild-card winner was added from the pool of qualified candidates to also include applicants from other schools in the area. The minimum requirements of the scholarship are that applicants must have played at least six seasons in the BPV, as well as displayed great academic achievement and/or commitment to community service during their high school careers.
Seven finalists (three at PV, four at Bettendorf) were identified as eligible for the awards this year
from the applications received in both high school counseling offices. In a blind vote by the BPV Board, with names redacted on the applications, and the BPV Secretary recusing himself to fairly tabulate the votes, winning the runoff at BHS was
Thomas Crowley
(five votes) with
Nick Mulholland
and
Jackson Callahan
receiving four votes each. The PVHS winner was
Michael Tappa
(12 votes). Mulholland then beat out Callahan for the wild-card award, eight votes to five. The other finalists for the awards were
Kyle Kent
(BHS),
Cam Peer
(PVHS) and
Zach Pilger
(PVHS). Oddly, five of the seven finalists have played for the BPV team sponsored by Tappa's Steakhouse, including all three winners who are current teammates in the Seniors Division (see picture above). Of the finalists,
Crowley
sports the best grade-point average (3.981 or 15th in the graduating class). He's played 10 seasons in the BPV and is headed to Iowa State University for Engineering.
Mulholland
, who has never failed to make the All-Star team in his 12 BPV seasons, sports a 3.717 GPA and No. 77 class rank. He will attend the University of Iowa for Business Statistics with a minor in Sports Studies.
Tappa
, called BPV's "Swiss Army Knife," by scholarship presenter Ron Johns, for volunteering countless hours of time in numerous roles for the BPV, plans to study Pre-Law and Sports Management at St. Ambrose. He's also a 12-year playing veteran. All three winners also participated in varsity sports during high school. The BPV congratulates all three winners and is proud of the accomplishments and contributions of all seven finalists. A copy of the scholarship application is here for future use (
http://www.eteamz.com/BPV/files/2018BPVScholarshipapplication.pdf
), as all future graduates that meet the requirements are strongly encouraged to apply.
-- Touching donation: The Bettendorf-Pleasant Valley Youth Baseball Association was incredibly honored in September 2016 to have the family of the late William B. "Bill" Griffith remember him with memorials going to the organization (Bill's picture is on our home page). The 57-year-old from Davenport died Sunday, Sept. 11, 2016 as the result of a motorcycle accident in LeClaire. Bill was born Jan. 25, 1959 in Beloit, Wis., the son of Tom and Elsie (Peiserich) Griffith. Bill grew up in Bettendorf, though, and was employed for over 25 years in maintenance with Bettendorf Community Schools. Bill enjoyed baseball, football and motorcycling. Among Bill's fondest memories was playing baseball as a youngster with his brothers Mark and Matthew, as well as with neighborhood friends on the field close by Jackson (now Neil Armstrong) Elementary. In honor of that memory, Bill and the family chose to have his memorials made to BPV Baseball. Thank you to all who so generously gave in Bill's memory and in accordance with his wishes.

===


COACHING QUALIFICATIONS
The BPV now requires all coaches to seek AAU membership annually, which has background checks built into the online approval process.
Applying for AAU membership
is as easy as visiting the website (
http://
www.aausports.org
), taking a few minutes to fill out the necessary form and sending a $16 annual fee.
The BPV refunds this fee upon proof of membership and the Board approval necessary to be a BPV coach.
Proof of membership is as easy as sending the coach's BPV division rep an email with a photo attached of the coach's membership card. This information is then kept on file for that year by the BPV. Each head coach and assistant coach (two in most divisions) are required to have AAU membership.
Credit is applicable for having previous AAU membership, and a refund will be granted for AAU coaches in other sports, so long as the AAU membership applies to the current baseball season. The Bettendorf Youth Basketball Association is among the many organizations also requiring AAU membership. Most weekend travel tournaments run by the USSSA also require AAU membership.

AAU membership also offers: 1) $50,000 of sports accident insurance coverage when participating in AAU licensed events; 2) Covers 30 sports and all AAU-licenesed events in those activities; 3) Provides for free a Mandatory Positive Coaching Alliance coaching course and other online coaching videos; 4) Athlete & club/organization membership available & necessary for participation in AAU events.

Additionally, the BPV is requiring attendance at one of the coaching clinics offered by the BPV (or completion of the AAU's online coaching class) to earn coaching approval from the board. Proof of clinic/class completion is required. For more information, contact Bob Tappa at rftappa@gmail.com.

FREQUENTLY ASKED QUESTIONS:
Q: I have a background check done through my job, club, or Governing Body every year. Can you use that information?
A: No. Federal Law does not allow organizations to share background screening information. We cannot use any other source or data for our background screening process.

Q: If my AAU membership is not approved what happens?
A: You can contact the AAU Compliance Department at 407-934-7200 for further instructions.

Q: Who sees my information and is my private information secure?
A: First Advantage has been contracted by the AAU to perform the background screenings. Please visit their website at FADV.com to learn about the company handling our background screens and your private information.
Q: When are the coaches clinics to attend? When are their meetings for the coaches in a respective division?
A: The dates, times and sites for clinics or meetings will be circulated closer to the season. However, most divisions meet before the April 1 evaluations or practices begin. Coaching clinics from both the Pleasant Valley High School staff and Legends Baseball Academy also are planned for April and May when the weather allows for field usage. (A clinic with Major League veteran Spin Williams was Feb. 4).

===


If you are new to our program, here's a little bit about BPV Youth Baseball:

-- Our mission is simple: to offer an affordable, city-based, competitive baseball league for the youngsters of our families in this great community;
-- Our all-volunteer program strives to offer the best experience possible for all players, coaches, officials, sponors and fans by providing a safe, fun, structured outlet;
-- Besides baseball skills, BPV also hopes to develop sportsmanship, leadership, social responsibility and a sense of community;
-- Our non-profit program raises funds to not only support this mission, but also partners with the City of Bettendorf and Bettendorf's Park & Rec Department to continually improve the baseball-playing facilities in our community;
-- BPV annually awards a $1,000 college scholarship to one senior each at the Bettendorf and Pleasant Valley high schools (as well as a wild-card candidate from all area schools) that went through our program and exhibits the traits we admire the most. To apply, please see your high school guidance counselor;
-- With backing from our generous sponsors, no youngster is denied the chance to play baseball for financial reasons. (Contact Bob Tappa to inquire about financial assistance);
-- Our motto: It is not about the winning; it is about competing and learning to try your hardest and work together with others. We are all about helping the young people of our great community become productive citizens and fantastic neighbors.

A couple of important facts about BPV Youth Baseball:
-- More than 700 youngsters annually participate in our program via one of our six age-bracket divisions from ages 6-19.
-- All players receive a baseball uniform of a jersey, hat and socks. Baseball pants and shoes are the participant's responsibility;
-- Each team also is provided batting helmets, catcher's gear and bats upon request. Players are expected to have their own gloves;
-- Volunteers are always needed and welcomed, whether for coaching or behind-the-scenes board work. Those volunteers must clear a background check to work with children per city rules;
-- The City of Bettendorf and Bettendorf's Parks and Rec Department allows BPV to use their diamonds at the following parks: Crow Creek, Devil's Glen, Middle, Kiwanis, Hoover, Scheck, and Edgewood. We thank them for their ongoing support and invaluable partnership;
-- BPV partners with youth baseball organizations in LeClaire and the North Scott School District to provide easily-reachable, regularly-scheduled, regular-season and postseason games at certain levels.
-- I'd also like to direct you to the rest of our website, which includes sections for Standings and Schedules, Handouts (division ruiles and other pertinent information), News & Pictures (please send us your photos) and About Us.


Bob Tappa,
BPV Board President
rftappa@gmail.com
or 563-499-4702
Rain-out Hotline: 344-4467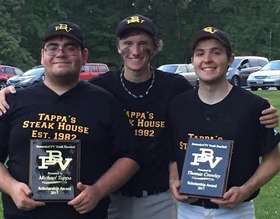 BPV scholarship winners (L-R): Michael Tappa, Nick Mulholland, Thomas Crowley.