Bettendorf/PV Youth Baseball: Welcome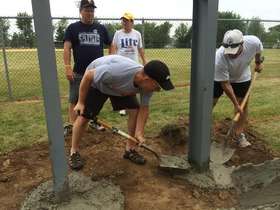 New scoreboard: Castro Field at Kiwanis Park
Thursday, March 26
The President's message:
Welcome back to our website!

A new baseball season is upon us and I sincerely hope you are as excited as we are!

If the weather forecast can be trusted, tryouts/evaluations & late walk-up registration is Saturday for the Mustang 9-10 year-olds), Bronco (11-12 year-olds) and the Pony (13-14 year-olds) divisions.

Mustang and Bronco sessions start at 9 a.m. (last names between A-L) and 1 p.m. (last names between M-Z) at the Crow Creek Park 4-Plex.

The Pony session starts at 1 p.m. for all players at Crow Creek Park diamond No. 5 (Smitty Field).

NOTE: All players make a roster. The "tryouts" are simply used to help evaluate players in an effort to ensure a competitive balance.

The Pinto (8-and-under) and Colt (15-19 year-olds) do not have tryouts. Coaches and/or player meetings will be announced shortly.

A couple of frequently asked questions about the tryouts/evaluations:
-- If you are unable to attend this weekend because of conflicts with another event? Don't worry. Those players still end up on rosters, dispersed in a blind draw at the appropriate league draft.
-- If you are unable to attend at the assigned time for Mustang or Bronco? Simply attend the other session if that's more convenient.
-- Make sure to dress appropriately for the weather. (Sweatshirts or jackets, possibly a stocking cap, if temperatures are in the 40s as forecast).
-- Make sure to bring a glove and any baseball shoes to the tryouts. Bats and batting helmets are available if you do not wish to bring and keep track of these items.
-- Families should know their team assignments by Easter Sunday, April 5.
-- Sponsorship and volunteer positions remain open. Please just ask any board member for details.
-- For those interested in paid umpiring positions, an umpire meeting is scheduled for Tuesday, March 31 at the Bettendorf Community Center starting at 6:30 p.m.
-- The tentative starting date for the season for all divisions except Colt is Monday, May 4 (weather permitting).
-- The Colt division start date is Monday, May 11, with a special opening night ceremony planned to honor forner league director Terry Heible, who died last fall after 30 seasons of behind-the-scenes volunteer work on behalf of youth baseball in our community.
-- The targeted finish for all divisions except Colt is mid-July. The Colt division's desired finish is July 24.

If you are new to our program, here's a little bit about BPV Youth Baseball:
-- Our mission is simple: to offer an affordable, city-based, competitive baseball league for the youngsters of our families in this great community;
-- Our all-volunteer program strives to offer the best experience possible for all players, coaches, officials, sponors and fans by providing a safe, fun, structured outlet;
-- Besides baseball skills, BPV also hopes to develop sportsmanship, leadership, social responsibility and a sense of community;
-- Our non-profit program raises funds to not only support this mission, but also partners with the City of Bettendorf and the Bettendorf's Park & Rec Department to continually improve the baseball-playing facilities in our community;
-- BPV annually awards a $500 college scholarship to one senior each at the Bettendorf and Pleasant Valley high schools that went through our program and exhibits the traits we admire the most. (To apply, please see your high school guidance counselor);
-- With backing from our generous sponsors, no youngster is denied the chance to play baseball for financial reasons. (Contact me to inquire about scholarship details);
-- Our motto: It's not about the winning; it's about competing and learning to try your hardest and work together with others. We're all about helping the young people of our great community become productive citizens and fantastic neighbors.

A couple of important facts about BPV Youth Baseball:
-- More than 600 youngsters annually participate in our program via one of our five age-bracket divisions -- Pinto (8-and-under), Mustang (9-10), Bronco (11-12), Pony (13-14) and Colt (15-19);
-- All players receive a baseball uniform of a jersey, hat and socks. Baseball pants and shoes are the participant's responsibility;
-- Each team also is provided batting helmets, catcher's gear and bats upon request. Players are expected to have their own gloves;
-- Umpires are paid for their work at all levels except Pinto, where parent volunteers are asked to help run the game;
-- Volunteers are always needed and welcomed, whether for coaching or behind-the-scenes board work. Those volunteers must clear a background check to work with children per city rules;
-- The City of Bettendorf and Bettendorf's Parks and Rec Department allows BPV to use their diamonds at the following parks: Crow Creek, Devils Glen, Middle, Kiwanis, Hoover, Scheck, Edgewood and Meier. We thank them for their ongoing support and partnership;
-- BPV partners with youth baseball organizations in the North Scott School District and cross-river East Moline to provide easily-reachable, regularly-scheduled, regular-season travel options.

If you are interested in playing this season, but have yet to sign up, follow the above registration details, including our link to online registrations.
For further information about each division, please attend our Open House or walk-up registration events listed above, or feel free to call the appropriate division director.

Pinto League (8-and-under): TBA
Mustang League (9-10 year-olds): Dan Escontrias (563-210-3489/Escontrias_Dan@xpac.com)
Bronco League (11-12): Bob Tappa (499-4702/rftappa@gmail.com)
Pony League (13-14): Don Wendel (271-7046/dwendel@windstream.net)
Colt League (15-19): Steve Tappa (676-8111/tappa@qconline.com)

If interested in helping behind the scenes, contact me or any board member listed for the upcoming 2015 season. Concession sign ups are available through:
Pat English: 563-209-7733 or pat.english@americold.com
Hayley English: 417-439-1212 or henglish2010@hotmail.com
Deb McGrath: 563-343-2087 or domerswife@gmail.com

If interested in umpiring, please apply by contacting me. An information meeting is scheduled for Tuesday, March 31 at the Bettendorf Community Center starting at 6:30 p.m.

If interested in supporting BPV financially, your contributions are extremely important and very much appreciated in helping offset our ever-increasing expenses. Please contact me or any of the apporpriate board members:

Megyn Moser, Sponsors: 563-505-3018 or msquared78@gmail.com
Peter Duytschaever, Sponsors: 309-738-3238 or peteduytschaever@gmail.com
Martha Garcia-Tappa, Marketing: 563-505-2909 or marthagarciatappa@yahoo.com
Jimmy Tappa, Fundraising: 563-349-9681 or jtappa@qconline.com

For those playing in the Pony League this season, you'll also notice an electronic scoreboard finally installed at one of our oldest diamonds, Castro Field at Kiwanis Park/Paul Norton School. Among our upcoming goals is to add lights at the Crow Creek Park 4-Plex.

And finally, I wanted to direct you to the rest of our website, which includes sections About Us, for Handouts (registration flyers, division rules, other pertinent information) and for Pictures (from last season). Before much longer, updated game schedules and standings will be here, too, along with a new season!

Bob Tappa,
BPV Board President
rftappa@gmail.com
or 563-499-4702
Rain-out Hotline: 344-4467