Buena Park National Little League: Welcome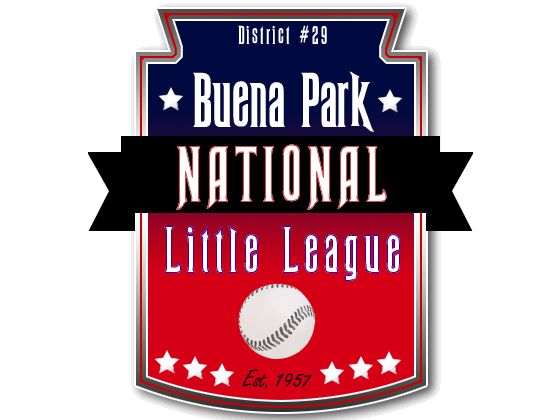 CLOSING CEREMONIES
Closing Ceremonies for the 2015 Spring Season will be
Saturday, May 23 from 10am to 4pm
Games & Prizes-Teams Welcome To BBQ!
Fastest Runner-Home Run Derby-Fastest Pitch-Team Tug of War
Sign up for events in snack bar before May 22
Congratulations To Our Division Champions!
Majors: Orioles (15-6-1) / Minor A: Orioles (20-2) / Minor B: Orioles (14-2)
Juniors: Angels
*Click on the "2015 TOC" tab for brackets/game times!*
CHEVY YOUTH BASEBALL CAMP @ ANGELS STADIUM!
Saturday, June 20, 2015
Boys & girls ages 6-14 invited to attend for FREE!
You MUST register to attend! (click for registration info!)
Volunteers Needed!
BP National will be hosting the Minor B Tournament of Champions!
Scorekeepers, field maintenance, announcers, pitch counters
and snack bar help are needed!
Learn To Keep Score!
Check out instructional videos on the "Volunteer/Scorekeeping" page!
Thanks To Our 2015 Sponsors!
We would like to thank our sponsors for the upcoming season:
SUPERIOR MARKETS - PREMIER CHEVROLET - KNOTTS BERRY FARM
JOHN'S INCREDIBLE PIZZA - BIG AIR TRAMPOLINE PARK - BLACK BEAR DINER
U S SHOP TOOLS - SOUTH COAST CONTAINER CORP. - AQUARIUM OF THE PACIFIC
LOS ANGELES KINGS - LOS COYOTES COUNTRY CLUB - JOHN WEBB/STATE FARM
SPORTS AUTHORITY - GANAHL LUMBER - D.L. BONE & SONS PAINTING
LOS ANGELES ANGELS - BUENA PARK POLICE DEPARTMENT - MEDIEVAL TIMES
Visit Our "Sponsors" Page To View And Visit Our Generous Supporters!
THANKS FOR YOUR SUPPORT!