Buena Park National Little League: Welcome
Info@Buenaparkbaseball.com
JOIN US ON FACEBOOK - CLICK LOGO BELOW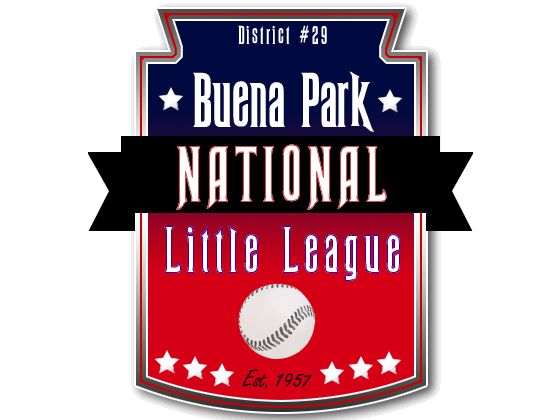 Buena Park National Little League
Come Out & Support Our BP National All-Stars!
"Elite 8" (Minor B) All-Star Tournament
Next Game: Friday, August 1, 5:00pm • Semifinals
BP National vs. La Mirada @ Little Lake
Tuesday, 7/29: BP National 9 - Little Lake 1
Saturday 7/26: BP National 21 - BP American 6
Congratulations To All Of Our All-Star Teams!
2014 Winterball Registration is Here!
Registration Dates @ Bellis Park Every Saturday 10am-12pm:
Check Back For Additional Times!
Season starts September 1st!!! Low cost - stay active - have fun!
10 Game Schedule Based on Field Availability Tues/Thurs/Sunday
TBall/Rookie and Minor B (Ages 4-9) $30 Minor A and Majors (Ages 9-12) $50
Juniors (Ages 12-14) $70
Pay with Cash, Check or Credit Card ($4 fee for credit card payment)
Space is limited - waiting lists to be formed after each team is assembled (12 players per team).
Returning players...NO PAPERWORK! Use your existing documents from Spring.
2014 BPNLL ALL-STARS
2014 Buena Park National All-Star Teams Have Been Announced!
Please Click On The "BPNLL 2014 All-Stars" Tab On Left
For Team Members & To View All-Star Brackets
Handout:
Registration Forms