Buena Park National Little League: Welcome
Info@Buenaparkbaseball.com
JOIN US ON FACEBOOK - CLICK LOGO BELOW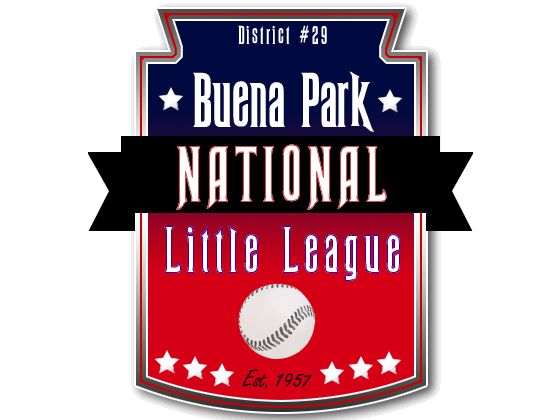 Buena Park National Little League
REGISTER NOW FOR SPRING!
Spring 2015 Registration
EVERY Saturday from 10am to 12noon @ Bellis Park
*1 WEEK LEFT!* Take advantage of our "Early Bird" Discount!
Register Before December 15 & SAVE!!!!
Early Bird Ages 3-6 $40 (After December 15th- $60)
Early Bird Ages 7-12 $80 (After December 15th- $100)
Early Bird Ages 13-14 $100 (After December 15th- $140)
NOW ACCEPTING 3 YEAR OLDS! Any Child turning 4 in the 2015 Calendar year is now eligible to Sign-Up!!!
Parents: Please bring original birth certificate and (3) Proofs of Residency to registration
For acceptable forms of Residency Verification click here
The 2015 Registration and Medical Release form has changed!
Click Here To Print Out 2015 Registration & Medical Release Form
Click Here For More Information!
Coaches Needed!
Buena Park National Little League is built on volunteers! Coaches are needed for the upcoming 2015 Spring Season, especially in the lower divisions. T-Ball (age 3-5), Rookie (Age 5-7) and Minor B (Age 8-10) divisions need new Managers and Coaches to step up. You can make a difference in a child's life!
Plan practices around YOUR schedule – volunteer today!!!
2014 BPNLL ALL-STARS
Congratulations to our 2014 Buena Park National All-Star Teams!
Please Click On The "BPNLL 2014 All-Stars" Tab On Left
For Team Members & To View All-Star Brackets
Handout:
Registration Forms