BKW Little League: Welcome
Sunday, March 9
Majors Softball & Baseball Tryouts
2014 Majors Tryouts
Saturday, March 15 & Sunday March 16
Softball 2:00pm - 3:00pm ~ Baseball 3:00pm - 5:00pm
Players are required to attend at least 1 tryout session
We will be drafting 1 Majors Softball team and 2 Majors Baseball teams
Tryouts will be held in the BKW High School Gym
Friday, March 7
Tri-City Valleycats to renovate Westerlo Baseball Field
The Tri-City Valleycats announce major renovation of our Westerlo Field !!!!!
TROY, NY- The Tri-City ValleyCats, with the support of BlueShield of Northeastern New York, will renovate four youth ball fields in less than 24 hours on Thursday, April 17. As part of the '4 in 24' program, Schenectady Little League, Twin Town Little League, Berne-Knox-Westerlo Little League, and Spring Youth Baseball, will all receive renovations to their playing surface.
Click this link for full story
http://www.milb.com/news/article.jsp?ymd=20140307&content_id=68854254&fext=.jsp&vkey=news_t577&sid=t577
Thank You ValleyCats!!!!!
Wednesday, January 8
2014 Baseball and Softball Registration is now open!!
BKW Little League Spring 2014 Registration Now Open!!!!!!
Follow the '2014 Registration' Link from the menu on the left
Online registration begins January 1, 2014
Registration ends March 14, 2014
In-person registration nights
Monday, Feb. 24th & Thursday, Mar. 13th
6:30 – 8:00pm
BKW Elementary School Cafeteria
Baseball and Softball : 3 levels of play
Farm (coach pitch, ages 7-8) Minors (ages 9-10) Majors (ages 11-12)
$65 1st registration, $45 per additional registration*
T-Ball (ages 5-6)
$45 per player
*4th player and up free- per family fee cap of $155:
A players 'league age' is as follows:
For Baseball – age as of 5/1/14 For Softball – age as of 1/1/14
Players are encouraged to play 'up' if able. The League Player Agent will make this determination once ability and safety have been assessed.
Players in our T-ball through Minors baseball divisions will receive an official MLB replica uniform shirt and cap, along with a pair of matching socks. Softball and Majors baseball players will receive a BKW cap and matching socks. Players keep these at seasons end. *Financial assistance options available- contact Kevin Toomey at fenwayx@hotmail.com
REFUND POLICY:
A refund request received after the uniforms have been ordered will be issued at $30.00 less than the original registration fee. There will be no refunds issued after April 27th, 2014.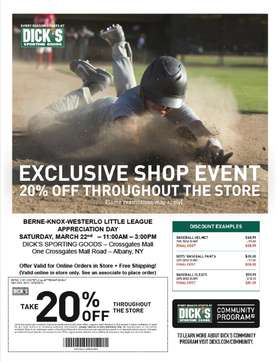 Click image above to print this valuable coupon!
Dick's Sporting Goods BKW LL Appreciation Day Coupon
11 AM to 3 PM, March 22, 2014!
Save Big
Wednesday, February 26
BKW Little League - Dates and Information!!! UPDATED!!!
Information and dates for 2014. Updated Regularly!!
News
- We will once again be using official MLB replica uniforms in our T-ball, farm and minors baseball divisions. Kids can keep these at seasons end.
- We have already had a series of meetings with our interleague neighbors on rules and consistency from game to game. We expect to see a much better interleague experience for all in 2014
- We, and our interleague neighbors (Middleburgh, Duanesburg, Schoharie), will all try to field 'Farm' level softball teams in 2014. Past attempts have not worked as well as hoped. This would be for girls ages 7-8 and will be 'coach pitch'. We'll need to recruit new players for this so talk to your friends. This will be new for everyone so no one league is expected to have a competitive advantage. UPDATE: Farm softball is off to a good start, we still need some more players though. Talk to your friends, we are getting close!!
- Louis Tubbs, caretaker of the softball field in Knox, has passed away and will be greatly missed. The leauge will participate in a ceremony this spring to name the field in his honor. The league has made a donation to the American Heart Association in his name.
Dates
January 1st - March 14th - Online registration period for the 2014 season. More information on prices and in-person registration dates will be available by the end of this month.
March 13th - In Person Registration Night. 6:30-8:00pm in the Elementary School Cafeteria. Last Chance to register in person, online registration ends on 3/14.
March 15th & 16th - Tryouts for Majors Baseball and Softball. From 2:00-5:00 in the High School Gym. More details to follow.
March 22nd - League Appreciation Sale at Dicks Sporting Goods. Come see us at the BKW Little League table in the store at Crossgates Mall for special coupons giving you 20% off your entire purchase. Coupons are good for most everything in the store, not limited to baseball/softball gear. Tell your family and friends, all are welcome.
March 27th - Uniform Sizing Night/Pant Sale. From 6:00-8:00pm in the Elementary School cefateria. All T-Ball, farm, and minors baseball players need to order a uniform shirt. All baseball and softball players can try on and order uniform pants at discount prices. (Elastic Waist $8.00/ Belt loops $11.00. Add $2.00 for adult sizes)
April 13th - Coaches Clinic. From 3:00-6:00pm. More information to follow. Mandatory for coaches. Conducted by Coach Bill Farrell and other staff from Frozen Ropes Albany.
April 27th - Opening Day/Team Picture Day at the Berne Town Park. 11:00am-3:00pm
* If you, or anyone you know, would like to be added to our sponsorship application mailing list, please contact Tiffany Detlefsen at bkwlittleleague@gmail.com
* Remember also that you can still download coupons for Dicks Sporting Goods from the link below.
Please visit our LL Forms page for Age Charts, Volunteer Applications, and 2014 Boundary Map
New this year: Return Volunteer Application. It's shorter to make volunteering again that much easier!
Check out the most updated BKW Little League official Boundary Map.
2014 Age Charts for Baseball and Softballare also available.
Lots more useful form. Visit the LL Forms page now!
BKW LL Dick's Sporting Goods Coupons (click here)
Friday, November 15
In Memory
~ In Memory Of ~
Lewis E. Tubbs Sr.
1935 - 2013
This past Monday, 11/11/13, BKW Little League lost a valued friend and asset with the passing of Mr. Lou Tubbs. Mr. Tubbs has helped the league maintain the softball field in Knox for several decades now and he will be sadly missed. He treated that field like it was his own front yard and always kept it looking great and ready for the kids to play on. Also a great fan, Lou would sit out on his porch across the street which gave him a perfect view of the games.
Thanks Lou!!!

BKW Little League has made a donation to the American Heart Association in his honor.

Monday, October 14
The Mission Of Little League
The Mission of Little League
Little League Baseball, Incorporated is a non-profit organization whose mission is to "promote, develop, supervise, and voluntarily assist in all lawful ways, the interest of those who will participate in Little League Baseball and Softball."
Through proper guidance and exemplary leadership, the Little League program assists children in developing the qualities of citizenship, discipline, teamwork and physical well-being. By espousing the virtues of character, courage and loyalty, the Little League Baseball and Softball program is designed to develop superior citizens rather than superior athletes.
Founded in 1939; granted Federal Charter July 16, 1964, by unanimous act of the Senate and House of Representatives of the Congress of the United States of America and signed by President Lyndon B. Johnson as Public Law 88-378, 88th Congress H.R. 9234, and amended December 26, 1974, Public Law 93-551, 93rd Congress, H.R. 8864. Little League is tax exempt.
Parents are strongly encouraged to become involved in Little League. After completing a Little League volunteer application and passing a required national background check, parents may become involved in practices, and be eligible as coaches, managers, umpires, local league board members and other volunteer positions within the league.