BBSL: Welcome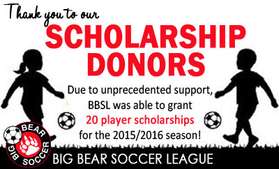 2015 Scholarships
2015-2016 Season Games Will be held at
Big Bear High School Soccer Fields
every Sat. Aug 8th-Nov.7th
Used Soccer Equipment Donation Box
Click Here To View The
Click Here To View The
Click Here To View The
♦ BIG BEAR SOCCER LEAGUE ♦
♦ 2015/2016 SEASON ♦
ONLINE REGISTRATION NOW CLOSED
Regular registration is now closed. We are in the process of forming teams. For some age divisions, there are a few openings remaining. For information and availability, please email your name, as well as your child's name, gender and birthday to the League Registrar, Jaqueline De La Mancha, at Registration@bigbearsoccer.com.
SCHOLARSHIPS
Scholarships will be announced privately the week of July 26th.
The application period is also closed.
REGISTRATION FEES
Under6 - $105
Under8, Under10, Under12, Under14 & Under18 - $115
After June 21st there will be a late fee and your player is not guaranteed a team.
AGE GROUPS
This year, we will be fielding teams in the following Age Divisions:
U6 (coed) - player has not turned 6 before August 1st
U8 (coed) - player has not turned 8 before August 1st
U10 (coed) - player has not turned 10 before August 1st
U12 (coed & girls) - player has not turned 12 before August 1st
U14 (coed & girls) - player has not turned 14 before August 1st
U18 (coed & girls) - player has not turned 18 before August 1st
OPENING DAY AUGUST 8th
For information about the league please contact:
Big Bear Soccer League Registrar
Jaqueline Da La Mancha
Registration@bigbearsoccer.com
909-534-4543
NEXT BOARD MEETING
Tuesday Aug 11, 2015, 7:00pm @ Denny's