BBSL: Welcome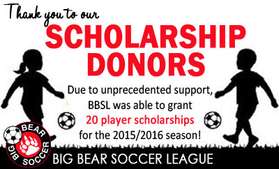 2015 Scholarships
$26 $22

$40 $8
The BBSL Sprit Store is here!!
Support BBSL the items in this store are a fundrasier for the league.
2015-2016 Season Games Will be held at
Big Bear High School Soccer Fields
every Sat. Aug 8th-Nov.7th
Con

ssesions Stand
Drinks,
Food,
Hot Dogs, Pizza, Tacos,
Nachos and More
Used Soccer Equipment Donation Box
Click Here To View The
Click Here To View The
Click Here To View The
Click Here To View The
♦ BIG BEAR SOCCER LEAGUE ♦
♦ 2015/2016 SEASON ♦
ONLINE REGISTRATION NOW CLOSED
Regular registration is now closed. We are in the process of forming teams. For some age divisions, there are a few openings remaining. For information and availability, please email your name, as well as your child's name, gender and birthday to the League Registrar, Jaqueline De La Mancha, at Registration@bigbearsoccer.com.
SCHOLARSHIPS
Scholarships will be announced privately the week of July 26th.
The application period is also closed.
REGISTRATION FEES
Under6 - $105
Under8, Under10, Under12, Under14 & Under18 - $115
After June 21st there will be a late fee and your player is not guaranteed a team.
AGE GROUPS
This year, we will be fielding teams in the following Age Divisions:
U6 (coed) - player has not turned 6 before August 1st
U8 (coed) - player has not turned 8 before August 1st
U10 (coed) - player has not turned 10 before August 1st
U12 (coed & girls) - player has not turned 12 before August 1st
U14 (coed & girls) - player has not turned 14 before August 1st
U18 (coed & girls) - player has not turned 18 before August 1st
OPENING DAY AUGUST 8th
For information about the league please contact:
Info@BigBearSoccer.com
NEXT BOARD MEETING
Tuesday Oct. 13th 2015, 7:00pm @ Denny's