Bay Shore Brightwaters Little League: Welcome
Online registration fees automatically include 2 fundraising raffles and Active.com processing and registration fee.
Tuesday, March 25
Welcome to the BBLL Website!!
Opening Day is April 5th
All teams will meet at Wohseepee Park in Brightwaters @830. We will march to the fields where we will have the opening day ceremony. Schedule for games that day will be sent to the managers.
Picture Day is April 6th. Schedule has been sent to all managers
Finalizing reg season schedules as soon as they are complete we will get them out.
Anyone looking to register for the Boys Junior Division 13 and up please contact Carl Pluchinotta jcpluchinotta@verizon.net
Any registration after 2/4/2014 will incur a $25 late fee.
----------------------------------------------------------------------------------------------------------------------------
Congratulations - 2013 District 34 Summer Championship Teams

10 Year Old Baseball - 2013 District 34 - GOLD Champions
Jayden Colon
Brian Kata

Nick Classie
Matt Rouleau
Christopher Rouleau
Nolan Kata
Joey LaFerrera
Christian Pellman
Jack Ramsay
Owen Shelley
Ryan Smerechniak
Bill Ryan
Minors Softball - 2013 District 34 - SILVER Champions
Jasmine Cuffie
Tess Lambie
Emily Tidwell
Lexi Sacripante
Kaelyn Pellman
Elizabeth Bateman
Meg Cairney
Alyssa Juliano
Alexandra Susskind
Emma Lacetera
Sophia Trifoli
Caroline Hobbes
Sunrise Softball Minors National Division Champions!
Congratulations to our Minors Softball team led by Coach John Hobbes. The team won the Sunrise Softball National Division Championship with a 12-8 vicotry against Lindenhurst National. Congrats to all the girls for a great season and winning 4 games in the playoffs. This is the 2nd year in a row that our Minors division has won a championship in the Sunrise Softball League.
-----------------------------
FESTIVAL DAY

The sun came out and festival day once again was a huge success. A great crowd came down and enjoyed food, drink and rides. It was nice to see all the families out on the fields spending time together. Thanks to all the coaches for volunteering their time this season. We would especially like to thank all the kids that make up the league - hope everyone had a fun season and enjoyed playing the game of baseball or softball.
The league would also like to thank all the families that helped with the donation and raffle for one of the players in the BBLL family. Everyone's generosity was greatly appreciated especially by the family who wrote a thank you letter and asked for us to post it on the website.
To Our Dear Friends & Family of the Bay Shore Little League...
We would like to thank you for what you have done for D.J. And us. Thank you for your generosity and prayers and for just being there for us at this incredibly difficult time. We appreciate all the cards and posters and e-mails. Everybody has been so kind and patient. Please know that we have been at the fields in spirit with you guys. We miss you all and we miss seeing the kids play ball together. We hope to see you all soon and we can't wait for DJ to be back on the field and with his friends like a 12 yr old boy should be. We love him with all of our heart and soul.
Thank You All Love and Friendship,
Kelly, Herb & DJ
-------------------------------------------
CONGRATULATIONS - 2012 SUMMER CHAMPIONSHIP TEAMS

Juniors Softball - 2012 Williamsport Champions - District 34


Rhianna Paoletti
Kristin Sabarese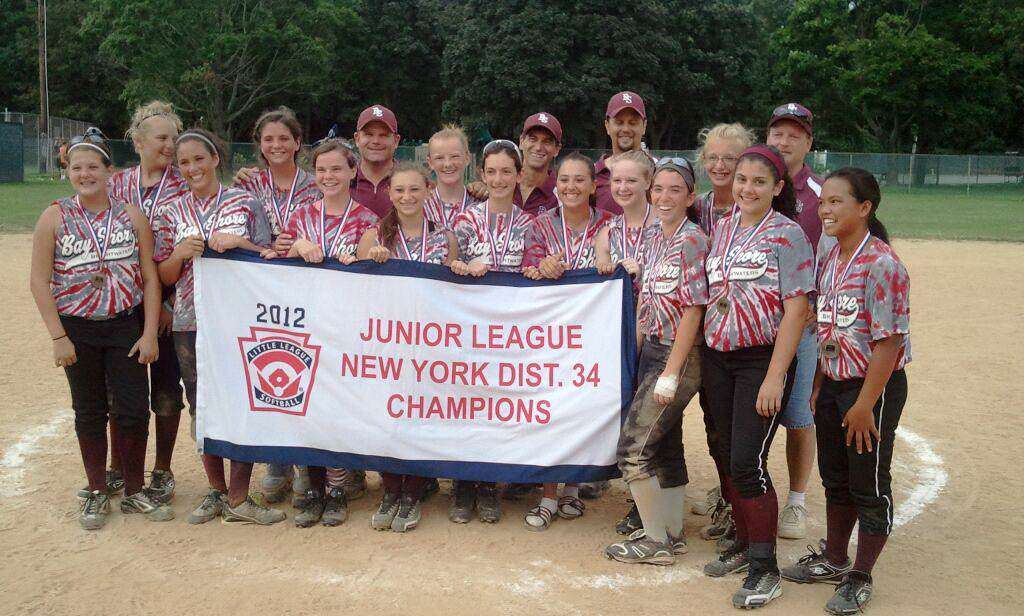 Stephanie Sabarese
Jordyn Pellman
Emily Fudge
Jamie Soldinger
Lauren Niemann
Kayla Corsini
Tayla Straub
Taylor Helmke
Marlena Sinnott
Franny Russo
Kimberly Goldsmith
Ally Morales
Seniors Baseball - 2012 District 34 - Gold Champions
Andrew Arcuri
Richie Arcuri
Ryan Brunner
Ryan Campbell
Pete Collorone
James Comilang
Jimmy Gallagher
Will Lovegrove
Tom Macauley
John Scollo
Brandon Stark
Jake Stein
Billy Watson

9 Year Old Baseball - 2012 District 34 - Silver Champions


Christian Pellman
Nolan Kata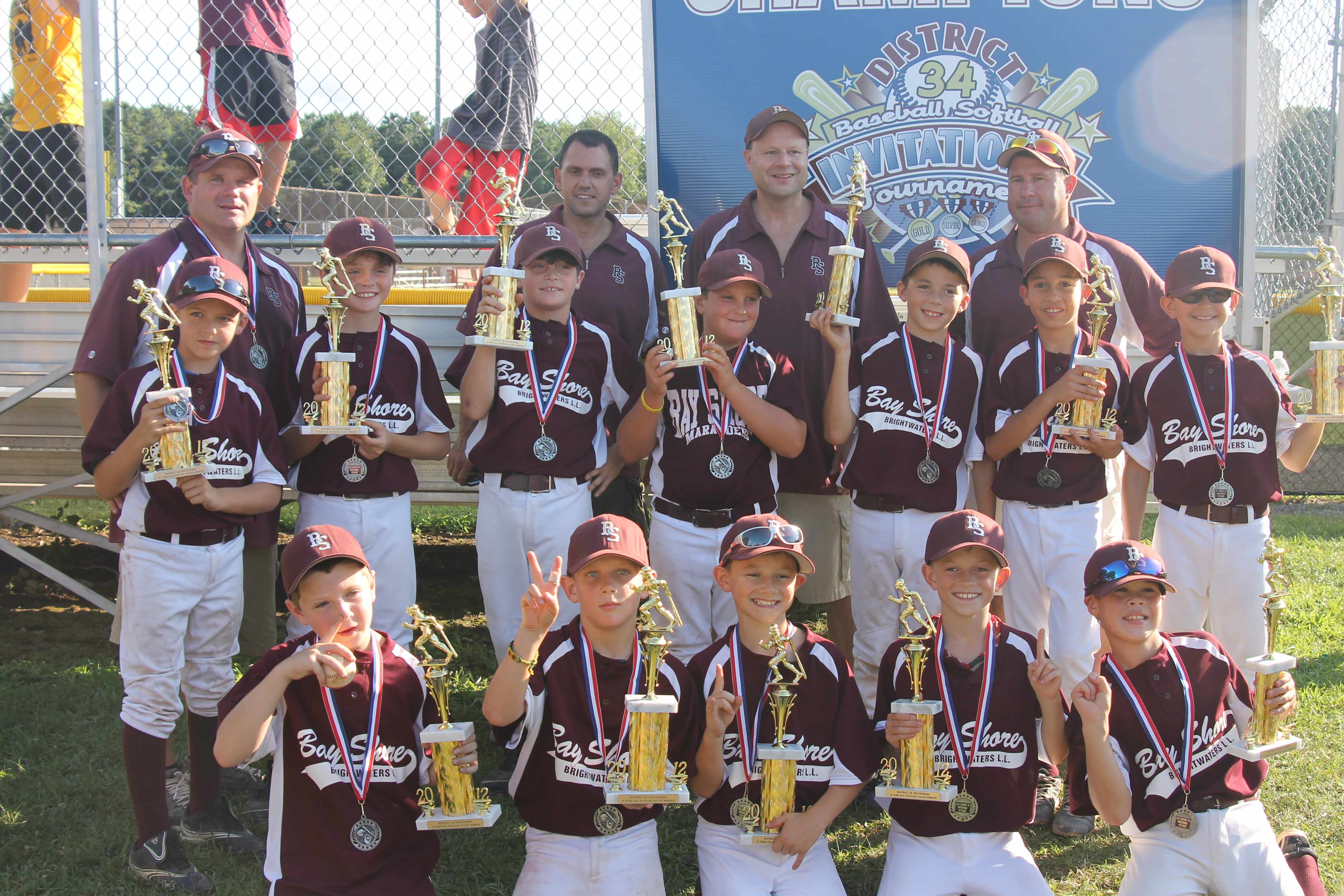 Brian Kata
Joey LaFerrera
Jack Ramsay
Christopher Rouleau
Matthew Rouleau
Kyle Jepko
Ryan Smerechniak
Perry Balsamo
Billy Ryan
Jayden Colon
****************************************************************
The Bayshore-Brightwaters Little League
Board of Directors, Managers & Coaches
Appreciate your support and hope everyone has
a GREAT 2012 Baseball/Softball Season!
Thanks for visiting the website...& PLAY BALL!
______________________________________________________________________________________________________
Anyone can add their photos of games through the Albums link or by sending them to us via the e-mail address link to the left.
Centerfield (Let's Go!)