Bay Shore Brightwaters Little League: Welcome
2013 Registration is now available online.
Online registration fees automatically include 2 fundraising raffles and Active.com $10 registration fee
Friday, May 17
Welcome to the BBLL Website!!!
FESTIVAL DAY - June 1st - 12 to 4PM

Come down to the fields and enjoy our annual festival day that includes food, drinks and rides for the kids. Players will receive their trophies and yearbooks as well. Fun day for all the families of the BBLL!
RAIN OUTS
Please assume your game is being played until you hear from the coach. The league will post on the website if the games are rained out around 5:00. Our fields are in extremely good condition are able to handle a fair amount of rain. We also have equipment that can prepare the fields if it has rained throughout the day.
Coaches - Please wait until you hear from the league before saying anything to your team. You will be notified by league directors by 5:00.
FIELD MAINTENANCE
The league asks all coaches and parents to help prepare the fields for the games, so please try and get down to the game early to rake the field. Also, after the game, please make sure your team cleans the dugouts of all trash.
OPENING DAY 2013 - Success
The league would like to thank everyone for a successful opening day. Despite the cold, breezy conditions, the parade, ceremony and games were great. Thanks to the volunteers who helped prep the fields for the ceremony and games that were played.
---------------
SOFTBALL SCHEDULES
All 2013 regular season schedules for softball are located on the Sunrise Softball website - www.sunrisesoftball.com under the following;
Farms
Yankees - Bay Shore Team 1
Mets - Bay Shore Team 2
Dodgers - Bay Shore Team 3
Minors
Maroon(Coach John) - Team 1
Black(Coach Chris) - Team 2
Majors
Maroon(Coach Scott) - Team 1
Black(Coach Paul) - Team 2
-------------------------------------------
Congratulations - 2012 HHH Fall League Championship Teams
Great work by both our 9 year and 10 year old teams this fall at the Half Hollow Hills Fall League. Each team won the championship for their division. See team photos on the 2012 BBLL Highlights page. The league is extremely proud of the effort and success of all our teams that played during the fall.
-------------------------------------------
CONGRATULATIONS - 2012 SUMMER CHAMPIONSHIP TEAMS

Juniors Softball - 2012 Williamsport Champions - District 34


Rhianna Paoletti
Kristin Sabarese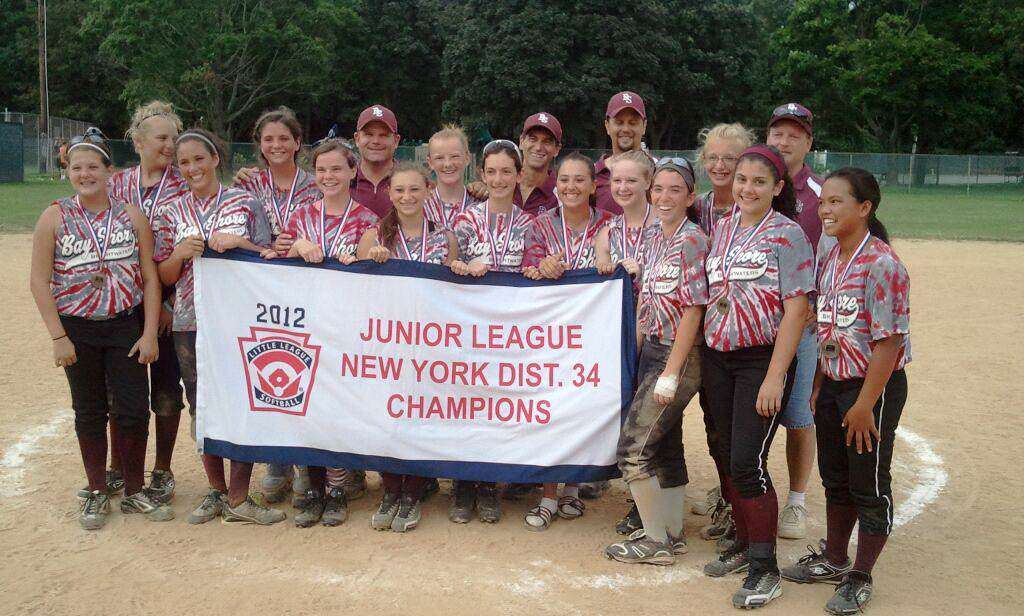 Stephanie Sabarese
Jordyn Pellman
Emily Fudge
Jamie Soldinger
Lauren Niemann
Kayla Corsini
Tayla Straub
Taylor Helmke
Marlena Sinnott
Franny Russo
Kimberly Goldsmith
Ally Morales
Seniors Baseball - 2012 District 34 - Gold Champions
Andrew Arcuri
Richie Arcuri
Ryan Brunner
Ryan Campbell
Pete Collorone
James Comilang
Jimmy Gallagher
Will Lovegrove
Tom Macauley
John Scollo
Brandon Stark
Jake Stein
Billy Watson

9 Year Old Baseball - 2012 District 34 - Silver Champions


Christian Pellman
Nolan Kata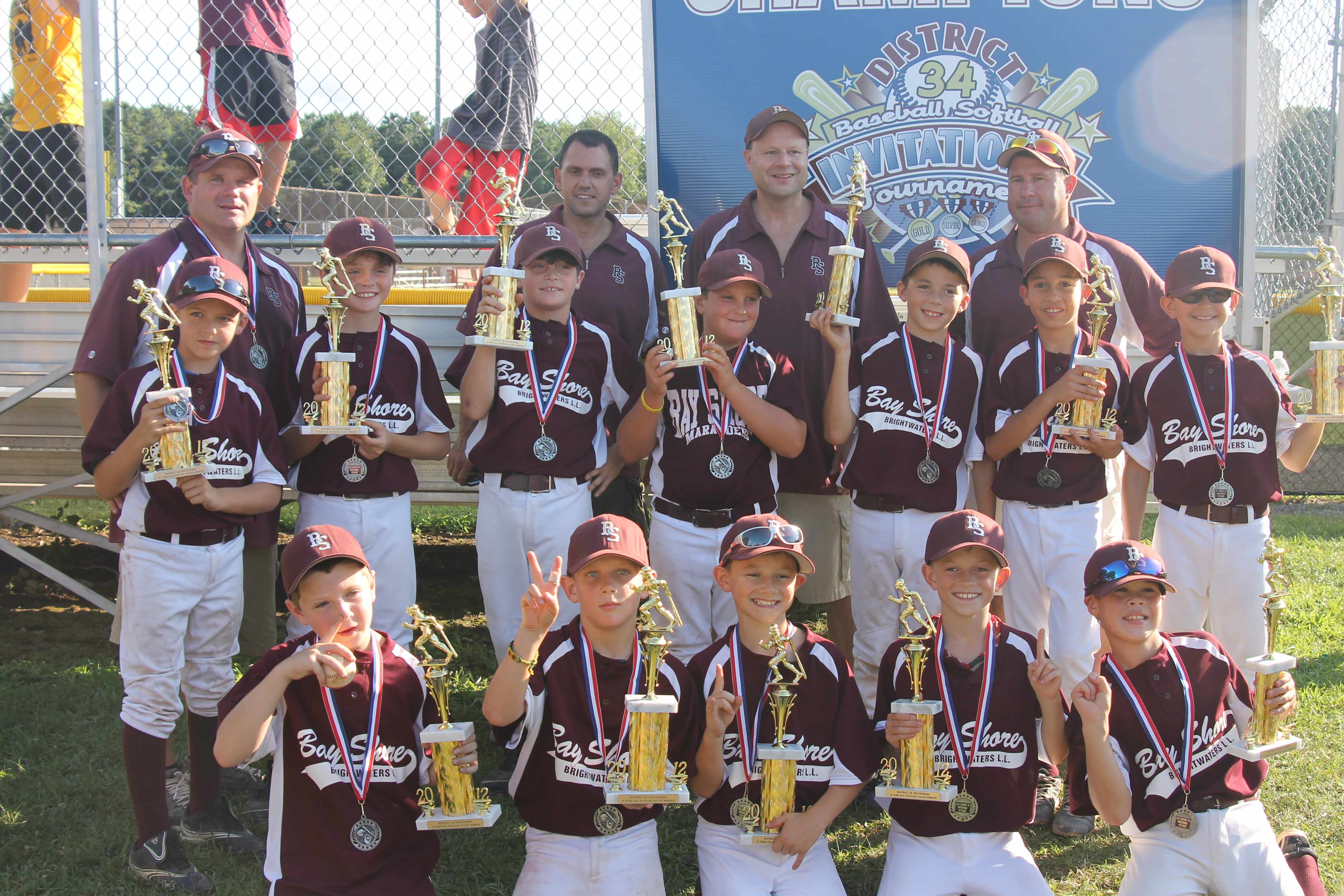 Brian Kata
Joey LaFerrera
Jack Ramsay
Christopher Rouleau
Matthew Rouleau
Kyle Jepko
Ryan Smerechniak
Perry Balsamo
Billy Ryan
Jayden Colon
****************************************************************
The Bayshore-Brightwaters Little League
Board of Directors, Managers & Coaches
Appreciate your support and hope everyone has
a GREAT 2012 Baseball/Softball Season!
Thanks for visiting the website...& PLAY BALL!
______________________________________________________________________________________________________
Anyone can add their photos of games through the Albums link or by sending them to us via the e-mail address link to the left.
Centerfield (Let's Go!)