Armstrong High School Boys Soccer: Welcome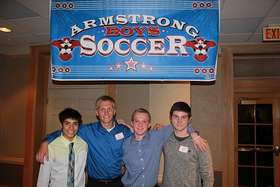 2014 Captains
Jesse Roe, Collin Wittkowske, Adam Schulz, Jackson Krsul
For details on any event, click on EVENTS. From that page, click on the event for ending time and details.

2013 Practice schedules are communicated directly to the players. The expectation is that practice is every night there is not a game unless the coach tells the player otherwise. As of now, the practice schedule for each team is as follows. Practices are held at Zachary Park
VARSITY: 4:00 - 5:45 JV: 4:30 - 6:00 B-SQUAD: 4:00 - 5:30
2013 Coaches: Varsity Head Coach- Kent Getchell: malmo@comcast.net cell 612-801-4401 Varsity Asst.Coach-Scott Eisentrager JV- Adam Thompson B-Squad- Alex Houg Goalie Coach - Andy Larew
For All Game Schedules click on "Events". If you click on the game location a pop-up will show you the address of the game location. Click on the blue compass beside it and it will show you a map with directions to the game.
2014 Booster Club Executive Committee:
President; Jim Schulz
VP; TBD
Treasurer; Dave Slack
Secretary; Mary Slack
Past President; Ryan Ledy
Members at Large; Diana Schulz, Lori Koppelman, Steve McManus
AHS Athletic Office, Sharon Shea: 763-504-8833 For most recent updates and locations, check www.Rdale.org/AHS/Activities
Good Luck to all our 2014 Graduates!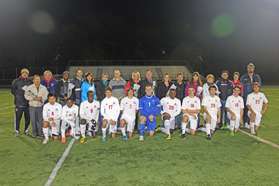 Senior Night 2013