Algonac Youth Football: Welcome
Welcome to the Algonac Youth Football site!!
| | | |
| --- | --- | --- |
| *Parents - Please have players to weigh-in areas no later than 1 hour before game time* | Share | |
**Important 2012 Season Information Below & in News Section**
The Algonac Youth Football League or AYFL, is a non profit organization created to support the Algonac Division Football and Cheerleading teams of the Thumb Area Football League- TAFL.

Created in 2007, AYFL is responsible for running the practices and games for our home youth football league. We are also responsible for running concessions and hosting games held in Algonac during the regular season. Various other fund raisers are utilized through out the year. All proceeds from concessions and fund raising events will be used to purchase team equipment/supplies and provide player scholarship funds to those who may need it. If you are interested in sponsoring one of our teams, can donate time to helping during games, or are interested in making any charitable contributions, please contact us at ckhiltunen@comcast.net.
Boys of Fall
Thursday, April 19
Final 2012 Football Registration!
This is just a reminder that the final date for Football and Cheer registration is this Saturday April 21st between 10 and 1 at the High School.
If you have any questions please give me a call.
Thanks,
Chris Hiltunen
AYFL Community Director
586-557-0822
Tuesday, January 4
AYFL 10U Tournament Team Returns From AAU Nationals - Daytona
The Algonac Youth Football Leagues 10U Tournament Team returned from the AAU National Football Championships "Battle At The Beach", Daytona Beach, FL placing 5th overall in their age division and 3rd in their bracket with a 1-3 record. The Defense remained strong allowing only one touch down in each of the first two games and taking a 7-0 victory in their third game against the Virginia - GSBC Spirits. They were eliminated by the Florida -Lake Nona Jr. Lions who went on to take 1st Place in the 10U Division. Official results can be viewed here 2010 National Schedules and Results.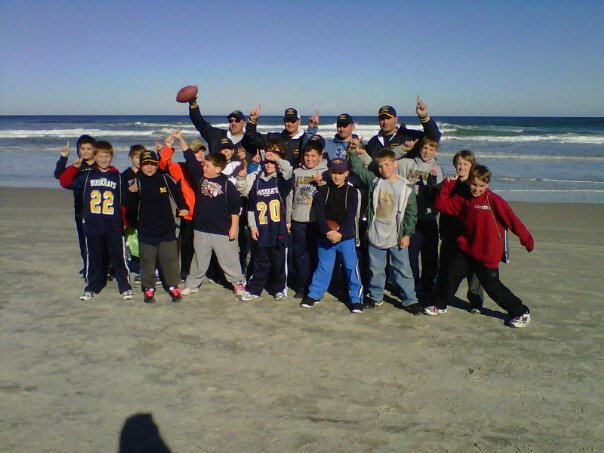 The 10U Tournament Team players and parents would like to thank those individuals, businesses and organizations that supported this team and helped them achieve their dream of attending the "Battle At The Beach" AAU National Football Championships. A chance to play top ranked undefeated teams from throughout the country was a great opportunity. Without you this could never have happened. The lessons learned by these boys over the course of these past two tournaments are priceless. Not only do we hope these will translate over into our High School Football Program but in their lives in general. They learned to work together as a team to follow through and achieve a common goal. They learned about sportsmanship, team work, discipline, dedication, hard work and the importance of community. These lessons and memories will follow them throughout a lifetime. We hope to see another Muskrat invasion of Flordia next year. Good Job Boys..........GO MUSKRATS!
Pictures from the Event are now posted in the Albums section.