Alexander Cougars Baseball: Welcome

Alexander's Cougar Field (photo compliments of Richard Kimberley)
Welcome to Alexander Cougar Baseball
The Cougars play in Region 5 of the Georgia High School Athletics Association AAAAA (5A) classification. For the 2014-2015 and 2015-2016 school years, there are ten schools, including Alexander, in Region 5/AAAAA. The other nine schools are Allatoona, Chapel Hill, East Paulding, Hiram, Lithia Springs, New Manchester, Paulding County, South Paulding and Villa Rica.
Alexander High School is located at
6500 Alexander Parkway
Douglasville, Georgia 30135
770-651-6000
Nathan Hand is the Principal and Chris Small is the Athletic Director at Alexander HS.
Chris Brown is the Alexander Baseball Head Coach.
Varsity - Chris Brown, Wayne Allen, Andy Meyers and Kent Quinn
JV - Zach Romain and Austin Osment
Freshmen - Andy Sorrells and Mike Yates
Info Update: Sunday, August 23rd - 11:25 AM EDT
Calling all players & parents ...
Field Work-Day at AHS Cougar Field
Saturday, September 12th - festivities start at 8 AM
King of the Diamond Softball Tournament
Week of Septmber 14th
See the flyer in the "Cougar Forms" section of the website
Submit roster and entry fee to Coach Brown
________________________________________________________
2015 Alexander Post-Season Awards
Scholar Athlete
| | |
| --- | --- |
| Jay McKown/Sr | CJ Fehribach/Jr |
| Leon Agee/Jr | Brandon Henderson/Jr |
| Aden Copeland/Jr | Jason Hinchman/So |
2015 All-Region 5-5A
1st Team - Pitcher - CJ Fehribach/Jr
2nd Team - INF - CJ Fehribach/Jr
2nd Team - INF - Jacob Earley/Jr
2nd Team - OF - Aeneas Williams/Sr
Hon Mention - P - Timothy Blalock/Sr
Hon Mention - OF - Mike Wright/So
AHS Baseball Most Valuable Pitcher: CJ Fehribach/Jr
AHS Baseball Most Valuable Offensive Player:
Jacob Earley/Jr
AHS Baseball Most Valuable Player: Aeneas Williams/Sr
___________________________________________________________________________________________
Alexander Cougars
2012 Region 5-AAAA

CHAMPIONS!!!

2014 AAAA State Playoffs FINAL-4
"Back-to-Back"
Alexander's Cougar Field
Voted "Field-of-the-Year"
for 2011 & 2012
___________________________________________
If you have any questions, please contact Coach Brown (chris.brown@douglas.k12.ga.us) or Ed Villanacci (evillanacci@comcast.net).
Note: This website is not an official Douglas County School System website. This website is provided by the Alexander Dugout Club.
The Alexander Dugout Club is the booster club for all Alexander High School baseball interests.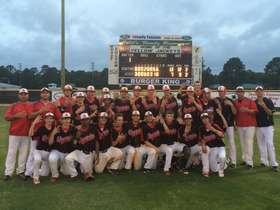 2014 Varsity Cougars - First AHS Team to reach Final-4, 5/14/2014