Abington Angels Fastpitch Softball: Welcome
Monday, February 9
Welcome to Abington Angels Fastpitch Softball
Abington Angels Softball, based in Montgomery County Pa. was founded in 1995 and offers competitive tournament travel softball for girls aged 11 to 19 years old. Our goal is to not only improve the level of play in the area, but also to teach valuable life lessons learned through team sports. We compete in ASA, PONY, USSSA, NSA, FAST, NASF and league play. We are proud that we have been able to provide a fun, safe, and rewarding program focused on the youth of our communities. The overwhelming majority of our players come from a wide range of local communities, including Abington, Ambler, Cheltenham, Hatboro, Horsham, Levittown, NE Phila., Upper Dublin, and Upper & Lower Moreland.
---
The Abington Angels 2000 wins the 2015 USSSA June Jamboree 14U Open!
18 teams rolled into Gibertville looking to win the USSSA June Jamboree but it was the Angels 2000 bringing home the hardware. The Angels went 6-1 on the weekend beating some of the areas toughest competition on their way to capturing the title. Great team effort by all our Angels!
---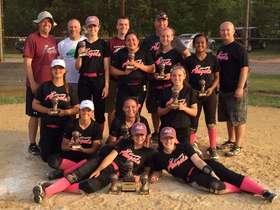 Angels 2000 June Jamboree 14U Open Champions!
Abington Angels Fastpitch Softball Leagues
Saturday, July 4
Angels 2000 16U Team tryouts
The Abington Angels 2000 16U team will be holding tryouts for the 2015/16 season on the following dates.

Sunday August 9th and Sunday August 16th from 10:00AM - 12:00PM.

Location: Conway Field 911 G Ave Glenside PA

https://www.google.com/maps/@?dg=dbrw&newdg=1

Looking for athletes with both 1999 and 2000 birth years to help complete our already strong roster.

Our plans for the 2015/16 season is to compete at 16U with the goal of qualifying for 16U Nationals. We also plan to enter a few 18U Showcase tournaments to prepare the team for the following year when we move up to 18U.

And to learn more about the Angels 2000 16U visit our team page.

https://angels2000.shutterfly.com

To schedule a private tryout or to come workout with our team contact joebernstein@comcast.net