Admin LLB Datacenter

Last updated

11-19-12 06:35 PM

Arizona District #6 Little League

Irwin M. Altman

480-596-2998

Fax: 480-596-2998

P O Box 2283

Scottsdale, Arizona

85252-2283
Friday, July 6
10/11 Baseball: State Tournament Bracket Just Updated
The Arizona State 10/11 Baseball Tournament bracket has been updated is now available. You can retrieve it by clicking the headline above or clicking here or clicking on the All Star Tournaments (Brackets link on the list on the left.

Monday, June 25
10/11 Baseball: McDowell Mountain Wins First District VI 10/11 Tournament


McDowell Mountain Little League (MMLL) beat Arcadia Little League (ARLL) 9-7 to win the District VI 10/11 Baseball Championship. MMLL swept through the Winners' bracket winning all 3 games they played. While that was happening ARLL played 6 games winning 4. ARLL only 2 losses were to MMLL as they beat all 4 of the remaining teams.

It was the first time that MMLL won this tournament. MMLL previously won the 9/10 baseball championship in 2007.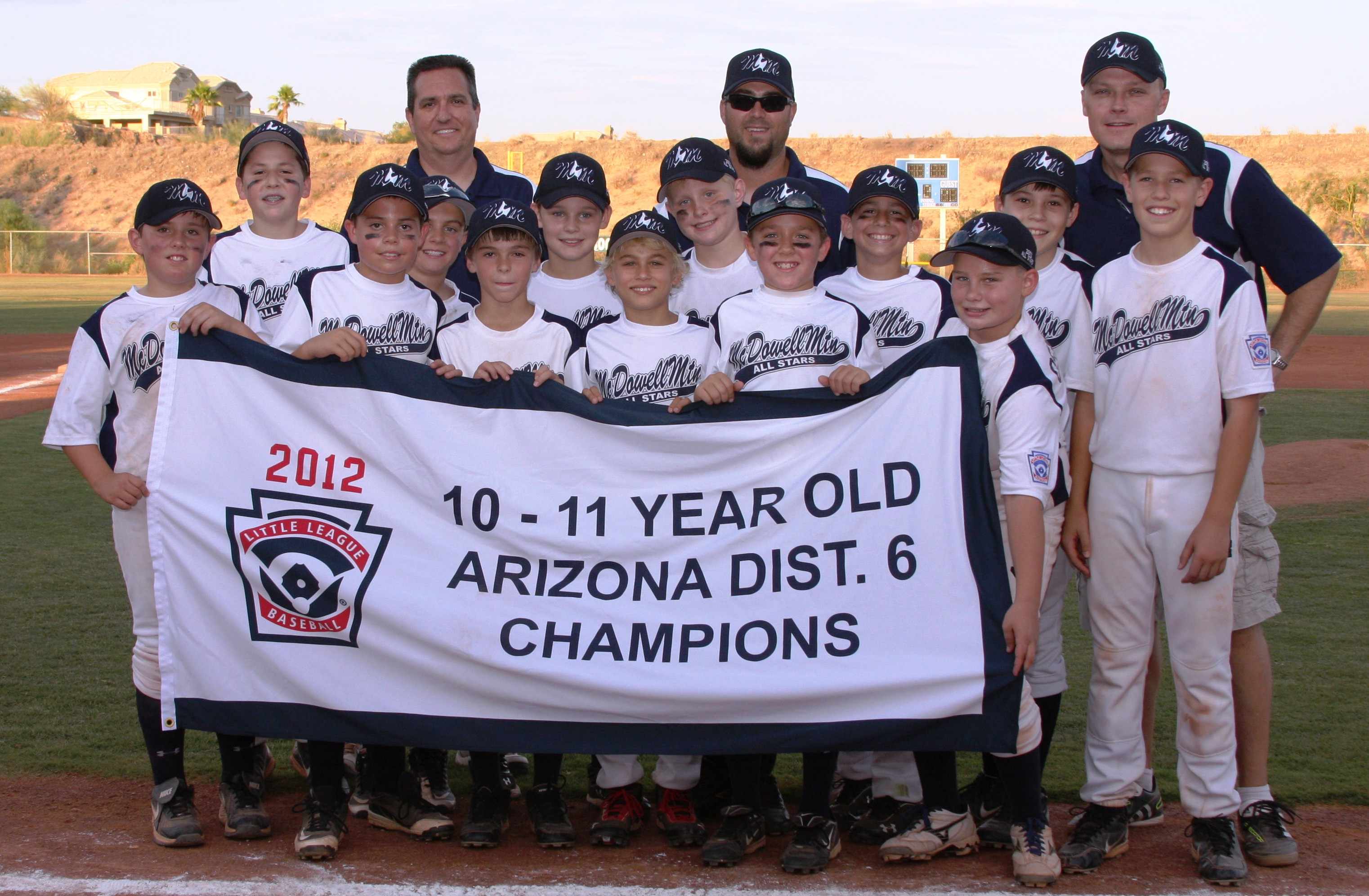 McDowell Mountain LL - Arizona District #6 10/11 Baseball Champions


Sunday, June 24
10/11 Baseball: Arcadia Little League Wins in Extra Innings to Advance to the Championship


Arcadia Little League's (ARLL) edged out McCormick Ranch Little League (MRLL) 9-8 in 7-innings. It was the tournaments third extra inning game and ARLL's second such game. As the score might suggest, it was an exciting game with several lead changes.

ARLL will now face McDowell Mountain Little League in the championship game(s) on Monday, June 25th at 5:00 PM.



Saturday, June 23
10/11 Baseball: McDowell Mountain Reaches Championship Game(s) While Arcadia Continues its March


The winner's bracket game of the evening featured the last two undefeated teams. McDowell Mountain Little League (MMLL) prevailed with a 4-1 victory over McCormick Ranch Little League (MRLL). MMLL advances to the championship game(s) on Monday, June 25th.

The second game of the evening involved the elimination bracket and Arcadia Little League (ARLL) defeated Desert Foothills Little League (DFLL) 7-4. ARLL will now face MRLL Sunday evening at 7:30 PM.



Friday, June 22
10/11 Baseball: Arcadia and Desert Foothills Advance in Elimination Bracket
In the first game of the evening, Arcadia Little League beat Fountain Hills Little 14-0. However, for those that stuck around for the 3-hour and 30-minute night cap, all the excitement, drama, and fun that Little League baseball can provide was on display. Each team looked likely to win as Desert Foothills Little League (DFLL) first jumped out to a big lead 8-1, only to have Mountain View Little League (MVLL) come back to lead 12-10 with DFLL coming up for their last at bats in the bottom of the 6th inning. DFLL tied it at 12 forcing a 7th inning. MVLL climbed back on top 15-12 in the top of the 7th. DFLL ended the game on a walk off grand-slam over the "old-school" scoreboard. Final score, DFLL 17 - MVLL 15.

Thursday, June 21
10/11 Baseball: McCormick Ranch and McDowell Mountain both Advance
In the first game of the night, McCormick Ranch Little League (MRLL) built a big lead early and coasted to a 34-2 win over Fountain Hills Little League. In the night cap, McDowell Mountain Little League (MMLL) and Arcadia Little League (ARLL) hooked up in a tight matchup that was determined by a run in the bottom of the 6th as MMLL won 3-2.

Wednesday, June 20
10/11 Baseball: Arcadia's and McCormick Ranch's Teams Open Up With Victories


The first game of the 10/11 tournament had Arcadia and Mountain View facing off. In one of the most exciting games of the 2012 tournament season, Arcadia won 8-7 in 9 innings.

The night cap featured McCormick Ranch Little League (MRLL) and Desert Foothills Little League (DFLL) . MRLL won 12-2.



Wednesday, June 20
10/11 Baseball: Tournament Opens This Evening