Arizona District #6 Little League: My Site News
Friday, July 3
Two Dedicated Volunteers Honored Before the MVLL Game
Rory Rickert and Harry Boysen (left to right)
Before the 7:30 game last night got underway, Mountain View Little League (MVLL), the tournament's host league, honored two of its most dedicted volunteers: Harry Boysden (AKA the Godfather of MVLL) and Rory Rickert. Both of these gentlemen have volunteered for more than 15-years. Many of those years have occurred after their own children were no longer playing LL baseball.
Congratulations to both Harry and Rory!!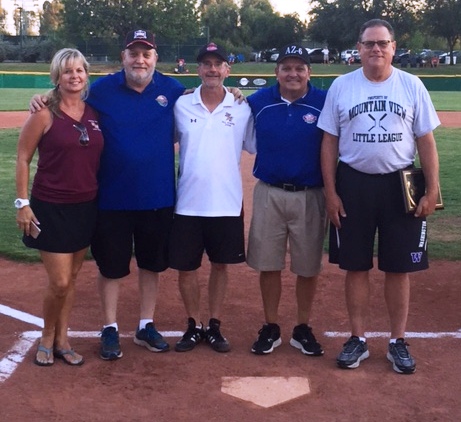 Kimberly Borges, Irwin Altman, Rory Rickert, Rene Salazar, Harry Boysen
Tuesday, June 30
Congrats to Ryan Madsen, 7-8 Pitch, Hit & Run State Champion!
Ryan Madsen is headed to MLB All Star Game in Cincinnati to represent Arizona and Mountain View Little League (MVLL) in National Pitch, Hit & Run finals! The link below or in the headline will take you to MVLL's site with the announcement on the MLB Network.
http://www.mvllbaseball.com/site/ClientSite/article/141568